Acerte o alvo se for capaz / Hit the target if you can [ PT - BR / ENG ]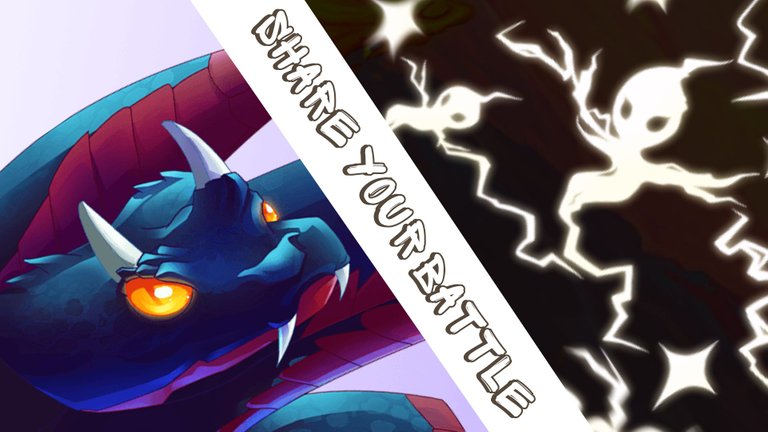 Olá novamente, neste post irei falar sobre uma carta que eu comecei a usar recentemente em Splinterlands que é incrivelmente útil e me fez ganhar várias batalhas, no inicio não achei que tinha muitas vantagens em usar ela porque ela possuia apenas 1 de vida, mas mesmo tendo uma quantidade de vida tão baixa ela possui uma incrivel capacidade de desviar dos ataques do meu adversário e por isso eu comecei a usar ela mais vezes em minhas batalhas.
Essa carta se chama Spark Pixies e ela é uma carta rara do deck de fogo, seu tipo de ataque é a distância e sua vida como mencionei antes é bastante baixa, mas ela possui uma quantidade bastante alta de velocidade e a habilidade Flying e essa combinação de velocidade com essa habilidade é incrivelmente poderosa porque faz essa carta desviar de vários ataques.
Mas talvez você esteja se perguntando como ela vai ser útil já que cartas que atacam a distância não são capazes de atacar na primeira posição, então ter uma grande chance de se esquivar não seria tão útil para ela?.É verdade que cartas que possuem essa habilidade e que podem atacar na primeira posição possuem mais utilidade nas batalhas porque a maioria dos ataques vão para a carta posicionada na primeira posição, mas a Spark Pixies vai ser uma carta que vai usar essa habilidade para defender as cartas da linha de trás, porque existem habilidades como a Sneak que ataca a carta posiconada na última posição, a Snipe que dar prioridade a cartas que atacam a distância e com ataque mágico e a Opportunity que ataca a carta com menor vida. Por isso ter a Spark Pixies posicionada na última posição vai ser uma excelente estratégia já que ela vai ser o principal alvo dessas habilidades, outra coisa que pode preocupar você é o fato da Spark Pixies possuir apenas 1 de vida e isso é muito pouco pois significa que se apenas 1 ataque a acertar ela será eliminada. Eu também tinha essa preocupação mas pode acreditar que essa carta vai desviar de muitos ataques antes de ser derrotada ou até mesmo nem ser derrotada na batalha, mas claro que também tem o fator de sorte e ela pode ser derrotada no primeiro ataque, estou apenas contando meu ponto de vista com as batalhas que eu tive até agora com ela e também ire mostrar uma batalha onde ela foi incrivel e desviou de vários ataques, mas antes irei explicar melhor suas habilidades e como ela fica ainda mais incrivel em levels maiores.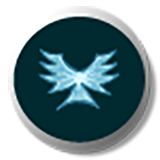 A habilidade Flying que eu ja tinha mencionado antes faz com que a Spark Pixies tenha +25% de chance de desviar de ataques de cartas melee e a distância que não possuem a habilidade Flying, então ela será útil apenas para esse tipo de carta e caso uma carta com ataque mágico a ataque então ela será acertada e provavelmente derrotada, por isso sua maior fraqueza é contra cartas com ataque mágico.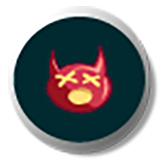 A habilidade Stun faz com que a Spark Pixies tenha 50% de chance de Stunar uma carta quando a Spark Pixies ataca e assim deixar a carta incapacitada durante 1 round, é uma ótima habilidade porque "tirar" uma carta do campo de batalha durante 1 round pode fazer uma enorme diferença na batalha e ser a diferença entre uma vitória ou uma derrota.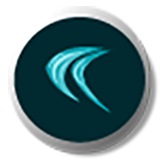 A habilidade Dodge deixa a Spark Pixies ainda mais incrivel quando o assunto é desviar porque com essa habilidade ela ganha +25% de chance de desviar de ataques melee e a distância, se somar isso com a habilidade Flying são 50% de chance e a grande quantidade de velocidade que ela possui ainda ajuda mais, por isso eu digo que não será nada fácil derrotar essa carta e seu adversário provavelmente irá odiar ela.
A Sparkie Pixie é incrivelmente útil desde o level 1 porque desvia de muitos ataques e geralmente é das primeiras cartas a atacar por causa de sua velocidade, mas em levels maiores ela é ainda mais incrivel porque além de ter uma velocidade absurdamente alta e um ataque também ela possui habilidade muito fortes que te ajudaram bastante nas batalhas.
Vamos agora para um exemplo prático dela no campo de batalha onde eu usei ela no level 1 porque ainda estou na liga bronze, mas espero no futuro usar essa incrivel carta em levels maiores.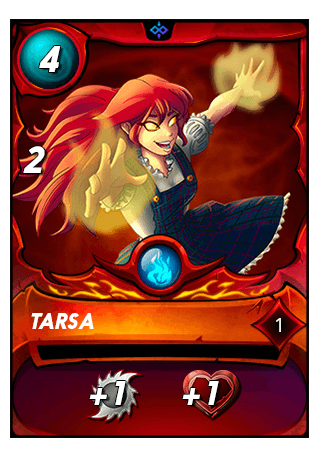 A Tarsa foi a invocadora escolhida para essa batalha porque eu possuo muitas cartas melee na batalha e ela concede +1 de ataque para essas cartas, ela também concede +1 de vida que será muito útil principalmente para a Spark Pixies que possui pouca vida.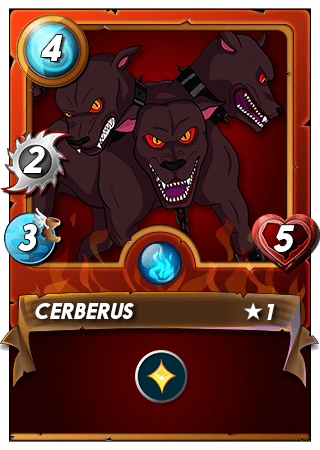 O Cerberus foi a carta eu usei na primeira posição porque ele é uma carta melee de baixo custo de mana que será muito útil já que a mana disponivel na batalha não era alta e também porque ele possui a habilidade Heal que faz ele se curar em 2 e vida no seu turno.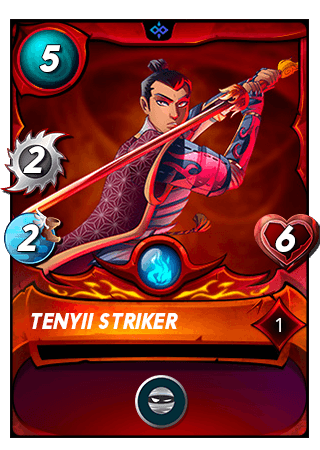 O Tenyii Striker é a carta que eu usei na segunda posição porque ele possui mais vida que as minhas proximas cartas então ele será bem útil para defender caso o Cerberus seja derrotado e ele possui a habilidade Sneak que faz ele atacar a carta do adversário posicionada na última posição.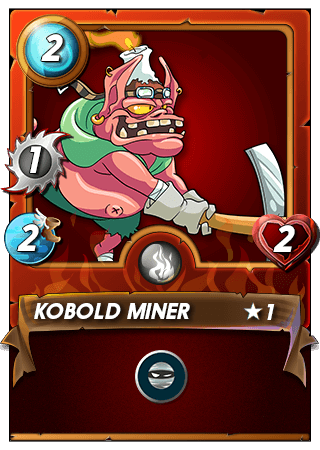 O Kobold Miner é a carta que usei na terceira posição e diferente do Cerberus e do Tenyii Striker ele possui pouca vida então não será muito útil defendendo mas é uma excelente carta que causa bastante dano principalmente com a Tarsa como invocadora e seu custo de mana é de apenas 2, ele também possui a habilidade Sneak que faz ele atacar a carta do adversário posicionada na última posição.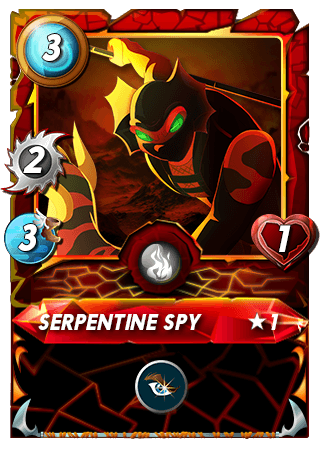 O Serpentine Spy é a carta que usei na quarta posição e assim como o Kobold Miner ele é uma carta que possui pouca vida mas que causa bastante dano, ele possui a habilidade Opportunity que faz ele atacar a carta com menor vida.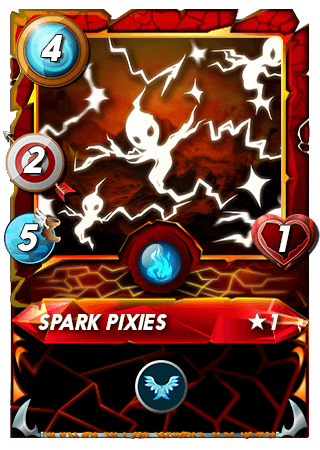 A Spark Pixies é a carta que usei na quinta e última posição, assim como mencionei antes ela será bastante útil para defender por causa de suas altas chances de se esquivar de ataques melee e a distância e também será uma das primeiras cartas a atacar no campo de batalha.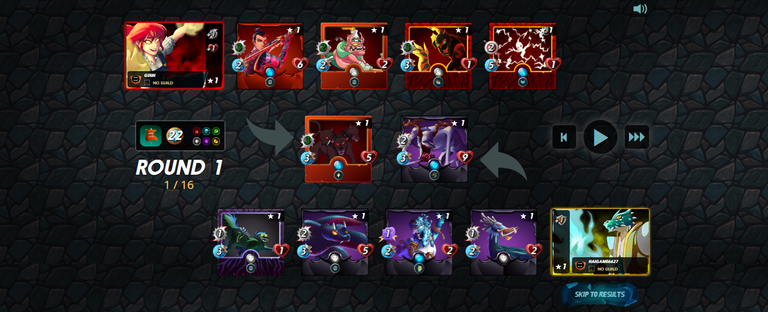 Na batalha meu adversário usou um invocador que concede escudo para as suas cartas e isso será um grande problema porque todas as minhas cartas possuem ataque melee ou a distância, então primeiro elas irão causar dano no escudo do meu adversário para depois começar a causar dano na vida das cartas dele.
Meu adversário possui 2 cartas com a habilidade Sneak então essas cartas irão ter como alvo a Spark Pixies e será nesses momentos que ela irá se destacar na batalha, mas claro que ela também é uma excelente carta para causar dano.
A batalha aconteceu na liga bronze e não possui nenhuma regra.
No primeiro round o escudo já começou a ser um problema porque ele restringiu bastante o dano que minhas cartas conseguiriam causar na vida das cartas do meu adversário mas ainda foram capazes de tirar o escudo da carta Cursed Windeku e Silent Sha Vi, e derrotar a carta Undead Badger, além disso a carta Spark Pixies desviou do ataque da Silent Sha-Vi o que foi muito útil já que ela sobreviverá para causar dano em mais um round e também defender, e sofreu 1 de dano da carta Undead Badger.
No segundo round a minha carta Serpentine Spy deu o golpe final na carta Cursed Windeku mas infelizmente a habilidade Thorns dessa carta acabou derrotando o Serpentine Spy, novamente a Spark Pixies se prova ser bastante útil porque ela desvia do ataque da Silent Sha-Vi com essa já são duas vezes, a carta Cerberus também se provou ser muito útil até agora mas neste round ela foi derrotada e o Tenyii Striker assumiu a primeira posição.
No terceiro round eu ainda possuo 3 cartas no campo de batalha e meu adversário também mas não por muito tempo porque logo no inicio do round ele perde sua carta Carrion Shade e novamente a carta Spark Pixies desvia do ataque da Silent Sha-Vi, com essa já são três vezes.
No quarto round a carta Spark Pixies não foi capaz de desviar do ataque da Silent Sha-Vi mas ela ainda foi capaz de dar seu ultimo ataque antes de ser derrotada, logo em seguida a carta Silent Sha-Vi foi derrotada pelo Kobold Miner e agora resta apenas 1 carta no campo do meu adversário.
No quinto round e também o round final não demorou muito até que a última carta do meu adversário fosse derrotada e a batalha encerrada.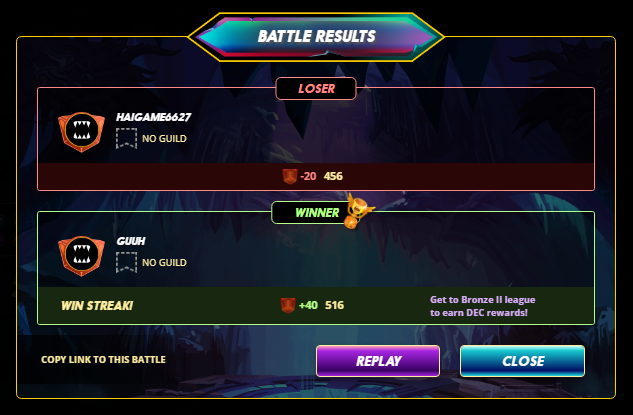 A Spark Pixies é uma carta incrivel que desvia de vários ataques do seu adversário como você pode ver nesta batalha onde ela desviou de 3 ataques da Silent Sha-Vi e apenas na quarta tentativa que ela foi derrotada, além disso ter a Tarsa como invocadora foi muito útil porque aumentou a vida dela em +1 e isso é ótima soma para a Spark Pixies que possui apenas 1 de vida no level 1. As outras cartas também foram bastante úteis como o Cerberus e o Tenyii Striker para servir de defesa na primeira posição e o Kobold Miner e o Serpentine Spy sendo ótimas fontes de dano para a batalha.
Essa foi minha batalha para o desafio dessa semana, obrigado por ler.

English Version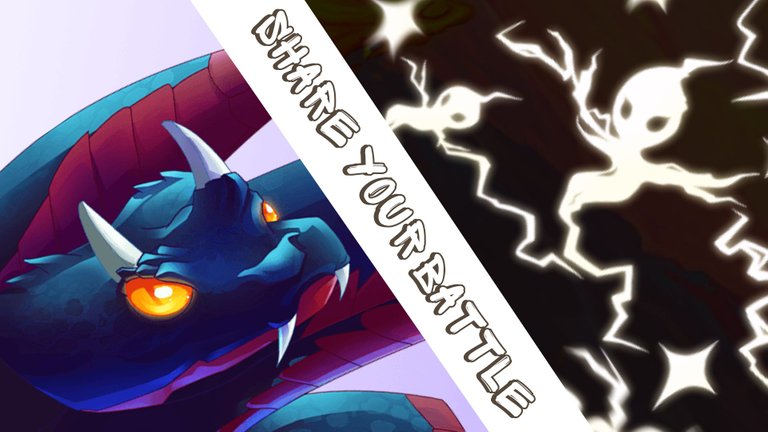 Hello again, in this post I will talk about a card that I recently started using in Splinterlands that is incredibly useful and made me win several battles, at first I didn't think it had many advantages in using it because it only had 1 health, but even having such a low amount of health she has an incredible ability to dodge my opponent's attacks and that's why I started using her more often in my battles.
This card is called Spark Pixies and it is a rare card from the fire deck, its attack type is ranged and its health as I mentioned before is quite low, but it has quite a high amount of speed and the Flying ability and that combo of speed with this ability is incredibly powerful because it makes this card dodge a lot of attacks.
But maybe you're wondering how it will be useful since cards that attack from a distance are not able to attack in first position, so having a high chance to dodge wouldn't be that useful for her?. Is it true that cards that have this ability and that can attack in the first position have more utility in battles because most of the attacks go to the card positioned in the first position, but Spark Pixies will be a card that will use this ability to defend the cards in the back row, because there are abilities such as Sneak that attacks the card positioned in the last position, Snipe that gives priority to cards that attack from a distance and with magic attack and Opportunity that attacks the card with the lowest health. That's why having Spark Pixies positioned in the last position will be an excellent strategy since it will be the main target of these abilities, another thing that may worry you is the fact that Spark Pixies has only 1 health and this is very little because it means that if only 1 attack hits it will be eliminated. I also had this concern but you can believe that this card will dodge many attacks before being defeated or even not even defeated in battle, but of course it also has the luck factor and it can be defeated on the first attack, I'm just counting my point of view with the battles I've had so far with her and I'll also show a battle where she was amazing and dodged several attacks, but first I'll explain her abilities better and how she gets even more amazing at higher levels.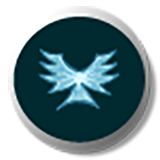 The Flying ability I mentioned before makes Spark Pixies have a +25% chance to dodge attacks from melee and ranged cards that don't have the Flying ability, so it will only be useful for that type of card and in case a card with magic attack to attack then it will be hit and probably defeated, so its biggest weakness is against cards with magic attack.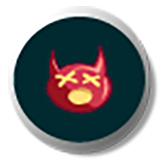 The Stun ability makes Spark Pixies have a 50% chance to Stun a card when Spark Pixies attacks and thus leaves the card incapacitated for 1 round, it's a great ability because it "takes" a card from the battlefield for 1 round it can make a huge difference in battle and be the difference between victory and defeat.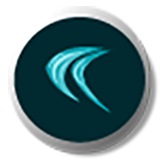 The Dodge ability makes Spark Pixies even more amazing when it comes to dodging because with this ability it gains +25% chance to dodge melee and ranged attacks, if you add that with the Flying ability it's a 50% chance and the big one The amount of speed it has helps even more, so I say it won't be easy to defeat this card and your opponent will probably hate it.
Sparkie Pixie is incredibly useful since level 1 because it dodges a lot of attacks and is usually one of the first cards to attack because of its speed, but at higher levels it is even more amazing because in addition to having an absurdly high speed and attack as well She has very strong abilities that helped you a lot in battles.
Let's now go to a practical example of it on the battlefield where I used it at level 1 because I'm still in the bronze league, but I hope in the future to use this amazing card at higher levels.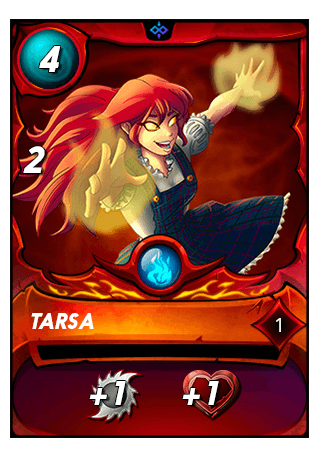 Tarsa was the summoner chosen for this battle because I have a lot of melee cards in the battle and she grants +1 attack to these cards, she also grants +1 health which will be very useful especially for Spark Pixies that have low health.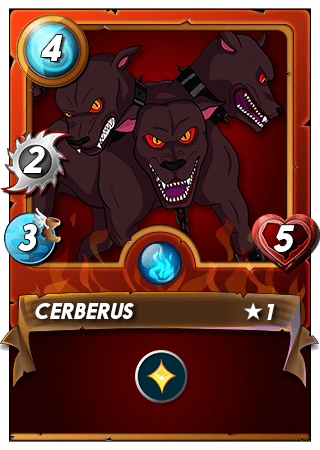 Cerberus was the card I used in the first position because it is a low mana cost melee card that will be very useful since the mana available in the battle was not high and also because it has the ability Heal that makes it heal in 2 and life on your turn.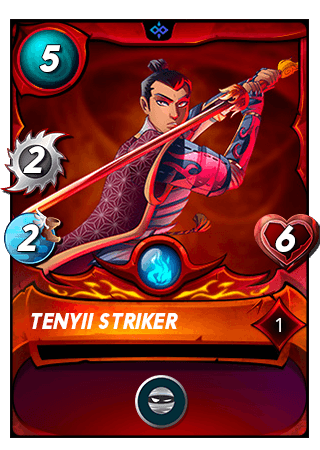 Tenyii Striker is the card I used in the second position because it has more health than my next cards so it will be very useful to defend if Cerberus is defeated and it has the Sneak ability that makes it attack the opponent's card positioned on the Latest Position.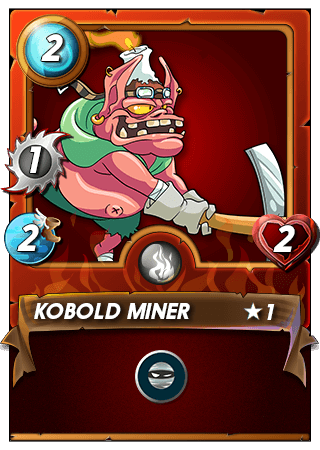 Kobold Miner is the card I used in the third position and unlike Cerberus and Tenyii Striker it has low health so it won't be very useful defending but it's an excellent card that does a lot of damage especially with Tarsa as a summoner and its mana cost is of only 2, he also has the Sneak ability that makes him attack the opponent's card positioned in the last position.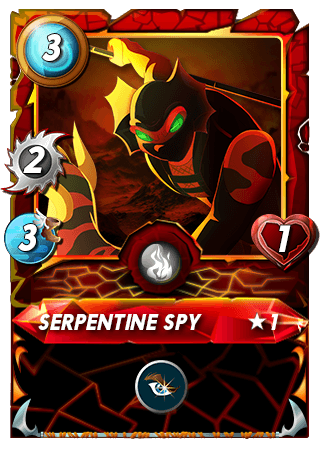 The Serpentine Spy is the card I used in the fourth position and just like the Kobold Miner it is a card that has low health but does a lot of damage, it has the Opportunity ability that makes it attack the lowest health card.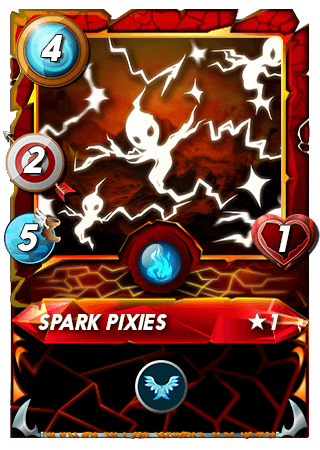 Spark Pixies is the card I used in the fifth and last position, as I mentioned before it will be very useful to defend because of its high chances to dodge melee and ranged attacks and it will also be one of the first cards to attack on the field of battle.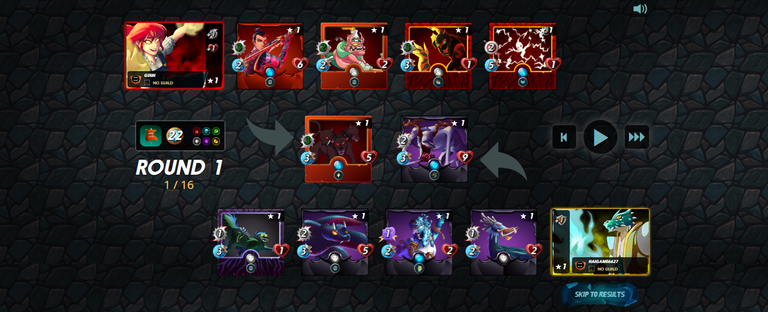 In the battle my opponent used a summoner that grants shield to his cards and this will be a big problem because all my cards have melee or ranged attack, so first they will damage my opponent's shield and then start doing damage to the life of his cards.
My opponent has 2 cards with the Sneak ability so these cards will target Spark Pixies and it will be at these moments that she will stand out in battle, but of course she is also an excellent card to deal damage.
The battle took place in the bronze league and has no rules.
In the first round the shield started to be a problem because it greatly restricted the damage that my cards could do to my opponent's card health but they were still able to take the shield off the Cursed Windeku and Silent Sha Vi card, and defeat the card Undead Badger, in addition, the Spark Pixies card dodged the Silent Sha-Vi's attack, which was very useful as it will survive to deal damage in another round and also defend, and suffered 1 damage from the Undead Badger card.
In the second round my Serpentine Spy card dealt the final blow to the Cursed Windeku card but unfortunately this card's Thorns ability ended up defeating Serpentine Spy, again Spark Pixies proves to be quite useful because it dodges Silent Sha-Vi's attack with this one it's been twice, the Cerberus card has also proved to be very useful so far but in this round it was defeated and Tenyii Striker took the first position.
In the third round I still have 3 cards on the battlefield and so does my opponent but not for long because right at the beginning of the round he loses his Carrion Shade card and again the Spark Pixies card dodges Silent Sha-Vi's attack, with this one it's been three times.
In the fourth round the Spark Pixies card was not able to dodge the Silent Sha-Vi's attack but it was still able to make its last attack before being defeated, soon after the Silent Sha-Vi card was defeated by the Kobold Miner and now there is only 1 card left in my opponent's field.
In the fifth round and also the final round it didn't take long until my opponent's last card was defeated and the battle was over.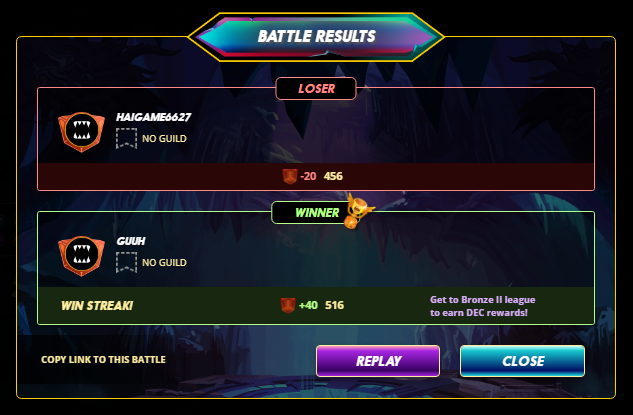 Spark Pixies is an amazing card that dodges several attacks from your opponent as you can see in this battle where it dodged 3 attacks from Silent Sha-Vi and only on the fourth attempt she was defeated, in addition to having Tarsa as a summoner was very useful because it increased her health by +1 and this is a great sum for Spark Pixies that only have 1 health at level 1. The other cards were also very useful like Cerberus and Tenyii Striker to serve as a defense in the first position and the Kobold Miner and Serpentine Spy being great sources of damage for battle.
That was my battle for this week's challenge, thanks for reading.
---
---