Attack may be the best option [PT-BR/ENG]
Versão em Português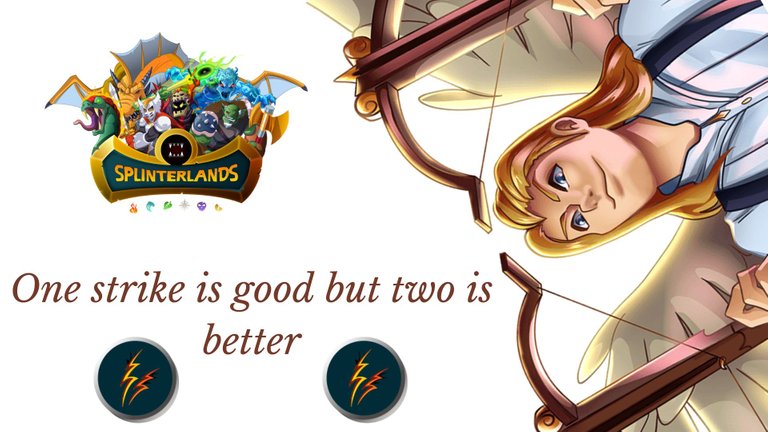 Olá a todos, sejam bem vindo a mais um post sobre Splinterlands onde estarei falando sobre a carta Pelacor Arbalest do deck de vida.
Muitos já devem conhecer ele porque é uma carta ghost que o jogo disponibiliza para que você possa jogar gratuitamente, isso significa que você não irá precisar comprar ou alugar ele para ter em suas batalhas, mas por outro lado você irá conseguir usar ele dessa forma apenas no level 1 e também será penalizado nas recompensas caso vença a batalha utilizando ele.
Antes de começarmos a falar sobre estratégias e como o Pelacor Arbalest funciona no campo de batalha, vamos dar uma olhada rapida em sua história para que a gente possa entender um pouco sobre a origem da carta.
---
História
---
Pelacor Arbalests estão armados com poderosas bestas encantadas para disparar setas a distâncias extremamente longas. Eles são treinados para empunhar uma besta em cada mão e podem disparar ambas simultaneamente com precisão mortal. Combinados com a excelente visão e destreza ágil do Pelacor, esses atiradores são extremamente úteis como franco-atiradores no campo de batalha.
O Silver Shield Knight recuou, aparando golpe após golpe enquanto os dois Venari rosnavam e balançavam suas espadas para ele em um ataque selvagem e implacável. Ele tropeçou. Outro golpe o fez cambalear. Ele caiu de costas.
O Venari saltou sobre ele, espadas levantadas. Ele lutou para erguer sua própria espada, mas não conseguiu lutar contra os dois. Ele ia morrer.
A haste emplumada de um raio atingiu o centro do peito de cada Venaris simultaneamente. O par caiu em uma pilha, olhos cegos olhando para o céu.
O Cavaleiro do Escudo de Prata semicerrou os olhos por causa do sol. Acima dele, um Pelacor Arbalest pairava, suas grandes asas brancas batendo no ar. Em cada mão, ele segurava uma besta vazia, ainda apontada para o Venari caído.
Basicamente a história dele descreve exatamente o que você consegue ver na imagem da carta e apesar de eu discordar sobre a agilidade do Pelacor Arbalest como eles falam na história, no campo de batalha ele não possui uma agilidade tão alta, mas ninguem pode discordar que seu ataque é extremamente forte, principalmente pelo fato dele atacar 2x que irei explicar mais tarde.
Agora que conhecemos sobre sua história, vamos dar uma olhada em suas estatísticas e entender como o Pelacor Arbalest funciona nos campos de batalhas em Splinterlands.
---
Estatísticas
---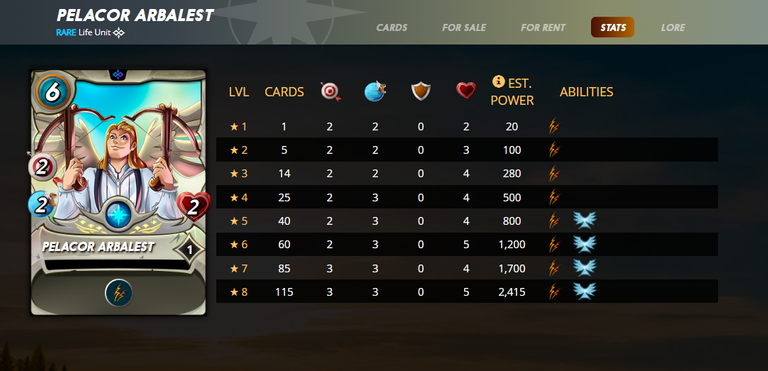 Assim como mencionei antes sobre a história do Pelacor Arbalest, a imagem descreve exatamente o tipo de carta que ele (ataque ranged) e suas habilidades que irei explicar em breve.
Por ter o ataque ranged ele possui a vantagem de não ter muitos obstaculos na batalha já que não é muito comum de ser ver cartas adversárias com a habilidade Return Fire, por outro lado ele não irá causar muito dano nas cartas que possui a habilidade Shield já que o dano recebido por essas cartas será reduzido. Outra grande desvantagem é o fato de cartas ranged não serem capazes de atacar na primeira posição então sempre mantenha seu Pelacor Arbalest o mais distante possivel dessa posição para que ele não fique incapacitado de atacar, mas claro que isso irá depender da sua estratégia já que dependendo do level em que você utilizar o Pelacor Arbalest, não seria ideal deixar ele na última posição já que seria um alvo fácil das cartas com a habilidade Sneak.
Se você tem em mente o tipo de carta que o Pelacor Arbalest é então irá saber que você não irá escolher ele por sua agilidade e nem defesa, apenas pelo fato de ele ser uma carta com um ataque devastador, ou no caso dele um ataque duplo devastador.
Em termos de habilidade o Pelacor Arbalest possui apenas 2, elas são a Double Strike e a Flying.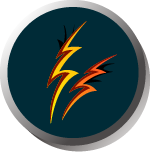 A primeira habilidade é a Double Strike e essa é a principal razão do Pelacor Arbalest causar muito dano já que essa habilidade permite que ele ataque 2x no round, então basta você pensar que você terá 2 Pelacor Arbalest no campo de batalha quando o assunto for atacar.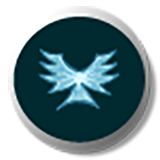 A segunda habilidade é a Flying e assim como você pode ver na imagem do Pelacor Arbalest, ele possui asas então faz sentido ter essa habilidade que irá aumentar em +25% as chances dele se esquivar de ataques melee e ranged de cartas que não possuem a habilidade Flying.
De forma resumida e breve as habilidades do Pelacor Arbalest servem para aumentar sua utilidade no ataque e também sua defesa já que a esquiva pode ser considerar uma forma defensiva de agir já que seu adversário não irá causar dano quando isso acontecer.
Para sair um pouco da teoria eu também irei mostrar uma batalha com o Pelacor Arbalest, apesar de eu não conseguir utilizar ele em seu level máximo já que seria apenas capaz de fazer isso na liga diamante ou na liga champion, eu irei utilizar ele no level 1 já que estou em uma liga baixa e também para mostrar como ele já é extremamente forte desde o seu level inicial.
---
Pelacor Arbalest no Campo de Batalha
---

Nesta batalha eu não tinha muita mana disponível e o Pelacor Arbalest gasta uma mana consideravelmente alta então tive que economizar nas escolhas de minhas outras cartas mas não foi um problema porque acredito que selecionei bem.
Como defesa principal na primeira posição eu escolhir uma carta melee que não possui muito ataque mas tem uma vida decente e também um pouco de escudo que irá ajudar bastante, além dela também escolhi outra carta melee de baixa mana que tem mais ataque mas uma péssima velocidade. Na terceira posição eu selecionei uma carta sem ataque mas com uma habilidade muito útil que é a Protect e ela irá conceder +2 de escudo para todas as minhas cartas então mesmo não sendo capaz de atacar será de grande ajuda, o resto das minhas cartas são ranged então elas irão se beneficiar do meu summoner Sloan que irá aumentar o ataque delas em +1.
Meu adversário escolheu um summoner e cartas que são um pouco problemáticas contra as minhas cartas, principalmente porque a maioria possui pouca vida mas como eu tenho 3 cartas ranged o meu ataque é bem forte e a principal defesa do meu adversário que está na primeira posição foi derrotada no segundo round então após isso ele ficou bastante vulnerável e suas outras cartas foram caindo uma após a outra.
Nessa apesar do Pelacor Arbalest ser a principal estrela já que ele foi a carta que causou mais dano na batalha, só foi possível vencer com mais facilidade por causa da habilidade Protect, então ataque é importante mas ter uma boa estratégia também é e nessa batalha mesmo com minhas cartas possuindo um level baixo eu acredito que mostrei ambas as partes, então sempre lembre-se de ter uma boa estratégia para a batalha.
Esse foi meu post sobre o Pelacor Arbalest no campo de batalha, espero que tenha gostado, obrigado por ler e até uma próxima vez!
Se ainda não conhece Splinterlands e quer começar sua jornada você pode acessar o site através deste link: Splinterlands
(Esse é meu link de referência então use apenas se quiser, você pode acessar usando o link de outra pessoa ou pesquisando por Splinterlands no seu navegador)

English Version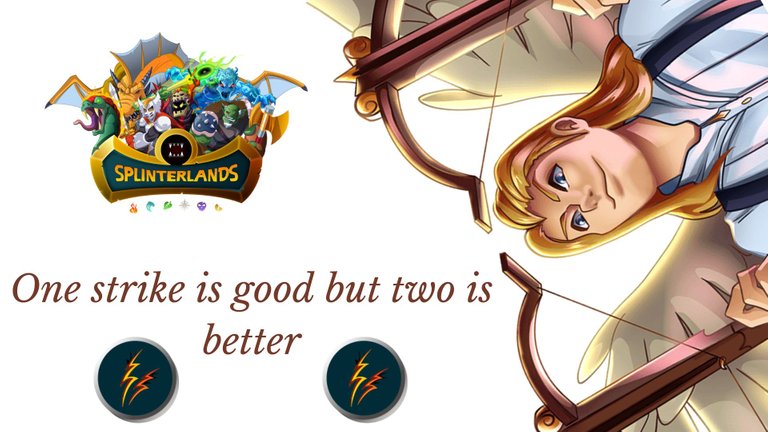 Hello everyone, welcome to another post about Splinterlands where I'll be talking about the Pelacor Arbalest card from the life deck.
Many of you may already know it because it's a ghost card that the game makes available so you can play for free, that means you won't need to buy or rent it to have it in your battles, but on the other hand you'll only be able to use it that way at level 1 and will also be penalized in the rewards if you win the battle using it.
Before we start talking about strategies and how Pelacor Arbalest works on the battlefield, let's take a quick look at its history so we can understand a little bit about the origin of the card.
---
History
---
Pelacor Arbalests are armed with powerful crossbows enchanted to fire bolts at extremely long distances. They are trained to wield a crossbow in each hand and can fire both simultaneously with deadly accuracy. Compounded with the Pelacor's excellent eyesight and nimble dexterity, these sharpshooters are extremely useful as snipers on the battlefield.
The Silver Shield Knight backpedaled, parrying blow after blow as the two Venari snarled and swung their swords at him in a savage and ruthless onslaught. He stumbled. Another blow sent him reeling. He fell onto his back.
The Venari leaped upon him, swords raised. He struggled to lift his own sword, but he couldn't fight them both. He was going to die.
The feathered shaft of a bolt slammed into center of each Venaris' chest simultaneously. The pair crumpled in a heap, unseeing eyes staring at the sky.
The Silver Shield Knight squinted into the sun. Above him, a Pelacor Arbalest hovered, his large white wings beating at the air. In each hand, he held an empty crossbow, still aimed at the fallen Venari.
Basically his story describes exactly what you can see in the image of the card and although I disagree about the agility of Pelacor Arbalest as they talk about in the story, on the battlefield he does not have such high agility, but no one can disagree that his attack is extremely strong, mainly due to the fact that he attacks 2x which I will explain later.
Now that we know about its history, let's take a look at its stats and understand how the Pelacor Arbalest works on the battlefields of Splinterlands.
---
STATS
---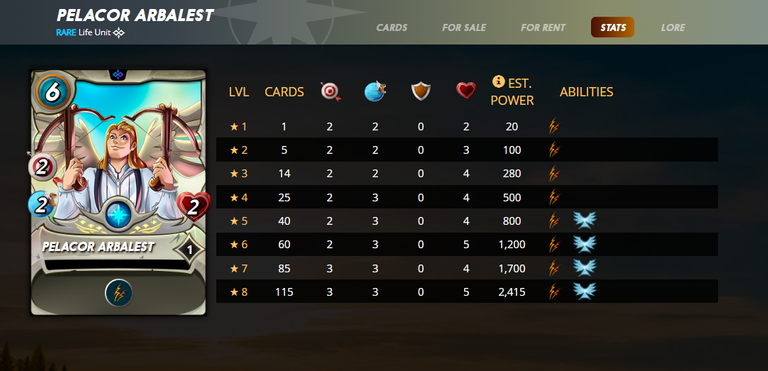 As I mentioned before about the history of Pelacor Arbalest, the image exactly describes the type of card it has (ranged attack) and its abilities which I will explain shortly.
By having the ranged attack it has the advantage of not having many obstacles in the battle since it is not very common to see opposing cards with the Return Fire ability, on the other hand it will not cause much damage to the cards that have the Shield ability already that the damage taken by these cards will be reduced. Another big disadvantage is the fact that ranged cards are not able to attack in the first position so always keep your Pelacor Arbalest as far away as possible from that position so that it is not unable to attack, but of course this will depend on your strategy since depending on of the level you use Pelacor Arbalest, it would not be ideal to leave it in the last position since it would be an easy target for cards with the Sneak ability.
If you keep in mind the type of card that Pelacor Arbalest is then you will know that you will not choose him for his agility or defense, just because he is a card with a devastating attack, or in his case a double attack devastating.
In terms of abilities, Pelacor Arbalest has only 2, they are Double Strike and Flying.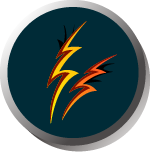 The first ability is Double Strike and that's the main reason that Pelacor Arbalest deals a lot of damage since this ability allows it to attack 2x in the round, so just think that you will have 2 Pelacor Arbalest on the battlefield when the subject is to attack.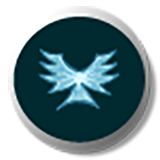 The second ability is Flying and as you can see in the image of Pelacor Arbalest, he has wings so it makes sense to have this ability that will increase his chances of dodging melee and ranged card attacks by +25% that don't have the Flying ability.
Briefly and briefly, the abilities of the Pelacor Arbalest serve to increase your utility in attack and also your defense since dodging can be considered a defensive way to act since your opponent will not deal damage when it happens.
To get out of theory a little I will also show a battle with Pelacor Arbalest, although I can't use it at its maximum level since I would only be able to do that in the diamond league or in the champion league, I will use it in the level 1 since I'm in a low league and also to show how extremely strong he is already from his initial level.
---
Pelacor Arbalest on the Battlefield
---

In this battle I didn't have much mana available and Pelacor Arbalest spends a considerably high mana so I had to save on my other card choices but it wasn't a problem because I believe I selected well.
As main defense in the first position I chose a melee card that doesn't have much attack but has a decent life and also a little shield that will help a lot, besides it I also chose another low mana melee card that has more attack but a terrible speed . In the third position I selected a card without attack but with a very useful ability which is Protect and it will grant +2 shield to all my cards so even not being able to attack will be of great help, the rest of my cards are ranged then they will benefit from my summoner Sloan which will increase their attack by +1.
My opponent chose a summoner and cards that are a little problematic against my cards, mainly because most have little life but since I have 3 ranged cards my attack is very strong and the main defense of my opponent who is in first position was defeated in the second round so after that he was very vulnerable and his other cards were falling one after the other.
In this despite Pelacor Arbalest being the main star since it was the card that did the most damage in the battle, it was only possible to win more easily because of the Protect ability, so attack is important but having a good strategy is also and in this battle even with my cards having a low level I believe I showed both parts, so always remember to have a good strategy for the battle.
This was my post about Pelacor Arbalest on the battlefield, I hope you enjoyed it, thanks for reading and until next time!
If you still don't know Splinterlands and want to start your journey, you can access the site through this link: Splinterlands
(This is my referral link so use it only if you want, you can access it using someone else's link or by searching for Splinterlands in your browser)
---
---