Thorns, the ability that gives melee cards nightmares. [PT-BR/ENG]
Versão em Português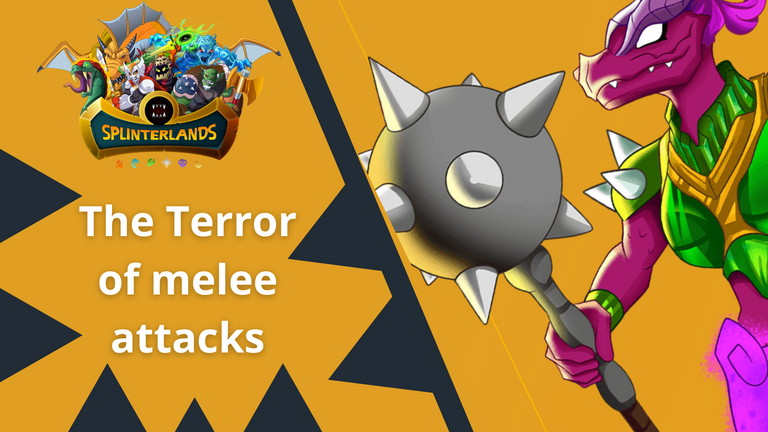 Olá a todos, sejam bem vindos a mais um post de Splinterlands e desta vez irei falar sobre uma carta que a maioria ou talvez até mesmo todos já devem conhecer porque é muito popular, barato e você consegue de graças através dos báus de recompensas. Esta carta é o nosso querido Djinn Chwala do deck de dragão e acredito que você já deve ter visto ele em alguma batalha ou até mesmo utilizado nas suas.
Como mencionei antes o Djinn Chwala é uma carta que pode ser obtida nos báus de recompensas então sua edição é de recompensa e sua raridade é épica. Antes de começarmos a falar sobre estratégias e utilidades sobre o nosso querido Djinn, vamos conhecer um pouco mais sobre suas origens através de sua história.
---
História
---
Dawn of the Djinn 4 of 4 - Pouco tempo depois que os Djinn foram libertados, a maioria deles já estava vendo seu cativeiro elementar como uma bênção ao invés de uma maldição. Eles tinham um poder muito maior do que antes, agora que estavam trabalhando com a força do Planeta em suas costas. A busca pelo poder estava no centro das crenças dos Belludae, então a maioria deles faria pequenos sacrifícios por um poder maior.
Os Djinn não se encontraram todos, e será difícil para eles fazer isso, já que muitos deles residem em diferentes elementos. É por isso que vários dos Djinn se apresentaram como cartas nos jogos Moxian, para que possam se conectar com seus irmãos perdidos. Gradualmente, eles se reunirão em Praetoria como parte das últimas linhas de defesa, canalizando o poder do Planeta em uma parede impenetrável para conter a Legião do Caos.
Diferente das cartas de edições mais recentes como chaos legion e Riftwatchers, a história dos Djinn são possuem muitos detalhes e são um pouco fraca mas é o suficiente para que possamos entender um pouco mais sobre eles e dar mais emoções nas batalhas, a única coisa que podemos afirmar é que eles possuem um interesse em comum com riftwatchers, que é conter/derrotar a legião do chaos.
Agora que conhecemos um pouco mais sobre suas origens, vamos conhecer suas utilidades no campo de batalha através de suas estatísticas já que elas irão mostrar todo o potencial que o Djinn Chwala tem para oferecer na batalha.
---
Estatísticas
---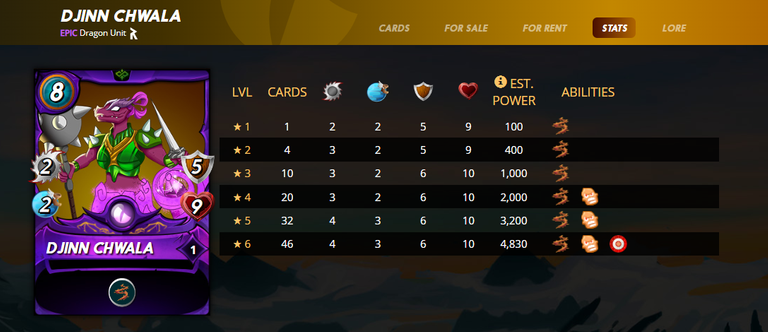 Ao olharmos para as suas estatísticas conseguimos perceber que o Djinn Chwala é uma carta bem completa já que além de possuir ataque, velocidade e vida ele também possuem uma grande quantidade de escudo. A primeira parte que você precisa saber é o seu custo de mana (8), é um pouco alto mas não precisa se preocupar porque mesmo gastando toda essa mana ele será uma ótima escolha, até mesmo nas batalhas com pouca mana disponivel.
Para você entender melhor eu irei explicar com mais detalhes como o Djinn Chwala funciona.
Primeiro na imagem acima onde mostra as estatísticas do Djinn Chwala você consegue ter entender os atributos básicos dele (vida, ataque, velocidade e escudo) em todos os seus levels então não irei entrar em detalhes sobre isso, mas caso você não saiba nem todas as cartas possuem escudo e a utilidade dele é ser uma defesa adicional contra ataques melee e ranged.
A segunda parte que você precisa entender além dos atributos básicos são suas habilidades, que no caso do Djinn Chwala são a Thorns, Enrage e True Strike.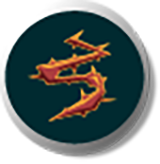 A primeira habilidade é a Thorns, essa habilidade faz o Djinn Chwala causar 2 de dano quando uma carta melee atacar ele, então a carta melee que o atacar irá receber esse dano (lembrando que a habilidade só funciona contra ataques melee). Essa é uma ótima forma do Djinn Chwala causar ainda mais dano durante a batalha e como ele possui uma boa quantidade de escudo e vida, então ele será capaz de causar esse dano várias vezes antes de ser derrotado.
A segunda habilidade é a Enrage, essa habilidade faz o Djinn Chwala aumentar seu ataque e velocidade em 1.5x quando ele receber qualquer dano. Essa é uma ótima habilidade que irá fazer o Djin Chwala causar ainda mais dano na batalha já que seu ataque irá aumentar e também aumentar suas chances de se esquivar já que a sua velocidade também irá aumentar.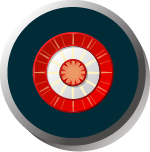 A terceira habilidade é a True Strike, essa habilidade faz o Djinn Chwala ter 100% de chance de acertar o alvo, então você não irá precisar se preocupar se ele irá causar dano ou não porque em todo round ele irá atacar a carta do seu adversário com 100% de sucesso.
Muitos já conhecem essa carta e adoram ela, na minha opinião é uma das melhores escolhas se você quer subir em ligas baixas (não estou dizendo que não seja uma boa escolha nas ligas altas) e o seu preço atual também é baixo mas você não precisa se preocupar muito com valores porque você pode ter a chance de conseguir ela de graça através de seus baús de recompensas diários ou de temporada.
---
Djinn Chwala no Campo de Batalha
---

Nesta batalha temos um cenário básico onde o Djinn Chwala é a minha principal defesa e também minha principal fonte de dano porque eu investir em cartas suportes como a Merdaali Guardian e o Scavo Hireling, na última posição também temos o Hardy Stonefish mas ele não será útil nesta batalha.
Quando eu decidir investir em suportes para o Djinn Chwala ser o principal foco para a minha vitória eu tive o risco de está em grande desvantagem caso meu adversário tivesse utilizado cartas que atacassem as posições de trás, mas eu tive sorte e não aconteceu nesta batalha então conseguir utilizar o Djinn Chwala com 100% de eficácia junto de minhas cartas suportes.
Meu adversário também possuía uma boa composição de cartas e até mesmo escudo que dificultava muito o meu Djinn Chwala causar dano mas meu adversário não tinha dano o suficiente para derrotar o meu Djinn Chwala antes que ele recebesse ajuda dos meus suportes e então a batalha continuo com ele derrotando uma carta após a outra até que meu adversário não possuísse mais cartas no campo de batalha eu obtivesse a vitória.
Esse foi meu post sobre o Djinn Chwala no campo de batalha, espero que tenha gostado, obrigado por ler e até uma próxima vez!
Se ainda não conhece Splinterlands e quer começar sua jornada você pode acessar o site através deste link: Splinterlands
(Esse é meu link de referência então use apenas se quiser, você pode acessar usando o link de outra pessoa ou pesquisando por Splinterlands no seu navegador)

English Version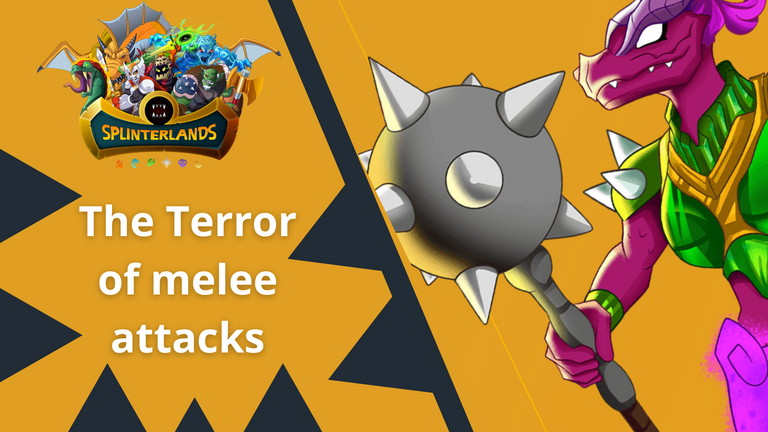 Hello everyone, welcome to another Splinterlands post and this time I'm going to talk about a card that most or maybe even everyone should already know about because it's very popular, cheap and you can get it for free through the reward chests. This card is our dear Djinn Chwala from the dragon deck and I believe you must have seen him in some battle or even used him in yours.
As I mentioned before the Djinn Chwala is a card that can be obtained from the reward chests so its edition is reward and its rarity is epic. Before we start talking about strategies and uses for our dear Djinn, let's get to know a little more about its origins through its history.
---
History
---
Dawn of the Djinn 4 of 4 - Not long after the Djinn were freed, most of them were already seeing their elemental captivity as a blessing rather than a curse. They had much greater power than before now that they were working with the strength of the Planet at their backs. The quest for power was at the core of Belludae beliefs, so most Belludae would make small sacrifices for greater power.
The Djinn have not all found each other, and it will be difficult for them to do so, as many of them reside in different elements. This is why several of the Djinn have presented themselves as cards in the Moxian games, so that they can connect with their lost brethren. Gradually, they will gather on Praetoria as part of the last lines of defense, channeling the Planet's power into an impenetrable wall to contain the Legion of Chaos.
Different from cards from more recent editions such as chaos legion and Riftwatchers, the history of the Djinn does not have many details and is a little weak but it is enough for us to understand a little more about them and give more emotions in the battles, the only one thing we can say is that they have a common interest with riftwatchers, which is to contain/defeat the legion of chaos.
Now that we know a little more about its origins, let's get to know its uses on the battlefield through its statistics as they will show all the potential that the Djinn Chwala has to offer in battle.
---
STATS
---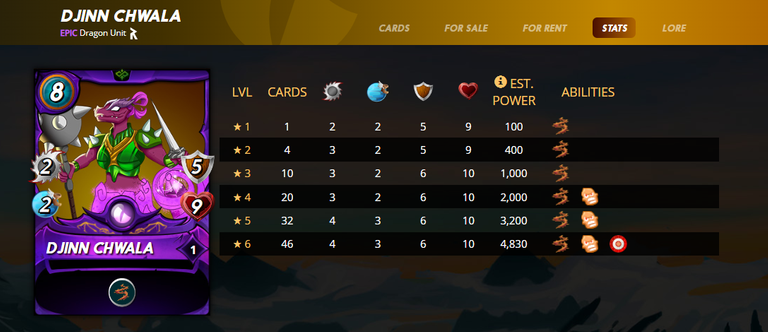 When looking at its statistics, we can see that Djinn Chwala is a very complete card, since in addition to having attack, speed and life, it also has a large amount of shield. The first part you need to know is its mana cost (8), it's a bit high but you don't have to worry because even spending all that mana it will be a great choice, even in battles with little mana available.
For you to understand better I will explain in more detail how Djinn Chwala works.
First in the image above where it shows Djinn Chwala's statistics you can understand his basic attributes (life, attack, speed and shield) in all his levels so I won't go into detail about that, but in case you don't know all the cards have a shield and its usefulness is to be an additional defense against melee and ranged attacks.
The second part you need to understand besides the basic attributes are its abilities, which in the case of Djinn Chwala are Thorns, Enrage and True Strike.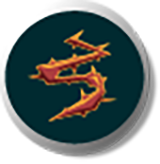 The first ability is Thorns, this ability makes the Djinn Chwala do 2 damage when a melee card attacks him, so the melee card that attacks him will receive this damage (remembering that the ability only works against melee attacks) . This is a great way for the Djinn Chwala to deal even more damage during battle and as he has a good amount of shield and health, he will be able to deal this damage several times before being defeated.
The second ability is Enrage, this ability makes Djinn Chwala increase his attack and speed by 1.5x when he takes any damage. This is a great ability that will make Djin Chwala do even more damage in battle as his attack will increase and also increase his chances of dodging as his speed will also increase.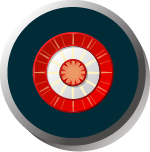 The third ability is True Strike, this ability makes Djinn Chwala have 100% chance to hit the target, so you won't You will need to worry about whether he will deal damage or not because in every round he will attack your opponent's card with 100% success.
Many already know this card and love it, in my opinion it's one of the best choices if you want to move up in lower leagues (I'm not saying it's not a good choice in higher leagues) and its current price is also low but you don't have to worry too much about values ​​because you might have a chance to get it for free through your daily or seasonal reward chests.
---
Djinn Chwala on the Battlefield
---

In this battle we have a basic scenario where Djinn Chwala is my main defense and also my main source of damage because I invest in support cards like Merdaali Guardian and Scavo Hireling, in the last position we also have Hardy Stonefish but he won't be useful in this battle.
When I decided to invest in supports for Djinn Chwala to be the main focus for my victory I had the risk of being at a big disadvantage if my opponent had used cards that attacked the back positions, but I was lucky and it didn't happen in this battle so being able to use Djinn Chwala with 100% efficiency with my support cards.
My opponent also had a good card composition and even a shield that made it very difficult for my Djinn Chwala to deal damage but my opponent didn't have enough damage to defeat my Djinn Chwala before he received help from my supports and so the battle continued with him defeating one card after another until my opponent had no more cards on the battlefield I got the victory.
This was my post about Djinn Chwala on the battlefield, I hope you enjoyed it, thanks for reading and until next time!
If you still don't know Splinterlands and want to start your journey, you can access the site through this link: Splinterlands
(This is my referral link so use it only if you want, you can access it using someone else's link or by searching for Splinterlands in your browser)
---
---