New use case for SPS- Lets talk about it
Hello all @splinterlands lover and Hive friends
Hope everything is good at your end and enjoying the battle on field.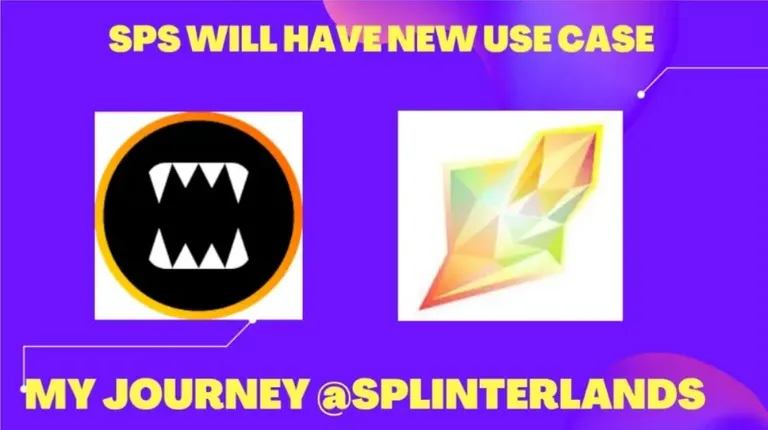 ---
Investment need research and awareness about the project, continuous tracking and tacking the advantage of the market scenario. When the investment is in crypto world then you have to be more awarded as their are many examples where the project vanish form the market once they collect good amount for many form the hands of investors. The proper study of project, people behind the project and roadmap are some key areas where we must keep our eyes and check points before making investment.
When I joined the blockchain I was searching on google and come across the social media this beautiful work of web3 social media platform. Slowly I gain the knowledge form the pot read and comes across the @splinterlands game. Form the day I start playing the game (four year ago) I have seen the continuous improvement and update in the Splinterlands ecosystem. They varies for the different card editions to the new game rules, addition of new token in the game ecosystem nd many more. I must say the team is dynamic and always come up some brilliant ideas which makes the game ecosystem more excited and promising.
---
Replacing the Card based Collection power with Staked SPS
When I started playing the game four year back their way their was no concept of collection power and their were no restriction for plays to play in higher leagues. Even a ow level deck can raise up to the gold or diamond league. I know it looks very interesting what I have seen some accounts which has very limited card collection and they were playing in Gold league and Diamond league in past. That was the era when some plays just want to grind the rewards. Please note the rewards were very attractive as you were surely getting the reward cards at that time for completing your daily quests and as end of season rewards. The reward cards does not worth much but afterwards when the reached the print limit the become valuable. I remembered the Sea Monster and the Rust Android were some cards which we were getting by defaults in our rewards as they were having good printing numbers.
Lets have a look at the current requirement of Staked SPS for differt leagues.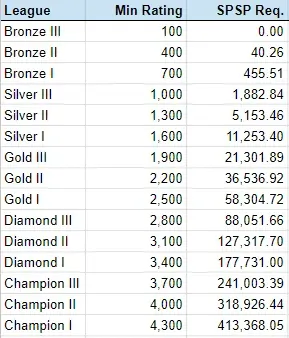 Source
For the players at beginning level they does not required any staked SPS (Bronze III) but as if they wants to move future in higher league the have to stake some SPS. To unlock the Bronze I the players must stake 455.51 SPS. If we convert the same in to USD value with current rate of SPS token (0.022$) then it is approximately 10 USD. which is not a big investment in my opinion.
Lets have a look at the USD equivalent value of SPS required for different leagues.
| League | SSPS Req. | Investment in USD |
| --- | --- | --- |
| Bronse III | 0 | 0 |
| Bronse II | 40.26 | 0.88 |
| Bronse I | 455.51 | 10.02 |
| Silver III | 1882.84 | 41.42 |
| Silver II | 5153.46 | 113.37 |
| Silver I | 11253.4 | 247.57 |
| Gold III | 21301.89 | 468.64 |
| Gold II | 36536.92 | 803.81 |
| Gold I | 58304.72 | 1282.70 |
| Diamond III | 88051.66 | 937.13 |
| Diamond II | 127317.7 | 2800.98 |
| Diamond I | 177731 | 3910.08 |
| Champion I | 241003.39 | 5302.07 |
| Champion II | 318926.44 | 7016.38 |
| Champion III | 413368.05 | 9094.09 |
Please keep in mind that the above calculations are with current SPS price ie 0.022$ per SPS
At lover level the USD equivalent value is low but as we goes up it increases. Up Silver III its looks ok but beyond that players need more then $100 investment and after Gold II the investment will be 10x ie more then 1000 USD. Maximum is for champion I (of course) and that is 9094.09.
---
Impact on SPS
This new requirement will crests a new use case for the SPS. Its good that entry level play does not required any Staked SPS but as they wanna go high then their is no other way. Either they have to buy SPS and then stake it or they can get delegation form other players as well.
Yes the SPS delegation will also play an important role and thsi can also be a new source of earning for those holding a good amount of SPS or don't want to play the game.
---
Final words - New changes are the requirement of system and in past also the team has implemented a big changes in game and every time their is a debate on what is good and what is bad. For the new players this is going to be a challenging but the changes will create new use case for the SPS and which looks the main priority for the team. The delegation option may be economical for new players which they will get easily with less investment.
Please note the post is my personal opinion and not any financial advice so do you own research before investment.
---
I have some GF legendary cards spare and I wanna rent them out. If you are interested in renting those cards for long term please feel free to contact me by commenting on this post.

---
What are your views let me know in comment section.
---
Happy Battling.
See you in field.
Please reblog, upvote and comment to support.
Posted Using LeoFinance Alpha
---
---