Coastal Nymph | Splinterlands Contest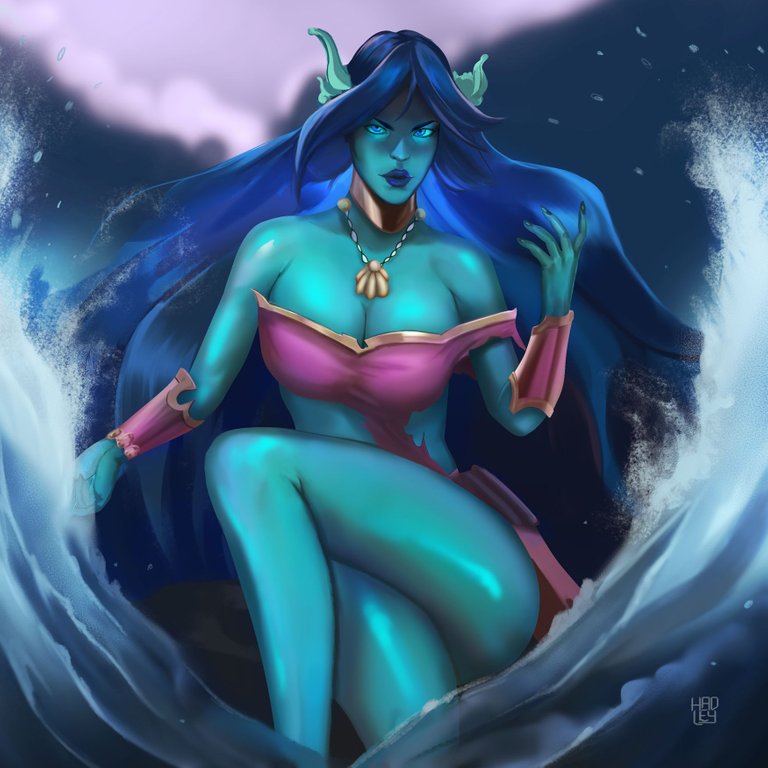 ---
I'm back! I was a bit lost these weeks because I got carried away by the fever of the FiFa world cup, I'm not so passionate about soccer, but I enjoy the world cup too much and every soccer match was nail-biting and I was hooked to the TV all day long.
But it's time to get back to work while the AIs still have a hard time drawing hands, and of course I wanted to participate this week in the Splinterlands contest, that's why I've drawn a character from the Riftwachers that I haven't seen too many Fan arts, it's the furious Coastal Nymph.
I think they are the toughest nymphs of all Splinterlands, and they love the fight, so I pity the legions of chaos that dare to approach the water's edge.

Play Splinterlands Now❕

Tools:
Gaomon S620
Photoshop
Brushes courtesy of Imad Awan: Download here
🔰Process🔰

-Step 1:
When I made the sketch, of course I added the harpoon made from water elemental mana, and I know it is the main weapon of these nymphs, but I don't know, I felt it wasn't necessary in this illustration.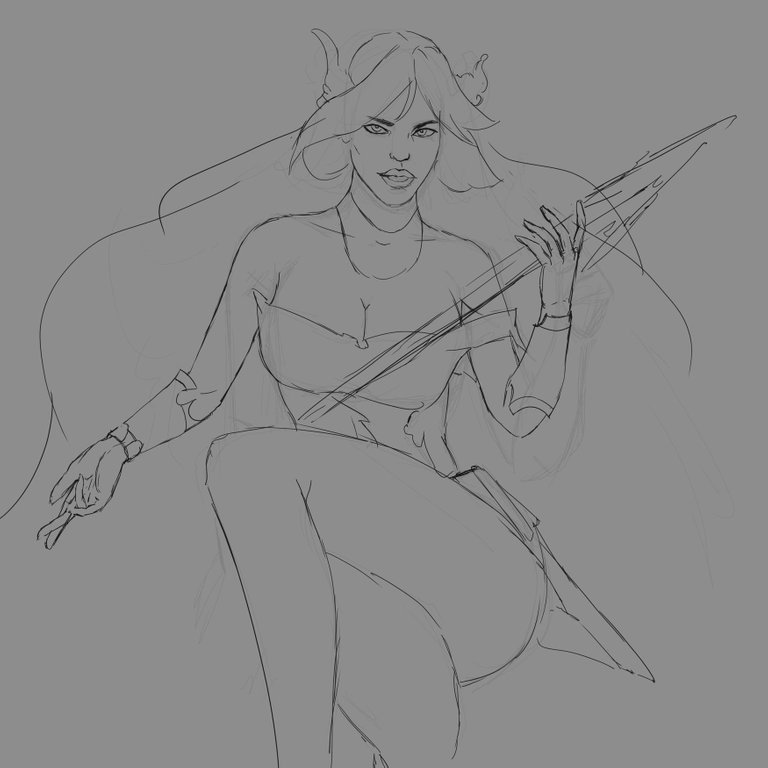 -Step 2:
The coloring was almost all blue, as it is the most prominent color in this character, and it was something that made me reconsider having drawn her, as I knew it would be a bit complicated to avoid the painting of this girl to be monotonous.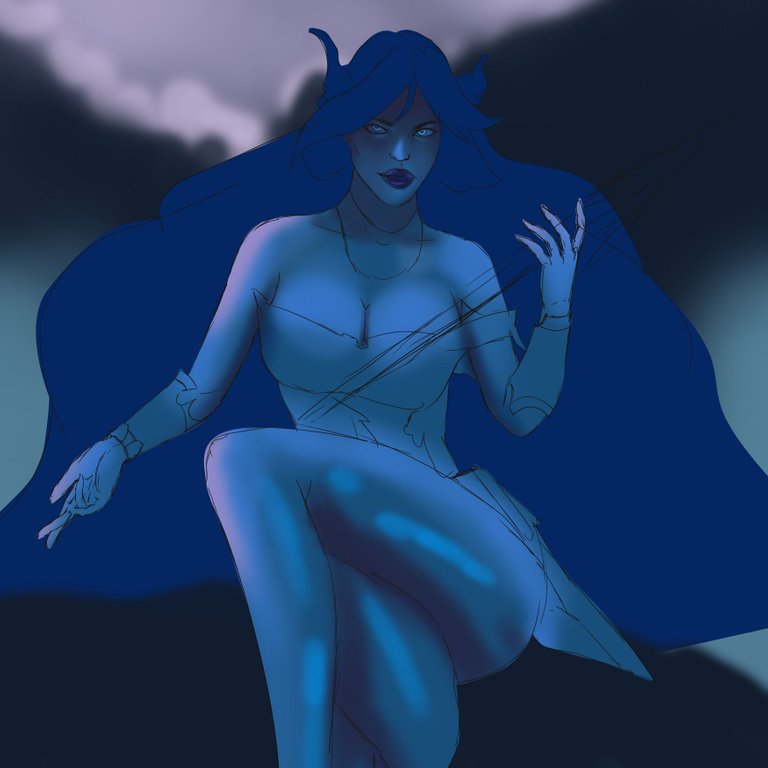 -Step 3:
But once I had the main elements of the character in separate layers, I proceeded to lighten the skin and immediately detail the face, painting over the lines of the sketch and correcting some things that were not right, for example, the mouth was giant, so I painted it a little narrower to maintain the proportions of the face.

-Step 4:
And here comes the reason why I didn't paint the harpoon, I wanted to keep a more symmetrical composition and that's why I added a couple of waves on each side of the Nymph, which blended in with her long hair, and it's also a trick to avoid detailing the hair completely.

-Step 5:
So far everything looked pretty good, except something very important, I was not satisfied with the colors, I kept seeing the whole scene blue, that's why I intensified the pink color of the clothes and the forearm protections, and then I applied a color balance filter to green the skin a little bit, this way I managed to highlight it without going too far away from the original color of her skin.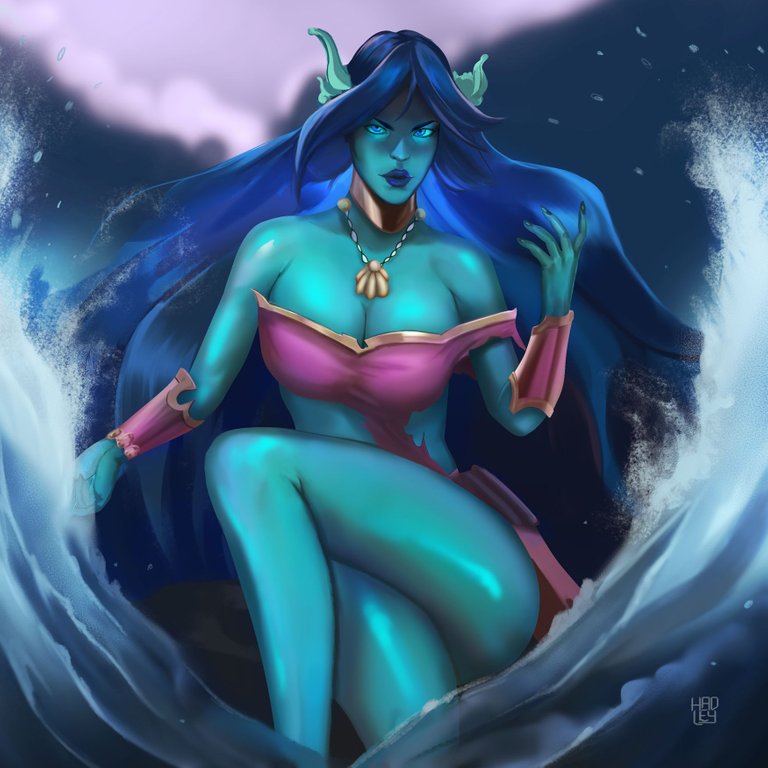 ---

I will leave you a GIF with the whole process on it, so you can better appreciate the illustration process.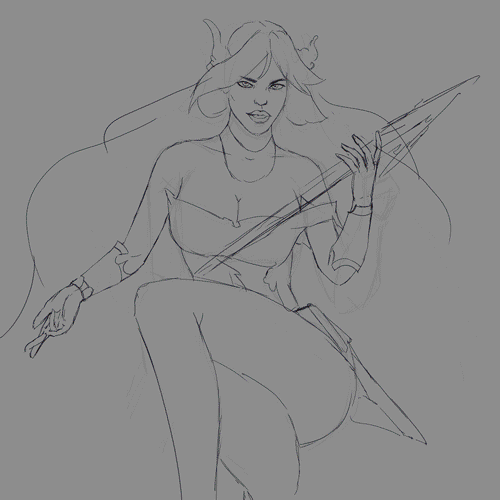 ---
---
See you in a future post!
Thank You for Supporting My Artwork
TWITTER | GHOSTMARKET |TERRA VIRTUA |NFT SHOWROOM | INSTAGRAM | FACEBOOK
⬆️ Follow ⬆️

---
---