Sorrel the bale helped me beat the artistic block | Splinterlands Contest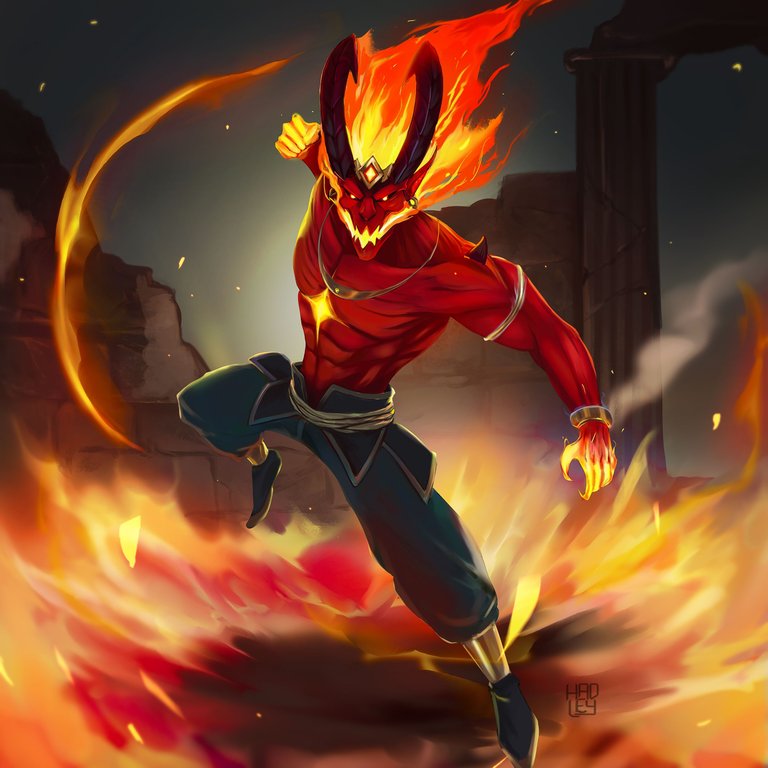 ---

It's been a few weeks since I've been around here
I was attacked, that's right, I was attacked by the artistic block, it's something that never fails anymore and always comes at least once a year in my life, it's very frustrating, but I'm back again, ready to make a lot of art for you.
So I'm back to my safe place, the Splinterlands weekly contests, where I'm happy giving life to the characters of this game, it's something I enjoy and I know you guys enjoy this art. And after so many days of inactivity what better than coming back on fire! I wanted to paint some character with a cool story and a very tough guy look, and the ideal character for this is of course Sorriel the Bale, who only wants to see burn those who keep him subdued, and with his flames I also want to free myself from this annoying blockage that wants to absorb me.

Play Splinterlands Now❕

Tools:
Gaomon S620
Photoshop
Brushes courtesy of Imad Awan: Download here
🔰Process🔰

-Step 1:
According to the art of Splinterlands, the nature of this character is very active and I know that he goes for direct melee attack, so when sketching him I have chosen a pose that directly denotes his defiant attitude and physical agility.

-Step 2:
Then I applied the original color palette of the character, but with some slight changes of tonality both in the horns, as I wanted to make them contrast directly with the brightness of his flames.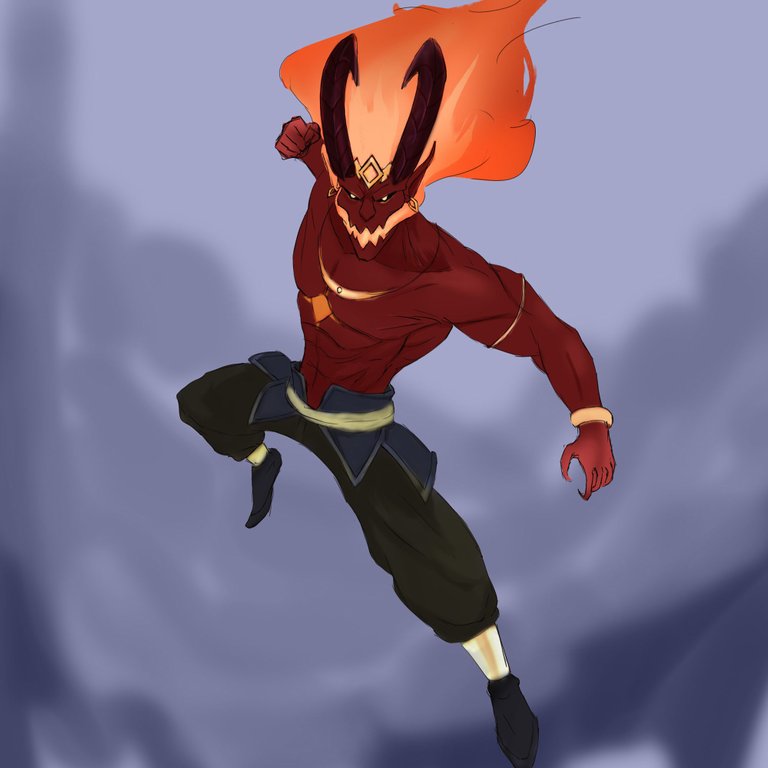 -Step 3:
Now comes the interesting part, and is that I left behind the flat colors to dedicate myself to the detailing of the character, using the "overlay" fusion mode to illuminate and thus be able to give volume to all his musculature, this same fusion mode I have applied to the flames to make them shine brightly and thus be able to have clear the dynamics between lights and shadows that I would handle in this scene.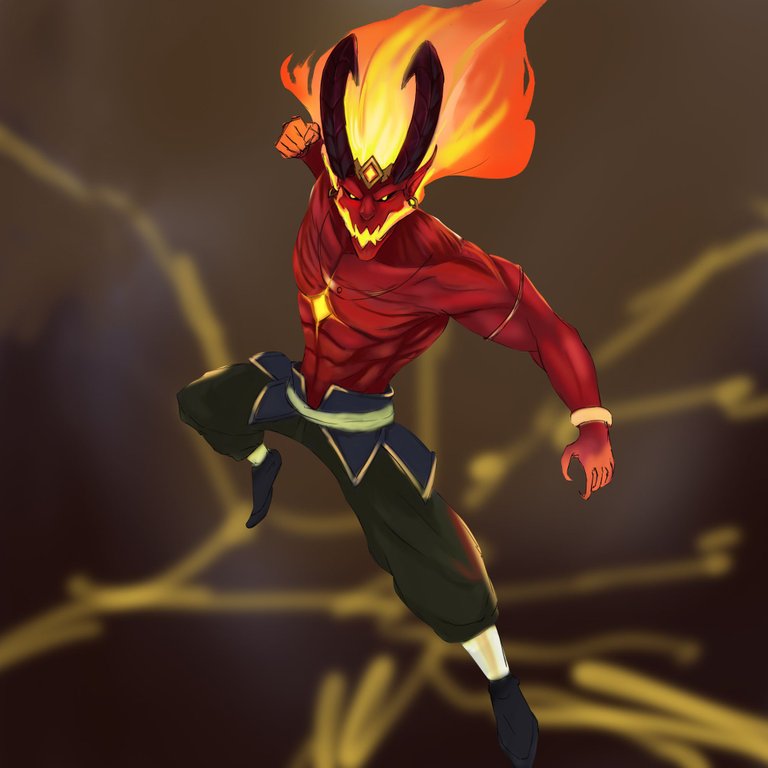 -Step 4:
Something that until now I didn't have clear was the background, I really didn't know what scenery I wanted to add and this is where the artistic block was trying to stop me, it provoked me to leave this artwork incomplete and start a new one where I would have clear all the elements I would use, but I put aside those thoughts and decided to go for something simple, flames and some ruins (not the best you have seen) but they were an impulse to finish this art.

-Step 5:
I had made some blue flames before, and I intended to make that fire between orange and blue, but to avoid conflicting with myself to achieve this, I preferred to play it safe, yellow flames with an orange glow, very simple and very striking at the same time, So I made a color correction to give more enhancement to Sorrel's red skin and replaced the flames around his hands with a strong glow in his fists, which is how I imagine him concentrating his power before releasing him wildly against his opponent.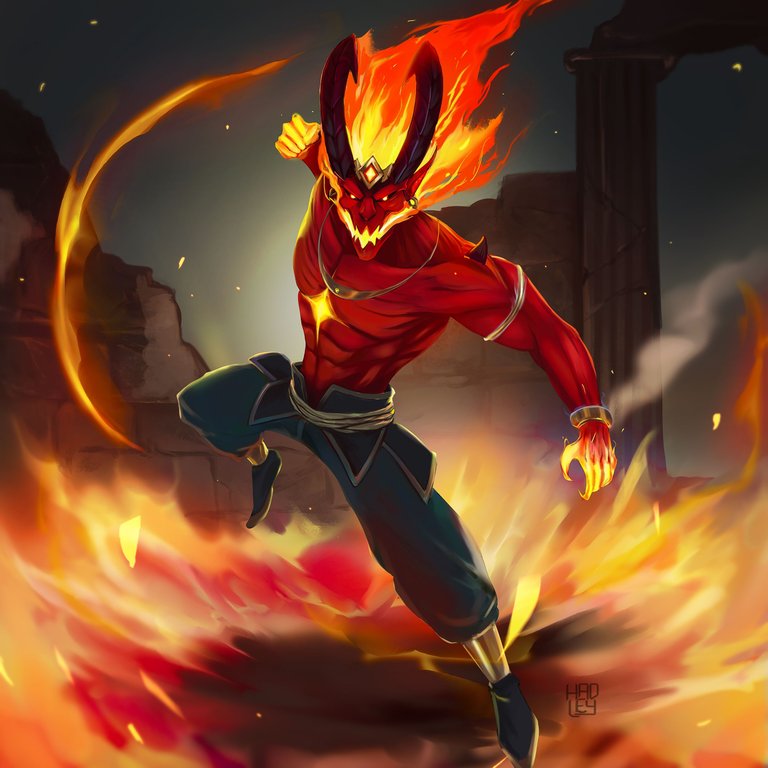 ---

I will leave you a GIF with the whole process on it, so you can better appreciate the illustration process.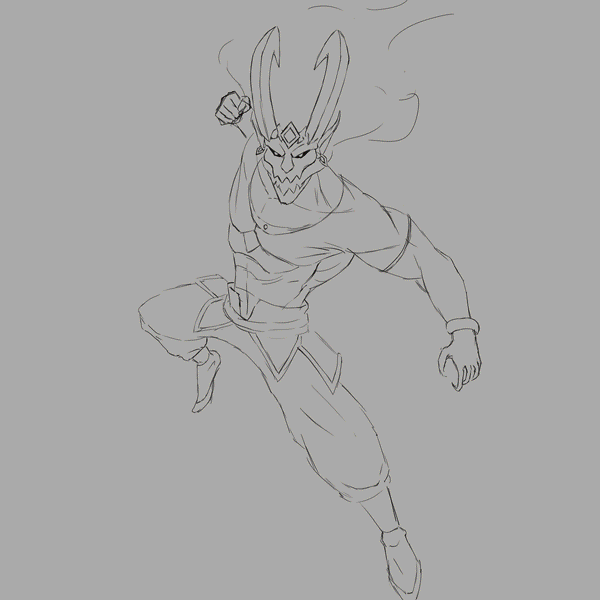 ---
---
See you in a future post!
Thank You for Supporting My Artwork
TWITTER | GHOSTMARKET |TERRA VIRTUA |NFT SHOWROOM | INSTAGRAM | FACEBOOK
⬆️ Follow ⬆️

---
---