Fear never builds the future, but hope does! (weekly crypto updates)
So, another week passed, and so many things to talk about.
Bitcoin: Magic Eden, a marketplace for Polygon, ETH, and SOL NFTs, will launch its own fully audited Bitcoin Ordinals Marketplace, to buy and sell them. Between February 1 and March 1, the ordinal numbers increased from 679 to 240.000. Bitcoin raised 38.6% since the Silicon Valley Bank fallout, as all the banks collapsing lately make us think that the 2008 crisis is coming back. BTC surged 28% just last week, up to $28.5K, outperforming all major altcoins. Bitcoin outperformed gold x10 times this year. A former Coinbase executive started a bet that 1 BTC will be higher than $1M in 90 days. We all wish to see that, but I don't think so. Also, people are somehow making fun of the Credit Suisse CEO, which in 2017 was saying that BTC is a bubble, and will disappear slowly, as now BTC is up 318%, and Credit Suisse was close to bankruptcy.
Ethereum: Microsoft tested the Ethereum wallet in the Edge browser, with the ability to send and receive crypto and NFTs, without any additional extensions.
Altcoins: Cardano's ADA suffered a 9.8% loss in February, and average daily volumes are 24% down too. It seems that they struggle to maintain momentum. The Arbitrum airdrop was done, and with the raise of Arbitrum DAO, several governing bodies are now up and running, including Arbitrum Foundation, the Security Council, and the Data Availability Committee. Hashflow is a new type of DEX where the price of the trade is known before you execute it. Telegram launches USDT payments on Tron blockchain. Stablecoin's daily trading volume reaches its highest level since FTX collapsed. DAI issuer MakerDAO voted to maintain USDC as its primary reserve asset, even after the stablecoin lost its peg for a few days. The biggest crypto movers this week were LQTY (Liquity) STX (Stacks) and MASK (Mask Network). Layer 2 chains with no token say a surge of activity after ARB airdrop. Some were talking about a LLAMA token, but this news prove to be untrue, being denied by the DefiLlama management.
Blockchain games and NFTs: 1inch is working to develop a 1inch NFT Marketplace. Taiwan is set to regulate all the crypto, but not the NFTs, trying to improve the anti-money laundering rules too. An estimated $0.5B was invested in blockchain gaming, with $311M being linked with the land NFTs, a 227% increase from the last year. On the Splinterlands blockchain game, Secret of Pretoria 1.5 Land Whitepaper is out, and I can probably make a few articles about it. This is the short version, with the most important bits. We have 150 regions with 1000 lands each, so the total number is 150.000. All territories have 20-22 regions. There are 14 different terrain types, 4 rarities (common, rare, epic, legendary), and the resource type can be natural, magical, or Occupied. Each region will have a castle and 10 keeps, this specific plots can collect taxes and fees from the entire region. We have Starter packages, that can be bought with DEC-B and DEC, doing different things. The important bit is that some contain free Power Sources, as each plot needs one to work, and if you buy it is 5000 DEC. Up to 5 cards can be staked normally, to get resources, construct the building, and so on, and the Alpha Beta, etc are better than Chaos, Legendary is better than common, and Gold is better than Regular. Max level is the best one too. Think about this and how the market will boom when the land is here. You need 10K DEC to stack a max level card, and less if the card is lower level. There is a Production Points (PP) system and the better your staked cards and the land rarity, the bigger the production. Plots need to be cleared, and you use production points for them. Magical lands research the Secret of Pretoria, Occupied lands mine SPS. Runi gives you an extra card spot to stake. Runi, Totems, and titles can be used to boost production. There is a resource called Grain, consumed by workers to achieve 100% production. Less Grain, less production. Harvesting will be similar to claiming staking rewards. Any change to the plot will trigger auto-harvest. On version 1.5 there is a 10% tax on all harvests. Transporting Grain or other resources from one region to another implies a 12.5% transportation fee. Cards can be taken instantly but need a 3 days cooldown when unstacked. Below you can see the new roadmap.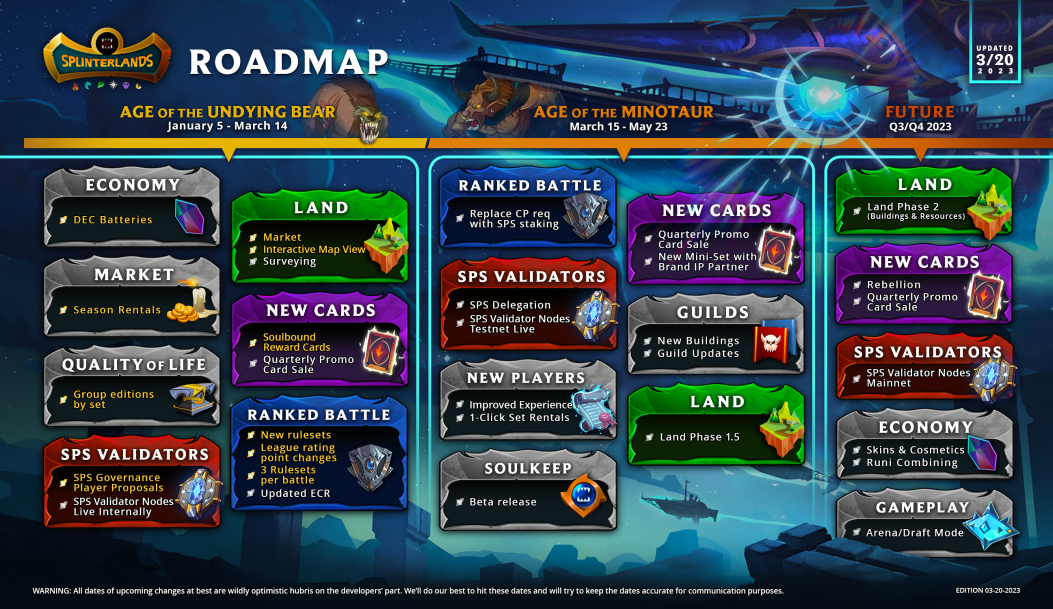 Good news: Coinbase explores launching an offshore crypto exchange, offering perpetual swaps tied to crypto assets. Ron de Santis, the Florida governor, wants to prohibit the use of central bank digital currencies (CDBC) within the state, calling other states to adopt similar legislation, as this stifles innovation and promotes government-sanctioned surveillance.
Bad news: FDIC (Federal Deposit Insurance Corporation) sold Signature Bank's deposits and loans to Flagstart Bank, a subsidiary of NY Community Bancorp, but crypto-related deposits were not part of the deal. All deposits taken over by Flagstar are insured up to $250K. Funny thing, when they accused FSIC a few weeks ago that they will force the buyers to buy everything except the crypto deposits, they denied it, saying that this is just some unfounded rumor. Until it happened. Coinbase no longer supports the real-time payment network Signet, of Signature Bank. There are rumors that Coinbase is working to set up a trading venue outside America, trying to get away from the challenging regulatory climate. FTX asks the judge to shield property from liquidators. They have also secured $500M for refunds after they sold their stake in Modulo Capital and Mysten Labs. FTX's new management is doing a good job, reducing the shortfall from $9.8B to $6.8B so far. Talking about the crypto collapse, Do Kwon was arrested in Montenegro and faces fraud charges, being also found with forged travel documents from Costa Rica. The latest scam is involving a trading app called iEarnBot, promising guaranteed high returns, but has the balance go to zero whenever you try to make a withdrawal. Do not use it. OKX is closing all its operations in Canada by June. Belgium is clamping down on crypto ads, with a mandatory warning to be added to all of them. Joe Biden's administration seems to declare war on crypto, in a new economic report, going from skeptical to negative and threatening. An incident happened on March 17-18, leading to more than $1.5M being stolen from General Bytes Bitcoin ATM's hot wallets. Crypto-adoption fell sharply in the UK, as only 5% of the British (2.7M people) currently own digital assets, from 9% 2 years ago.
Joke of the week: SEC is once again on the move. Decentralized exchange Sushi-Swap received a subpoena from the SEC, indicating that regulatory enforcement action may be forthcoming soon. A proposal to create a legal defense fund of up to $3M was submitted, with a backup of $1M in USDT. Curious to see how this one goes, as everyone hopes is in the decentralized feature. Wonder what will happen when everyone will get out of the US and just continue to innovate outside the American government committees' reach. Coinbase also received a Wells notice from the SEC and Tron Foundation, along with Justin Sun were charged by the SEC for the unregistered offer and sale of Tronix and BitTorrent cryptocurrencies. Eight celebrities (Lindsay Lohan, Akon, and a few others) have been charged for illegally promoting TRX and BTT.
All the best,
George
​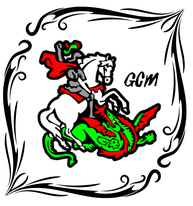 Why not...
...have fun and win rewards on my favorite blockchain games (Splinterlands- Hearthstone-like card game) (Mobox - GamiFI NFT platform) and (Rising Star - Music creators game).
...get crypto while writing on Publish0x blog, using Presearch search engine to maximize your income with PRE tokens. Use Torum instead of Twitter . I am also writing for crypto on Read.cash and Hive.
​
---
---