[EN/PT-BR] GUILD HIVE BR - Brawl Report #6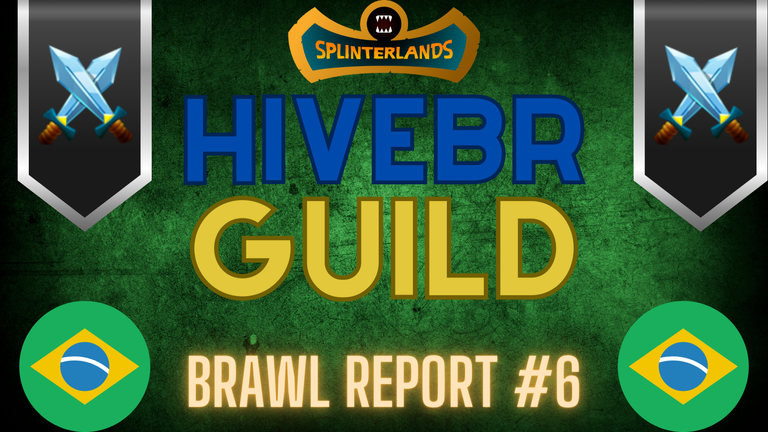 https://images.ecency.com/p/cyxkEVqiiLy5czPNg6acYWUoo1sAiV6GNzi6xcqDW2gVHZ1PQmvy5eNu5BYyKZCEgjpah2ck3vHyvqYxLTCsq9cACPae16LsTfW1dBzd5nE2FhD4CyHzzH7pJnhS7AvFAcN.webp?format=webp&mode=fit
After another week of a lot of battles in Splinterlands, the HiveBR guild has remained its continuous search for improvements in both individual and collective aspects.
We had a small drop in the Overall Rank, down to position 106, but we remain firm and strong as the best positioned guild among those that speak Portuguese.
Contributions for the buildings are still being made, but no improvements have been made since the tents reached level 5.
In the penultimate brawl, we had a little slip-up on the part of one of our leaders, who had the job of placing all the representatives in their respective frays.
He ended up forgetting and so only two members who had placed themselves took part, and this ended up causing us to make changes in this regard. From now on, players will be responsible for placing themselves in their frays, according to the one informed by the leaders, taking some of the weight off their shoulders.
In addition, it will be a way of showing whether our players remain active on a regular basis, which can also be seen through changes in their ratings during the season.
About the last brawl cycle, all the frays were filled, and there was fierce competition from the 4* to the 8* position. Only 8 victories separated the 5 guilds in these positions.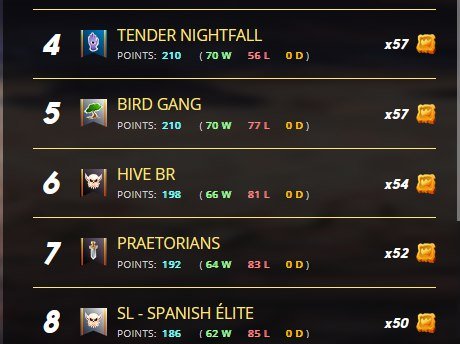 For this reason, there wasn't much difference in the prizes won by each of the guilds in the image above.
Our guild's SPS gain in this cycle was 25, which is equivalent to 40 cents according to the current price, which is 1.6 cents per unit. Its price has dropped significantly due to the fall in Bitcoin, and the supply remains high, with distributions not only in Brawls, but also in tournaments and Ranked matches.
The demand is apparently not enough to increase its value, and consequently its price, but many believe that it will increase in value in the long term, and is even a form of investment for some players.
In terms of merits, each player received the sum of 2700, which allows them to open a Gladiator pack and have the chance to improve their collection and consequently bring more victories to the guild.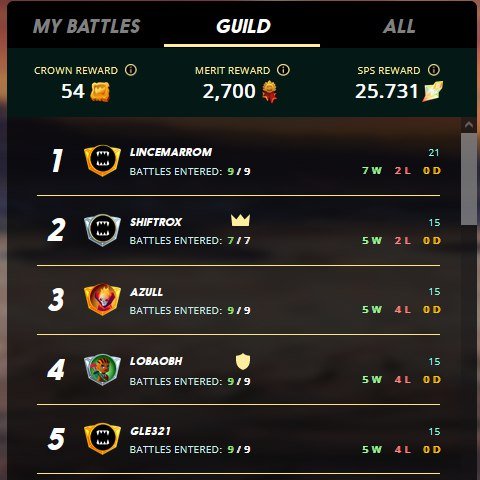 To help improve their buildings, the guild received 54 Crowns, slightly above the average of 50. As insignificant as this small gain may seem, it helps in the process of getting the amount needed to strengthen them ahead of schedule, which is for the end of this year.
We are working hard to achieve better placings in the brawls, often getting close to the top 3, where the biggest rewards are obtained.
This is a really hard task, since most players need to achieve a good individual result in order for the team to benefit, and we're not always prepared to face the most diverse opponents, who may bring different strategies than we usually face, and this makes it difficult to constantly maintain a significant amount of wins.
To help with this, we're holding our monthly card draws. The next one will take place on the 10th, and we hope that this time we'll have more luck, since in the last packs of cards we opened, we didn't get any relevant cards to distribute to our players.
HiveBR is not just a Splinterlands guild, but also a community where many Brazilians and Portuguese speakers meet to interact on a wide variety of subjects, in pursuit of one main goal: to become one of the largest communities within the Hive network.
To join, just click on the link below and you'll be directed to our Discord. There you'll be able to ask all your questions not only about the game, but also about the whole world around it, such as the frontend you're reading this post about.
And of course, make new friends with people from all over the world.
We look forward to seeing you there!
If you still don't play Splinterlands come join the community! Use our recommendation link: https://splinterlands.com?ref=hive-br
Thank you all so much and see you next time!!!

https://images.ecency.com/p/2r8F9rTBenJQonvFkRsaKAH39jaKNoUwtKLXMK2cemqfbURMh7cwZRCxJPWEopdKPNnchRg7aCWAAm14DSp18z8kcknwmXsgRDKZXZugPhiEaLPrJVyURpHAsFKy7pfyg.webp?format=webp&mode=fit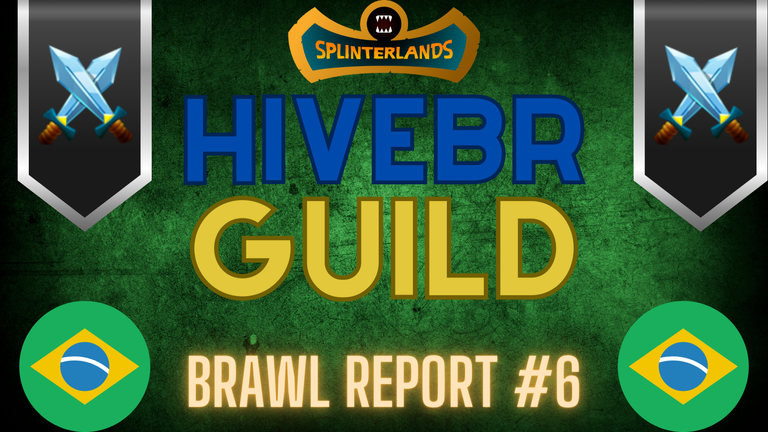 https://images.ecency.com/p/cyxkEVqiiLy5czPNg6acYWUoo1sAiV6GNzi6xcqDW2gVHZ1PQmvy5eNu5BYyKZCEgjpah2ck3vHyvqYxLTCsq9cACPae16LsTfW1dBzd5nE2FhD4CyHzzH7pJnhS7AvFAcN.webp?format=webp&mode=fit
Após mais uma semana de diversas batalhas em Splinterlands, a guilda HiveBR vem se mantendo firme na busca contínua por melhorias em ambos aspectos, individuais e coletivos.
Tivemos uma pequena queda no Rank Geral, chegando a posição 106, mas nos mantendo firmes e fortes como a guilda mais bem posicionada entre as que falam a língua portuguesa.
As doações para as construções continuam sendo feitas, mas sem nenhum aprimoramento feito desde que as barracas atingiram o nível 5.
No penúltimo brawl, tivemos um pequeno deslize por parte de um de nossos líderes, que possuía a função de colocar todos os representantes em suas respectivas frays.
Ele acabou esquecendo e então apenas dois membros que haviam se colocado por conta própria participaram, e isso acabou fazendo com que realizassemos alterações quanto a isso. A partir de agora, os players serão responsáveis por se colocarem em suas frays, de acordo com a que for informada pelos líderes, tirando um pouco o peso dos ombros deles.
Além disso, será uma forma de mostrar se nossos players se mantém ativos frequentemente, que pode ser visto também através de alterações em seus ratings durante a season.
Quanto ao último ciclo de brawl, todas as frays foram preenchidas, e houve uma disputa acirrada da 4* até a 8* posição. Apenas 8 vitórias separaram as 5 guildas que estiveram entre essas colocações.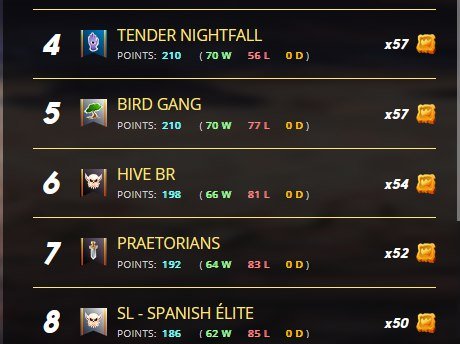 Por este motivo, não houve grande diferença nas premiações adquiridas por cada uma das guildas presentes na imagem acima.
O ganho de SPS por parte de nossa guilda nesse ciclo foi de 25, o que equivale a 40 centavos de dólar de acordo com o preço atual, que é de 1,6 centavos de dólar por unidade. O seu preço teve uma redução significativa devido a queda do Bitcoin, além da oferta continuar alta, com distribuições não só em Brawls, mas também em torneios e partidas Ranqueadas.
A sua demanda aparentemente não está sendo suficiente para realizar um aumento de seu valor, e consequentemente dos preços, mas muitos acreditam na valorização no longo prazo, sendo inclusive uma forma de investimento para alguns jogadores.
Referente aos méritos, cada jogador recebeu a quantia de 2700, o que permite abrir um pacote de Gladiadores e ter a chance de melhorar sua coleção e consequentemente trazer mais vitórias para a guilda.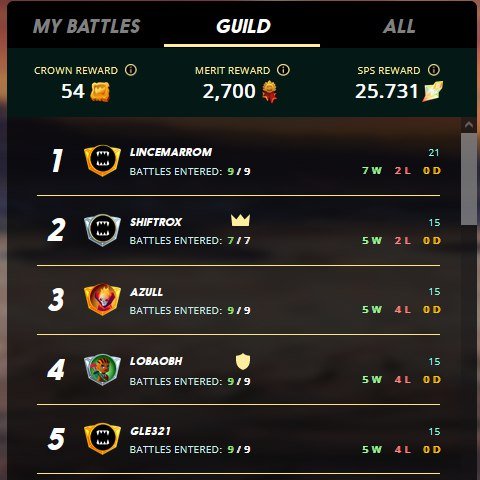 Para auxiliar na melhoria das construções, a guilda recebeu 54 Coroas, um pouco acima da média, que é de 50. Por mais que pareça insignificante esse pequeno ganho que foi superior aos demais, isso auxilia no processo de conseguir a quantidade necessária para fortalecer-as antes do tempo previsto, que é para o final deste ano.
Estamos mantendo o trabalho duro para conseguir melhores colocações nos brawls, chegando frequentemente próximo ao top 3, onde as maiores recompensas são obtidas.
Essa é uma tarefa árdua, uma vez que a maioria dos jogadores precisa conseguir um bom resultado individual para que o coletivo se beneficie, e nem sempre estamos preparados para enfrentar os mais diversos oponentes, que podem trazer estratégias diferentes das que costumamos enfrentar, e isso dificulta manter constantemente uma quantidade de vitórias significativa.
Para auxiliar nisso, mantemos nossos sorteios mensais de cartas. O próximo ocorrerá no dia 10, e esperamos que desta vez tenhamos mais sorte, já que nos últimos pacotes de cartas abertos não conseguimos cartas relevantes para distribuir aos nossos jogadores.
A HiveBR não é apenas uma guilda de Splinterlands, mas também é uma comunidade onde diversos brasileiros e falantes da língua portuguesa se encontram para interagir sobre os mais diversos assuntos, em busca de um principal objetivo: se tornar uma das maiores comunidades dentro da rede Hive.
Para fazer parte dela, basta clicar no link abaixo que você será direcionado para o nosso Discord. Lá você poderá tirar todas as suas dúvidas não apenas sobre o jogo, mas também sobre todo o mundo que existe em torno dele, como o frontend a qual você está lendo este post.
E é claro, fazer novas amizades com pessoas dos mais diversos locais não só do Brasil, mas de todo o planeta.
Te esperamos lá!
Se você ainda não joga Splinterlands venha fazer parte da comunidade! Utilize nosso link de recomendação: https://splinterlands.com?ref=hive-br
Muito obrigado a todos e até a próxima!!!

---
---