[EN/PT-BR] HIVE BR GUILD - Brawl Report

Guild HIVE-BR is the best placed Brazilian Guild in the Ranking of #Splinterlands, this wonderful NFT card game that combines strategy and daring! We currently occupy Rank #90, having lost 8 ranks since the last update. We have 42959 Guild Rating points.

GUILD HIVEBR STABILIZES ITS RANKING PLACE!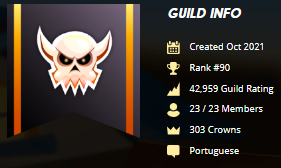 We achieved a historic feat and for the first time we were ranked 82nd in the ranking! This is very relevant if you take into account the size of the Brazilian community at Hive, which is extremely small. Taking a native Portuguese-speaking Brazilian Guild to such a high position in the global ranking is an impressive feat!
Despite the efforts, it was not possible to maintain the position, and we regressed some positions.
To join the Guild Hive-br and find out about how the guild works, contact us on Discord: https://discord.gg/NgfkeVJT5w

GUILD HIVEBR BRAWL REPORT

In the individual category, in this round our best player was @azull with 75% of 6 victories in 8 battles in Fray 7. This note is important because there is an award provided by the Guild HIVE-BR for players with the best winrate in the season. We certainly have people following the details of each Brawl because at the end of the day the best players are rewarded with Riftwatchers cards!
Each member was rewarded with 2350 Merits and 22.5 SPS. We start the comparative table of received rewards.
| Brawl | Rank | Crowns | Merits | SPS |
| --- | --- | --- | --- | --- |
| 07/31 | 8th | 41 | 2350 | 22.5 |
| 08/04 | 6th | 51 | 2550 | 32.3 |
In the collective category, Guild HIVE BR reached the SIXTH PLACE classification, receiving 47 crowns. We didn't have a good turnout this time! We need to increase focus and dedicate ourselves better to the next challenge!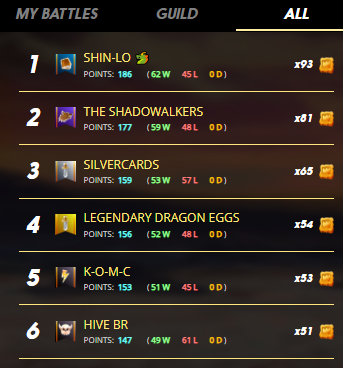 This award further encouraged the team to prepare to reach the goal, which is first place in tier 3! In addition, the traditional Pack Draw sponsored by Guild Hive-br has already taken place in order to deliver at least one card to each member, in addition to additional cards for the best winrate in Brawl.
Our awards live has already taken place and the prizes will be handed out this weekend, with official communication being made later.

GUILD HIVEBR TOP 5 PLAYERS
Some of our members are in champion and diamond leagues, so they have a very high overall ranking score. We decided to separate the ranking by leagues, representing the Brazilian strength in these leagues.
Modern Mode
| Player | Modern Mode |
| --- | --- |
| DLACERDA7 | 3374 |
| WEHAVEALL | 3325 |
| BLUE | 2660 |
| LYNCEMARROM | 2477 |
| GLE321 | 2351 |
Wild Mode
| Player | Wild Mode |
| --- | --- |
| WEHAVEALL | 3160 |
| GASPARETTO | 2200 |
| KAIBAGT | 2139 |
| D35TR0 | 1844 |
| DLACERDA7 | 1750 |
We had a change in the way we publish our Ranking, which is now separated by Modes and does not follow the mixed publication available in the Brawl section. The dispute is fierce and our players are not to be played with!
New member @dlacerda7 was hot on the heels for the top spot, and now he's taken the lead. The Wild Mode lead was held by our top player @wehaveall who lost the Modern Mode lead to @dlacerda7.
The competition is fierce!

CONCLUSION
We concluded the Guild Hive-BR recruitment phase and we have all vacancies occupied. But that doesn't stop you from making contact through our discord if you're interested in joining our team. Your case will be analyzed and we will find a satisfactory solution.
In addition to being in the Guild, the new member will be able to participate in the new Frays that are released in Brawl when we level the Arena to level 7!
If you still don't play Splinterlands come join the community!!!
If you want, use our recommendation link:
https://splinterlands.com?ref=hive-br
Thank you all so much and see you next time!!!


A Guild HIVE-BR é a Guild brasileira melhor colocada no Ranking de #Splinterlands, este maravilhoso game de cards NFT que combina estratégia e ousadia! Atualmente ocupamos o Rank #90, tendo perdido 8 coocações desde a última atualização. Estamos com 42959 pontos Guild Rating.

GUILD HIVEBR ESTABILIZA SUA COLOCAÇÃO NO RANKING!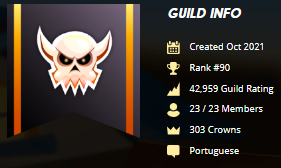 Atingimos um feito histórico e pela primeira vez constamos na posição 82º no ranking! Isso é muito relevante se você levar em conta o tamanho da comunidade brasileira na Hive, que é extremamente pequena. Levar uma Guild brasileira, de língua portuguesa nativa, a uma posição tão alta no ranking global é um feito impressionante!
Apesar dos esforços, não foi possível se manter na posição, sendo que regredimos algumas posições.
Para ingressar na Guild Hive-br e se informar sobre como a guilda funciona, entre em contato no Discord: https://discord.gg/NgfkeVJT5w

GUILD HIVEBR BRAWL REPORT

No quesito individual, nesta rodada nosso melhor player foi @azull com aproveitamento 75% de 6 vitorias em 8 batalhas no Fray 7. Essa anotação é importante pois existe uma premiação fornecida pela Guild HIVE-BR para os jogadores com melhor winrate na temporada. Com certeza temos gente acompanhando os detalhes de cada Brawl pois no fim das contas os melhores jogadores são recompensados com cards Riftwatchers!
Cada membro foi recompensado com 2350 méritos e 22.5 SPS. Começamos a tabela comparativa de recompensas recebidas.
| Brawl | Posição | Coroas | Méritos | SPS |
| --- | --- | --- | --- | --- |
| 07/31 | 8º | 41 | 2350 | 22.5 |
| 08/04 | 6º | 51 | 2550 | 32.3 |
Já no quesito coletivo, a Guild HIVE BR atingiu a classificação SEXTOLUGAR, recebendo 47 coroas. Não tivemos uma boa participação desta vez! Precisamos aumentar o foco e nos dedicar melhor ao próximo desafio!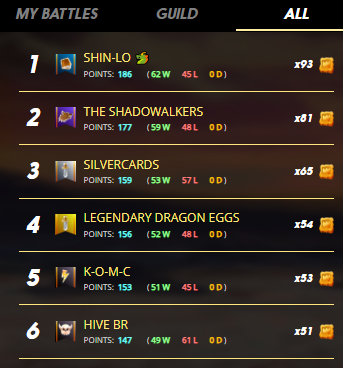 Essa premiação encorajou ainda mais a equipe para se preparar para atingir o objetivo, que é o primeiro lugar no tier 3! Além disso, já foi realizado o tradicional Sorteio de Packs que a a Guild Hive-br patrocina de forma a entregar ao menos um card para cada membro, além de cards adicionais para os melhores winrate no Brawl.
Nossa live de premiação já aconteceu e os prêmios serão entregues neste final de semana, sendo posteriormente feita a comunicação oficial.

GUILD HIVEBR TOP 5 PLAYERS
Alguns de nossos membros estão nas ligas de campeão e diamante, por isso possuem uma pontuação na classificação geral bastante elevada. Resolvemos separar o ranking por ligas, representando a força brasileira nessas ligas.
Modern Mode
| Player | Modern Mode |
| --- | --- |
| DLACERDA7 | 3374 |
| WEHAVEALL | 3325 |
| AZULL | 2660 |
| LINCEMARROM | 2477 |
| GLE321 | 2351 |
Wild Mode
| Player | Wild Mode |
| --- | --- |
| WEHAVEALL | 3160 |
| GASPARETTO | 2200 |
| KAIBAGT | 2139 |
| D35TR0 | 1844 |
| DLACERDA7 | 1750 |
Tivemos alteração na forma de publicação do nosso Ranking, que agora é separado por Modos e não segue a publicação mista disponível na seção Brawl. A disputa é acirrada e nossos jogados não estão para brincadeiras!
O novo membro @dlacerda7 estava na cola pela disputa do primeiro lugar, e agora tomou a dianteira. A liderança Wild Mode se manteve pelo nosso top player @wehaveall que perdeu a liderança no Modern Mode para @dlacerda7.
A disputa está acirrada!

CONCLUSÃO
Concluímos a fase de recrutamento da Guild Hive-BR e estamos com todas as vagas ocupadas. Mas isso não impede que você faça o contato através do nosso discord caso tenha interesse em adentrar ao nosso time. Seu caso será analisado e encontraremos uma solução satisfatória.
Além de estar na Guild o novo membro poderá participar dos novos Frays que forem liberados no Brawl quando uparmos a Arena para o level 7!
Se você ainda não joga Splinterlands venha fazer parte da comunidade!!!
Se quiser, utilize nosso link de recomendação:
https://splinterlands.com?ref=hive-br
Muito obrigado a todos e até a próxima!!!

---
---