Chao Legion Presale Benefits And The Biggest Opportunity To Earn Money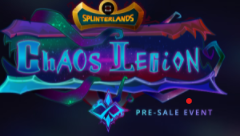 Hello splinterlords and splinterladies, the chao legion we are waiting for is finally here, we need to make use of the opportunity and increase our chance for the benefit that is attached to it. I was trying to get packs today with my DEC balance, I discovered that buying packs requires you to own a voucher: I can't buy packs today because I did not have a voucher to buy.
Therefore , I either wait for my voucher to drop or I get vouchers from the market. Looking at the benefits of chao presale, I am crazy and eager to get those benefits.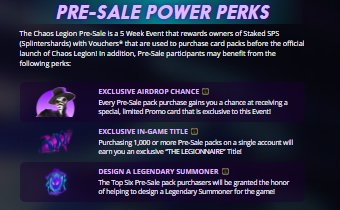 BENEFITS TO ENJOY DURING CHAO LEGION PRESALE
Legionnaire title: I think this title is giong for players that purchase 1000k packs, which simply means there are benefits attached to legionnaire titles and the players who buy 1000 or more packs will be getting these benefits. When I checked the comment section of the splinterlands post that wrote about it, many players were in awe of this title. I personally love it but I don't have the power to buy 1000 packs. The most intirque aspect of it is that, the best 6 players with the most purchases will be working with splinterlands and also design their legendary cards. What an opportunity! Working with splinterlands and designing your legendary cards is a great opportunity.
Vouchers: few hours after the presale started, I wanted to buy presale packs but there was a message saying 'I do not own a voucher'. I was eager to know the reason, I discovered from a friend of mine saying, "I need a voucher to buy presale packs". I went to market in hive-engine to get one; the price was crazy too much for me, I saw $22 and there was no more spirit in me to get it. The price was too much for me; I am patiently waiting for my voucher to reach one voucher before buying packs.
I am seriously sad because I wasn't able to invest in SPS satking, that is the reason I am not getting vouchers, players that stake more than 10,000 SPS are getting vouchers everyday.
Therefore, if you stake SPS, you will be able to get vouchers on a daily basis depending on the number of the SPS you stake.
New cards: this is a great opportunity for small players to increase their power and proceed to the next level. About 13 new cards will be released which you will have the opportunity to get when you buy presale packs. This is the reason I just have to try and get 50 packs; I want my account to increase to gold level and am working seriously towards it.
Each pack will contain 5 cards, according to the press, there is a chance to receive epic, legendary rare and gold foil cards. Getting all these cards, your card collection power will be increasing, and you will have good cards to battle in the battlefield.
I welcome and congratulate all the new players to this splinterlands big event which is happening right now, and it is time to get into the presale chao legion and enjoy all the benefits. It is an amazing opportunity for every player that desires to earn more money in splinterlands. Splinterlands is a future game where you can invest your money without regret. I remember when the price of Splinterlands assets skyrocketed some months ago, people were blaming themselves for not investing so much on the game before the price went up. It is the biggest opportunity again for new players to invest so much and enjoy the benefits of your investment.
This is the opportunity for players in novice level to get into silver level; players in the silver level to get to gold level; players in the gold level to get into diamond and players in the gold level to get to the champion level.
Your level depends on the rewards you will get and the bigger of your assets the higher of your rewards.
we shall meet i battle very soon!
To join the winnning team and enjoy slinterlands game click here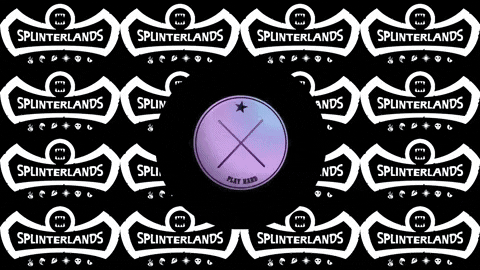 All the pictures and gif are gotten from splinterlands website
---
---