WHAT TO EXPECT FROM HIVE AND SPS; FIRST EVER GLADIATOR TOURNAMENT IS OUT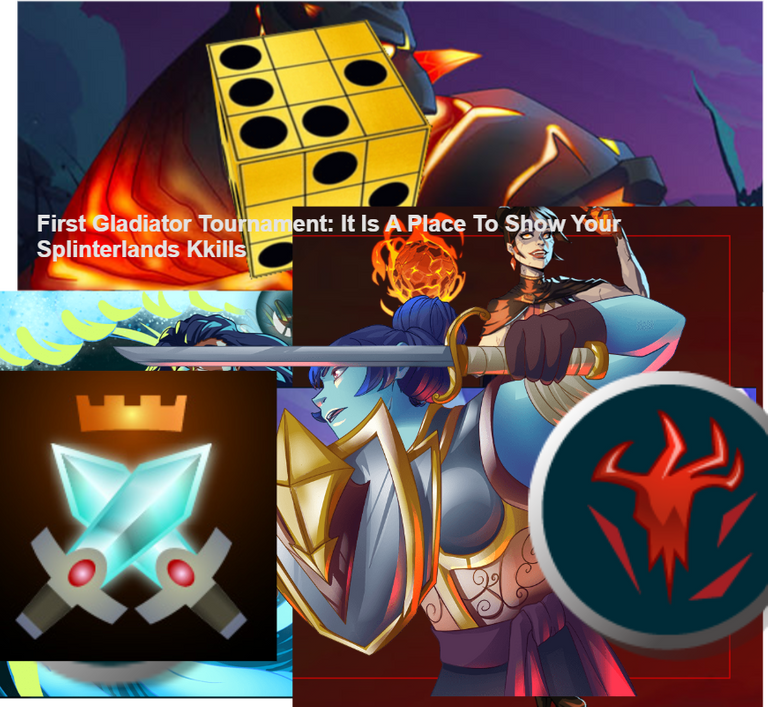 Hello hivers, how are you doing? The beginning of the season is somehow very simple for me in time of battle. I win 80% of the battle sometimes; the strategy i used is that, in the beginning of the season, I may not play for 2 days. Therefore, the big players moved up, then that is how i get opportunity to battle lower players.
Today I was on discord server with my friends, chatting and laughing: we were discussing about many things: one of them was 'tapwar game' of which i have never heard of it, the first time I heard such thing was today; I was trying to get the depth of the game from the person that talked about it. When i replied to him that, tell us more about the game?
He said, "I also heard about the game and i need more information about the game".
I realized that becoming a gamer is more profitable these days than some of the office work we do. Hence, I am just searching for opportunities out there.
One of them bought a summoner, she bought 2 gold foil grandmaster rathe of level 2; each cost $92.49. I like thismonster abilities- armor, void armor and amplify abilities. This amplified and void armor makes me want this legendary monster so bad; but I can't afford it right now.
Good news! While I was chatting in the discord, a message popped up from splinterlands channel. When I read the message, it was about the new tournament and is called 'Gladiator Open Tournament'.
This is the first tournament to use gladiator cards with other cards, to participate [click here](Splinterlands - Collect, Trade, Battle!)
This link above will take you to the tournament; you just need 15 SPS to participate in this tournament.
This tournament is one of its kind. Gladiator cards have never been used in tournament before, this is the first time and that is what makes this tournament very unique.
Note that all the sosplinterlands cards will also be used, this is the opportunity for players who have been brawling to showcase their skills in this tournament.
The top 4 in the table win 1220 SPS, 5-8 win 915 SPS. 9–16-win 610SPS, 17-32 win 610, and many more.
WHAT TO EXPECT IN SPS AND HIVE IN THIS SEASON
The market is smiling right now, i believe that this is just the beginning of bullish season. Many investors have been waiting for the season like this.
I don't even know that hive went above $0.44 overnight, during the night of pumping, i only saw hive in $0.39.
Well! I have witnessed the downtrend and uptrend of hive these few days, but one thing that i am confused about the price of hive above $0.44 few days ago, that is just good news that hive is one of the crypto that can touch $1 or above when the bull starts.
The movement of the hive these days also affected some coins in the hive-engine. When you look at the situations of how the market is going right now; there is positivity that SPS will also increase but i am not sure about the percentage it will increase.
SPS supply is high, so this may cause the coin not to rise as usual. I remembered when the SPS was launched, it was $1 then, but right now, it is far below the peg.
REASON I LIKE TO USE PELACOR CONJURER AND ADELADE BRIGTHWING
There are monsters you think are not that effective like others because they don't have melee, magic and range attack. We the first time I saw pelacor conjurere in during the release of chaos legion, i don't think I could use the monster because it does not possess the abilities i preferred until one day i forced to use it; there was no option rather than to use pelacor conjurer, that was where I saw how important it was in battle, especially battles with lower mana.
I knew the moment I got Adelade brightwing that is a wonderful monster. The level two of this monster has resurrection ability which makes it more important.
The armor and magic ability of Adelade brightwing makes it dear to me, i like using Adelade brgthwing especially when earthquake rule is given in battles.
The major reason i used adelade brightwing and pelacor conjurer was the earthquake rule in this battle. The flying ability was a solution to earthquake rule; monsters without flying ability will take two damages at the end of each round.
My opponent used sneak abilities monsters to destroy all my monsters, that was the reason he selected 2 sneaky monsters and one opportunity monster.
RULESET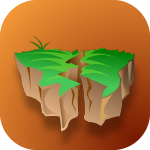 Earthquake: Non-flying monsters take two melee damage at the end of each round.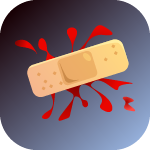 Healed Out: All healing abilities are removed from monsters and summoners.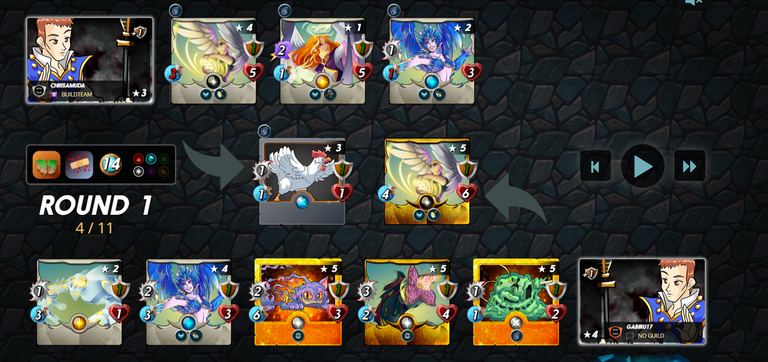 lick here to watch the battle
MONSTERS ARRANGEMENT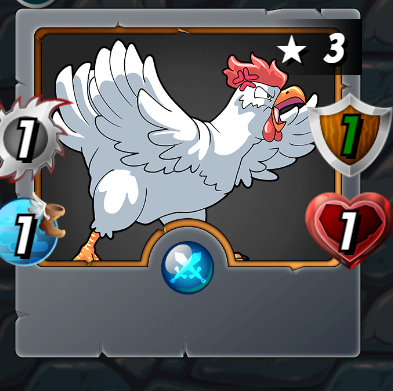 FIROUS CHICKEN: I thought my opponent would use an attacking monster in the first position; that was the reason I used furious chicken as the first monster so that it could take the first attack from me. Even though I used furious chicken as the last monster, I would have won because he used sneaky monsters.
My opponent read my mind very well, he knew i would attack from the front; then, he used sneaky monster to destroy my monsters from behind.
One thing that saved me from this battle was the flying ability. At the end of round one, the armor of my opponent's monsters was destroyed but earthquake rule, except monster with flying ability.

PELACOR CONJURER: I intentionally selected pelacor conjurer as the second monster; I knew that furious chicken would last in this battle because of the opponent's monsters and earthquake rule.
I knew pelacor would be a good idea monster to lead the battle due to its flying ability that helped this monster not to be damaged each round when the earthquake rule damaged the health and armor of non-flying ability monsters.
I also thought that the magic reflection would work well in this battle; unfortunately, my opponent did not use magic monsters in this battle.

ADELADE BRIGHTWING: I was so confidence about the armor repair of this monster, that was the reason adelade brightwing was repairing the armor of friendly monster each round: this is the reason the opponent's monsters found it hard to eliminate furious chicken and celestial harpy.
The opponent's pelacor conjurer was a major problem for adelade brghtwing; each time adelade brightwing attacked conjurer, it returned damage back to adelade.
At the end of the battle, adelade brightwing and pelacor conjurer was left.

CELESTIAL HARPY: This monster also has flying ability, which is the major reason I selected the monster. You could see how the flying ability evaded the melee attack of stitch leech in round one and round two.
To play splinterlands, click her
The pictures used in the post are from splinterlands.
Do you want to play and earn passive income? Get to @splinterlands and read the details about the game.
Thank you for reading my post.
---
---