My first DYGYCON - The DYGYCON 5 Experience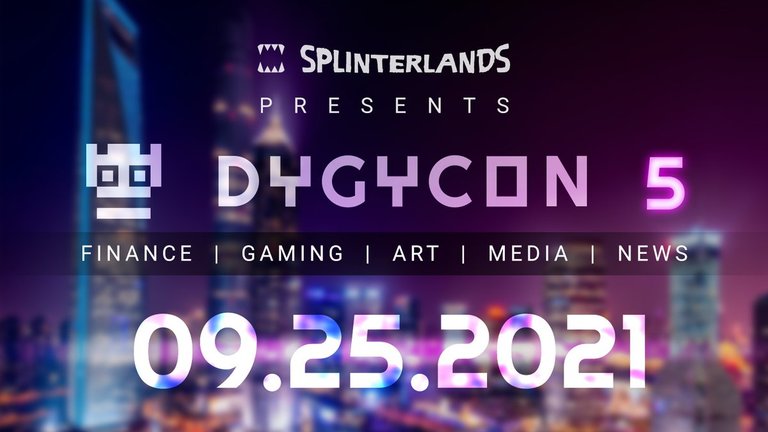 For those who missed the Dygycon event yesterday (25th of September) worry not, this will be a little summary of the things that called my attention there, but I'll have to say that you missed a hell of a lot of fun! It was my first time on Dygycon and there was just so much to see in there, so many places and projects to learn about, and so many people to talk to and share the experience with. I can only say that it was a blast for me, and I hope to see you around the next one!
Starting the event, Aggroed from Splinterlands gave a little word about the vision of Dygycon:
The Vision for this (Dygycon) has always been to unite specially the gaming community, but the NFT community and the DeFi community too, and just bring people together and talk about the things that interest us, we dream about, we wanna build, and help everybody make connections.
We have to not only make the video games but there's this extra layers that normal business don't have, like connecting the different bridges, connecting the different communities, and connecting the different blockchains. It's extra challenge for the blockchain guys to even get projects up and running.
So for those that have been at all successful or even those that are building something brand new, I had this vision that it would be great if we can all come together, work together, play together, and be introduced to people and hopefully we find the folks we need along the way to build on the dream and keep doing awesome stuff.
Time Stamp - Splinterlands Official YouTube - 36:12;
I believe that this opening statement really reflects what Dygycon really is. To be honest I missed this speech live, and after the even when I watched, I was just like "man, that was literally what I felt in the event". Dygycon is this bridge that unites players, developers, enthusiasts, investors, and really any kind of community that loves the blockchain and crypto universe. It is this public digital place of reunion, and we may see these gatherings being more and more crowded in every next time.
You can always win some SWAG by walking around in Dygycon too, and I actually learned that SWAG means "Stuff we all get". Did you know that, or am I the only one that didn't know?
Let's talk about some of the projects that really made an impression on me.
Dogira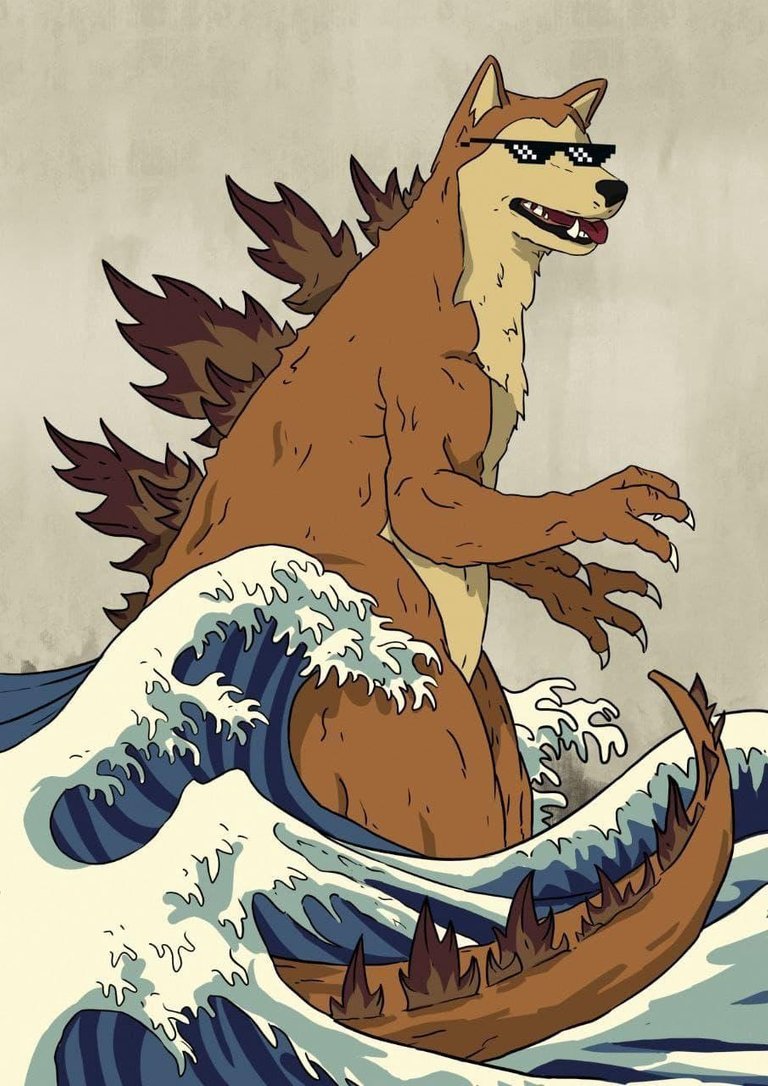 Dogira was the one project that struck me at first sight, and I couldn't really take my eyes off of it. I was walking around and opening the web site and white papers of pretty much every tent of the event, and when I arrived at Dogira, I had to take a breather. Opening the White Paper, the first thing you see is a magnificent piece of art, and I mean it. The quality is so good, that it could be featured in any big studio type of game, it is that gorgeous, and I'll leave a taste of that down below, but I urge you guys to check it all out for yourselves.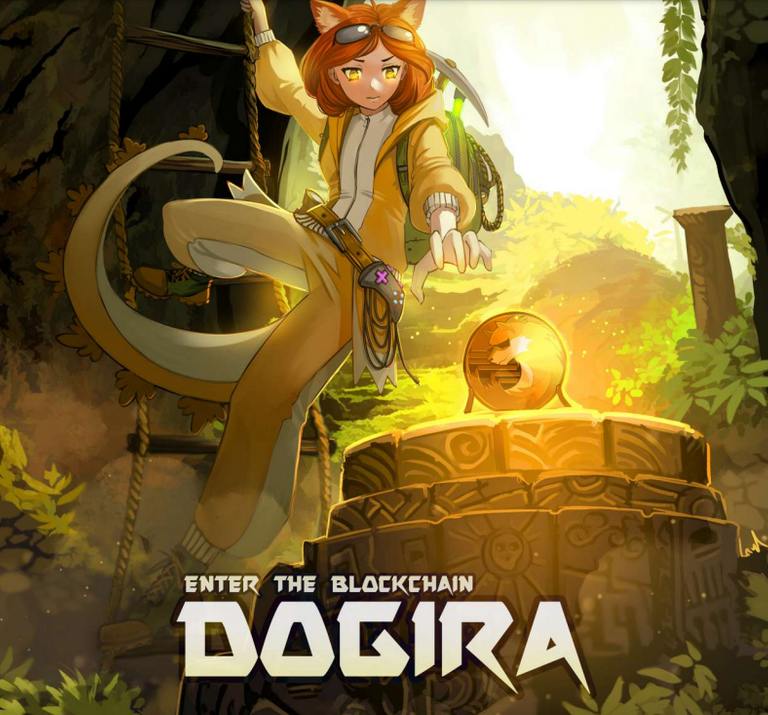 Art by Mary Mabiruna
From there on, I had just fallen for Dogira, and I'll leave the transcription of Skyler Ramsey speech and Q&A, the Dogira representative in the Dygycon, for you guys so that you can learn a little bit about their project too.
This is Skyler speaking:
In short we are a blockchain gaming company, a blockchain gaming studio, so we are going to be producing our own games as well as kind of publishing and introducing other games into our ecosystem. So for example if we created our own game we would launch a separate token or use our current dogira token inside that game. We have the experience to do so, we have three Unity developers with a combined gaming development experience history of sorts of about 30+ years; our lead dev has about 10+ years of Unity dev experience, he's made his own video game about 2020 released on steam, that got around 150,000 downloads, and now he's working for us. So of course we're going to be creating our own games, now with the ecosystem itself, we have a token launch pad which allows us to create new tokens for those video games that come out from other studios, other independents, and anybody that wants to work with us. Their tokens, if they have a token already, can be integrated into our ecosystem, or we can make one for them.
Dogira token is the golden standard of the ecosystem, and to get a better grasp of what that means think about the US dollar. It's backed by infrastructure, trade, the military, by sometimes even gold, and other assets that we have. Now when it goes into a cryptocurrency it's like "what's that backed by?" It's backed by the community, it has social value; if it's proof of work it's backed by all the mathematical equations that makes a block; it's backed by the people that have the token, not just the community but the holders of the token, I'm not really sure if that plays into the social value of it.
Dogira's ecosystem, the dogira token, and the community around it is sort of the infrastructure where the dogira token is the gold, and then this other currencies that stem from dogira token would be essentially the currencies of the game, and so all of it is measured off the dogira token as opposed to one currency going across multiple games. This allows us to better control inflation and deflation in these games if we do implement an in-game economy.
We can introduce games that can be already released with cryptocurrencies and/or NFT's or we can just integrate blockchain tech from the ground up. That's pretty much what Dogira is right now as a whole.
After that there were some questions, and that is the one that stood out for me:
---
Will the first game be browser based?
That's being heavily looked at considering that all the tools, like the game engines for making browser games, they have advanced quite rapidly. You can play a good amount of games on browsers so it's a possibility that we might have a browser based game. It would be a lot easier to integrate and you wouldn't have to download any executable file or anything else. Yeah, that is something that we are considering.
---
There were some really interesting things learned in this Q&A too, like the fact that Dogira is an anagram of Gidora, Godzilla's enemy, and one of the participants asked about Astral Entities, which in the words of Aggroed:"It is a project that may or may not have to do with me", and it was quite in the air that this might be a secret project still in the oven, so keep your eyes on that guys.
For more Information on Dogira, they have AMA's once a week on Discord and Medium articles once a month that you can check out, I'll leave links below.
Dogira Medium
Dogira Website
Dogira Discord
You can trade Dogira on QuickSwap, Apeswap, Sushiswap or Polycat.
Auction House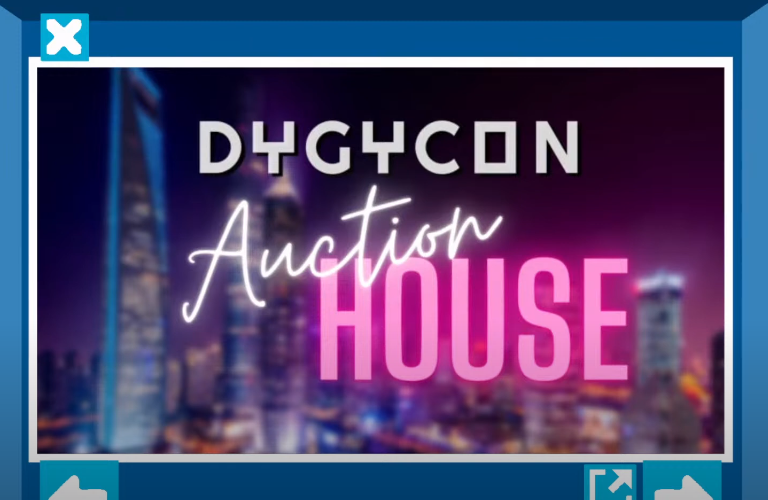 The Auction House was a really nice experience. You could actually see a lot of people waiting for the chance to get some really nice deals. This edition of the event we had for auction the following List of Items:
NFT Art from NFT Museum

---
Dark Galaxies Celestial Pack

---
Fineas Rage - Splinterlands NFT Art

---
Byzantine Kitty card from Splinterlands

Aggroed and Waffles Kitty did a great job at the whole event, and the Auction House was no different. It was a very funny, enjoyable experience and I believe all who were there had a lot of fun with you guys!
Dark Galaxies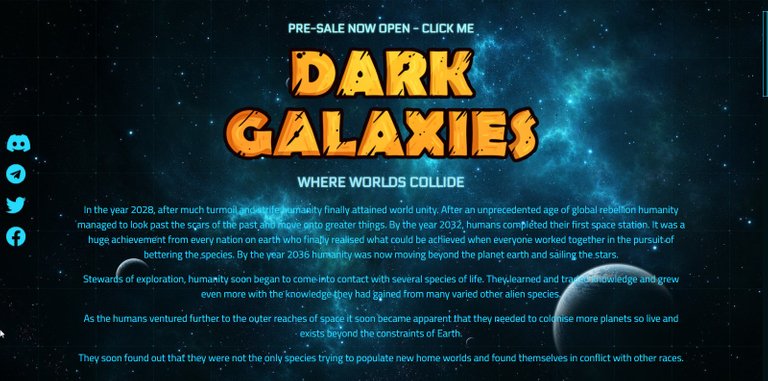 Dark Galaxies is the other game that really caught my eye. It is a card game with a very interesting art style, and a very promising road map. The Celestial Pack that was on the Auction House is from this game, and there are still some packs available for sale. I'm buying a Universe Pack this month, and that gives me 15 random cards with 65.72% chance of Common, 27.14% of Rare, 5% Epic, and a 2.14% chance of a Legendary card.
Dark Galaxies is a game in a very early stage still, and everything can happen, but I've just thought it was a very nice idea, and wanted to put some skin in the game.
If you want to check it out make sure to go to their website, and there you will find their discord, telegram, twitter and everything you need to know about them and the project.
---
The Experience
Guys, Dygycon had an absurd amount of tents, places and content, and I'll fail to mention them all here, but what I can not leave unmentioned is the experience at Dygycon. The people there were really amazing, truly respectful, and more than anything everybody was having fun, and enjoying themselves together. You could play alone, together, speak with random people or talk with founders. It was a place where everybody could find its own place, and eventually you just ended enjoying yourself in it. I might not be the best man to describe in words how the Dygycon experience is, but I hope I have seduced you to go to the next one and at least try it out, I'm sure you'll like it.
---
Thank you for Reading!
If you enjoyed the content and wanna follow along I'd be very honored to have you.
If you haven't started your Splinterlands journey, just start now!
---
---