Opening the Splinterlands Toolbox - Changing a Player's Experience in Splinterlands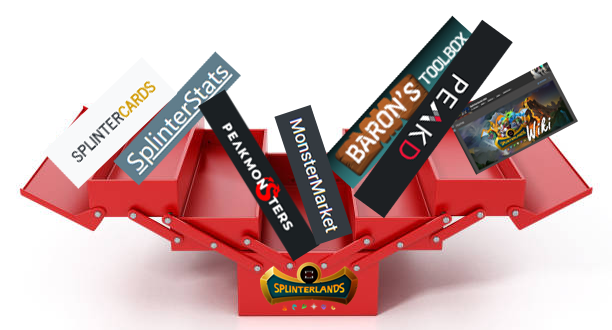 It doesn't matter if you're a newcomer or a very old school player of Splinterlands, we all deeply love and appreciate the work put into the many tools developed for the Splinterlands universe. This post carries my recognition to the work of those creators, and I'm sure once you know their work it will carry yours too. Here a list of our tools today:
Splintercards
Baron's Tool Box
Splinterstats - by @kiokizz
Splinterlands Wiki
Peakmonsters
MonsterMarket
PeakD
Splintertalk
We'll run through data and statistics tools first. Market tools come after that, and at the end I'll talk a little bit, just a touch really, about some blogging tools. I'm the hollownightgod, and I welcome you to this discovery mission.


Splintercards
Splintercards is a website that provides incredible amount of data for both players and investors in the Splinterlands space. Varying from token statistics, airdrop numbers and market information to tools that can calculate the value of chests, packs, and much, much more. This is how Splintercards looks like.


In the home page we have already market prices and airdrop numbers, market cap, market numbers for rentals and trades, and the season leaders of each league. Let's hover along the menu bar at the top and discover a little more about the functionalities of Splintercards.
In the Cards menu, after selecting a card of your choosing you'll have a page such as this: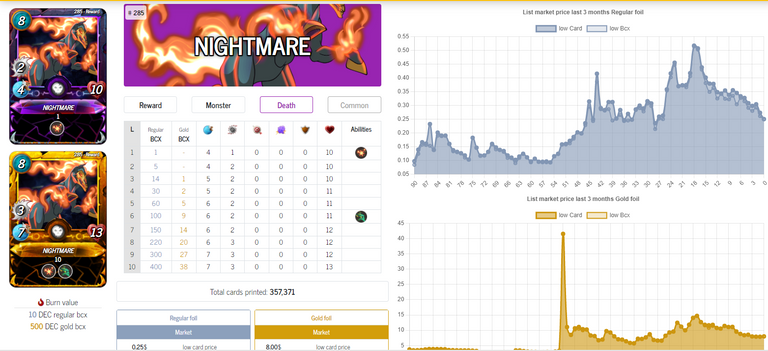 Following the card will be its market price over time, abilities and stats changing along the levels and below this box, which is the one I find most interesting.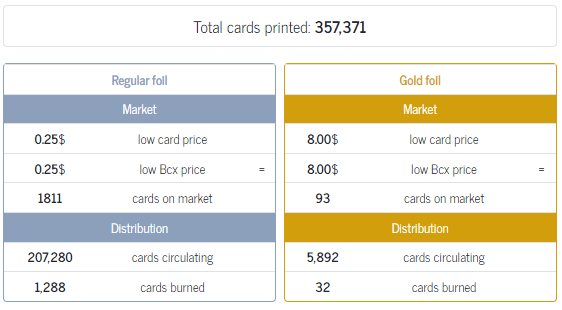 Here you have all the supply numbers of a given card, the number of cards burned, cards on the market and more. It is a very good tool to use when buying cards and researching about if a card is a good buy at given price or not.
---
Next we have the Abilities tab, and here you can click on any ability in Splinterlands, and Splintercards will show you all the cards in the game that share that ability. Most abilities have a brief description and I use this tool very often to Theory Craft around abilities and combos.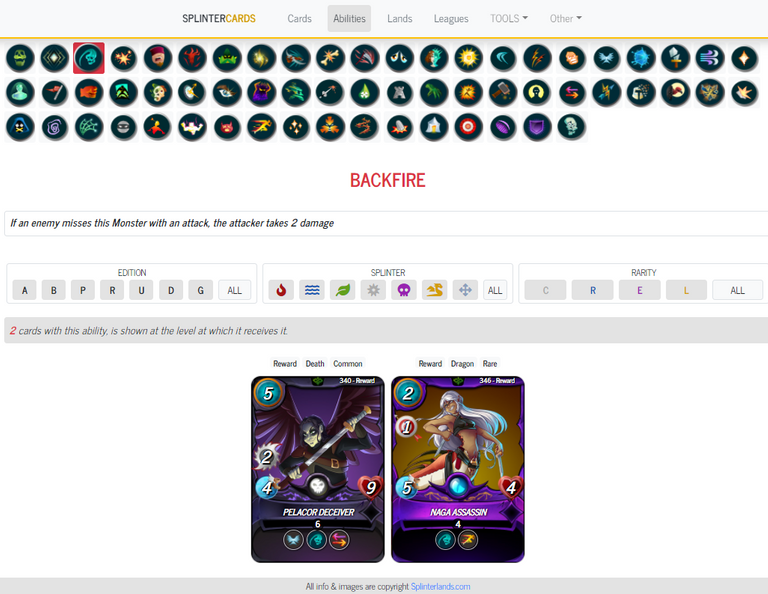 ---
The Lands menu is one of my favorite from Splintercards, and it has a very solid reason, it is fantastic! They have gathered all the information that we have about lands and compiled into a very visual friendly page that looks stunning while also providing the best information possible. I'll give you a little peak into the page, but this one you'll have to check for yourself. It really is superb!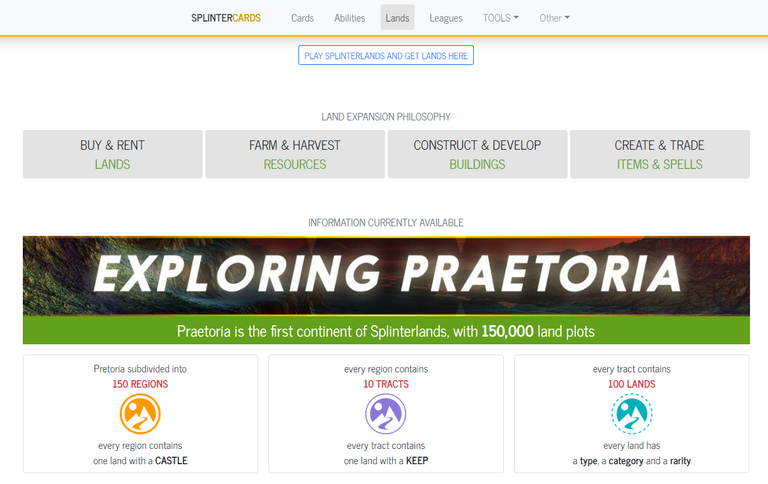 ---
Leagues has some decent information, but the real juice is on the Tools tab, and that's where we're heading.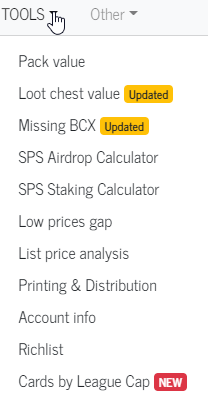 Here we can calculate the value of packs and chests, we can calculate airdrops and staking, check price lists, account information (although Splinterstats tool, which I'll show next is a better tool for this), Richlist and much more. You can literally spend hours with this tools, learning about them, gathering information about yourself or the market with ease.
Wow, that's just for Splintercards, let's get going boys there's a lot more to come. I hope you stay for ride, we can now go to Baron's Tool Box.


Baron's Tool Box
Baron's Tool Box is quite different from Splintercards, and its focus is in providing information about yourself, mainly. After you entered the site and provided your Splinterlands name, here's what you'll get in front of you: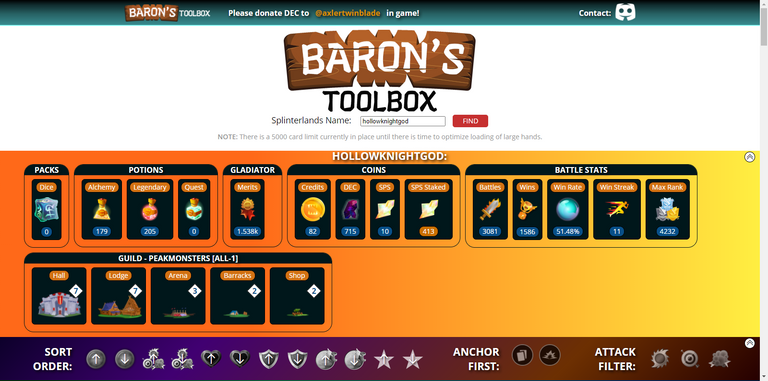 All your assets and stats will be displayed together with a list of filters that you can apply in your cards.



You can also access all the cards that you own, the ones delegated to you, rented by you and to you, and more. This is the best way I've encountered so far to keep always an eye on yourself. You can always see how much you spend in rentals, or gain by renting, you can easily access all your own data, and the data of any other play you might wanna check. All you need is the name of the account.
---
Next we have Splinterstats and this one is quite a tool.
Splinterstats
If you go to Splinterstats, you'll find 4 tools available, we'll talk about the two I like the most: Season Report Card and Reward Cards.



In the Season Report Card you'll be able to generate a post with all your statistics in a very handsome visually looking design. You can check my post if you want to see an example. It is very useful, filed with important information if you wanna track your expenses, your records and performances along your way in your own Splinterlands saga.
---
The Reward Cards tool tracks every Reward Card in printing, and printed before.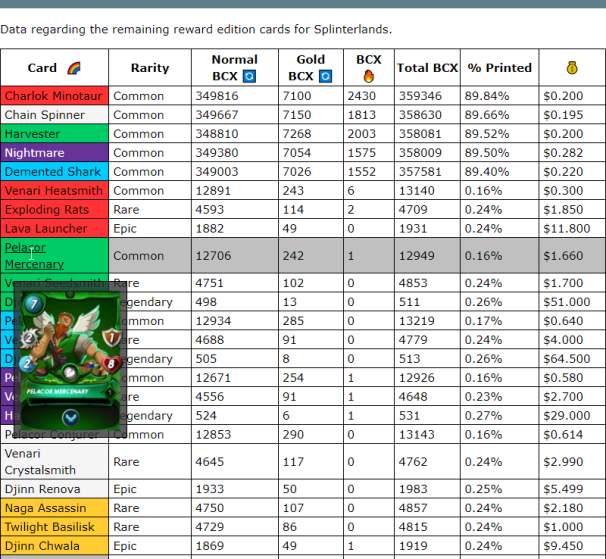 It shows everything you need to know about them and, it is all thanks to @kiokizz. Give the guy some love, he deserves it.
Next is the Splinterlands Wiki


Splinterlands Wiki
The Splinterlands fandom created this wiki and I couldn't leave it unmentioned. The Splinterlands Wiki is the whole kit and caboodle. You can find all kids of things in the wiki, as per usual, and I won't point anything very specific about it. Just have it there, and you'll always give a look when you need, I'm sure it will be of use for you guys.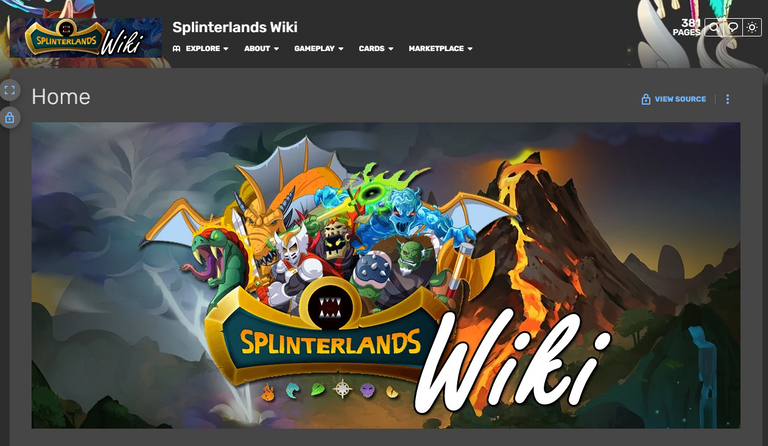 Here, we finish the data and information tools that I know of. Let's go to the market ones, who are truly amazing.
---
Peakmonsters
Peakmonsters is without a doubt the most complete tool for buying, selling and trading cards. Renting is much easier and faster than in Splinterlands itself, and you can manage your rentals a lot closer. For instance, you can watch how many hours till a card you rented is going to expire, and with two or three clicks, you can renew it.



Another unique feature of Peakmonsters is that you can click on My Cards at the top, and if you mark **Owned ** option on the right bar, you'll know how much is your collection of cards worth.



Peakmonsters is huge and filled with interesting features. If I was to describe them all, I'd be extending myself too much, but I wanna show you guys some that might come in hand.
The My Explorer tab is a very important one. If you ever lost a loot chest when opening, or some reward, you can always go to explorer and it will show you exactly what you got in it. In the Dashboard you can check all kinds of graphs about Splinterlands, from players numbers to tokens.
I must end Peakmonsters on a note that I more than utility to every Splinterlands player, Peakmonsters supports the our community. There are some Peakmonsters Guilds, one of which I'm a part of, and they donate do their guilds often in order to help players grow inside the game, and to grow the community around it. As far as I know, they deserve nothing but praise for the great work so far.


MonsterMarket
MonsterMarket is a market place just like Splinterlands or Peakmonsters. You buy or sell in it, and there are some tools to explore in MonsterMarket as well.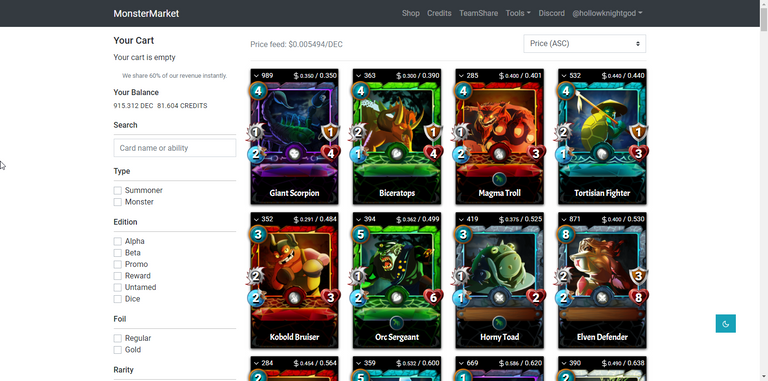 The one feature that might make you love MonsterMarket like I do, is that 60% of all revenue gained by MonsterMarket when you a buy a card from them is given back to you. Meaning that the 5% cut that you'll always give either to Splinterlands, Peakmonsters or MonsterMarket, in the MonsterMarket case is given back (60% of it). This is another way to help the community, and if stay long in the Hive and Splinterlands ecosystem you'll see that there are so many tools and ways to be helping each other at every step.
MonsterMarket rocks!



This ends my market tools and I'll touch very gently on the Hive Blog ecosystem, and some tools in it, which I believe you must absolutely know.
---
PeakD
PeakD is a blogging front end on the Hive blockchain. For starters, if you ever blog in the Hive blockchain, it can be shown in any front end of your choice. For example, if post a blog in the Hive Blog but wanna it to be published in the Splintertalk platform, all you need is to tag the platform and it will be displayed there as well. PeakD is one of many different "displays" that exists in the Hive. PeakD has a tool that is very useful for Splinterlands players, the Node Benchmark Tool.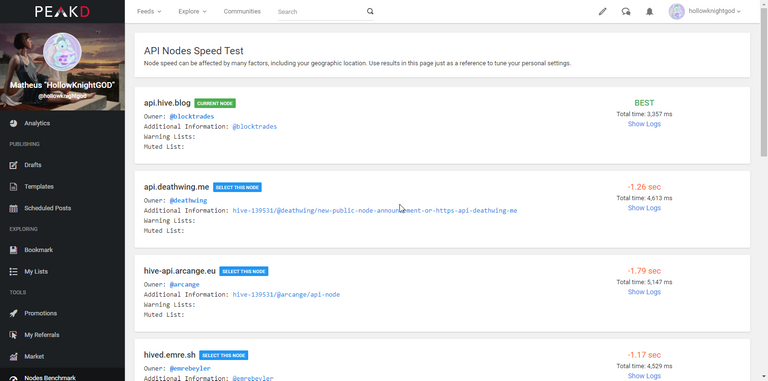 If you go to Tools and then Node Benchmark, you can evaluate in which node you're running the Hive blockchain and if that node is the best node for you. If you're in a bad node, that can cause you to flee battles and surrender, an incident no player enjoys. PeakD is a very enjoyable blogging platform as well, but I'll leave at that, and I'll invite you to explore the Hive and look for the kind of content you love.
Just wait a little, if you're looking for Splinterlands content, look no further.

Splintertalk
Splintertalk is the blogging front end dedicated entirely to Splinterlands. You can find any kind of Splinterlands content on it, and if your content is legit, your writing is good, and your visuals are solid, you can even gain a little bit of Splintertalk tokens (SPT).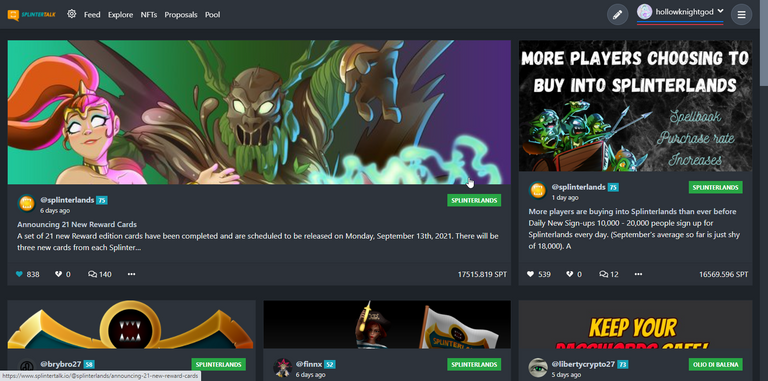 Splintertalks has recently launched a lot of cool Splinterlands NFT's that can only be bought with SPT.
---
The End
Wow, that got bigger than I thought it would. I hope that this post can help the newcomers and maybe even some old schoolers in Splinterlands. The one thing I am most sure about is that the amount of great tools and utility that I talk about in this post only reflects the strength of this community. I like to thank all of you that read so far, and all of those who created these tools we use everyday, it's thanks to both of you guys that Hive and Splinterlands are exploding.
You are AMAZING!
PS:Guys if you haven't started on Splinterlands, what are you waiting for mate. I'll leave my referral down below if you want to support me, as always thanks for the time you dedicated to this article.
---
---
---