The State of Splinterlands and What can New Players actually Do?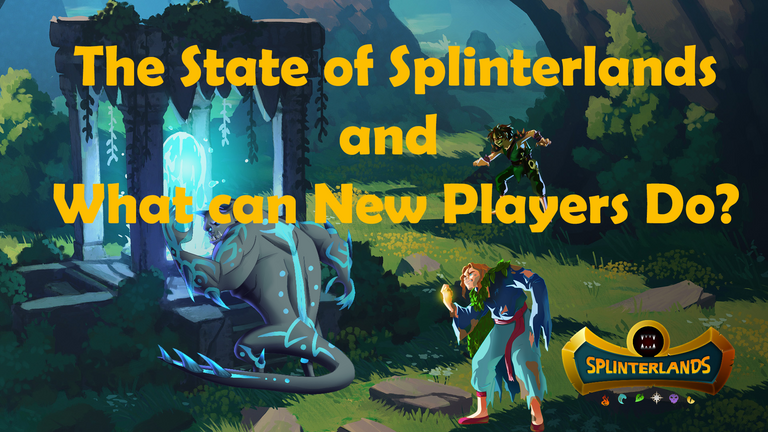 There has been a lot of complaints about the changes in Splinterlands recently, and I wanted to provide you guys with some facts, and my own opinion on some of those issues.
This will be a little long and those are our topics today:
Facts about the Number of Active Players
Who Adds Value to Splinterlands?
Updates, Historical Effects and Incentives
What Should a New Player do?
Facts about the Number of Active Players
The number of active players in Splinterlands should tell a lot about how engaging and successful the game has been in keeping players both old and new active and happy. If you go to Peakmonsters Dashboard you'll see the graph below, and it does not show a lot of change in the last month if you take a look at the bigger picture.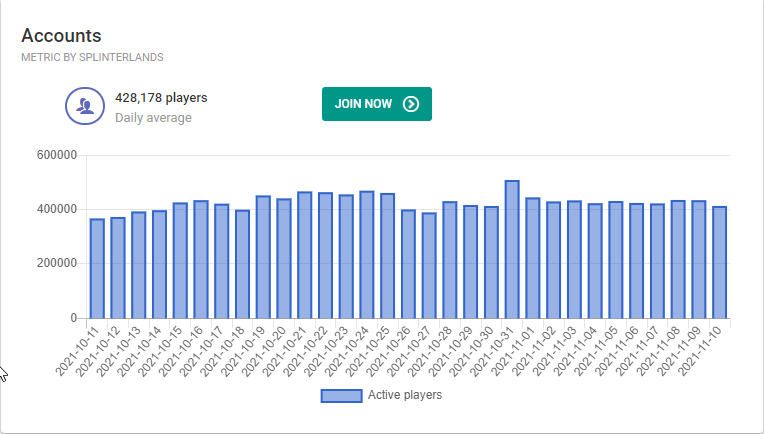 But Peakmonsters only show the data from the last 30 days so to be honest it is hard to have the full context of it all. I don't have any past image of that graph, nor do I know how to dig into the blockchain for better information, but I do have a post I made 22 days ago, where I point out that Splinterlands was growing a lot.
The last point of data from my post 22 days ago was the 19th of October, and you can see in this image that before the 19th the graph seems to be growing, and stopped after it.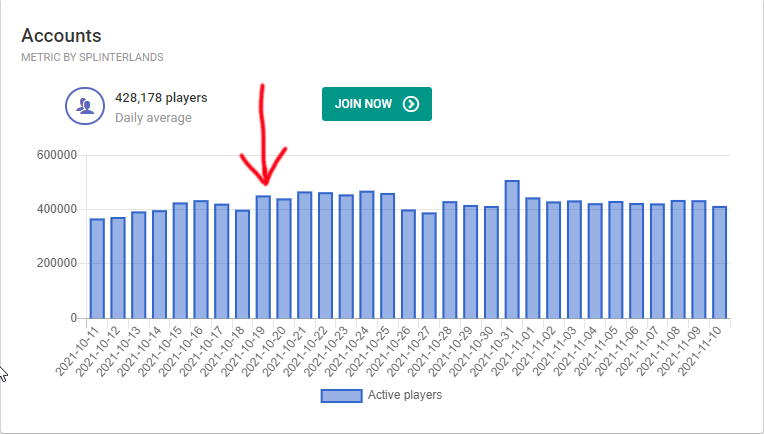 Growth in active players has been a lot slower after that point. If you look at the number of new players in the last 30 days (graph below), it will only corroborate with that fact, and give you the whole picture.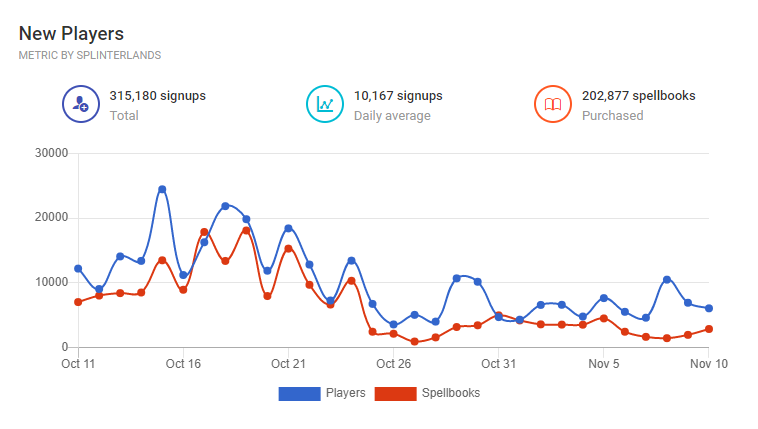 Although the number of new players signing into Splinterlands is slowing down, there's still a lot of people coming to the game, and if you look again at the Active Number of Players graph you'll see that we can't really notice that increase, and this means that there's a bigger problem than the slowing down of growth, there's a problem of retention of players.
Growth has been slowing down and retention is not nearly as good as we expect to be in a thriving game, and both are challenges that the Dev team must face one way or the other.

Who Adds Value to the Game?
This a concept that some of the whales in Splinterlands clearly don't recognize, and some clearly do. Value for a TCG such as Splinterlands, and to be honest for any game at all, is always driven by the player base. If nobody wants to play a game, its assets are worthless. You can't calculate value as an exact measure, but you can observe your surroundings and see if the sentiment is of enjoyment or frustration.
But to say "players" add value to the game is not real true, what really drives value in a game are active players. Now, let me be clear, I don't know how Peakmonsters defines their active players count, but what I mean by active players is a player that invests time and effort into the game, and most times enjoys it. Assets only have value because of those people that are passionate enough about the game to invest their own money into it, and this is the player base that Splinterlands should strive to keep, and the incentives should always be align in that direction.
It does not matter how much money you gather, how many investors you find for a game, if you do not have players that are willing to spend money and time in your game that means your assets are worth zero.

Updates, Historical Effects and Incentives
The First Change - End of Season Rewards
15th of September the End of Season(EOS) changed from the highest ranked achieved during the season to the highest ranked achieved in the very last second of the season.
This is a change that has always bothered me, and it always will. If you take the active player view into this change, it really changed very little to incentive a player to be active. Before you could just play any day of the season and be awarded the EOS rewards. Now you can play only one or two days and get the power needed in the last day, which means that you can still play only 1 or 2 days of grind per season easily.
This change was meant to stop people from transferring their assets from one account to the other in order to gain rewards for both accounts with the very same assets.
Although that exploit is over, we all know that EOS is almost a joke by now, and there is a lot of problems with that. One of them is the fact that at the end of the season you will lose rating, and that is a feature that many games employ to punish inactive players. "If you don't play at all, you'll go down in rank", that seems pretty reasonable. But if that is punishing the inactive players, why does achieving the EOS does not reward the active ones at all?
People that have played 10 games during the season can gain just as much as players that have played 200 games and were online every single day of the season. So, in my opinion this is the first update where incentives are very misaligned.
But if you see the graph above, EOS change didn't slow down the growth of active players, and that's because DEC battle rewards and Loot Chest rewards were still very high for lower league players.

Loot Chest changes for Lower Leagues
September 30th an update was introduced changing the Loot Chest rewards for Novice, Bronze and Silver players, and that was the first update that showed clear signs of slowing down the growth of active players. (After game economy update, graph get's kind of constant for a while, we can see how it literally slows down just as the update happens)
That got a lot of players upset, but battle rewards were still pretty good at the time, and they kept grinding based on that.


Battle Rewards Distribution Changes
In the 28th of October battle rewards for Bronze 3 and Novice went to zero, and on the 1th of November the new curve of DEC distribution, taking into account the rating cubed instead of squared, was implemented.
All those updates hurt the new players that were coming into Splinterlands, and I believe that it is one of the main reasons of why we see the change of retention and growth. The reason given by the dev team was that there was a lot of farming bots, and people without any skin in the game were reaping the rewards without giving anything back, and I believe that this is really a cold truth that we can't avoid. Those things were really happening, and it was detrimental to the evolution of the game.
Those updates also have hurt a lot of newcomers that found themselves earning nothing while playing Splinterlands and eventually gave up on the game.
After the EOS update, every other update was meant as an incentive for players to rank up and to add value for people who have skin in the game. I don't believe any of those things are bad per se, and I'm quite happy with them.
As rewards get better in the higher leagues, you're creating incentives for people to play everyday and grind up, which I find healthy for the game, and at the same time providing value for any asset holders that want to rent their cards.
If you are a new player you'll have a lot of ground to run till you can reach the peak earnings that Splinterlands can provide, and I really understand people who complain about those changes, but I just want to say that I started with the $10 investment and I know how hard it is to grind, so here is some tips for you new players to keep the dream alive!

What Should a New Player do?
This is how people that invested only the bare minimum can grind up if they put the hours and the effort needed.
Step 1 - Learn the Basics
Start a free account, play some games and learn the very basic stuff. Even more important than that, see if you really like the game, and if you do like it, go for the $10 investment and keep in mind that you will need a little bit more than the $10 for the start of the journey.
Step 2 - Rank up
The first goal you should have is to reach a point where you can actually earn some DEC (Dark Energy Crystals) which is the currency of the game. That point is the Bronze II league and this is your first big goal, but for you to reach Bronze II, you'll need 1,000 collection power and that will require you to rent some cards.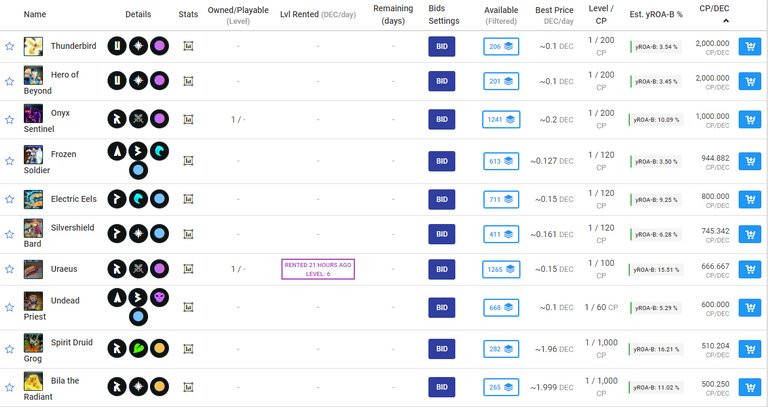 You can easily get 1,000 power for around ~2 DEC and even less. This in the current price of DEC means $0.0231/day of rentals. That's how much you'll need as a head start.
Step 3 - Improve, Rank Up, Manage your Funds
Once you got there you can start paying your rentals with the DEC you gain in the game and can keep some for yourself for future use. Try to learn as much as you can while you play. Observe other player's strategies, look at the replays of your games and try to improve and rank up. Once you got comfortable you can start to learn how to rent more cards that are useful for you while at the same time providing the collection power that you need for the next league. Always do that only if you can justify ranking up by being profitable in the next league.
Step 4 - Learn about the tools that can save your life in Splinterlands
You'll have to learn about peakmonsters, splintercards, barontoolbox and many other great tools and the best place to learn those things are in the discord and the Hive blog.
If you have good writing skills you can even write blogs and earn tokens that you can trade for DEC to boost your journey even faster.
If you are a dedicated player with a good attitude, you can even earn some delegations from people from discord, which can also help you a lot in the very start of your journey.
Always remember that Splinterlands is a Hive blockchain game, and the Hive community can be very helpful if you give it back value for value.
Step 5 - Enjoy your Journey everyday, and choose where you want to go
If you feel comfortable playing in Bronze, Silver or Gold, there's no reason for trying to go higher. But if you are a very competitive player, maybe you should save some money to try the higher leagues, but always choose the path you know you'll enjoy and have fun while you do it. For people like you and me that have not a lot of money to invest, we need to focus on the journey and enjoy everything otherwise frustration is just a matter of time.
Little Tips
You can easily stack 2 daily quests and try to make them in one day so that you only pay 1 day of rent. This is a little trick that a lot of people know and use, and it can save you a lot of money if you play till your ECR reaches ~50% and wait for both quests to stack once again.


If you enjoyed the content and wanna follow along I'd be very honored to have you.
If you're interested in my content, here are some of my latest posts:
---
Start your Splinterlands Journey Today


Play Gamer and Orion Peak Gaming Communities
If you haven't heard of the PGM and OPG communities, they are new Hive gaming communities and you can use their tag whenever posting about Splinterlands and other blockchain games, and the OPG community supports even non-blockchain games. I'll drop their discord below and make sure to check it out. Lots of surprises are coming in the future.
PGM Discord -> https://discord.gg/uFbfScAp
OPG Discord -> https://discord.gg/q2mPF9Rm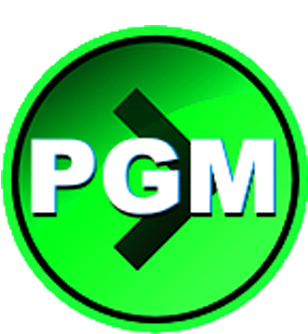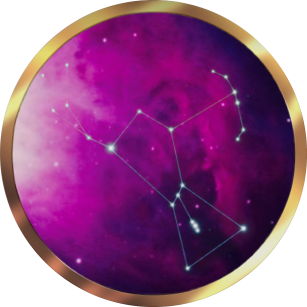 ---
---