Legendary In My Chaos Card Pack!
Coffee & Card Packs
This morning I decided to buy a Chaos Pack, to open while I drank my coffee. Ideally I'd like to keep a few packs unopened for when everything sells out inevitable, but it's so hard to leave them unopened! Of course it gets ever harder the more I keep getting awesome cards, because I just want to reveal them all! But then I thought, why not just start posting about it more, and then earning Hive to buy more packs! Maybe then I'll be able to satisfy this craving, and leave a few unopened. 🤷‍♂
The Cards: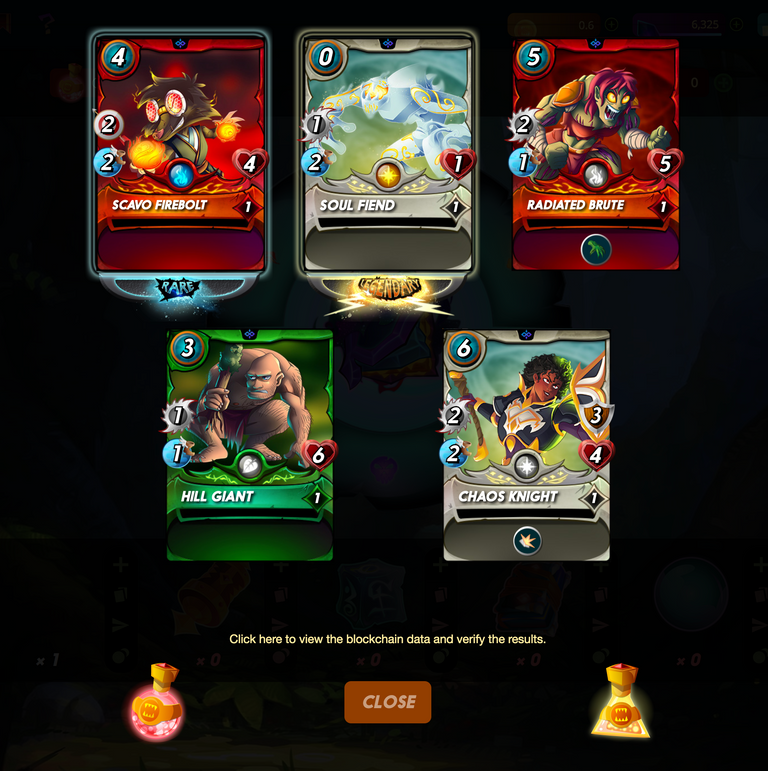 So not only did I get an amazing legendary card, the Soul Fiend, but I would say that I got all good cards this pack! Sure there really isn't any cards I dislike, because they can all be stacked, rented out, and or sold, but I actually use these cards a lot!
Soul Fiend
This is the second legendary card I've gotten, that is a zero mana card! Sure looking at the stats this might not seem like a powerful card, but zero mana cards can be a game changer in many matches! My favorite tactic is to combine these with a Scavenger card, so when it inevitably gets killed with it's 1HP, it adds health to the scavenger, and without you having to use up some of your precious mana! This is especially powerful in matches where you use up all your mana, before filling all your card spots. I usually will do my best to use higher mana cards, to make sure I get the maximum power out of your mana!
The Others
Scavo Firebolt is a really good card for it's level, as it's pretty rare to see cards with 2 damage in the 4 mana or lower cards. Even more rare is that it still has 3 health, and isn't that slow either!
Radiated Brute was a card that I was lacking until now. I like it because when you have a match where speed is reversed, it's a great alternative to Fineas Rage, which has a really high speed.
Hill Giant is a great low mana tank. Not many cards with 3 mana, have 6HP, and as soon as you level him up he gets 2 damage! Also again a great card for when speed is reversed.
Chaos Knight is also a great card, as it has a very valuable skill of Shield. It's a little weak to magic attacks, being it only has 4 HP, but it makes up for it with having 2 damage. As opposed to the Silvershield Paladin, which also has shield, but only 1 damage. Meaning it often does no damage if it goes up against another shielded card.
How To Find Me On All The Other Platforms
LeoFinance: https://leofinance.io/@howweroll
Odysee: https://odysee.com/@TheLongboardHive:d
BitChute: https://www.bitchute.com/channel/WUDSVUSj0Pz0/
Facebook: https://www.facebook.com/groups/1708054422579869
Instagram: https://www.instagram.com/howweroll_wpg/?hl=en &
https://www.instagram.com/thelongboardhive/?hl=en
Youtube: https://www.youtube.com/user/sexinapanman
Are you a skater? Or enjoy extreme sports?
Join the SkateHive / Stoken Discord
---
---