HIVE PIZZA Splinterlands Guilds Exclusive - CP Delegation and PIZZA Token Rewards for Splinterlands Bounties Active Until 7.31.2022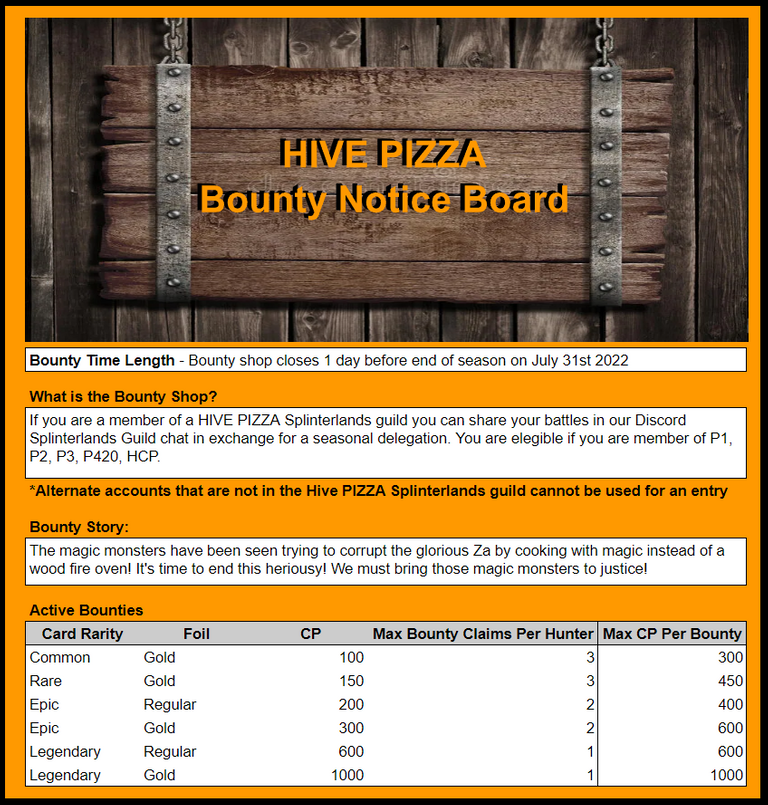 Any battles where you defeat a magic monsters that meet the foil and rarity criteria can submitted as an entry.
Each Qualifying entry earns 1 PIZZA token with a max of 12 pizza tokens per Bounty Hunter. We want to make sure you don't get hungry out there 😁. Happy hunting!
*All PIZZA tokens will be paid at end of season.
If you are having trouble with bronze league, try out this Obsidian Guide https://peakd.com/hive-13323/@hurtlocker/obsidian-strategy-from-bronze-to-silver

Links TO JOIN HIVE PIZZA or Follow me on Twiiter:
Join Hive PIZZA Guild - https://discord.com/invite/hivepizza
Play Hash Kings - https://farm.hashkings.app/play
Follow PIZZA on Twitter - https://twitter.com/PizzaOnHive
Follow me on Twitter - https://twitter.com/Hurtlocker360

Hive is an active community of people who love to create new things. Feel free to reference my tags on this article as a way to engage with more communities; if you do, please make sure to put your best foot forward and be a positive member in the communities you engage in!
All tags for this article are projects I believe in and look forward to their future development!
Happy Friday Everyone!
---
---