🎵 Hive Open Mic 78 - Original Music by DARREN CLAXTON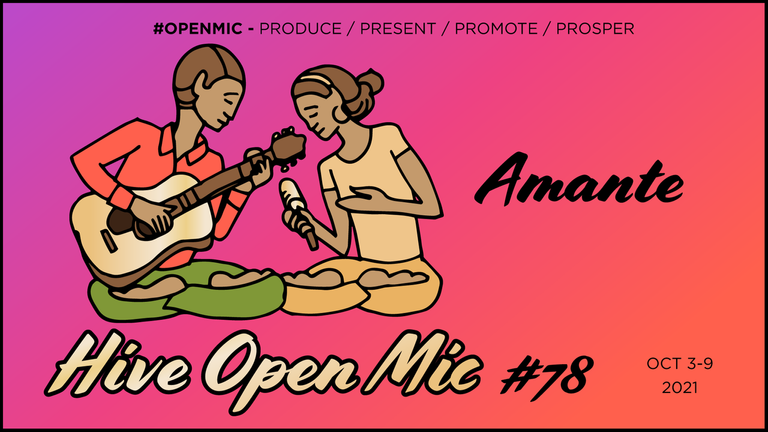 ---
Welcome to this weeks Open Mic Gathering courtesy of @mipiano & @cabelindsay
---
This is one of my original songs that I wrote a while back but was never really finished. It just needed that certain something that I couldn't find, then it just developed into the beauty you hear today.
I hope you enjoy it and please, subscribe to my channel and give me a follow here, there and everywhere.
DC x
---
---
Lyrics:
I came back today
then drifted away
can't hide in that place
cos it shows on my face
Some kindness remains
and it fits just in case
respected the race
and I feared your embrace
It was sent by a smile
that I'd never seen
never seen before
connecting the dots
to a picture placed
inside your heart
To a heart
Oh, your heart
To a heart
Oh your heart
To a picture placed
inside of your heart
to count but divide
divide to rely
on words we never say
to the tears they wash away
---
All Music and Lyrics Copyright © 2021 Darren Claxton
 Derbyshire based Musician and Songwriter Darren Claxton, defies being pigeonholed, and celebrates the fact that each song tells a story and in a style all of its own. On his various music pages, you'll find songs of universal resonance that are accessible, yet never overly polished for the commercial market.
Darren was born of a need to write and perform original music across multiple genres. Catch any of his live performances and you'll find him moving seamlessly from folk, to indie, to blues, to heart-warming and immersive acoustic ballads. Yet it all manages to sound effortless and natural -- "strangely familiar" as one fan once called it.
Darren strives for his compositions to have memorable hooks and melodies that stand on their own, creating a strong musical foundation for his compelling heart felt lyrics. Darren says it's all about the song and the emotion conveyed through the stories he tells. His music provides a "just right" touch of colour to support the emotional core of each song.
To keep up with the latest news, follow his Linktree here.
https://linktr.ee/darrenclaxton
---
All of my post rewards for the rest of this year will be used to build up this new account and replace some of my Splinterlands cards, after my old account was unfortunately hacked back in August.
My HIVE and HBD were stolen along with Lots of my Alpha Splinterlands cards, including Gold Foils.
I managed to salvage what I could and create this new account, so onwards and upwards.
Thank you so much for your upvotes and comments, I really appreciate it and ir confirms how community driven HIVE really is.
You'll find me on Discord in the Splinterlands server most days if you'd like to ask me anything about the game or staking your SL assets.
#teamsplinterlands
Stay safe out there folks!
DC 😉
---
---