PeakMonsters PKM Utility Token - Airdrops & Profit Sharing
If you are a Splinterlands player, I'm sure you have visited PeakMonsters to check the market, rent your cards or examine data related to your Splinterlands performance. Being one of the best third-party markets of Splinterlands, PeakMonsters created its own token (PKM) for several use cases.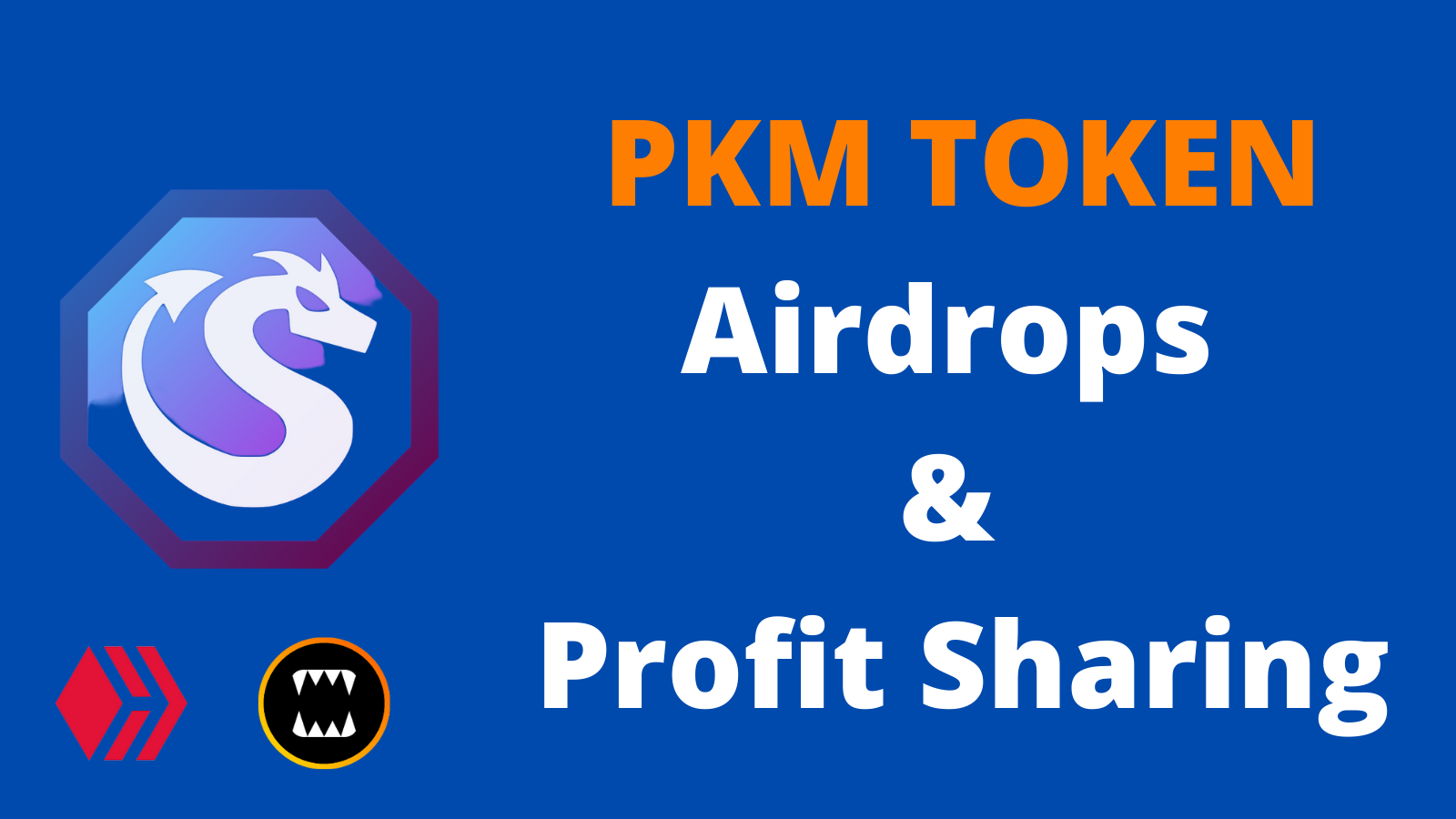 PKM Token will be used for Tournaments, Liquidity Pools of PKM / SPS, and for Profit Sharing with the stakeholders who hodl PKM token. Today, the liquidity pool by the team was created for people to make their initial purchases before airdrops have started. So, you can visit Diesel Pool or Beeswap and swap your SPS tokens for PKM tokens.
Note: As of writing, 1 PKM makes 0.10507875 SPS. I do not think the price will always be at these levels 🆙
52 Weeks of Airdrop
Here we have another great airdrop that is going to add value to our Hive ecosystem and gaming experience.
The %75 of PKM token is allocated to be distributed to PeakMonsters users.
You have 2 ways to receive the airdrop:
Make purchases in PeakMonster market that are above $10 for Large Transaction Airdrop (As of 21st of March)
Get Big/ Main 52 Weeks of Airdrop according to your Tier Level on PeakMonsters. It will be 1/3 of your yearly volume on the platform (As of 23rd of March)
What's my tier? Where can I find it ?
When you visit your profile on Peakmonsters, you will see a number that is assigned as your account tier.
Your tier is calculated based on your trading volume over the last 52 weeks.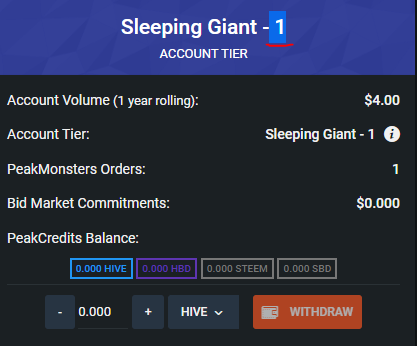 As you can see on the screenshot, the tier of this account is 1. So, how many tokens will people receive according to their tiers?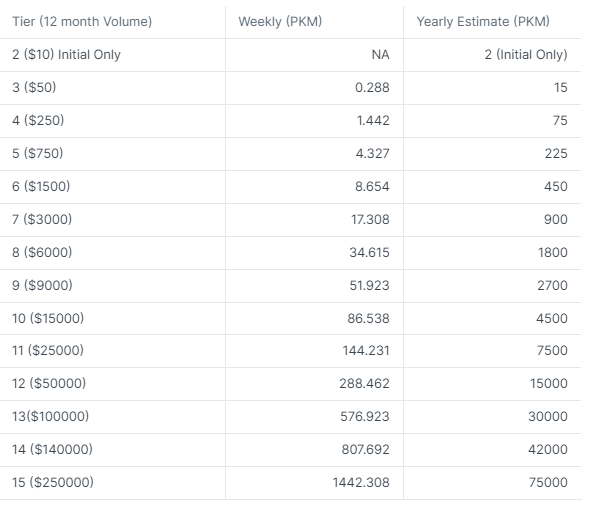 Here you can see the tier list on Tier Based Airdrop page of the documents.
For the first 2 tiers, not many things will happen in for the airdrop. However, starting from the third tier that requires $50 of purchases, there is going to be 15 PKM tokens to be distributed.
You can also check Large Purchase Airdrop section to view how many tokens can be received for your large purchases.
Tokenomics & Profit Sharing

When I check the tokenomics, I appreacite the distribution of tokenomics to sustain the growth and utility of the token in the long run. Especiall when the LP Rewards and Airdrops are distributed, the market should have an incentive / a narrative to keep the value of the token up without selling off.
Note 2: The liquidity pool of PKM / SPS is launched today but the Initial Reward Pool will be given as of 24th of March.
The Initial Liquidity Pool Incentive by Peakmonsters team will be $20,000 of Splinterlands assets.
According to the post by @pkm-token, the liquidity pools will be filled with Vouchers, PKM, SPS and DEC for the liquidity providers.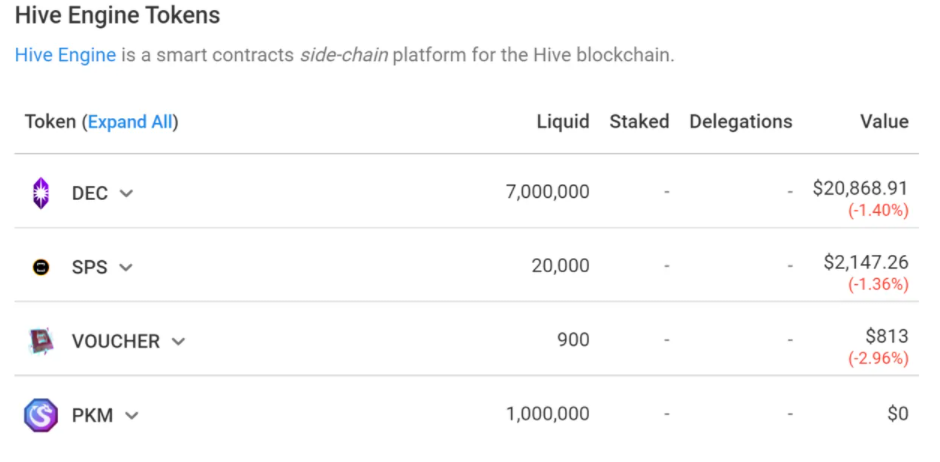 These incentives will be distributed starting from 24th of March. In addition to this initial incentive, the team plans to share $3,000 of their profit with the liquidity providers.
Our profits go up and down each month so our donations to the Reward Pool will change monthly. We suspect it will be at least $3000 monthly but as Splinterlands and PeakMonsters grows those donations may go up.
Personal Action Plan
The token launched is done from 1/10 ratio. Considering the upcoming stakeholdership mechanism for the utility token, I believe we can multiply our initial investment within 2022.
For the upcoming 10 days:
I'll convert all my SPS airdrop to PKM token regardless of the ration (1/10 to 1/1)
Besides, I'm going to convert my Swap.Hive to SPS to increase my PKM token share pool.
On 24th of March:
I'll provide liquidity to the pools to enjoy the incentive of Splinterlands assets. After that day, I'll try to compound my share with the earnings from the pool. (Self-fulfilling)
TL;DR
@peakmonsters has creadted PKM utility token of the third party Splinterlands market named PeakMonsters. As of today, you can buy the token from the PKM/SPS liquidity pools of Diesel Pool and BeeSwap. The token is still traded for 1/10 ratio and it is likely to increase in value, why?
The airdrop process will take 52 weeks and the airdrop will be based on your account tier (according to your purchases in the last 12 months) and your large purchases (above $10). From 24th of March, the liquidity pools will be filled with $20,000 of Splinterlands assets to incentivize token holders. Besides, the team will share their profit (from $3,000) weekly with the liquidity providers according to their profit from the market.
After the launch of PolyCUB, I believe it is the second great thing in Q1 2022 for our Hive ecosystem 😎
Posted Using LeoFinance Beta
---
---