pSPS / PolyCUB LP is LIVE! Benefits of Providing Liquidity for Splinterlands Players
Splinterlands is the leading blockchain-based game operating on the Hive blockchain. Besides being the leading Play2Earn / GameFi model game, it is one of the leading dApps.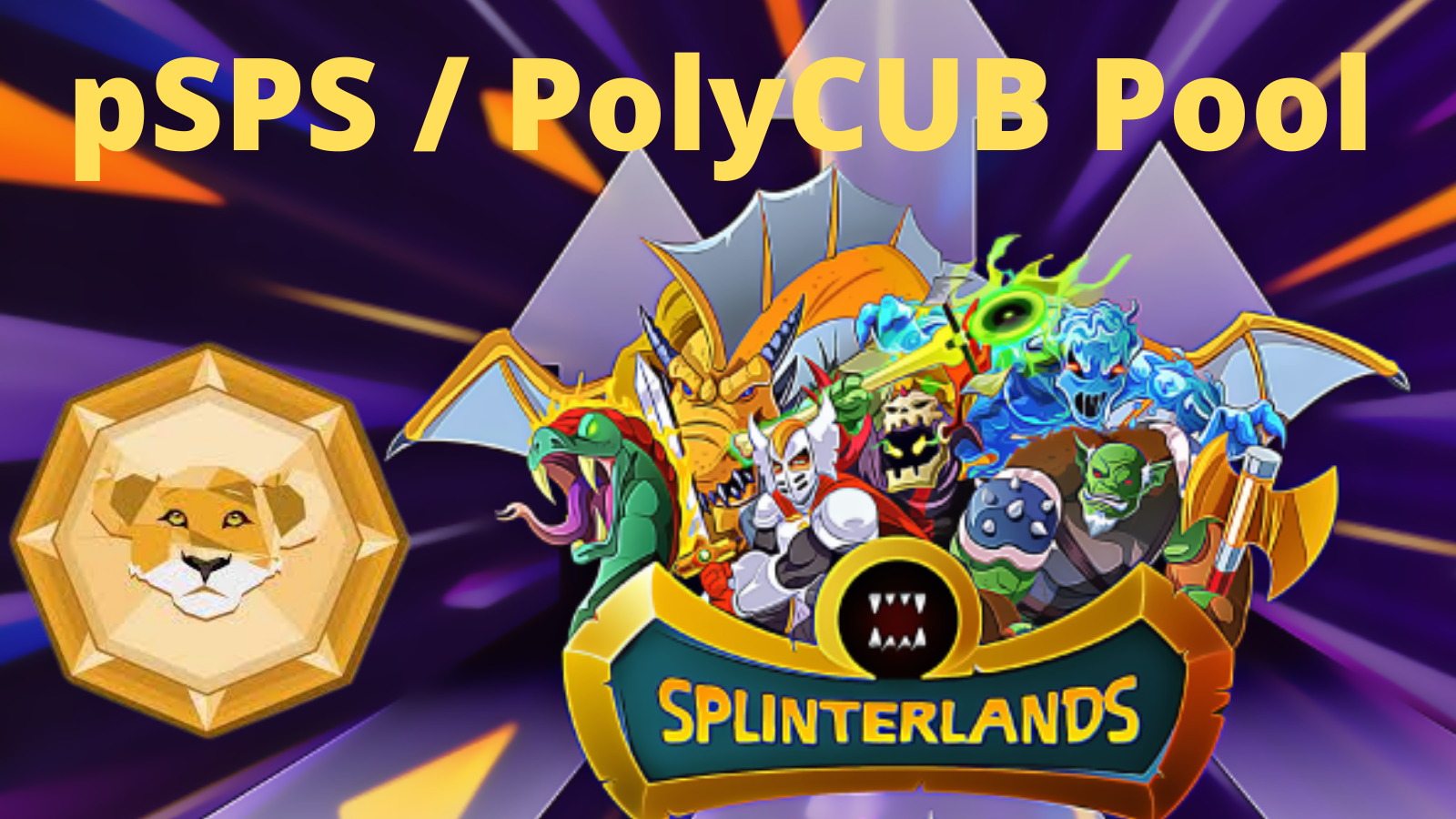 Thanks to Splinterlands, the Hive ecosystem welcomed thousands of new Hivers onboarded within 2 years.

The chart on the Dappradar Splinterlands page shows the rush into Splinterlands starting in July 2021. All new accounts created for Splinterlands bought Hive and powered up to initiate transactions. Besides, DEC, SPS & Voucher tokens increased Hive-engine transactions drastically.
The benefits of Splinterlands to the Hive ecosystem are limitless. What if we combine PolyCUB (The platform that is a part of the Multi-chain CUB project to make Hive assets cross-chain) and Splinterlands in a Liquidity Pool?
Here we go:
pSPS / PolyCUB LP = SPS APR + Vouchers + PolyCUB Rewards + LP Fees
You may have difficulty counting the number of pluses in the heading but this is what happens when you provide liquidity. How?
The post by LeoFinance team explains the details neatly.
insert_hive_asset (i.e. pHIVE or pSPS, etc.) - held as 1:1 collateral for the wrapped equivalent - staked on native platform (i.e. HIVE POWER or SPS staking on splinterlands.com) = value accrual for PolyCUB's PoL
The wrapped SPS will bring you 57% APR (as of writing) from SPS staking on Splinterlands + Voucher Rewards 43% APR (either converted to PolyCUB or stored) + PolyCUB Rewards 0.5 Multiplier & Transaction Fees of Liquidity Pool.

Note: The screenshot is taken on PeakMonsters and the APR rate has reached 57% from 21% as there will be Validator License Sale next week.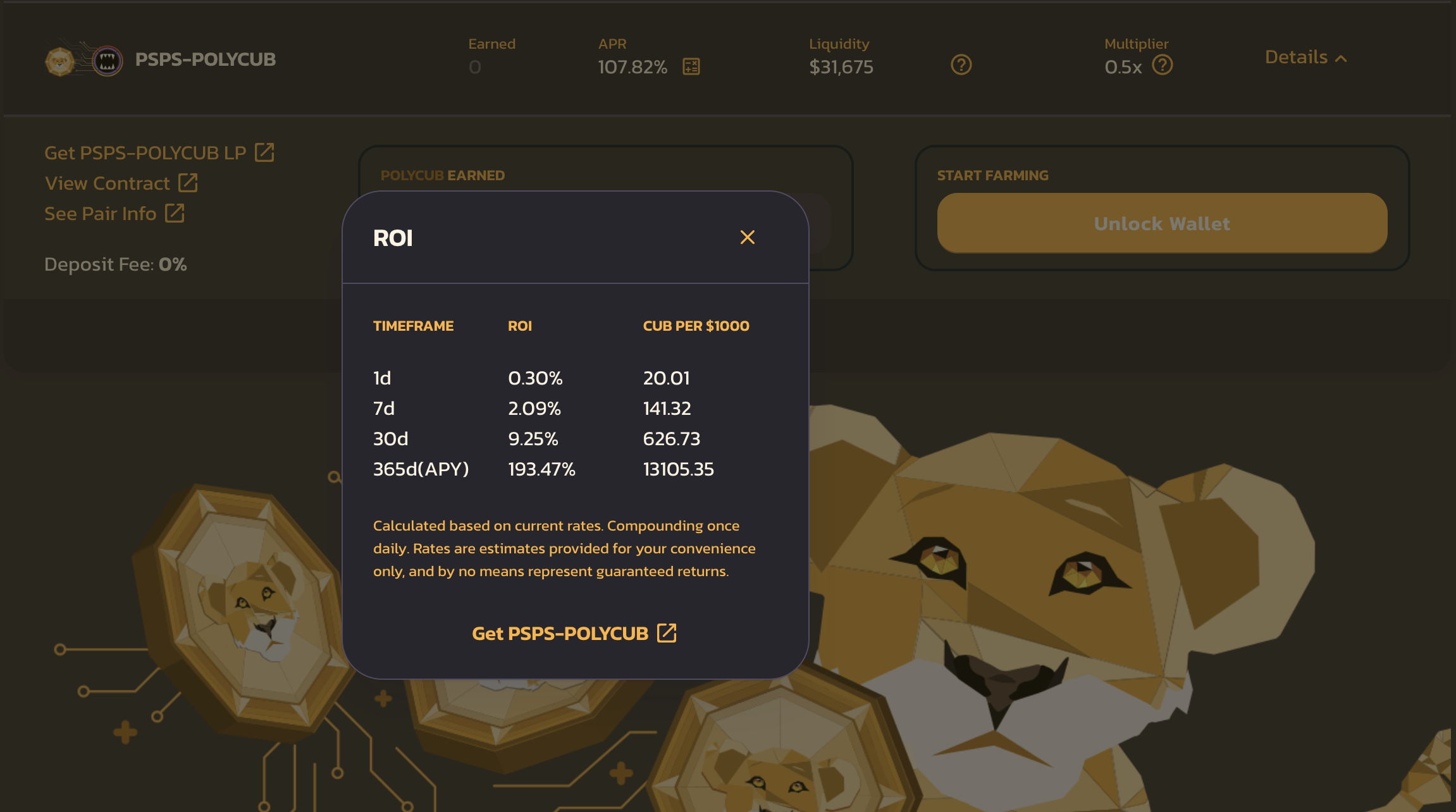 In total, the APY rate reaches 193% on the pSPS / Voucher pool for those who provide liquidity.
Timing is Amazing!
Last week the APR rate of SPS staking was nearly half of today's APR rate. The reason for the sharp increase in the APR rate of SPS staking is the upcoming Validator License Presale on 25th of May.
Since Splinterlanders need SPS & Voucher tokens, people started unstacking SPS to use liquid SPS for presale. As a result, the staked SPS receives a higher APR rate for their stake in the system.
pSPS / PolyCUB pool utilizes maximized staking APR on Splinterlands and increases the ROI via PolyCUB Rewards + Trading Fees. Consequently, any single SPS token generates a decent return on investment in a short time.
Buy Validator Node or Enjoy Incredible LP ROI on PolyCUB
It is an amazing week for Splinterlanders as there will be a presale on the game for validator nodes. These Validator Node NFTs will require SPS & Voucher tokens to purchase. If you are going to buy Validator Node Licenses, just do it.
However, if you do not have such a plan to buy Validator Node Licenses, the pSPS LP on PolyCUB is yielding an incredible investment opportunity for those who put their SPS tokens in staking as the tokens on PolyCUB pool will be staked on Splinterlands and additional rewards will be received on your LP share 😎
Combining the power of 💎🐾 and Summoners ✌🏼
Posted Using LeoFinance Beta
---
---