Hive Tokens I'm A Bit Obsessed With / Top of the richlist
Recently I've found myself breaching the top ten in several Rich lists.
Nothing as impressive as being a Top 10 in something like Hive or Leo but I've been on a tear trying to get into a great position in some other tokens I think may one day also be important.
This post is really just about which tokens I've been after and why.
Note: I'm going to be using amount staked as my benchmark for ranking when available. If staking isn't an option I'll look at total owned. I'm also not including project owned accounts.
---
Broadhive: Rich List Position #3


I'll start with Broadhive because it was the first one I ever hit the top 10.
Honestly it was a complete accident. When I started blogging here I didn't know what tags to use and I noticed similar content to mine using the broadhive tag so I started using it. Because of that I decided to buy some. Ended up picking up 70 hive worth and I realized later that I was in the top 10. Being that it was my only impressive upvote, I became a little obsessed with making it to the top and building it further. Fast forward to now and I'm 3# on the list with 106k BHT.

Broadhive is under new management as of late last year and has plans to transition into the entertainment community. I think this is a great idea if the team can pull it off but there's a lot of work to do and I have my doubts based on what I've seen so far.
---
MEME: Rich List Position #8


Hiveme.me is a pretty new front end that rewards creating and posting MEMEs. There's also a built in NFT creator/shop where you can create, but, and sell MEME NFT's using the token. The shop is pretty slow right now but I think it has potential. @rentmoney and @lolztoken are doing some cool stuff with them.
I've written a little bit about my journey in building my MEME position. About a month ago With the max supply at 250 million MEME, I set a goal to get to the top 10 on the richlist and to own .1% of the max.
I'm pleased to say I've exceeded both goals. I'm currently the 8th largest staker of MEME with 340k tokens. My full upvote right now is around 175 MEME and that is helping me stack even faster.

Why did I want to build this position? Because its new and I like the team driving it forward and memes are becoming more important every day. I do think the platform is getting a little over concentrated in politics though. I'd like to see some more variety. It can often be challenging to find enough good content to upvote each day and that's mostly because people on hive making great memes don't know about or just decide not to use the tag.
---
PGM: Rich List Position #2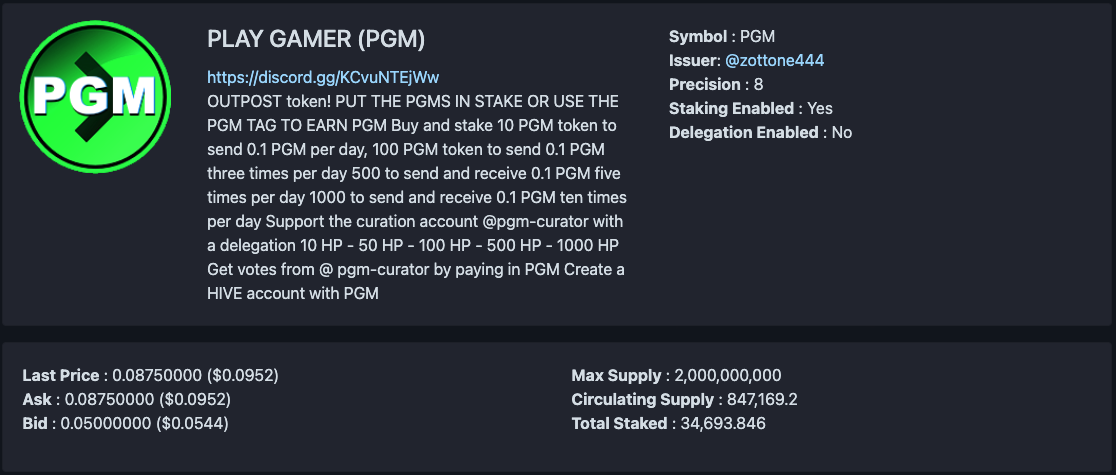 PGM is one you've probably seen as a tip bot. Recently it's been opened up to curation rewards too. I'm excited about this coin. @Zottone444 is really working hard to make it something great and I can't wait to continue my stacking goals. If you're not using the #PGM tag on your gaming content, you should be.

I built most of my stake in this coin when early on I read a post about it and decided it sounded cool. There's no liquidity pools for it so I went to leodex and tried to buy 100 hive worth but there just weren't enough owners to sell that much to me so I messaged Zottone444 and asked him to fill my order and he did. I staked everything and got access to 10 tips per day. Each tip give both the tipper and the tippee .1 PGM and there's an engagement contest to see who tips the most people. The winners get more PGM.
I also delegate a few hundred hive to the project and that gets me a small amount of hive rewards each day and once a week I get some free PGM from that as well.
Finally, I trade it a little to make a little extra PGM and add some liquidity to the market.
---
LOLZ: Rich List Position #4
If you've been on Hive any time in the past few months you've probably had someone call the lolz tipping bot to bring you a little bit of joy with a joke and add 1 shiny LOLZ token to your wallet currently worth between .05 and .10. Not a bad deal!
If you have 10 LOLZ in your account, you can even start to call this bot to send people jokes and tips.

While I had some LOLZ since it came out, recently they've been very busy building some cool defi stuff. This prompted me and several others to go ahead and buy my way up to "headliner" status. A headline is someone holding 512 tokens.The benefits are that we can call the @lolzbot up to 10 times per day and we get daily dividends of other tokens lolz has a curation bot set up for.
LOLZ is set up so you can delegate various hive tokens like SPT, ONEUP, MEME, CENT and others to their various curation bots. The bots upvote content where LOLZ calls have been made and there's the appropriate tags used. These curate bots are no joke though as they are starting to pay out some decent coin.
So when you call the LOLZ bot, unlike some of the other tip bots the person who calls the tip bot doesn't get tipped. But there's a chance one or more of the curation bots will come like your comment and that's becoming pretty valuable.
If you are someone who delegates to these curation bots, the lolz team paying you 110% of the value they received from your delegation in LOLZ once per day. For me this means I've been stacking probably 8-10 LOLZ per day.
Then every day they choose two of the coins associated with their bots and send what they made throughout the week in that coin out to "headliners" as dividends.
Also they recently minted 50 NFTs that are being sold on hiveme.me. These NFT's act as governance token. Only the holder of Edition 1 can put proposals for vote but once it up for vote, all 50 NFT holders are treated as equals.
Some really cool stuff going on with LOLZ. You should grab some if you haven't already and joined the party!
---
CENTG: Rich List Position #1

The CENT project is one I haven't spent too much time studying. The concept seems simple enough. A stable(ish) coin tracked to hive coin in a really small denomination. Is it necessary? Not sure but I applaud people trying things and CENT has a respected place in the Hive ecosystem.

I recently started collecting more CENT and delegating it to lolz.cent curation bot for more LOLZ. CENT has the highest APR by far at over 200% APR usually so I'm pushing myself to get more and delegate it.
This made me start paying more attention to the token and I saw that they recently put out a governance token with a max supply of just 1000.
So I took my CENT and went to trade it in for 77 CENTG which made me the biggest holder on the richlist. What will I do with it? I'm not sure. While I like knowing that I own 7.7% of the total token supply, I need to make sure I'm not hindering the project in some way by holding so much of the small supply of gov tokens.
---
#13 WineX (I know, my third tipping bot)
Weird obsession with things like WINEX are why I'm not rich.

WineX is a tipping bot token with interesting mechanics and a much lower max supply than most other tipping tokens at just 21 million.
Not quite as popular as some of the other tipping bots - like !PIZZA, !LOLZ, or !PGM - Wine is one I made sure to use all three of my calls each day. And depending on if you are my first, second, or third call each day, you will benefit more or less.
Unlike the other tokens, WINE rewards tippers and tippees for using all of their calls. Take a look at the chart below to understand what I'm saying.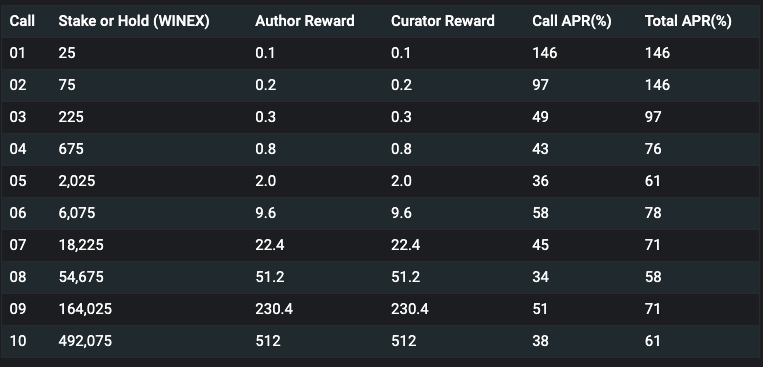 Notice first that unlike some of the other bots, when someone tips with the !WINE call both the tipper and the tippee get rewarded. This is similar to hive curation and author rewards.
The second thing to notice is every call a person makes throughout the day is worth more tan the one before it.
For a while I only had enough for two calls per day which meant I gave out and received .1 on the first one and .2 on the second one for a total of .3 tine for me and .3 split between the people I tipped. Recently I got my stake over the 225 mark so I can call the bot a 3rd time which by itself is worth another .3 for me and the person I tip so now I'm able to stack twice as much each day. And when I get up to 675 that 4th call will be worth .8 so I will the over double what I can stack daily by using that 4th call.
Here's where I tell that you that the WINEX token is currently sitting at .30 so while 1.4 winex per day won't make you rich, its a nice little amount to stack each day for tipping good content. It also gets you calculating a bit when you look out at those bigger numbers.
jumping out to the highest level you see that your 10th call of the day is worth 512 tokens for you and 512 more for the person you tip. At .30 that's nothing to sneeze at.
And that's why I'm a little obsessed with this even though I know there's a lot of problems with the idea that make it not a good use of time or resources.
The first problem is that currently there are only about 25k Winex in circulation. The biggest holder has just over the 6075 tier and there are two others that are over the 2025 tier. The token is only being created as fast as people are tipping with it so it currently impossible to get to those top tiers.
If it were possible, it's likely the supply dynamics would have probably already sent the token price south. Imagine the person who gets that 512 Winex tip not running to the market to sell it?
When that level of supply is out there, the .30 cent price will probably be down to a fraction of a cent and people who spent .30 cents per coin or even .05 cents per coin will likely never get their money back out unless there's some great use for WINEX and an incredible community built around it. So far neither is the case.
And that's the last problem. What's the purpose for these tipping tokens after the entire supply comes out? Does the bot account just keep buying more on the market to tip out with? Is there some way to make that sustainable for the bot account?
Quick Side Rant:
But this is the problem with so many of these community tokens right? What are they for besides making more tokens? What holds the price up as the supply heads upward and most people sell what they get for Hive?
While it's true that there's a value to content, attention, and community, that value tends to get fuzzy when the content, attention, and community is only around to get the coin that represents itself.
That's going to be a problem with a lot of the crypto space this time around and for that matter then entire current economy. If it crashes it's because so much of the value is based on the fact that we're ascribing value to nothing more than mimicry of past success and gimmicky tokenomics schemes, an incredibly overvaluing low level utility.
/End Rant
And this brings me to my next token. This one I am not even in the top 50 of currently but I have a decent amount. What sets this token apart though is it does have a utility and it could one day be an absolutely massive one.
I'm talking about PsyberX's LVL token.

Some people might think this is silly because PsyberX is a game. But humans are built to play games. We love them. If we're honest with ourselves, most of what we do is a game these days as almost no action we take has a direct consequence of creating food or shelter.

Head out to the woods with nothing and try to feed and shelter yourself each day before you freeze or starve to death and you'll see there's a big difference between meeting your biological survival needs through direct actions like hunting, gathering, and building or playing politics at your job to get a raise at the widget factory so you can move out of that apartment to a house that will impress your friends and finally get your parents to be proud of you.
Games are becoming digital worlds where we create and unlock achievements and gather resources that have no more direct link to our survival than almost anything else we do today but fulfills the same needs of collecting things, experiences, and status that others will covet and be willing to pay for. Plus games are fun and give instant gratification.
So, anyway, LVL...
LVL is the token that is going to run the economy in PsyberX and other games the company wants to make. There are only 500 million of them. The token will be used to ante into a game where you will try to kill all the other people and take their ante if you can. Think poker but also killing in a video game world with cool weapons and dancing on their dead body while you revel in invincibility for 3 seconds. (did I get that right?)
Add to that the fact that the weapons and capabilities and land in the game are almost all limited NFT's owned by the players and investors.
And further that the game blends elements of world builders by allowing land owners to create whatever they want including businesses, art, or just a place to hang out - and you have something really special.
And the LVL token is at the center of all of it.
What's my current status? I have 260k tokens. I had more but I decided to spend 500k on commercial land so now I need to build my stake back up. Luckily the token is way down right now and that makes it a bit easier.
If PsyberX becomes successful and brings in millions of players who all need access to the LVL token, it would be reasonable to assume the token currently valued at just .0018 cents could get up to a few billion dollar market cap. Other games have done it.
Just think, a $5 billion valuation would mean LVL is at $10 per token. This would make my current stake worth $2.6 million. Of course I'd probably have sold a lot by the time it got to $10 but I hope in the next few months to increase my stake to 500k tokens again so if it ever gets to $10 I will still have a lot of coin even if I did sell on the way up.
THGaming
There's one more coin I was going to write about but I'm just out of steam.
It's the THGaming token. That one just seems to have a lot of momentum and support. Kind of like 1up did when it first came out. Also the team is moving much faster than they made it seem like they would. I am always a fan of under promising and over delivering.
Although I don't think they have a front end yet, the are doing curation rewards and I think its one of the better community tokens out there to collect right now. I think I'm a top 25 holder right now with about 75k tokens. Well, it looks like I wrote about it after all LOL.
Until next time!
Posted Using LeoFinance Beta
---
---