I Bought 155 Chaos Legion Packs For $470, or $3048, or Were They Free?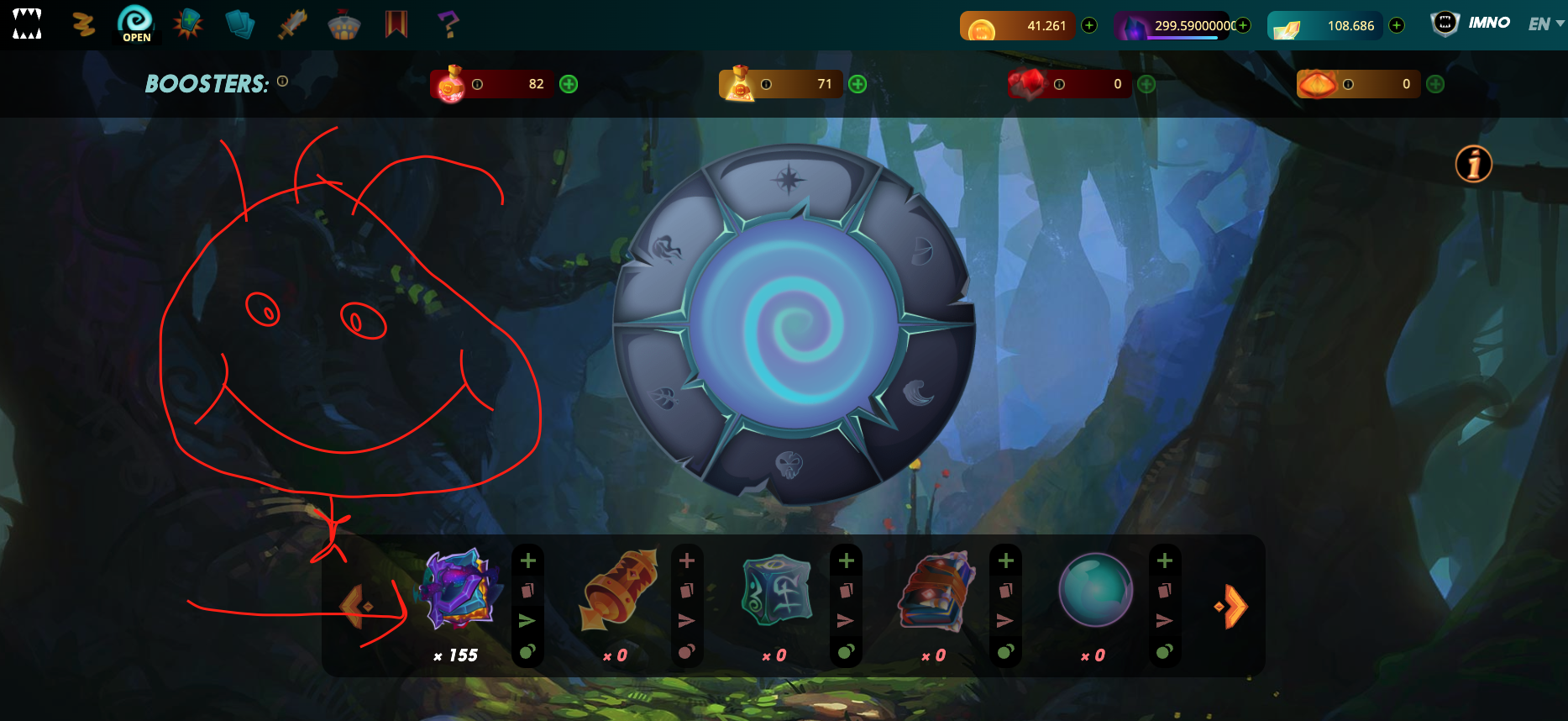 I did it! Last night I took 155 presale Chaos Legion packs out of Splinterland's coffers and put them in my wallet where they will soon be unleashed on the world.
They look good in there, don't they? :)
Last week I wrote about trading some DEC for SPS for the 10% discount figuring SPS would shoot up this week and DEC would drop as we got closer to the final days. My thoughts were that buying before the SPS boost would mean I'd get a bit more of a discount since I'd spend less DEC on the SPS I needed.
What I didn't factor in was all of crypto pulling a Wile E. Coyote.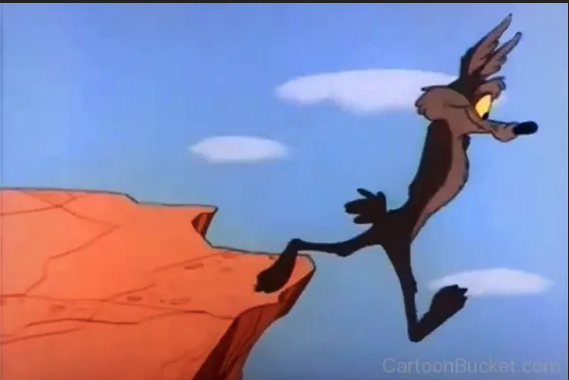 So, while I bought the SPS at .47, it kept dropping all the way down to .36.
I'm not mad though because at the same time the DEC I used to buy it dropped below .10 cents so the exchange rate isn't as dramatic as if I were buying with USD or something.
With a little bit of crypto recovery this weekend though, my expected scenario took place and SPS rocketed back to .51 cents.
Knowing that quite often whatever happens in crypto over the weekend tends to reverse when Asia wakes up on Monday morning and that SPS just made a sizable run-up from .36 to .51 in a few days, I decided to not push it any further and just pull the trigger.
So I took my enhanced discount and ran with it.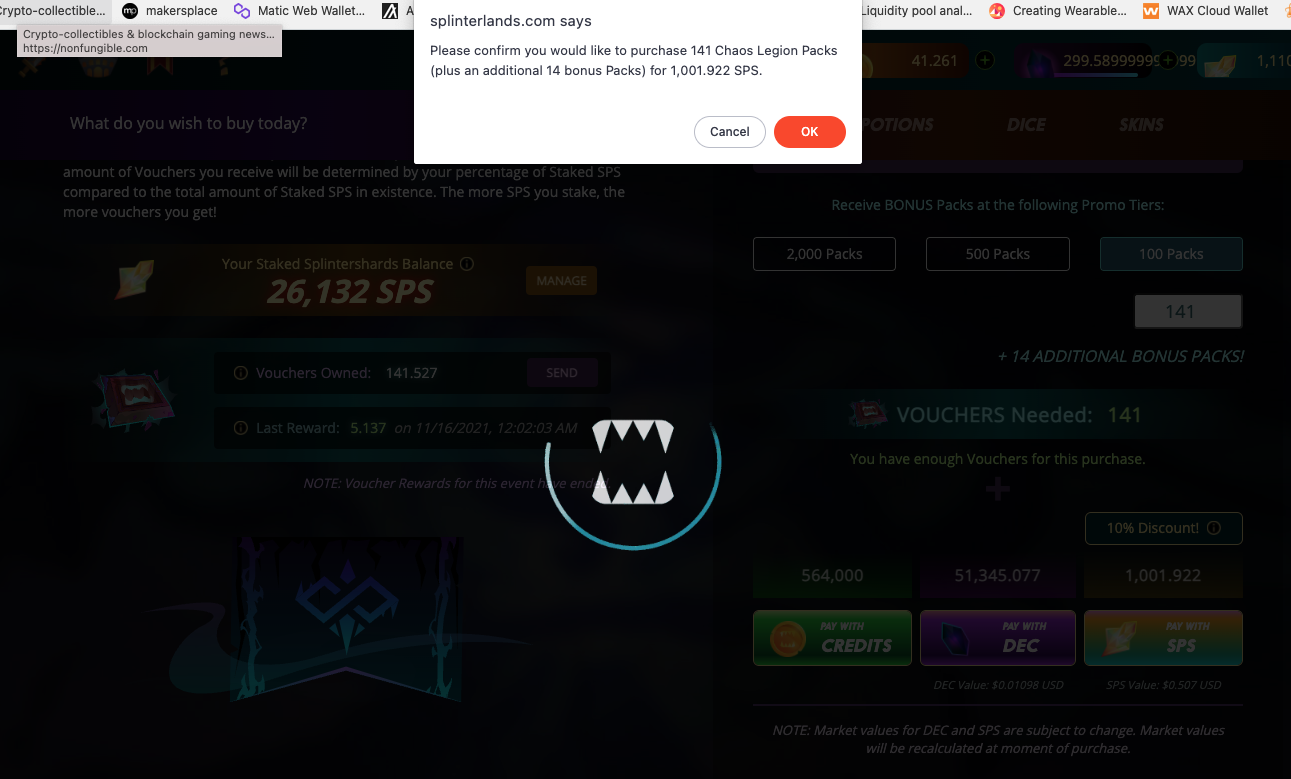 As I write this today and see SPS dropped back down to .42, I seem to have traded away my SPS right at the top of the market before Asia pounded all of crypto in the dirt.
I do love a good reliable pattern :)
So how'd I make out?
As it stands for me, between buying the SPS I was going to use early, the 10% discount SPS gives you, and the 10% bonus packs I got for buying over 100 at a time, I ended up with 155 packs for about $470.
That's $3 per pack!
...or was it?
Crypto is weird sometimes.
In fact, I'd say most of the time. There was a lot of game theory and opportunity cost built into this Chaos Legion pack drop and there were many different ways people played it.
To get those 155 packs, not only did I have to burn 1000 SPS that was .51 at the time but I also had to burn through 141 vouchers which I could have easily sold for $18 each instead of using them.
So in just those opportunity costs, you could say that I actually spent:
1000 SPS * .51 = $510
141 Vouchers * $18 = $2538
$2538 + 510 = $3048!
At $3048 spent, my 155 packs cost me a very different $19.65 per pack!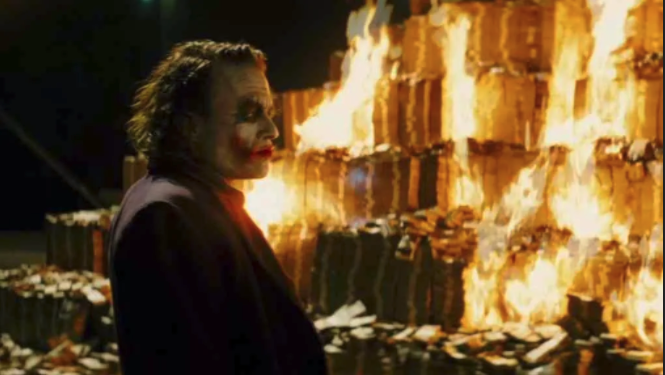 That means I spent more per card at $3.93 each than I estimated per pack above.
And it gets worse if you consider I could have sold those vouchers, held that cash in something that increased my SPS drop for a few months and then used it to buy not 155 packs but 643 packs once vouchers are no longer needed. That's almost 3000 cards I didn't get because I wanted to buy early. Whats the opportunity cost on that over the next few years?
Like I said, crypto is very weird.
But there's a third way to look at it that I feel has just as much validity. And this is both what's amazing about the crypto economy if you're on the right side of it, and absolutely infuriating if you're coming from the outside and trying to find your way in.
I didn't actually pay $470 or $3048 for these 155 packs.
Actually, it was all free.
As I noted before, vouchers averaged around $18 on the open market. But I didn't buy a single voucher. They were all given to me free of charge by Splinterlands because I had SPS.
But I didn't buy the SPS either. I got that because I had other assets in the game.
Similarly, I didn't actually pay for the SPS that I used to buy the packs either.
Sure, I paid some DEC I got from my rentals for some SPS but the truth is, I couldn't stand the thought of that SPS sitting idle in an account for a week so I took that and matched it with some more DEC and threw it in the Beeswap liquidity pool which gave me double SPS airdrop points, earns me transaction fees, and a bonus 1% every single day.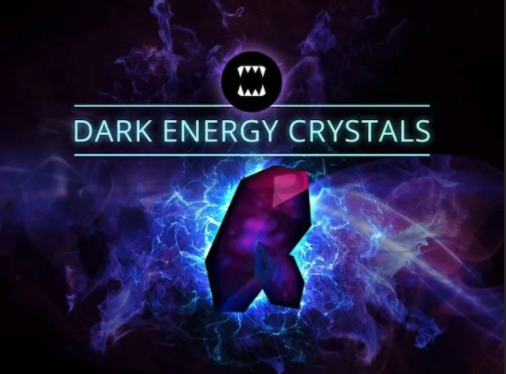 So where did the SPS I used come from? I'm sure you can probably guess. I just didn't stake 3.5 days of SPS airdrops because I didn't want to remove anything from the LP that was doing so well for me.
The truth is, I heavily invested in Splinterlands in July and August to the tune of $50,000 USD and since then, I haven't put in another dime.
What do I have to show for my $50,000?
Well so far I have:
-$160,000 worth of cards
-$12,000 worth of SPS staked and growing
-$8000 hive based coins and non splinterlands assets
-15k DEC coming in daily from rentals
-275 Daily SPS airdrop for the next 246 days
-$5000 in my bank account I've taken back out
and now...
-155 Chaos Legion packs sitting in my account.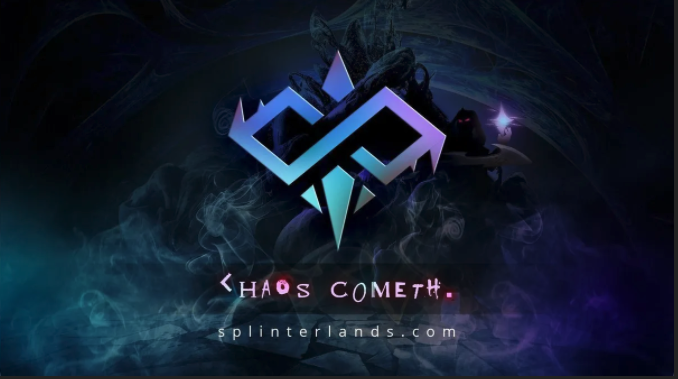 So you could look at it and say I didn't actually pay a dime for any of these packs and you'd have a solid argument there too.
Again, Crypto is weird.
Regardless to what I did or didn't spend on these though, there's one thing I do know.
I cannot wait to open these packs :)
What do you think? Should I classify these packs as free, $470, $3048, $50,000? And is it right that I got this many when so many others are struggling to get a single pack? Let me know. I'm really curious.
Posted Using LeoFinance Beta
---
---