Lock Your Splinterlands Cards-Even The Ones You Rent Out.
As a reminder, Splinterlands cards are valuable and just because you're paranoid doesn't mean scammers aren't after you.
If you aren't planning on selling your cards, lock them so if a scammer gets into your account, they have to wait for the unlock period to be over before they can steal them.
This gives you as much as 30 days to try to recover your account before they can do any real damage.
Now for me, I have close to 3000 cards and going through them individually would be a nightmare so I ignored my own advice for months.
A few days ago though I read that you can use Peakmonsters to lock up to 1000 cards at one time in just a few clicks so I stopped making excuses and got to work.
There's was a catch though. While you can play, combine, delegate, and even rent out locked cards, you can't lock a card when it is being rented out or delegated. You need to recall them and take them off the rental market first.
So, since most of my cards are rented out at any given time, I've had to lock mine in stages.
I've been running through my underpriced rental cards and setting them to come off the market so I can reprice them. This of course is something you should be doing anyway so you don't clog up the market with underpriced cards.
I'll go through and set 50-100 cards to come off the market and then twice a day select every card that has come down and I will lock and relist them at the correct price. It just takes a few minutes on Peakmonsters by using these settings to find the cards.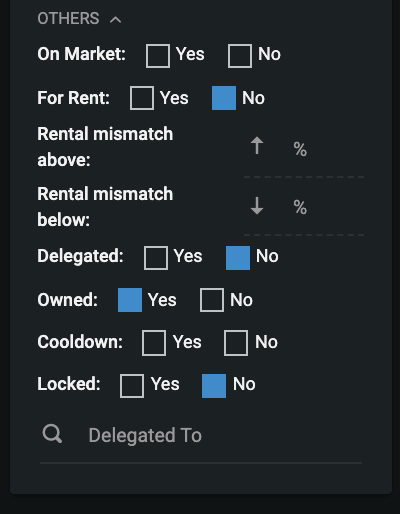 Entering those settings gives me every card that I need to reprice that hasn't been locked yet. So I'll select all cards that pop up in that search and lock them like so:

The great thing is that if you don't refresh the screen, all the cards that you needed to update are sitting right in front of you (minus a few you may have locked at an earlier time) and then you can "select all" again and list them at the proper (well researched) prices.
And that's it.
So if you have a large account and the thought of locking all your cards is daunting, try this method to get things started. It's quick and very easy and I make sure all my prices are optimized for a rising market.
Posted Using LeoFinance Beta
---
---