Providing Liquidity Just Got More Lucrative With The BXT Token


I freaking love crypto.
There is such a rush to create value in order to absorb the ever growing supply of new resources coming in from the old world that there are opportunities everywhere. Stacking crypto on your crypto on your crypto is becoming common place.
One of the newest tokens in the Hive Ecosystem that helps us do this is the BXT token from BeeSwap.
Staking your BXT token makes you eligible for your share of 50% of the all the swapping fees collected by the BeeSwap DEX and so far it's a huge hit.
On November 11, Beeswap did an airdrop of the token. I was given 2.23 tokens which when I noticed them were worth about $25. Now just two weeks later, these 2.23 tokens are worth $105 USD. Not a bad little free airdrop considering I wasn't aware of it until it showed up in my wallet.

While I knew there was a plan to give them to liquidity providers in certain pools, I was pleasantly surprised when I opened BeeSwap today to see my already incredibly lucrative DEC:swap.hive pool was now tacking on 42% APR worth of BXT tokens as well.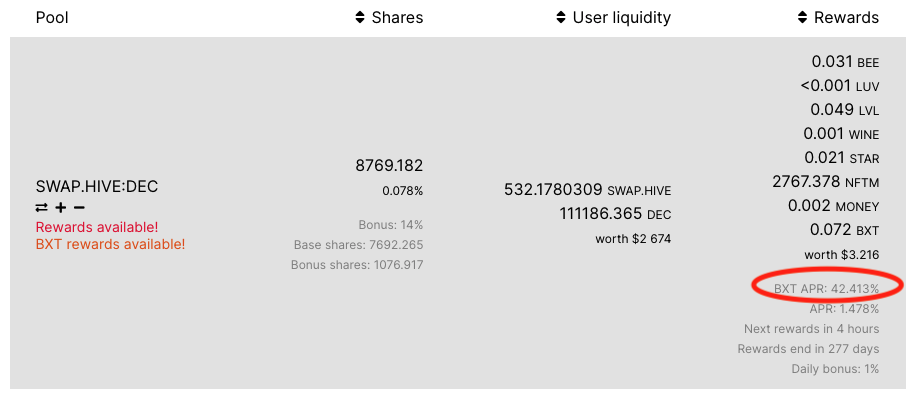 Like most pools do, this pool already pays out a portion of the fees from people swapping hive and DEC.
But this one also:
Adds 1% to your shares every day which rewards long term participation by giving you a larger percentage of the pool the longer you stay in.

Gives you double points in the SPS airdrop for your DEC (which gave you more vouchers).

Gives you a pile of bonus tokens.
and now...
They are throwing in the very valuable BXT tokens every day which not only pay you to own them but have been going gangbusters for weeks now.
You just can't beat it.
Lately I've been thinking a lot that trading crypto is a waste of time and energy and profits. Just stack assets that give you more assets that give you more assets and hold forever.
The BXT token is just another reason to do that.

Posted Using LeoFinance Beta
---
---