Splinterlands Validator Math and Theories
When I read about the validators I was right in the middle of doing my taxes. I had very little brain power to work out all the math but it looked very exciting. Dreams of $5 SPS were dancing through my head.
I finally sat down and worked out some numbers and while there are some unknowns, if you slap a few anchored assumptions down, the math is pretty simple so I decided to write a post about it.
First, let's talk vouchers.

If you buy in the presale, you have to use $1000 in SPS AND 500 vouchers.
In Tranche 1 through 7 you have the option to use vouchers in place of up to 50% of the SPS cost. So in Tranche 1 for instance you can either pay $3000 worth of SPS or you could use vouchers to get a $3 discount per voucher, up to $1500.
Vouchers seem like they need some calculating but all you have to know is that half the SPS value for every tranche is always exactly 500 vouchers.
What about the voucher supply?
Part of the perks for running a validator is taking part in a second 20k per day voucher pool. While that's a nice incentive, there is a reason why they are doing it.
There's simply not enough vouchers in circulation now to sell all these validators.
Currently vouchers come into the economy through a single 20k per day rewards pool split between SPS holders. With 365 days in the year, that means only 7.3 million vouchers get minted per year. Currently there are only about 2.5 million in circulation split amongst 88k accounts.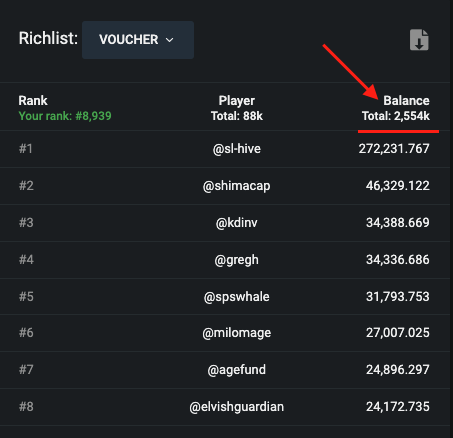 By the time presale starts there would be about 3 million vouchers in circulation.
Selling 2000 presale licenses would burn 1 million of them.
There's two things to consider here.
First, its highly unlikely that more than 30-40% of the supply will ever go on the market to be accessible for buyers. Much of what will go on the market will be priced much higher than the going rate of $2. This could spike prices in vouchers sky high.
The second thing is most of the people who are going to spend over $1000 on a validator in presale likely already have the SPS and vouchers they need for it. Many will have to go to the market to cap off what they need but they'll have most of it. This might act to temper prices from going too high.
Of course, if voucher prices go up too high (which is possible because they are mandatory in the presale and some people are just going to buy presale no matter what) some of the more savvy would-be early buyers might choose to do what they did with them in the Chaos Legion presale and sell the vouchers with an eye for buying later.
Side note: Splinterlands should sweeten the pot with one of those promo cards if you buy the presale but that's another post. If they did that, we could see double digit vouchers again.
But that's the presale.
Let's look a little further out to understand the second pool.
Who knows how many of these will actually every sell but what we do know that is there are 60k validator licenses for sale and it is possible that over time they do sell out. We also know that each one of those sales could absorb/burn a maximum of 500 vouchers so if each one sold with the max vouchers it would require burning 30 million vouchers.
As we talked about above, there are only 7.3 million being minted each year and we don't even know how many of those are being handed out to dormant accounts or to people who will just never bother to use or sell them. Also there are card packs and other things coming like land which will most likely use up a lot of vouchers.
But if every voucher was utilized perfectly just for validators, it would take about 4 years to print enough vouchers to buy up all the validators at that rate. Hence, the market needs more supply -- which is something I never thought I'd say about Splinterlands.
And its worth noting that vouchers might end up being worth their weight in gold depending on how this all plays out so that second pool might end up being an incredible reward, especially early on when there are only a few thousand nodes being run.
And for those of you who think it makes no sense that voucher prices would go high, remember what happened in the Chaos Legion prelaunch. $20 vouchers stuck around for a while because people wanted to be first to buy $4 pack of cards to maybe get Dr. Blight.
That said there are a lot of factors at play. Including the fact that once vouchers become optional, it would make no sense to use a voucher for a validator when you could sell it and use the funds to buy SPS. So there are some self regulating features built in here.
But if demand is coming in from both validators and other sources then the validators will hold them around the validator discount price while other demands will send them over quite regularly.
If you're a trader, you should note that the voucher market is probably going to be very profitable to trade in these ranges.
That brings us to SPS
The announcement said 80% of the SPS used would be burned along with all the vouchers. Usually I'm not a fan of burning fixed supply tokens but in Splinterlands' case, they are so over-supplied with everything else that I'm on board with this.
They noted the pretty incredible stat that while SPS's current circulating market cap is only $90 million at $0.13 per token (only $390,000,000 if all 3 billion SPS were circulating), the total amount of value burnt will be almost $1 billion.
Since they aren't planning on burning more SPS than could ever exist, the reason this is possible is because the price of SPS has to appreciate for a sellout to happen because the the retail price of all the licenses put together is higher than $390 million.
This is how much they will cost in SPS if we assume max voucher are used.
| Tranche | Cost | Amount | Total |
| --- | --- | --- | --- |
| Presale | $1000 | 2000 | $2,000,000 |
| Tranche1 | $1500 | 3000 | $4,500,000 |
| Tranche2 | 2500 | 5000 | $12,500,000 |
| Tranche3 | $3750 | 10000 | $37,500,000 |
| Tranche4 | $5000 | 10000 | $50,000,000 |
| Tranche5 | $7500 | 10000 | $75,000,000 |
| Tranche6 | $10000 | 10000 | $100,000,000 |
| Tranche7 | $20000 | 10000 | $200,000,000 |
If we add this all together we get $481,500,000 in SPS will be used.
On the other hand if we say that zero vouchers are used we could just double that and come up with an SPS cost of $961,000,000.
There's a good chance it will be somewhere between these two numbers so lets just go in the middle and say the SPS price on all 60k validator licenses combined is:
$721,250,000
We know 80% of that is going to be burnt so we can estimate the US Dollar amount of SPS burned at the time of burning will be roughly:
$577,000,000
Not too shabby, Splinterlands.
Will people spend $40k on a license?
So one of the things the devs talked about is that some of these higher price tranches may not make much sense now but as SPS increases in value, they could become more reasonable.
We just touched on that a little bit but I want to look at what that really means for sales of validators because there's a few interesting points.
First, these are always selling for a US dollar amount that is the same regardless to how much SPS is valued at. $40k is $40k to an outsider who isn't holding SPS already.
If you don't have SPS and you want to buy a validator when they are $40k, that means you have to go buy $40k worth of SPS/Vouchers.
This means it's highly unlikely we're going to get a lot of people who aren't currently deeply involved in SPS to be buyers later on.
In other words, the people around you collecting SPS right now are probably going to be the only real buyers of validators ever. No new people are coming in to buy.
Second, because SPS isn't infinite, the rewards run out in 5 years.
Now, the devs are putting 20% of the SPS used to buy validators off to the side so they can issue rewards for a few more years but how long that will last is anyones guess. A couple years?
Also there is a flat 3,375,000 SPS shared every single month with validators so the more licenses sell, the less SPS each person will get.
This means the later tranches not only mean you pay more but also you'll get a smaller share of the rewards pool and for a shorter period of time as the clock on rewards runs out.
So if you buy on day one you get the most rewards because you're splitting the SPS pool with fewer people and you're in at the beginning so you have years in front of you to collect.
Let's look at what rewards look like for someone who owns one license after each tranche ends.
| Tranche | Validators | SPS/Voucher p/validator |
| --- | --- | --- |
| Presale | 2000 | 1687.5/300 |
| Tranche 1 | 5000 | 675/120 |
| Tranche 2 | 10000 | 337.5/60 |
| Tranche 3 | 20000 | 168.75/30 |
| Tranche 4 | 30000 | 112.5/20 |
| Tranche 5 | 40000 | 84.375/15 |
| Tranche 6 | 50000 | 67.5/12 |
| Tranche 7 | 60000 | 56.25/10 |
As you can see, its starts off pretty strong but the rewards crumble fast. By the time you get down to that last tranche you're only making 56 SPS and 10 vouchers per month. And since Validators are sold out, that voucher value probably tanked and SPS might have also.
But the assumption the devs made was that if SPS goes up, these tranches will make more sense so let's look at that.
Let's say SPS goes up from $0.13 to $10. That would give SPS a $30 billion market cap up from $90 million now.
So at that point it would cost 4000 SPS to buy a $40k validator. Let't say we are three years in by this point and so SPS rewards have two more guaranteed years. Let's also say they get 2 more years out of that 20% they are saving up.
So four more years of rewards of 56 SPS per month. Four years is 48 months so 48 * 56 = 2688 SPS they would get back and it would take four years for that to happen. And this is crypto so the uncertainty over what the world will look like in four years is extreme.
Is it worth it? You lost money and it only took four years to do it.
But that's not really fair because there will be other rewards.
We don't know what they are yet but let's say its enough to make you break even or even profit $10k over the next 4 years. Worth it?
This also assumes that everyone else is locked in hard on their own licenses and refuses to sell for less than $40k. Everyone who is willing to sell for less than that is one more of the 60k that aren't being bought yet.
All I'm saying is there's a lot working against the idea of a sell out. And while they will push SPS up for a few tranches, when it starts to hit that equilibrium where it's no longer worth it to buy more, it will start to come back down.
OK, but there's a lot of moving parts here and a lot of unknowns so maybe I'm wrong.
Let's leave this point behind and talk about the last two points.
How many SPS tokens will be burned?
How much does SPS have to go up to keep the SPS spend consistent over the tranches.
Let's start with the second question first.
At $0.13 per SPS, it would currently take about 7700 SPS to cover the $1000 worth of SPS.
Let's say people feel good about spending 7700 SPS per license and will do it over and over again until they are sold out. How much would SPS need to appreciate to sell out each tranche?
Well, to keep that ratio all the way up, we'd just need to add the percentage increase above the presale price of $1000.
So tranche 1 is $1500 which is a 50% increase above $1000 so $0.13 + 50% = $0.19
At $0.19 SPS, you could buy a license for the same amount of SPS tokens as the person buying presale.
And we can keep doing this all the way up to tranche 7 where you would need the value of SPS to get up to $2.60 for the same 7700 SPS and 500 vouchers to buy a license.
| Tranche | $$ | SPS |
| --- | --- | --- |
| Presale | $1000 | $0.13 |
| Tranche1 | $1500 | $0.19 |
| Tranche2 | $2500 | $0.32 |
| Tranche3 | $3750 | $0.49 |
| Tranche4 | $5000 | $0.65 |
| Tranche5 | $7500 | $0.97 |
| Tranche6 | $10000 | $1.30 |
| Tranche7 | $20000 | $2.60 |
Now there's no reason 7700 needs to be the number but it seems to be what the market is thinking right now as SPS just hovers between .12 and .13 even after the presale has been announced.
So that would mean we would get a max of $2.60 SPS and with that we can see how many SPS tokens would be burned.
It would be 7700 * 60000 * .8 = 369,600,000 SPS burned or about 12.3% of the total max supply.
If prices go up higher than this, it would be less and if they didn't move higher it would be more but its highly unlikely we sell out with SPS lower than $2.60. It likely it would be higher and we'd end up burning a lot less.
So this was a lot of information and quite a bit of speculation on my part. There are a million unknowns still about validators and I was just spitballing on what makes sense based on what we already know.
While there's more info coming that could change everything, right now my plan is to skip presale and buy a license in tranche 1. I think we'll see a spike in SPS that will make it worth it to wait. Also I think vouchers are going to be quite valuable so I want the choice to use them instead of being forced to.
I will collect the SPS and vouchers for several months but somewhere around tranche 4 I will probably be looking to sell and cash out.

(Here's some end of season numbers)
Posted Using LeoFinance Beta
---
---