What To DO About Bots: A Possible Solution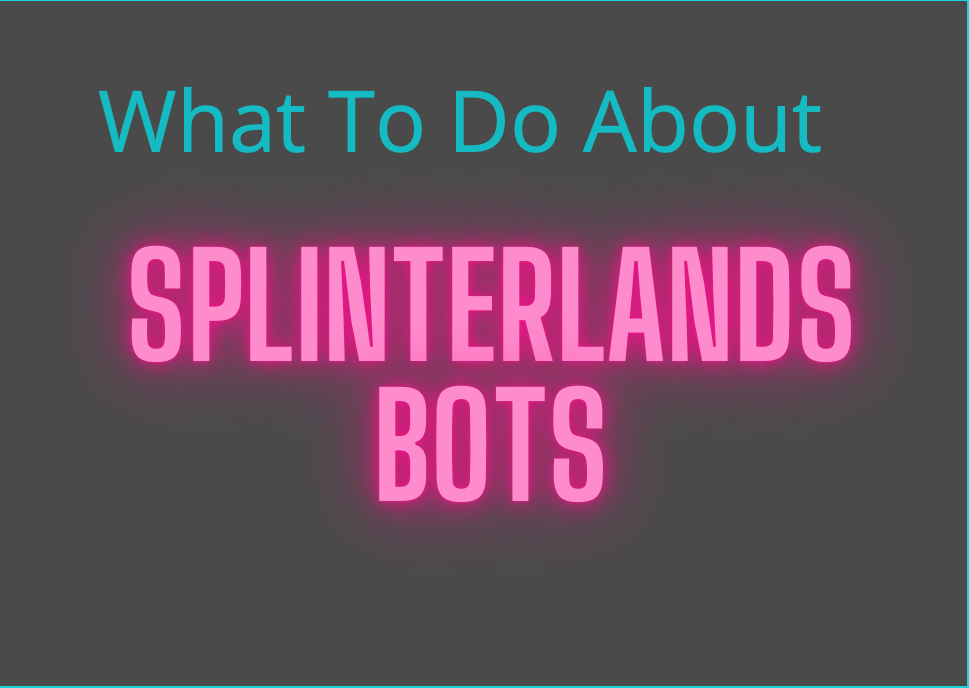 I just listened to the latest AMA. @yabapmatt was on talking about the Splinterlands economy and the validator licenses.
One of the things that was talked about was the new rewards system roll out.
If you've been here a few months you know that the last time he adjusted the rewards systems it was to eliminate DEC rewards from bronze. This almost single handedly destroyed the upward trajectory of the game.
The reason it was done was because bots had figured out how to use the free ghost cards to farm the game of dec rewards and chests. The idea they had then was bots aren't a problem but the fact that they weren't spending money in the economy beyond the spell book, which went straight to the company as opposed to the economy, was a problem.
Removing DEC rewards and lowering instances in cards from chests in lower leagues was to force bots and players to have higher CP in order to get rewards. Since free ghost cards don't give CP, this guaranteed some level of card ownership or regular card rentals in order to farm the game.
Well, now they are recognizing that they destroyed the value in the game by doing that and they want to re-spark it by giving bronze rewards again and even upping the rewards throughout the game.
This time they've decided to give the use of free cards a penalty in both dec rewards and chest rewards. As long as you use owned or rented cards, you get more credit and that leads to more rewards.
There is a lot that is smart about this new set up. With their seeming need to just keep printing more cards, it makes no sense to have free cards anymore at all. But they decided getting rid of them will deter new players and they've learned their lesson about deterring new players.
I could think of better ways to do this that add more value to the game but removing rewards for using these free cards is probably easier to implement and it's good enough to cause some positive change in the game for now.
But will it fix the game?
No.
It won't fix the game because they are still operating on the idea that the problem with bots is that they don't invest enough.
That is not the problem with bots.
The problems with bots is that their whole purpose in existing is to farm the game for rewards more efficiently than humans can.
Yabapmatt said in the most recent AMA that as long as the bots are investing some in buying or renting cards, it's great to have bots because they are adding value by spending money.
But that makes it sound like bots are a net positive to the economy. That they add more money to the economy and therefore we should get more of them.
And he'd be absolutely right. If bots were coming in and just spending a bunch of money into the economy and taking out less than they spend, we should have all the bots in the world. Let them come in and make us all rich!
But that's not what bots do. Bots are only here as long at they can pull more out of the economy than they have to put in. A successful bot is ALWAYS a net negative in terms of economic value because their whole purpose is to syphon off whatever they can.
If a bot has to put in $10 to take out $10.01, they will do it every time.
And if they can't pull out an extra little on their investment, its because they've already depleted the game to nothing and it's time to move on and vacuum up the value in a different game. They don't care which game or thing is next. As long as what they pull out can be sold for a predictable profit reliably, it's good enough.
See, the argument against "bots drain the economy" is that people are also in it for the profit. People want to pull out of the game more than they put in just like bots do so it's not different.
And this is very true that people are trying to profit. But people aren't just calculated profit/value sucks.
People are passionate and irrational and inefficient. People collect cards because we love them. We play the game because we enjoy it. We'll spend too much on a card just for bragging rights when we beat our buddies with it. We bring our social networks and create conversation and community which make us want to invest even more.
Community adds to demand and creates more value than it takes out. People allow for more interest in new assets and game plays. Bots don't care about anything but the math and predictable and repeatable profit.
Bots farm. They will farm the slimmest of margins because they can replicate their efforts and work around the clock at peak efficiency.
Bots do use assets but they have also been the primary reason the Devs have had to continue creating so many more assets. DO you think the new rewards cards would have needed millions of copies if bots weren't farming them at such a high rate?
The economy and card mints have now been built around these bot farms and to remove them would collapse everything instantaneously. There are simply too many cards on the market for them to be absorbed and used by people. Quite frankly there's too much out there to even be used by the bots that are currently out there.
So getting rid of the bots at this point is not an option if we don't want to see the game go to zero overnight. At the same time, bots are only going to keep farming this game down until the soil no longer grows anything and it just more slowly goes to zero.
So what's the answer?
Here's what I'm thinking.
No New Bots
We can't get rid of the bots but that doesn't mean we need to bring in more.
Step 1: Ban all new bots. The bots that are here are grandfathered in. They didn't break any rules by entering and they bought the spell book. Plus right now they are holding the economy up from complete collapse so the ones that are here stay.
Step 2: There's a one month period for all bot accounts to register themselves. THere's no need to identify anyone. Just if a bot is running on the account, it needs to mark that it's a bot.
Step 3: The team mints each bot account an NFT license that is owned and able to be sold in the market. These are given out to the bot owners for free and they allow the account holding the NFT to run a bot.
Step 4: The NFT license is free but to activate it requires the account to stake an amount of Dec or CP. While staked, it cannot be used. The amount of the stake required is small but goes up over time at the rate consistent with the asset growth in the game. The amount of the increase, if any, could also be voted on by the DAO periodically.
Step 5: If the NFT owner decides they don't want to run a bot anymore, they can sell the NFT to another buyer who will have the same staking requirements but will also have to pay an amount of SPS to the DAO or burn some DEC/cards in order to activate the NFT so they can run the bot.
Step 6: Any account caught running a bot without an active NFT is immediately banned and will have to buy a new spell book in dec to be reinstated. DEC for reinstates will be burned.
The goal is over time for players to keep coming in and changing the player:bot ratio. As more players come in and bring actual value, they will eventually outnumber the bots. At this rate that would probably take years but just knowing no new bots would be coming in would probably speed that process up as asset values would begin to rise because almost everyone would see it as a positive for the future of Splinterlands.
And as we know, rising asset prices bring in new interest.
Hey, if any of you who know @yabapmatt and you think this is a good idea, bring it up to him. Take credit for the idea if you want. I don't care. Let's just get this game going in the right direction because I'm tired of seeing my assets drop by $1000 dollars per week while I rent them out for $20 per day to bots who were smart enough not to buy.

Posted Using LeoFinance Beta
---
---