How Splinterlands has Changed My Life❓

My day started with a morning coffee with my friend. We haven't seen each other for a few months, so we had a lot of topics to talk about. I think we were talking for more than 2 hours...
Somehow we started talking about cryptocurrency, blockchain, play2earn trends, etc. And, we talked about Splinterlands too!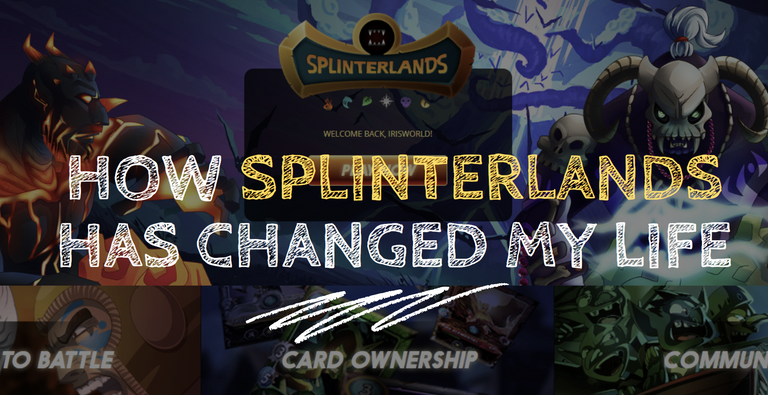 My friend has heard about that game but didn't know any details... didn't know before our morning meeting today :) So, in the end, he asked me: So, how @splinterlands has changed your life?
If be honest, I never thought about it, and I never asked myself that question. Have you ever thought about it?
That question made my brain work harder. But since I had to answer that question right away, I didn't have much time to think deeply about it. So, I will summarize and share my thoughts with you⬇️
I started playing games🎮! Literally! I wasn't a big fan of games. I mean I played some games from time to time, and only on my phone. Like, puzzles, sudoku, quest games, etc. But it was like once a week? or even once a month or maybe even less often.

Games can pay your bills💳. When I learned about Splinterlands my world changed haha and I added #play2earn games to the list of interests. Probably, because with p2e games you can take a rest and earn some money at the same time :)
With splinterlands for the first time in my life, I bought a cup of coffee on money I earned playing the game :))
And, yes, now I am playing several games, and much more frequently than once a week 😁

I met new friends👭. Splinterlands matched me with new people, who became my new online friends (with some of them we had offline meetings too). Meeting new people, meeting new friends, and building your network is an essential part of our life that drives us forward.

More interest in the crypto world💰. I remember when I started playing the Splinterlands my interest in cryptocurrency and blockchain was limited by the Hive blog. I didn't even try to discover something else. But later I can call it 'the life before and after with Splinterlands'.

I improved my analytical skills🧠. If you play splinterlands you know that you can just submit any cards in the battle. You need tactics, you need a strategy. Chaotic actions won't bring you to the win, and consequently, you won't be able to earn tokens. And also, relates to the game overall. The game keeps developing and keeps adding new cards, new features, and new opportunities. And players should follow those changes, analyze them and make a decision. That is a very useful skill not only in the game but in life too!
I can name more aspects. And actually, I finished my answer with the phrase "Splinterlands can be a good case study for academic research".
It was nice to look back on my personal experience with Splinterlands. It is like an analysis of your life, the parts of it, and things that play important role in it.
Thank you for reading my thoughts... ❤️


---
---