Gaming, Blogs, News, Guides, Selfless Curation Day 3
Manual Curation/Upvoting Journey: Day 3
---
Content curation is about finding great content and presenting it to others in a way that adds value.
---

My Daily Message Corner

Hello everyone, I hope everyone had a great week! Welcome to another posts about the interesting posts I have curated today. But first of all I wanted to share something to everyone, about my journey in @splinterlands, it is a sad story actually haha the picture says it all I was actually trying to climb up the rankings and manage to reach rank 100 above, but sadly I had a dragon quest and I got tilted and forced my quest lol, so I dropped and lost a lot of rating, but really it does not matter much though since I don't have the cards to stay in Silver 1 and Silver 2 and renting is too expensive at the moment, so I have learned my lesson and just be contented on where I end every end of season though, unless someone really delegating me something like last season I got power delegation from @godislove777 , I will be happy to stay in Silver 1 or Gold 3, else I am happy to stay in silver 3 in end season, so for others that wanted to spend their wealth for rentals on the end season, to be honest I would suggest that you try to hold a lot of them and buy cards early in the season where cards are cheaper to start building up your decks, I think that is a lot better than spending for something you are not sure though, but again this is not a financial advice, it is just my own opinion. That's it for my story and let's move on to our main purpose thanks for reading LOL



Main goal for my project is to help people who have great content with low audience, I want to help them reach more audience who might be interested in their posts, and possibly get more upvotes in the hive blockchain...
I am looking forward to help more people by curating their posts, I hope I can be successful in helping them..



Photo is made by:         ivarbjorn using Canva.com

You can see the post that I have upvoted and re-blogged here: Click here
I have been earning passive income myself while I am also helping others earn from doing their blog posts. But my real goal is to have those quality posts reach more audience.
I have been mostly curating people from #Splinterlands and #RisingStars (Let me know if you have some suggestions), since they are the main reason I am on the hive blockchain, but I am already exploring new opportunities and studying lots of projects on the #HiveBlockchain
I will share here some of the favorite post that I have been following and who are posting them, I really find this posts inspirational, motivational and educational.
Disclaimer: If you are tagged here and you don't like your posts shared by me or if you feel by any chance  that is kind of stealing your content please let me know in the comment section or send me a DM in discord,  ivarbjorn#9345
No copyright intended


Here are some of the posts that I have upvoted/curated which have really catch my interest:






Check out @drabs587, I want to feature his posts again because I believe it is on point, @hive has helped a lot of people, and I am one of them so if you got the time you can check his post on how it changed his life.
Check his latest post here



There are a lots of post that I curated too that you might find interesting in my trail history, but above are the top posts that is the most interesting to me based on my own judgement and opinion. Again you can see all the post I have curated here.
Disclaimer: Photos are property of the posts owners and/or where they give the credits to on their posts,   no copyright intended.

---

What I am doing right now means so much to me since it is a way to share all my blessings that I got from my twitch community (Huge shoutout to the #nosleepgang), all I ever wanted was to share the blessings that I receive, so in this way I can share my blessings while I am getting my share too, to provide even more, it is a win-win for everybody

For those people who are doing this kind of thing for much longer, I would like to ask for your advice and ideas/opinion on how I can improve my curation journey. Any opinion and idea will be much appreciated, I will be always be grateful to you 💞
---
You can also add your post on the comment section if you got some post that you wanted to get upvoted. I will go through some posts on the comment section and get it upvoted.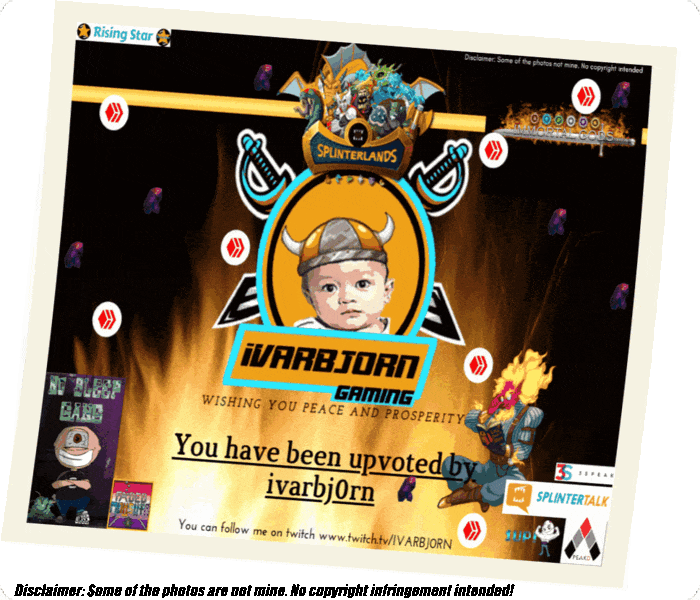 Follow me on Twitch,
Click Here
Follow me on Twitter,
Click Here
Check out all the
#nosleepgang
Twitch Streamers here,
Click Here
(You can also see all the posts the streamers make. Huge shoutout to
@nevermeltice
for making the website possible)
Special Thanks to
@mhowii
for the
#snoleepgang
divider
Thanks to
@TheTerminal
for this divider:

Let me promote the art contest on our discord server, check more information here:
Click Here
If you are not playing splinterlands yet, you can join us here:
https://bit.ly/2ZcvADg
(Let me know if you have used my link, so I could help you get started)
Start your Risingstar journey here:
https://bit.ly/3ctsg9V
You can also DM me in discord if you have questions: ivarbjorn#9345
---

Before I end this post you can also checkout this peoples post:
@luthien12 @walkingkeys @brojustaverage @dbofficial125 @mercurial9 @zasktrader @atnazo @jakkal @pixiepost @morenow @rosiew @blueberrr @bananofarmer @rakhmen @mvl2304 @andy-plays @davethegreat @jackal-bandit @holoz0r @steemflow @andreaag21 @clove71 @holoferncro @tedus @platypus-dundee @tim.hendrix @keltv @sketchygamerguy @sralim @drunksamurai @nysster @sp3ktraline @simgirl @silverhorn @lordanquek @nane-qts @lipe100dedos @achim03 @arrliinn @edongdong @letsjam @ketchup177 @belhaven14 @splinternews @noemphaty @beerbod @turbojihad @drazeus @thercek @groovy828 @rentaw03 @powermeat @alejoca @elzaaa @jazz05 @jfang003 @magooz @flauwy @silentwill
Special thanks to @sgt-dan for helping me so I could get started.
See you all on my next post


P.S. I have managed to make my own dividers. We will definitely do better ones next time 😂
Also we will gonna take rest tomorrow since it is the weekend, I wish y'all a great weekend.
See you guys on Monday <3



---
---