Immortal Gods TV: Splinterlands Weekly Guild Brawls
Hello everyone this post is for Immortal Gods TV Brawls Report.
Our guild has decided that we will post a weekly guild report from our Brawls, and which is the better way to do it than to post it in Hive where it is saved forever, and maybe years from now we can look back and see how far we've come as a guild, and at the same time, everyone in the guild is earning from our reports.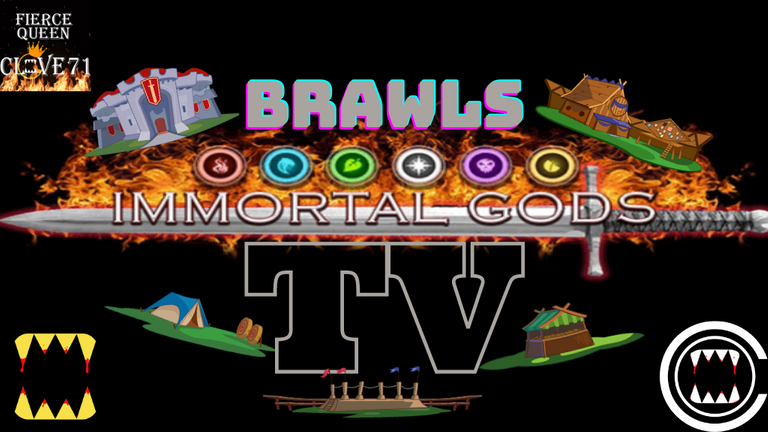 Guild Brawls
One of the best features that @splinterlands has to offer is the Guild Brawls, it gives the urge for guilds to play competitively and play as a team. After every Guild Brawls, everyone participating gets MERITS that can be used to buy Gladius Case which will give you Gladiator Cards, Gladiators are strong cards that can help you win Brawls, they will also give you power which will also count towards SPS airdrop points which runs until July 2022. Brawls happen every 5 days, with 48 hours Preparation Stage this is where you enter the frays, 48 Hours Combat Stage, this is where the brawling starts and 24 Hours, Results Stage, where you can record all Guild Brawl Results. In each season there are usually 3 Brawls a guild can join.
Immortal Gods TV/Immortal Gods 8
Immortals Gods TV or Immortal Gods 8, is a guild under the Immortal Gods banner, made by @clove71, the members are mostly streamers although due to the scarcity of splinterlands streamers or others just already has their guilds, we were accepting players which are not streaming at all, and so far it is working very well for us.
Guild Buildings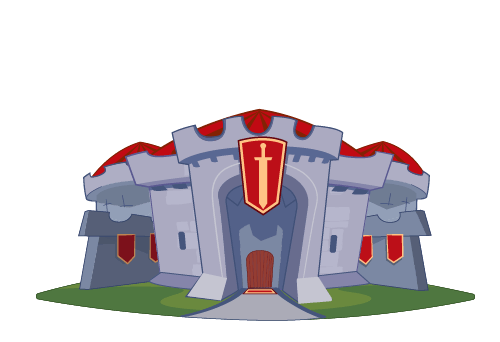 The seat of power within splinterlands, and it determines Member Roster and Building Limits, currently, ours is at level 6 which allows 21 Members and Level 6 Building Cap. It is important to try and continue upgrading the hall since other buildings can never surpass the guild hall level.
---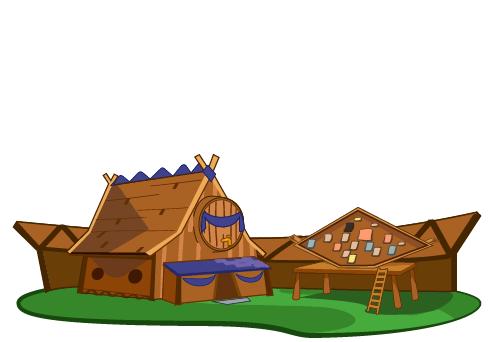 It is the place where you can build your Guild Reputation through bounties and adventure. Completing your daily quests will gain status and commerce. Currently, ours is at level 6 which gives us a 7% DEC Bonus and 4% Shop Discount, although it will not apply to booster packs, Spellbooks, and or land purchases.
---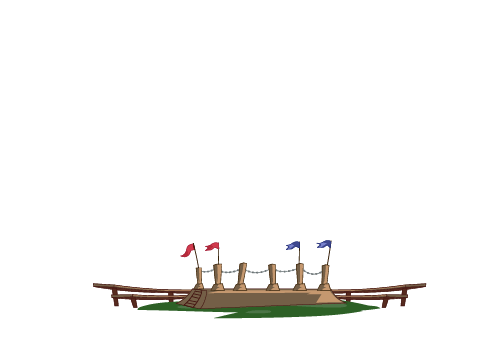 This is where the Guild Brawls happen, the larger your arena is the bigger the Brawls that could happen, our Guild Arena is at level 2 and it gives us x2 reward in terms of Crowns. Currently, it gives us 13 Frays to fill for our Brawls, and each fray with different Rules and cards you'll be able to use.
---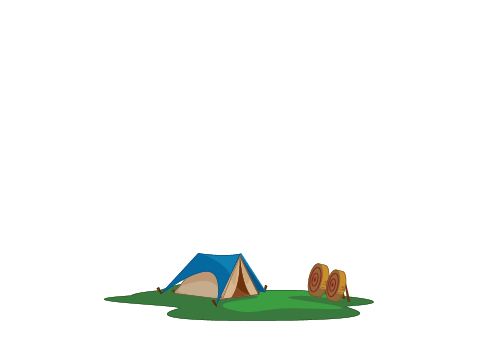 This is where you can train manifestation in combat tactics that are used for Brawls, currently our Barracks is at level 2 and it gives us the ability to summon Gladiators at Bronze level cap. Your battle tactics just get better the more you upgrade your barracks and it can give you a huge advantage in Brawls.
---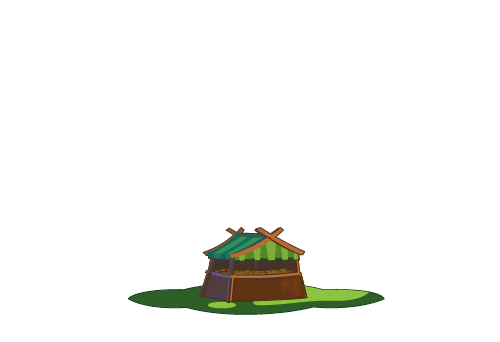 Guild Store is exclusive only to guild members, and it offers unique and powerful items like Gladius Case which you can buy using MERITS you get from Brawls and it also has the Blood Stone and Power Stone when you upgrade it higher, the stones are equivalent to potions when you open a booster pack. Since we got to level 3 Store we can use our MERITS to buy Gladius Case.
All Guild Building photos came from www.splinterlands.com

Brawl Results
We got a rather disappointing finish at 5th place but I know we will bounce back much stronger! To all the members' thanks for working hard and supporting the guild even though we are in shambles right now and in the process of rebuilding! I know, we can do it!
Brawls Win Rate Percentage: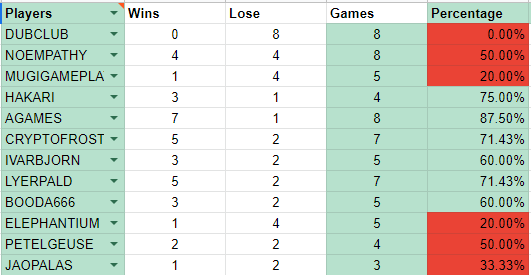 Guild Ranking Per Points Gathered:
| RANK | Guild Member | Battle Submitted/Battle Count | Win/Loss/Draw | Points |
| --- | --- | --- | --- | --- |
| 1 | Agames-Godlike | 8/8 | 7/1/0 | 21 |
| 2 | Cryptofrost | 7/7 | 5/2/0 | 15 |
| 3 | Lyerpald | 7/7 | 5/2/0 | 15 |
| 4 | Noemphaty | 8/8 | 4/4/0 | 12 |
| 5 | Hakari | 4/4 | 3/1/0 | 9 |
| 6 | Ivarbjorn | 5/5 | 3/2/0 | 9 |
| 7 | Booda666 | 5/5 | 3/2/0 | 9 |
| 8 | Petelguese | 4/4 | 2/2/0 | 6 |
| 9 | Jaopalas | 3/3 | 1/2/0 | 3 |
| 10 | Elephantium | 5/5 | 1/4/0 | 3 |
| 11 | Mugigameplay | 5/5 | 1/4/0 | 3 |
| 12 | Dubclub | 0/8 | 0/8/0 | 0 |
| 13 | - | - | - | - |
We have changed the format and instead of percentage I will gonna draw half of the HBD I get from this post.
If you see we got a member who fled 8 matches that is why we are so low in the ranking and finished 5th but mostly some of the members didn't have their A-game too, like me. LOL
That is all for this week's brawl, expect to see another one next week!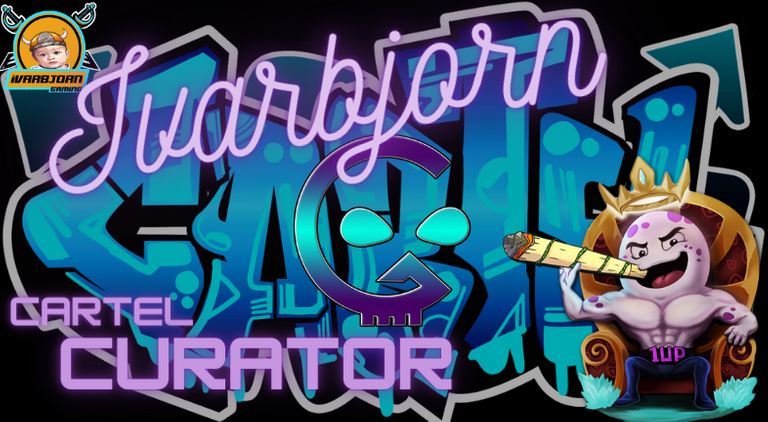 If you are not playing splinterlands yet, you can join us here: https://bit.ly/2ZcvADg (Let me know if you have used my link, so I could help you get started)
Start your Risingstar journey here: https://bit.ly/3ctsg9V
Start your Rabona Football Club here: https://bit.ly/3onU7z1
Start your Listnerds/Affiliate Marketing here: Listnerds
You can also DM me in discord if you have questions: ivarbjorn#9345



Follow me on Twitch, Click Here
Follow me on Twitter, Click Here
Check out all the #nosleepgang Streamers here, Click Here
(You can also see all the posts the streamers make. Huge shoutout to @nevermeltice for making the website possible)


---
---