Splinterlands Townhall Update Notes - February 27th, 2023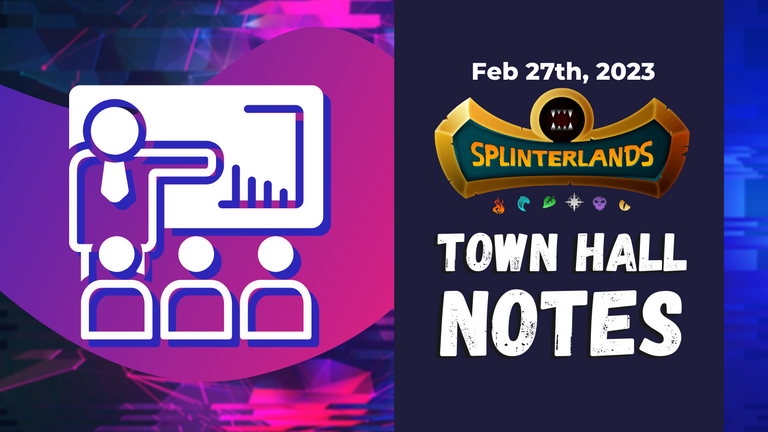 As an avid Splinterlands player, I recently took notes on the latest Splinterlands Townhall that occurred on February 27th, 2023 and have decided to share them with the community. This event brought a host of updates that players can look forward to in the coming days and months.
In case you missed it, here's a replay of the Town Hall:
---
Below is a summary of the major updates discussed during the event:
Updates Coming Out Tomorrow
During the Splinterlands Townhall on February 27th, 2023, a number of updates were discussed that players can look forward to in the near future. These include:
Season rentals are being implemented, with a minimum duration of 7 days. If the season is close to ending, rentals will default to the next week.
Changes to ranked leagues, including resetting, removing reductions in league for not playing, and reworking the Novice league so that players won't drop back down to Novice once they leave.
Adjustments to manacaps for different leagues.
Ongoing tech modernization, with the open packs screen moving over to tech modernization. About 30-35% of the work has been completed.
Retirement of the bridge to Steem.
Fixing the display of the battle button at the end of the season.
Adding API endpoints for markets, including active items.
Cleanup on free-to-play accounts, with no more broadcasts to Hive.
The availability of the Lily Shieldpaw Airdrop, with the next RW airdrop triggering soon.
Overall, these updates suggest a continued focus on improving the Splinterlands experience for players, with changes to rentals, leagues, and tech modernization that should help make the game more accessible and enjoyable.
PJ
PJ, one of the speakers at the Splinterlands Townhall on February 27th, 2023, discussed the team's ongoing efforts to improve the game. This includes incorporating player feedback into the development process, as well as working on a single website that can handle both desktop and mobile platforms. The team is already 35% of the way through this process, with a focus on mobile-first development. While there is no definite timeline for completion, it is possible that the new website could be completed in 2023.
Matt
Rebellion
Rebellion is the next edition of Splinterlands, and the team is currently testing new features for it. One of the features being tested is the addition of multicolored summoners.
Reward/Energy Changes
The team is working on changes to replace ECR, which will prevent players from playing when they run out of energy. Players will be able to pay to keep playing and earning rewards. Energy won't impact rewards, and the cost to get more energy will be higher in higher leagues. The team hopes these changes will remove the incentive to move cards around or burn down ECR.
Land
The first playable phase of Land is expected to roll out within the next four months, and players will be able to put cards on it to start earning rewards. The team is currently working on a post/whitepaper to explain the details of this feature. Players will be able to stake DEC on land and mine stuff from the pool. Titles associated with land, the ability to use Totems and totem fragments, and staking per worker card on the plot are also being added. Summoners vs. monsters will work just like monsters, and gladiator or soulbound cards may be able to be used but likely won't be the best way to go right now because of level. Rental stuff is not expected for this phase land, and there will be a cooldown time to take cards out of land.
Guilds
The team is adding new features to guilds, similar to the concept of land. They are considering staking runi, unopened packs, etc., and making guilds more like DAOs. The team is leaning this way instead of the full alliance update.
Overall, Matt's updates suggest a lot of exciting changes coming to Splinterlands, including the introduction of Rebellion and new features for land and guilds. These changes should help make the game more engaging and enjoyable for players, with new mechanics and ways to earn rewards.
Marketing
The Splinterlands team is focused on onboarding new players and is currently running tests to help determine the most effective ways to do so. They have a GLX presale coming up and will also be offering GLX Node airdrops to those holding SPS nodes.
WeirdBeard
New Tournaments are coming up on Thursday, and there is a Gladiator tournament tonight.
Nate Creative Update
Nate shared updates from the creative team on the new Energy Bar, Land UI, Upcoming Land Starter Pack Items, and Dual-Color Summoners.
Energy Bar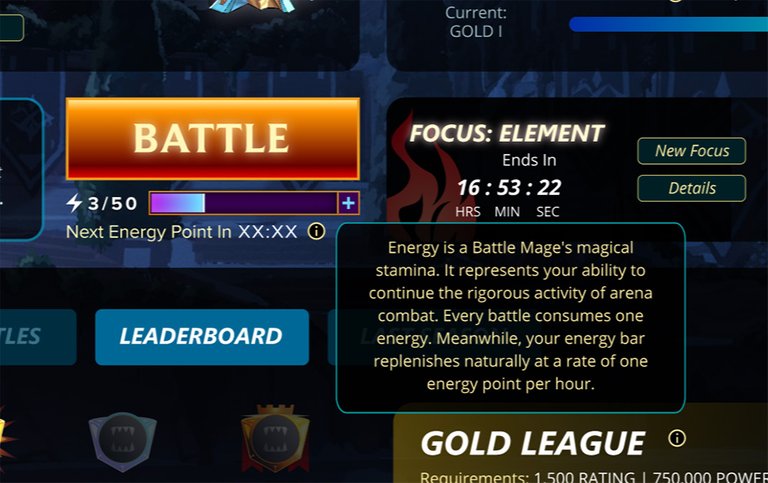 Land UI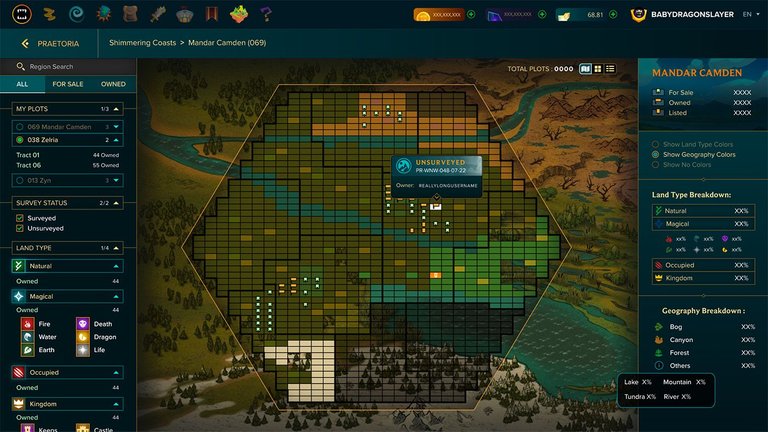 Land Starter Pack Items
Dual-Color Summoners
Questions
While many questions were asked and answered during the townhall, I have no detailed notes available on those, please check the recording to see what was covered.
Wrap Up
The Splinterlands Townhall on February 27th, 2023 revealed a plethora of updates for players to look forward to in the coming days and months, from season rentals to changes in ranked leagues, to the introduction of Rebellion and land. The team's focus on improvement, modernization, and making the game more accessible to new players bodes well for the future of Splinterlands. With so much to anticipate, players can expect to see the game evolve in exciting ways over the coming months.
---
Find this Post Valuable?
1️⃣ Follow me to see all future updates.
2️⃣ Upvote these posts to let me know they're helping you.
3️⃣ Send a Tip!

---
❓Want Help with Your Splinterlands Journey❓
Join Splinterlands through my Referral Link Here to get access to:
✅ Mentorship, Tips, & Best Practices From My Experience.
✅ Delegated Cards to Get You Started Right [Limited Availability]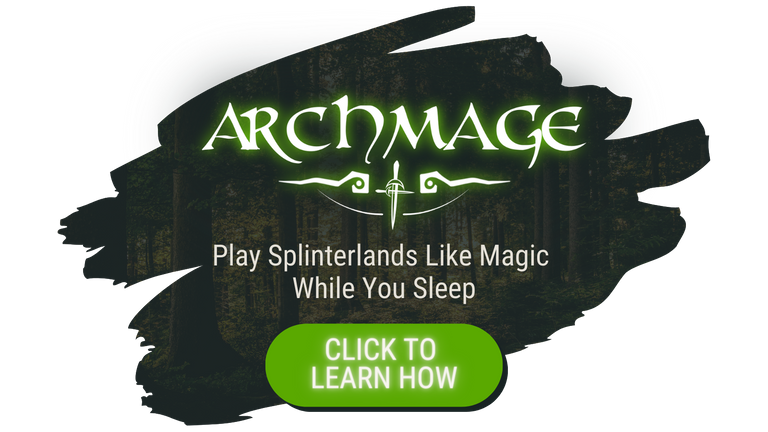 ---
---