I Got an Early Gift Opening my Gladius Pack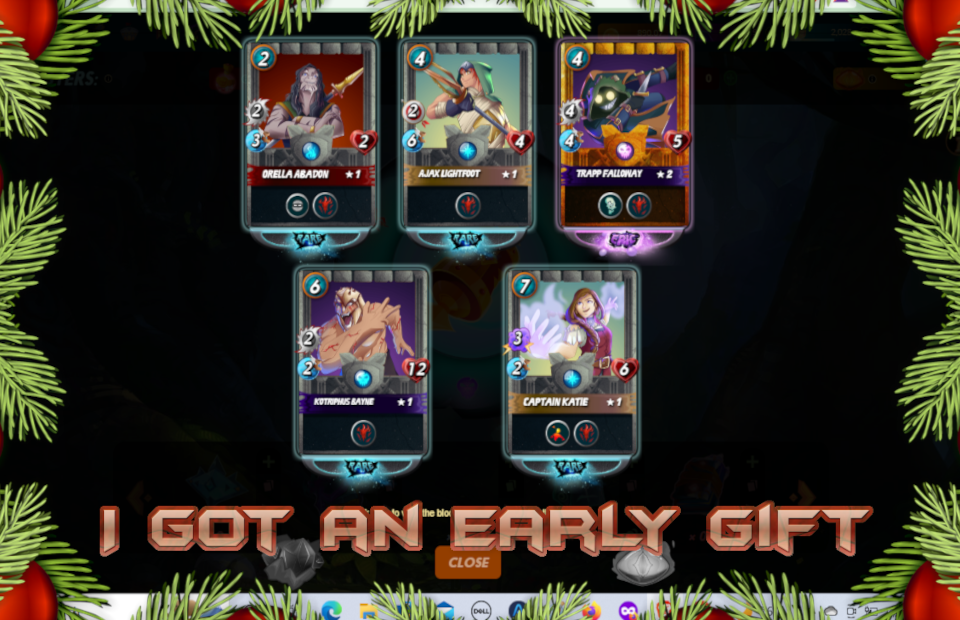 ​
I Got an Early Gift Opening my Gladius Pack
An Epic gold card and 4 Rare cards in one pack which makes me feel lucky, with an additional 10,160 total collection power to my statistics.
In Splinterlands you are able to earn rewards by playing the game.
All you need is to accumulate 2000 merits then exchange it for a Gladius Pack. You can accumulate merits through your daily quest reward, from your season chest, and from playing the brawl by joining a guild and competing in a tournament every week. The moment you accumulate 2000 merits, obtaining a Gladius Pack is like buying a chaos pack or any other packs in Splinterlands.
Its enjoyable and fun joining a contest where you battle other guilds in a tournament the more number of wins your team makes the more merits you earn to be able to purchase your gladius pack.
This week I have an awesome Gladius Cards, these are soul bound to you, a term used since essentially you can not sell, rent or delegate these cards.
When you play these awesome cards, it gives you an advantage because of its blood lust where it get crazy by powering up every time it destroys an opponent.
it is a game changer, your opponent might be winning at some point, then all of a sudden you increase your health, power, speed and shield then it starts to continue upgrading every time it annihilates its opponent then all of a sudden you win.
Cheers to everyone.
background from Pixabay
Join Splinterland Click Here
Sign Up & Join ecency a Hive platform to share your Creativity & Knowledge Click Here
​
​
---
---