Joining a Guild at Splinterlands
Joining a Guild at Splinterlands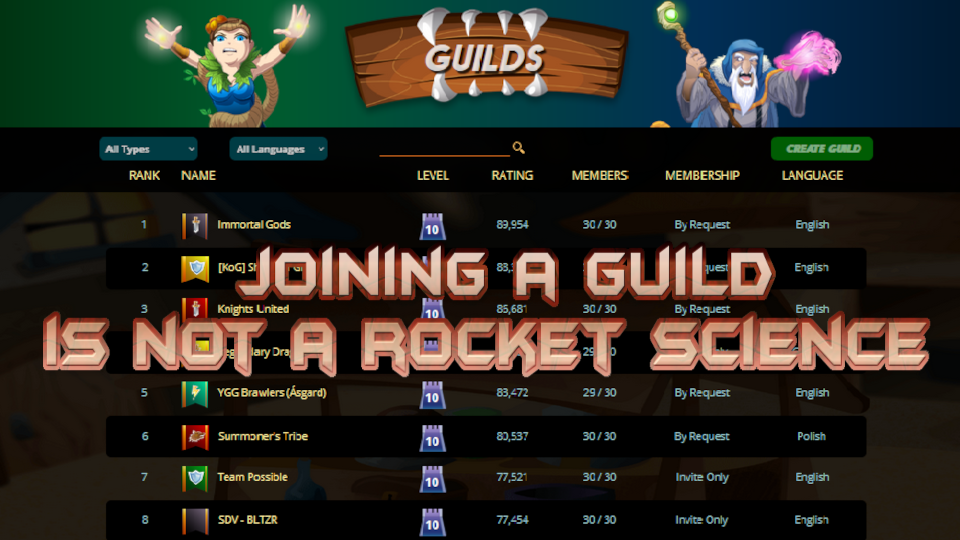 It is not difficult joining a guild at splinterlands. It is not a rocket science.
At the top righthand side of splinterlands tab click the guild. You can join by request, by invite or you can create your team. Just look for the guild available to join then apply, if not accepted then apply again. Every team have rule sets for joining, there maybe an entrance fee and guidelines you must have to comply.
Just check your cards then choose your level.
At first you may loose some battles which is not a surprise since you may not have Gladius Cards as a starter, although you may have merits.
Practice and improving your cards helps. Be patient, it takes time.
You can be able to join the fray once every week.
After a brawl, usually there is a 24 hours break.
48 hours for joining the fray. Here you can choose where you want to do your fight.
48 hours for entering the battle, where you put your skills and cards in the tournament.
then another 48 hours to wait for the results
The benefit of joining a guild makes you involve more in Splinterlands You get to earn merits after each brawl, after earning 2,000 merits you can then purchase a Gladius Pack. at some level in the guild you can also buy some legendary and gold potions. After the brawl you get to earn SPS token which is great.
The more wins you and your team gets the more excited you get for the next battle.
Cheers everyone
Pictures from my screen shots
Join Splinterland Click Here
Sign Up & Join ecency a Hive platform to share your Creativity & Knowledge Click Here
---
---