Share your Battle Challenge With Radiated Brute!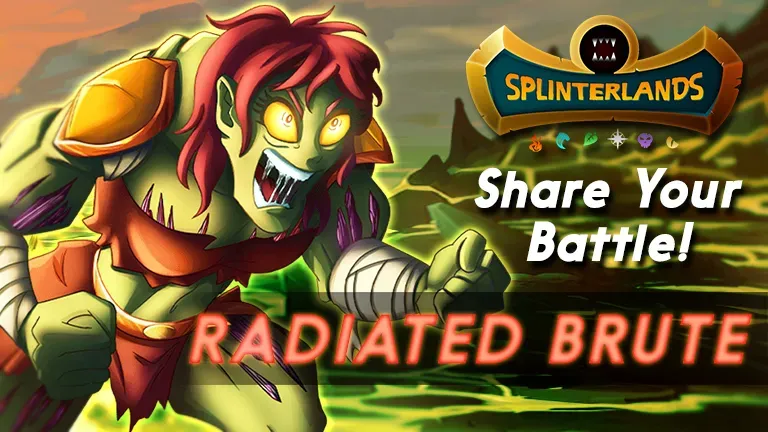 ''They fled into the Jade Thicket, where they became as feral as the wild animals of the continent. The people of Praetoria referred to them as Radiated Brutes.''

RADIATED BRUTE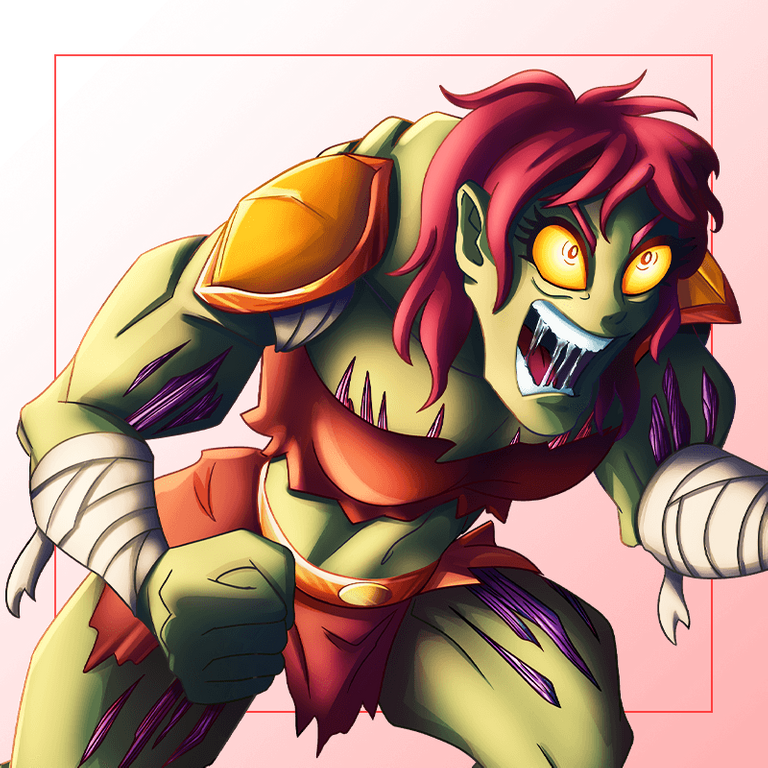 Edition: Chaos Legion
Rarity: Common / Común
Mana: 5
Splinter: Neutral
Attack: Melee
Hability: Reach, Enrage
In this week's challenge it's my turn to use Radiated Brute, this Splinter Fire card from Chaos Legion, although I'm not a fan of playing with Fire lately I've been using it a lot and I found this new challenge very interesting, but to be honest it cost me a bit to find a scenario where it was optimal to use Radiated Brute, it's interesting to use it in battles where only Melee is allowed combining it with cards like Disintegrator or Forgotten One which is one of my favorite cards right now. Depending on the ruleset there are many ways in which you can take advantage of this card and later I will show you an example.
En el desafio de esta semana toco el turno de utilizar a Radiated Brute, esta carta de Splinter Fuego de Chaos Legion, aunque no soy fanatico de jugar con Fuego ultimamente he estado usandolo mucho y me parecio muy interesante este nuevo desafio, pero siendo sincero me costo un poco encontrar un escenario donde fuese optimo utilizar a Radiated Brute, es interesante para utilizarlo en batallas donde solo se permite el Melee combinandolo con cartas como Disintegrator o Forgotten One que es una de mis cartas favoritas ahora mismo. Dependiendo del ruleset hay muchas formas en las que se le puede sacar provecho a esta carta y mas adelante les voy a mostrar un ejemplo.


Radiated Brute is made to be used as a support for a tank, from the second position attacking with its ability Reach, I find it a little out of place that has Rage because the main idea is that it does not receive so much damage while the tank is attacked but I understand it as a secondary tank option if your first tank falls in battle, to use it along with Tarsa at the level of my deck (8 for common) I think it has very good stats, 4 attack points with the same amount of speed and 6 life points, the completely offensive fire alignments are supported very well with this card although I have to say it, when other types of attack are allowed I think this loses a lot of shine because against magic, for example, and without a defense according to that it will fall in a couple of enemy hits so I think you have to use it only when it is convenient for the ruleset.
Radiated Brute esta hecha para usarse como soporte de un tanque, desde la segunda posicion atacando con su habilidad Reach, me parece un poco fuera de lugar que tenga Rage porque la idea principal es que no reciba tanto daño mientras el tanque es atacado pero lo entiendo como una opcion de tanque secundario si tu primer tanque cae en la batalla, para usarla junto con Tarsa al nivel de mi mazo (8 para comunes) me parece que tiene estadisticas muy buenas, 4 puntos de ataque con la misma cantidad de velocidad y 6 puntos de vida, las alineaciones completamente ofensivas de fuego se apoyan muy bien con esta carta aunque tengo que decirlo, cuando se permiten otros tipos de ataque creo que esta pierde mucho brillo porque contra magia, por ejemplo, y sin una defensa acorde a eso va a caer en un par de golpes enemigos asi que creo que hay que usarla solo cuando sea conveniente para el ruleset.

RULESET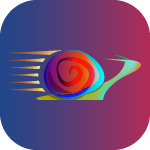 REVERSE SPEED
Monsters with the lowest Speed attack first and have the highest chance of evading attacks.
Los monstruos con la menor velocidad atacan primero y tienen la mayor probabilidad de evadir los ataques.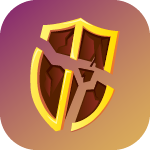 UNPROTECTED
Monsters do not have any armor and do not get armor from Abilities or Summoner Buffs.
Los monstruos no tienen armadura y no obtienen armadura de las habilidades ni de los potenciadores del invocador.

THE TEAM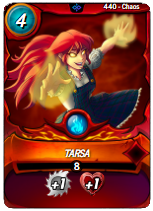 TARSA
I chose Tarsa because that Melee attack bonus + life is a very good buff for cards like my Radiated Brute which are precisely her two most powerful stats And not only him but also the rest of my cards, most of which were boosted.
Elegi a Tarsa porque ese bono de ataque Melee + vida es un buff muy bueno para cartas como mi Radiated Brute que son justamente sus dos estadisticas mas potentes Y no solo a el si no al resto de mis cartas que en su mayoria fueron potenciadas.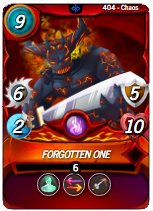 FORGOTTEN ONE
This card seems to me an excellent tank and that's why I use it in every battle I can, besides for this ruleset it was very good because it has little speed, although the Unprotected was a disadvantage but Forgotten is so good that it doesn't matter.
Esta carta me parece un tanque excelente y por eso la utilizo en cada batalla que puedo, aparte para este ruleset quedaba muy bien porque tiene poca velocidad, aunque el Unprotected si que era una desventaja pero Forgotten es tan bueno que no importa eso.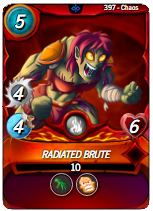 RADIATED BRUTE
Here is the star of the post, this card is very necessary to place it in second position because of its Reach ability, although when the super sneak or equal opportunism ruleset appears, it becomes much more interesting.
Aqui la estrella del post, esta carta es muy necesaria colocarla en segunda posicion por su habilidad Reach aunque cuando aparece el ruleset de super sneak o equal oportunism se pone mucho mas interesante.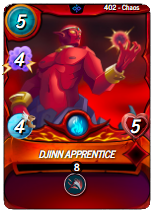 DJINN APPRENTICE
Even though he has no Melee attack and for that dont get the Tarsa buff, his magic damage is key here to support the tanks and give a lot of damage to the enemy, he also has very good speed and increased health.
A pesar de que no tiene ataque Melee y por eso no recibe bono de Tarsa su daño magico es clave aqui para darle soporte a los tanques dañando muchisimo al enemigo ademas tiene muy buena velocidad y vida aumentada.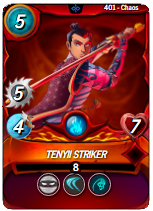 TENYII STRIKER
Tenyii Striker is out of the ordinary, he is a great card with sneak ability and also have dodge as well as a total attack of 5 points and a lot of life, perfect for finishing off the enemy from the rear.
Lo de Tenyii Striker se sale ya de lo que se ve normalmente es una carta buenisima con sneak y dodge ademas de un ataque total de 5 puntos y mucha vida, perfecto para ir acabando con el enemigo desde su retaguardia.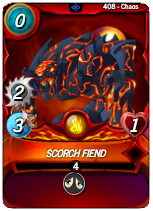 SCORCH FIEND
These cards with 0 mana are always useful here first of all as a misdirection for enemy abilities like sneak or opportunism and since it costs 0 and there is room for mana cap why not use it?
Estas cartas con mana 0 son siempre utiles aqui sirve primero que nada como un despiste para habilidades enemigas como sneak o oportunism y ya que cuesta 0 y hay espacio por el mana cap ¿Por que no utilizarla?

THE BATTLE
And of course, now we are left with the battle, let's enjoy it!
Y claro, ahora nos queda la batalla ¡disfrutemos de ella!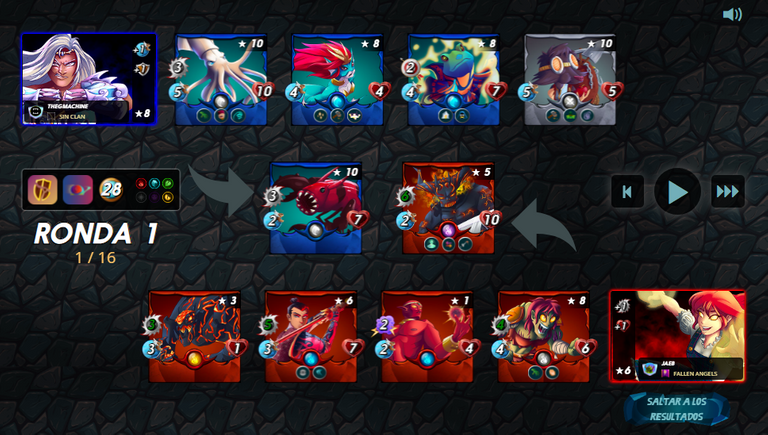 Remember that to a greater or lesser extent a card is useful in some situation and one of the keys to this game is to find those points for certain cards and thus take advantage and get ahead of your rivals.
I hope this post is useful to you, see you soon! Greetings!
Recuerda que en mayor o menor medida una carta tiene utilidad en alguna situación y una de las claves de este juego es encontrar esos puntos para ciertas cartas y asi aprovecharse y adelantarse a los rivales.

Espero que este post os sea de utilidad, nos vemos pronto! Saludos!
The images used in this post have been obtained from Splinterlands.com or Splintercards.com




---
---