SHARE YOUR BATTLE Weekly Challenge! CRYPT BEETLE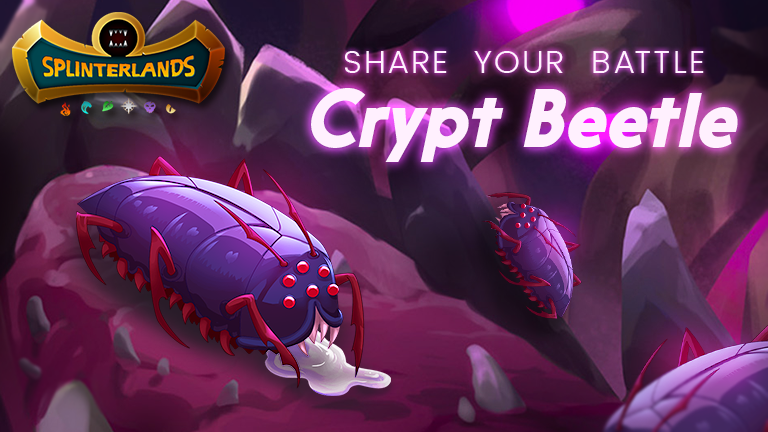 'Within the darkness of the necropolis, the large crypt beetle scuttled across the stone floor. It made its way through the lines of tombs, searching for its next meal."

CRYPT BEETLE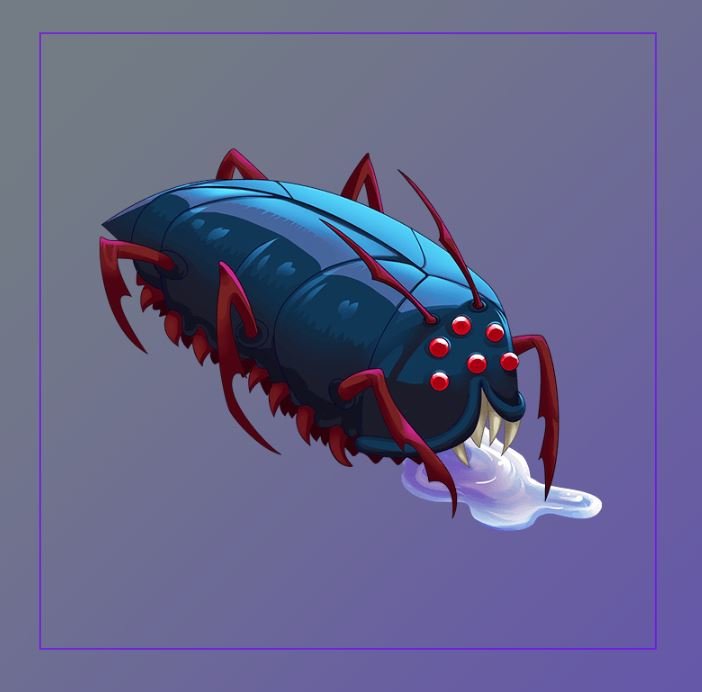 Edition: Chaos Legion
Rarity: Common / Comun
Mana: 3
Splinter: Death/ Muerte
Attack: Melee
Ability: Shield
In this week's challenge it is turn to use Crypt Beetle, this Splinter Death card from Chaos Legion,in this particular case, I'm not very happy about having to use this card, since I don't find it very useful beyond some specific rules, but we'll see when it can be used and you can get more out of it next.
En el reto de esta semana, nos toca usar Crypt Beetle, una carta de rareza rara del splinter de muerte, que en este caso en particular, no estoy muy contento de tener que usar esta carta, ya que no le encuentro mucha utilidad mas alla de unas reglas concretas, pero veremos en que ocasiones se puede utilizar y se le puede sacar mas partido a continuación.


Crypt Beetle is a 3 mana card, which can be used very well in games where the mana is not too high, with the shield ability, which reduces melee and ranged attacks by half, which makes it perfect for games where only melee, sneak or mele mayhem attack cards can be used, since it also has a good amount of shield added to its 5 life points at maximum level in total, these rules would have about 9 points of life that is not bad at all for the card's mana.
Crypt Beetle es una carta de 3 de mana, que se puede utilizar muy bien en partidas donde el mana no es demasiado alto, con la habilidad escudo, que reduce los ataques cuerpo a cuerpo y de rango a la mitad, lo que la hace perfecta para partidas donde solo se pueden usar cartas de ataque cuerpo a cuerpo, sneak o mele mayhem, dado que además dispone de una buena cantidad de escudo sumados a sus 5 puntos de vida a nivel maximo en total dispondrian en estas reglas de unos 9 puntos de vida que no esta nada mal para el mana de la carta.


In this battle rule, wwe have unprotected that eliminates our shield, which is bad for us to use the Crypt Beetle and Earthaquake card, added to the fact that half of the splinters cannot be used, it is complicated to use flying cards, so I am going to opt for another strategy.
En esta regla de batalla, tenemos unprotected que nos elimina el escudo, lo cual nos viene mal para usar la carta Crypt Beetle y Earthaquake, sumado a que no se pueden utilizar la mitad de splinters se complica utilizar cartas con volador por lo que voy a optar por otra estrategia.
THE TEAM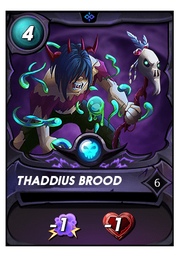 THADDIUS BROOD
In this case I use Thaddius Brood, since of the splinters that I can choose together with the low mana of the battle it seems to me the best option
En este caso utilizo a Thaddius Brood, ya que de los splinters que puedo elegir junto con el bajo mana de la batalla me parece la mejor opcion.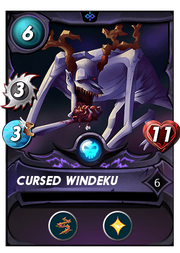 CURSED WINDEKU
As a tank I use Cursed Windeku, In this earthquake battle rule, it seems to me the best option as a tank since it has healing and can withstand both the opponent's attacks and the earthquake as well as doing damage to the cards that attack it with thorns.
De tanque uso a Cursed Windeku en esta regla de batalla con terremoto, me parece la mejor opcion como tanque ya que tiene curación y puede aguantar tanto los ataques del rival como el terremoto además de hacer daño a las cartas que la ataquen con espinas.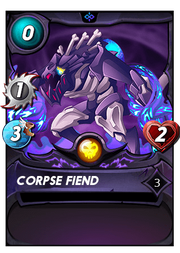 CORPSE FIEND
In second position I place Corpse Fiend, which in this case with an earthquake is not very useful because it will die in the first turn, but especially since it has 0 mana I place it there in case the rival uses a card with opportunity ability
En segunda posición coloco a Corpse Fiend, que en este caso con terremoto no es de mucha utilidad por que va a morir en el primer turno, pero sobre todo al tener 0 de mana la coloco ahi por si el rival utiliza alguna carta con habilidad opportunidad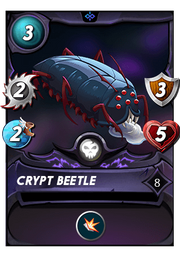 CRYPT BEETLE
Finally, the protagonist of this Crypt Beetle challenge, I place him in this game because the earthquake only subtracts one damage per turn, in addition to the fact that in last position he can withstand damage from cards with the sneak ability.
Por ultimo el protagonista de este reto Crypt Beetle, lo coloco en esta partida por que el terremoto solo le resta uno de daño por turno además de que en ultima posición puede aguantar daño de cartas con la habilidad sneak.


THE BATTLE
And of course, now we are left with the battle, let's enjoy it!
Y claro, ahora nos queda la batalla ¡disfrutemos de ella!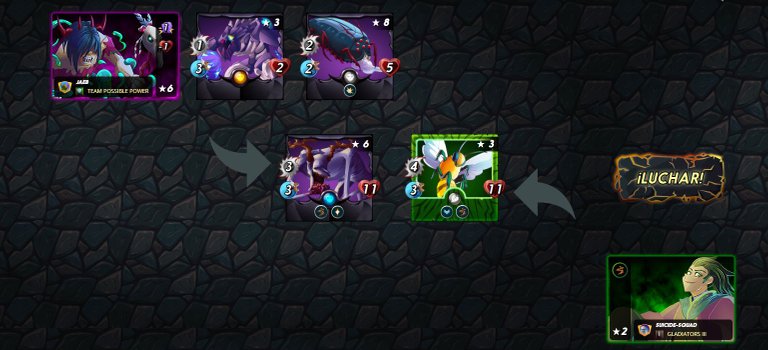 Remember that to a greater or lesser extent a card is useful in some situation and one of the keys to this game is to find those points for certain cards and thus take advantage and get ahead of your rivals.
I hope this post is useful to you, see you soon! Greetings!
Recuerda que en mayor o menor medida una carta tiene utilidad en alguna situación y una de las claves de este juego es encontrar esos puntos para ciertas cartas y asi aprovecharse y adelantarse a los rivales.

Espero que este post os sea de utilidad, nos vemos pronto! Saludos!
The images used in this post have been obtained from Splinterlands.com or Splintercards.com



---
---