SHARE YOUR BATTLE Weekly Challenge! MYCELIC MORPHOID [ENG/ESP]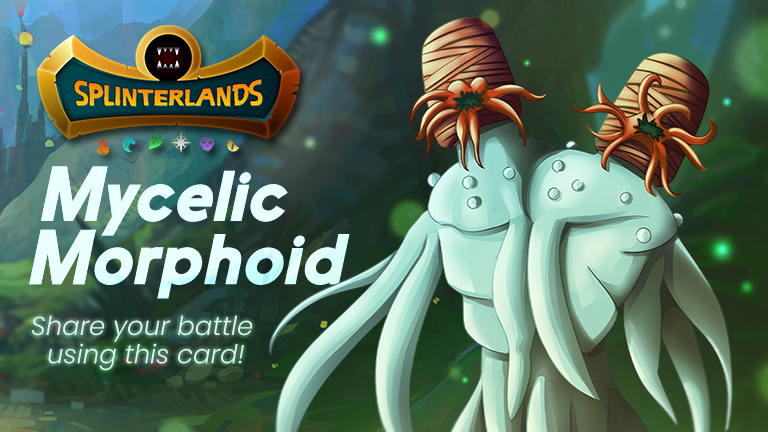 ''Mycelic Morphoids are in a constant state of growth and development. As part of Queen Mycelia's brood, Morphoids work to spread the growing blight on Praetoria. Infected themselves by the poison, they take root near streams and rivers, contaminating it with the blight. In turn, the waters feed them, and a second Morphoid sprouts from the original. Together, the two travel as one until they split and continue the process.."

MYCELIC MORPHOID
Edition: Chaos Legion
Rarity: Common / Común
Mana: 1
Splinter: Earth
Attack: Melee
Ability: Thorns
In this week's challenge it is turn to use Mycelic Morphoid, this Splinter Earth card from Chaos Legion, I'm not too happy to use the east splinter this week, since it's not one of my favorites, but still you can always find an ideal situation to use the proposed card in this week's challenge
En el reto de esta semana es turno de usar Mycelic Morphoid, esta carta de Splinter Earth de Chaos Legion, no estoy muy feliz de usar el splinter del este esta semana, ya que no es uno de mis favoritos, pero aún así siempre puedes encontrar un ideal situación para usar la tarjeta propuesta en el desafío de esta semana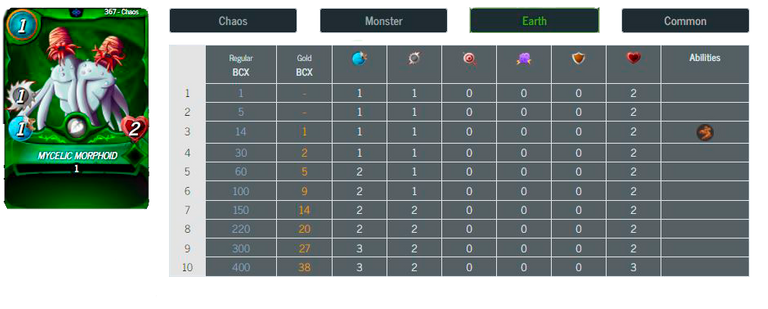 Mycelic Morphoic is a Chaos Legion Earth Splinter card, with just 1 mana, actually I don't see this card as very useful. In my opinion, its usefulness is focused on using it in games of low mana or reverse speed to annoy the opponent with its thorns ability, putting it as a tank and thus at least do damage one turn, plus the damage it can do in games of reverse speed but on everything in the last position of our cards to do damage to possible cards with the opponent's sneak ability and for rival cards with opportunism.
Mycelic Morphoic es una carta del Splinter de Tierra de Chaos Legion, con apenas 1 de mana, en realidad esta carta no la veo demasiado útil. En mi opinion su utilidad se centra en usarla en partidas de bajo mana o velocidad inversa para molestar con su habilidad espinas al rival poniendola de tanque y asi al menos hacer daño un turno, mas el daño que pueda hacer en partidas de velocidad inversa pero sobre todo en la ultima posición de nuestras cartas para hacer daño a posibles cartas con la habilidad sneak del rival y para cartas rivales con oportunismo.


In the battle rules we have the super sneak rule, blast rule, a mana of 50 and the dragon, death and earth splinters can be used, which is a perfect option to put into practice the challenge card to do damage to the rival cards that deal melee damage since they will attack the last position.
En las reglas de batalla nos ha toca la regla de super sneak, blast, un mana de 50 y se pueden usar los splinters de dragon, muerte y tierra, lo que supone una opcion perfecta para poner en practica la carta del challenge para hacer daño a las cartas rivales que de daño cuerpo a cuerpo ya que atacaran a la ultima posición.
THE TEAM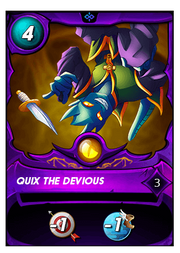 QUIX THE DEVIOUS
As sumoner I choose Quix the Devious, since for these battle rules I prefer to use the dragon summoner, since it seems to me a good choice in this type of rules combined with the earth splinter since the dragon cards are quite strong in general.
Como sumoner elijo a Quix the Devious, ya que para estas reglas de batalla prefiero utilizar el invocador dragón, ya que me parece una buena elección en este tipo de reglas combinada con el splinter de tierra ya que las cartas dragon son bastante fuertes en general.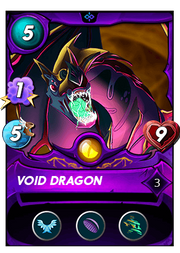 VOID DRAGON
As a tank I use Void Dragon, since it has a void, and it is great to reduce magic attack damage, and reduce sparks, as well as having phase to dodge them, flying to dodge melee and ranged attacks as well as magic damage and a good speed.
De tanque uso a Void Dragon, ya que tiene vacio, y viene estupendo para reducir daños de ataque magico, y reducir las chispas, además de tener fase para esquivarlos, volador para esquivar ataques cuerpo a cuerpo y de rango además de daño magico y una buena velocidad.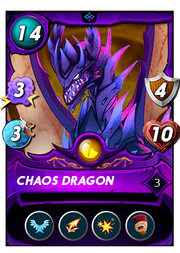 CHAOS DRAGON
In second position, Chaos Dragon, since it has good magic damage, attacks randomly, has good life, shield for sparks and also adds blindness to increase the chance of failure of rivals.
En segunda posición, Chaos Dragon, ya que tiene un buen daño magico, ataca aleatoriamente, tiene buena vida, escudo para las chispas y además añade ceguera para aumentar la posibilidad de fallo de los rivales.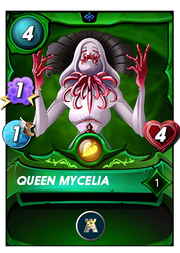 QUEEN MYCELIA
Despite not having the card at level 3, I choose Queen Mycelia because it gives us +2 shield, to protect us against sparks in addition to dealing magic damage and avoiding the shield of rival cards.
A pesar de no tener la carta a nivel 3, escojo a Queen Mycelia por que nos da +2 de escudo, para protegernos contra las chispas además de hacer daño magico y evitar el escudo de las cartas rivales.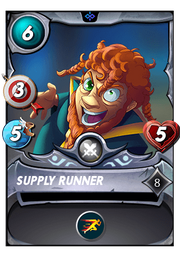 SUPPLY RUNNER
I could not miss one of my favorite Chaos Legion cards, Supply Runner, since it has a very good damage, as well as being very fast and providing speed, which is always very important to attack before the rival.
No podia faltar una de mis cartas favoritas de Chaos Legion, Supply Runner, ya que tiene un muy buen daño, además de ser muy rapida y aportar velocidad, que siempre es muy importante para atacar antes que el rival.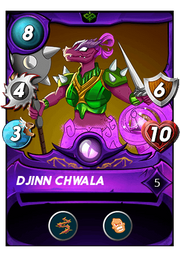 DJINN CHWALA
Since we have the super sneak rule, Djinn Chwala, it seems to me a good option since it has a very good attack and with enrage if it receives damage it increases its speed and its attack.
Ya que disponemos de la regla super sneak, Djinn Chwala, me parece una buena opcion ya que tiene muy bien ataque y con enrage si recibe daño aumenta su velocidad y su ataque.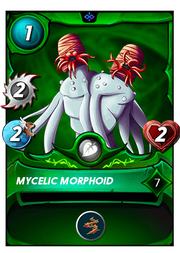 MYCELIC MORPHOID
The protagonist of this challenge, Mycelic Morphoid, placed in last position since with super sneak he can also attack, in addition to doing damage to enemy melee attack cards that attack last position
El protagonista de este reto, Mycelic Morphoid, colocado en ultima posición ya que con super sneak puede atacar también, además de hacer daño a las cartas enemigas de ataque cuerpo a cuerpo que ataquen a la ultima posición.


THE BATTLE
And of course, now we are left with the battle, let's enjoy it!
Y claro, ahora nos queda la batalla ¡disfrutemos de ella!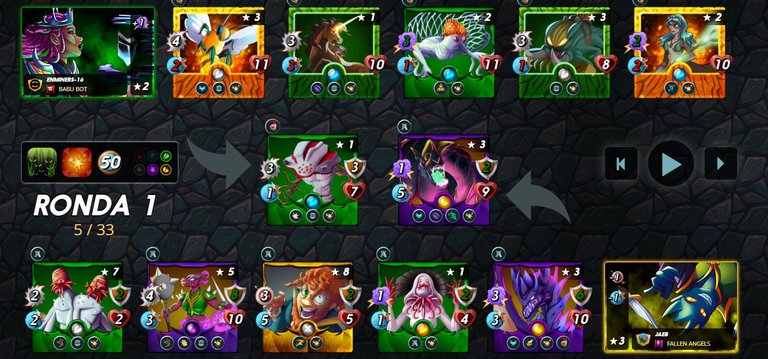 Remember that to a greater or lesser extent a card is useful in some situation and one of the keys to this game is to find those points for certain cards and thus take advantage and get ahead of your rivals.
I hope this post is useful to you, see you soon! Greetings!
Recuerda que en mayor o menor medida una carta tiene utilidad en alguna situación y una de las claves de este juego es encontrar esos puntos para ciertas cartas y asi aprovecharse y adelantarse a los rivales.

Espero que este post os sea de utilidad, nos vemos pronto! Saludos!
The images used in this post have been obtained from Splinterlands.com or Splintercards.com




---
---