SHARE YOUR BATTLE Weekly Challenge! TIME MAGE [ENG/ESP]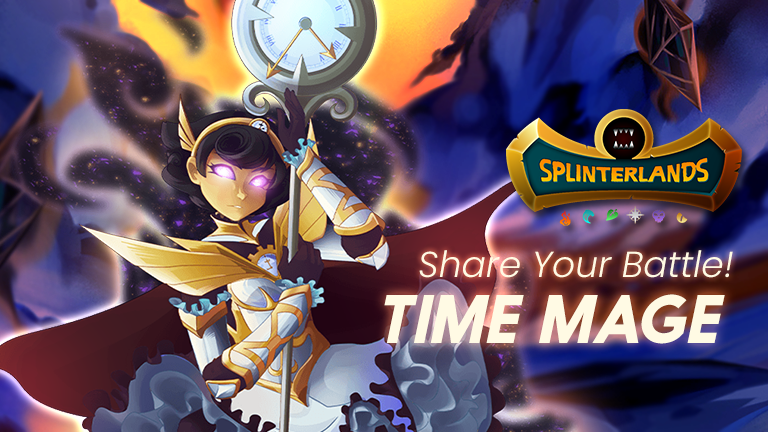 ''It's your kids, Marten! something's gotta be done about your kids!"

TIME MAGE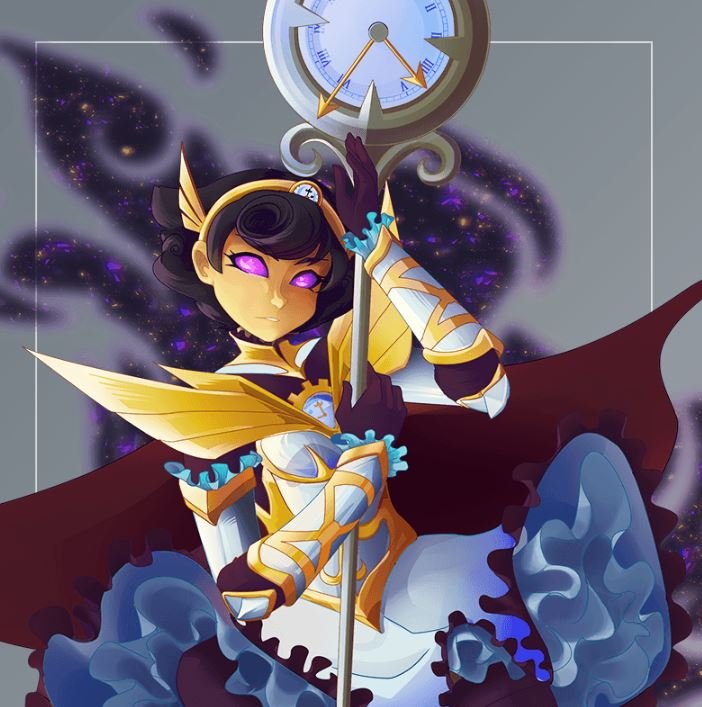 Edition: Chaos Legion
Rarity: Rare / Rara
Mana: 4
Splinter: Life/ Vida
Attack: Magic
Ability: Slow, Rust
In this week's challenge it is turn to use Time Mage, this Splinter Earth card from Chaos Legion, I'm not too happy to use the east splinter this week, since it's not one of my favorites, but still you can always find an ideal situation to use the proposed card in this week's challenge
En el reto de esta semana, nos toca usar Time Mage, una carta de rareza rara del splinter de vida, que en este caso en particular, estoy contento de usar esta carta, ya que me parece muy util, y es una pieza clave es mis estrategias de velocidad, sobre todo en liga de diamantea


Time Mage has the slow skill from level one with a speed of 4, quite high at level 1, also in the silver league he learns the Rust skill, which reduces the opponent's shield by 2 points, and at maximum level he has a three point magic damage. It seems to me that he has a good amount of mana and as a negative note that I like him to have a low life with only 4 points at maximum level.
Time Mage dispone de la habilidad lento desde el nivel uno con una velocidad de 4, bastante alta a nivel 1, además en la liga de plata plata aprende la habilidad Rust, que reduce el escudo rival en 2 puntos, y a nivel máximo dispone de un daño magico de tres puntos. Me parece que tiene una buena cantidad de mana y como nota negativa destacar que para mi gusta tiene una baja vida con solo 4 puntos a nivel máximo.


In this battle rule, we have the heavy hitters rule, and spreading fury, due to this second rule, my strategy is going to focus on trying to reduce the opponent's speed as much as possible, since when I hit him, the speed will be increased and so I think it's a good time because of the splinters that can be used, to use Time Mage this time combined with the Splinter Dragon.
En esta regla de batalla, nos toca la regla heavy hitters, y spreading fury, debido a esta segunda regla, mi estrategia se va a centrar en intentar reducir el maximo posible la velocidad del rival, ya que cuando le golpee, se aumentará la velocidad y por eso creo que es un buen momento debido a los splinters que se pueden utilizar, para usar a Time Mage en esta ocasión combinada con el Splinter Dragon.
THE TEAM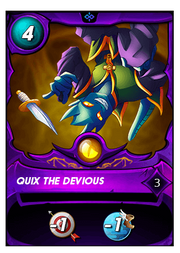 QUIX THE DEVIOUS
In this case I use Quix The Devious, since as I mentioned before, due to the Spreading Fury rule, I am interested in lowering the opponent's speed as much as possible.
En este caso utilizo a Quix The Devious, ya que como he comentado antes, debido a la regla Spreading Fury, me interesa bajar el maximo la velocidad al rival.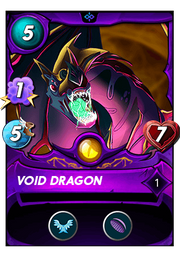 VOID DRAGON
As a tank I use Void Dragon, since it has a void, and it is great to reduce magic attack damage, and flying to dodge melee and ranged attacks as well as magic damage and a good speed.
De tanque uso a Void Dragon, ya que tiene vacio, y viene estupendo para reducir daños de ataque magico,y volador para esquivar ataques cuerpo a cuerpo y de rango además de daño magico y una buena velocidad.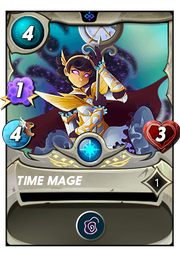 TIME MAGE
The protagonist of this challenge, Time Mage, as I mentioned before, in this case comes in handy to reduce speed a little more in addition to having magic damage that ignores the opponent's shield.
La protagonista de este reto, Time Mage, como he comentado anteriormente, en este caso viene bien para reducir un poco más la velocidad además de tener daño magico que ignora el escudo del rival.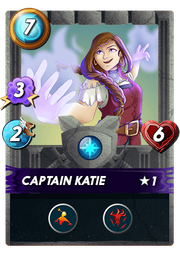 CAPTAIN KATIE
As a gladius card in third position, I place Captain Katie, a very good card in my opinion from the Gladius edition, with Snipe, who easily eliminates rival cards and becomes very strong.
Como carta gladius en tercera posición, coloco a Captain Katie, una carta muy buena en mi opinión de la edición Gladius, con Snipe, que facilmente suele eliminar cartar rivales y se pone muy fuerte.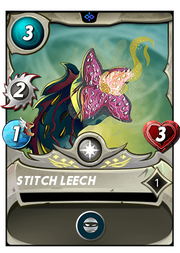 STITCH LEECH
In fourth position, Stitch Leech, a card that goes unnoticed because it is of common rarity, but that seems very good to me, especially when it learns leech, but in this case at level 1, to do damage to the opponent's rear.
En cuarta posición, Stitch Leech, una carta que pasa desapercibida por ser de rareza común, pero que me parece muy buena, sobre todo cuando aprende leech, pero a este caso a nivel 1, para hacer daño a la retaguardia del rival.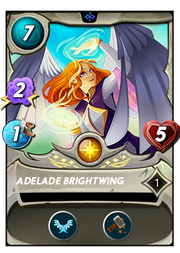 ADELADE BRIGHTWING
In fifth position, Adelade Brightwing, since at level 1 she has repair shield, although in this case it is not very useful, and two points of magic damage that at level 1 seems quite decent to me.
En quinta posición, Adelade Brightwing, ya que a nivel 1 tiene reparar escudo, aunque en este caso no es demasiado util, y dos puntos de daño magico que a nivel 1 me parece bastante decente.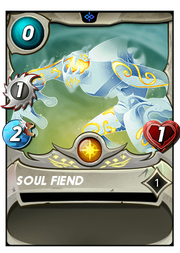 SOUL FIEND
Finally, Soul Fiend, in this case I place it at the end to win a turn in case the opponent has a card with the Sneak ability.
Por último, Soul Fiend, en este caso lo coloco al final para ganar un turno en caso de que el rival disponga de alguna carta con la habilidad Sneak.


THE BATTLE
And of course, now we are left with the battle, let's enjoy it!
Y claro, ahora nos queda la batalla ¡disfrutemos de ella!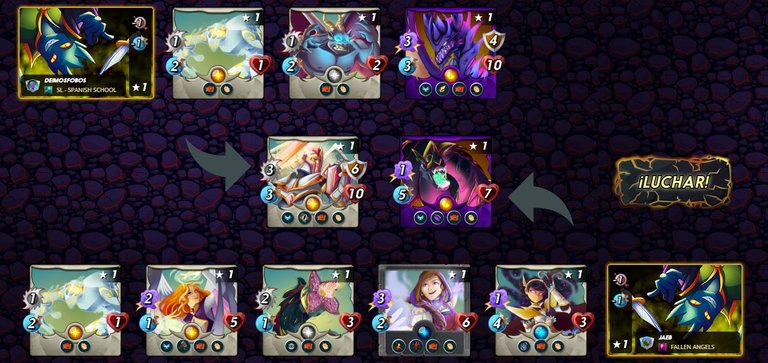 Remember that to a greater or lesser extent a card is useful in some situation and one of the keys to this game is to find those points for certain cards and thus take advantage and get ahead of your rivals.
I hope this post is useful to you, see you soon! Greetings!
Recuerda que en mayor o menor medida una carta tiene utilidad en alguna situación y una de las claves de este juego es encontrar esos puntos para ciertas cartas y asi aprovecharse y adelantarse a los rivales.

Espero que este post os sea de utilidad, nos vemos pronto! Saludos!
The images used in this post have been obtained from Splinterlands.com or Splintercards.com




---
---