Share Your Battle with Kulu Swimhunter! [ENG/ESP]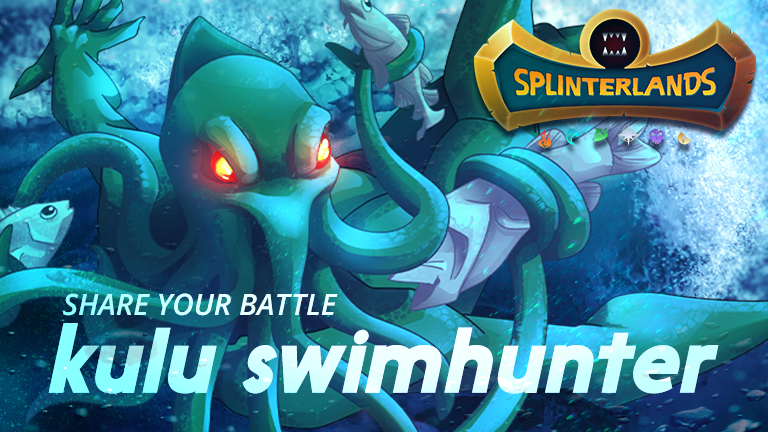 ''Kulu Swimhunters are members of a race of squid-like creatures that hunt in packs. They use their multiple tentacles to wield all manner of projectiles, to include spears, coral, and even fish. They are very aggressive and are known to traverse oceans, lakes, and rivers, killing for sport and leaving a trail of destruction in their wake. They do not value gold or glory and will ally themselves with whoever promises the greatest opportunity to hunt and kill.

KULU SWIMHUNTER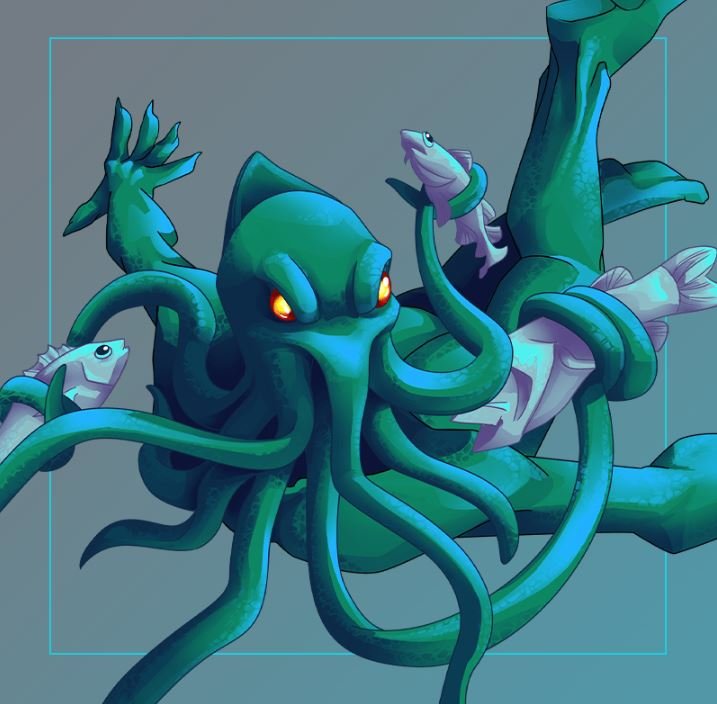 Edition: Chaos Legion
Rarity: Common / Común
Mana: 4
Splinter: Water
Attack: Range
In this week's challenge it is my turn to use Kulu Swimhunter, this Splinter Water card from Chaos Legion, I am very happy to be able to use the water splinter in the weekly challenge since it is my favorite from Chaos Legion so far, also , in the battle rules that have touched me I have seen a good opportunity to use this card so it has been easy to use it this time.
En el reto de esta semana me toca a mí usar Kulu Swimhunter, esta carta de Splinter Water de Chaos Legion, estoy muy contento de poder usar en el reto semanal el splinter de agua ya que es mi favorito de Chaos legion hasta el momento, ademñas, en las reglas de batalla que me han tocado he visto una buena oportunidad para usar esta carta por lo que ha sido facil usarla en esta ocasión.


Kulu Swimhunter is one of the new Chaos Legion Water Splinter common cards, it has 4 mana, which allows it to be used in the 4 mana or less rule, it has good stats in general, very good speed, good damage from range and enough life but as a drawback it has no ability although in situations and rules like the one we will see later, of all monsters or range have the snipe ability can be used and can be quite effective.
Kulu Swimhunter es una de las nuevas cartas comunes del Splinter de agua de Chaos Legion, tiene 4 de mana, lo que la permite usar en la regla de 4 de mana o menos, tiene buenas stats en general, muy buena velocidad, buen daño de rango y bastante vida pero como inconveniente tiene que no tiene ninguna habilidad aunque en situaciones y reglas como la que veremos mas adelante, de todos los monstruos o de rango tienen la habilidad snipe se puede usar y puede ser bastante efectiva.

RULESET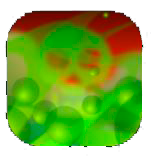 NOXIOUS FUMES
All monsters starts the battle poisoned.
Todos los montruos empieza la batalla envenenados.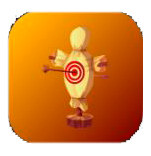 TARGET PRACTICE
All Ranged and Magic attack Monsters have the Snipe ability.
Todos los monstruos de ataque a distancia y mágicos tienen la habilidad Snipe.

THE TEAM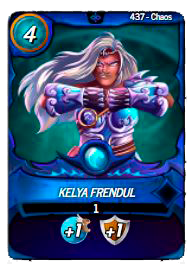 KELYA FRENDUL
As summoner I choose Kelya Frendul, she seems to me to be one of the best summoner cards in the game, with the contribution of speed, and the shield that she provides, we always have one more turn against melee and range attack monsters and many times we will attack first due to speed.
Como invocador escojo a Kelya Frendul, me parece una de las mejores cartas de invocadores del juego, con el aporte de velocidad, y el escudo que aporta siempre tenemos un turno más contra monstruos de ataque de cuerpo a cuerpo y rango y muchas veces atacaremos primero debido a la velocidad.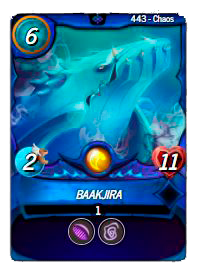 BAAKJIRA
I choose Baakjira as a tank since he has a lot of health, and for the poison rule it comes in quite well and also reduces speed, which is always interesting to attack first and deal damage to the enemy first.
Escojo a Baakjira como tanque ya que tiene bastante vida, y para la regla de veneno viene bastante bien y además reduce la velocidad, lo cual siempre es interesante para atacar primero y hacer daño antes al enemigo.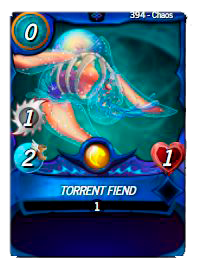 TORRENT FIEND
As a second card I choose Torrent Fiend, mainly because it has low health, to attract the enemy cards with the opportunity ability
Como segunda carta elijo a Torrent Fiend, principalmente al tener poca vida, para atraer a las cartas enemigas con la habilidad opportunity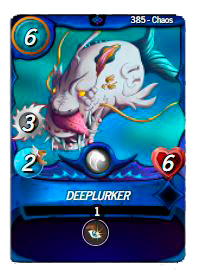 DEEPLURKER
The next card is Deeplurker, one of the best cards in this set in my opinion, a lot of speed and a lot of damage combined wreak havoc on the enemy
La siguiente carta es Deeplurker, una de las mejores cartas en mi opinion de este set, mucha velocidad y mucho daño combinadas hacen estragos en el enemigo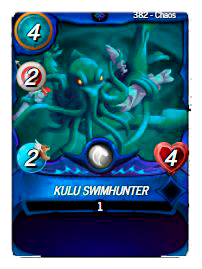 KULU SWIMHUNTER
We come to the star of this challenge, kulu swimhunter, who, as mentioned above, has good speed, the snipe ruleset comes in handy, and also has a decent life to last 3 turns with the poison in this particular battle.
Llegamos a la estrella de este reto, kulu swimhunter, que como se ha mencionado anteriormente, tiene buena velocidad, el ruleset de snipe le viene de maravilla, y además, tiene una vida decente para aguantar 3 turnos con el veneno en esta batalla en concreto.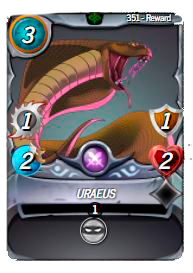 URAEUS
One of my favorite Rewards cards, a low mana card that can go into many combinations and deals damage to the enemy's rear.
Una de mis cartas favoritas de las Rewards, una carta de bajo mana que puede entrar en muchas combinaciones y que hace daño a la retaguardia del enemigo.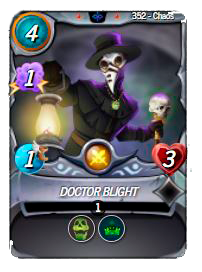 DOCTOR BLIGHT
Lastly, Doctor Blight, even though we've already started on the poison rule, and it loses some strength, it's always interesting as it's low on mana, goes into a lot of combos, and magic damage is always important.
Por ultimo, Doctor Blight, aunque ya empezamos con la regla de veneno, y pierde algo de fuerza, siempre es interesante ya que tiene bajo mana, entra en muchas combinaciones, y el daño magico siempre es importante.

THE BATTLE
And of course, now we are left with the battle, let's enjoy it!
Y claro, ahora nos queda la batalla ¡disfrutemos de ella!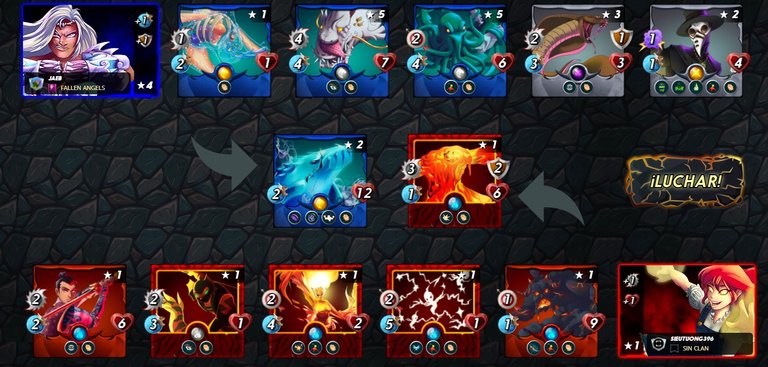 Remember that to a greater or lesser extent a card is useful in some situation and one of the keys to this game is to find those points for certain cards and thus take advantage and get ahead of your rivals.
I hope this post is useful to you, see you soon! Greetings!
Recuerda que en mayor o menor medida una carta tiene utilidad en alguna situación y una de las claves de este juego es encontrar esos puntos para ciertas cartas y asi aprovecharse y adelantarse a los rivales.

Espero que este post os sea de utilidad, nos vemos pronto! Saludos!
The images used in this post have been obtained from Splinterlands.com or Splintercards.com




---
---