What are the best Chaos Legion RARE CARDS ? [ENG/ESP]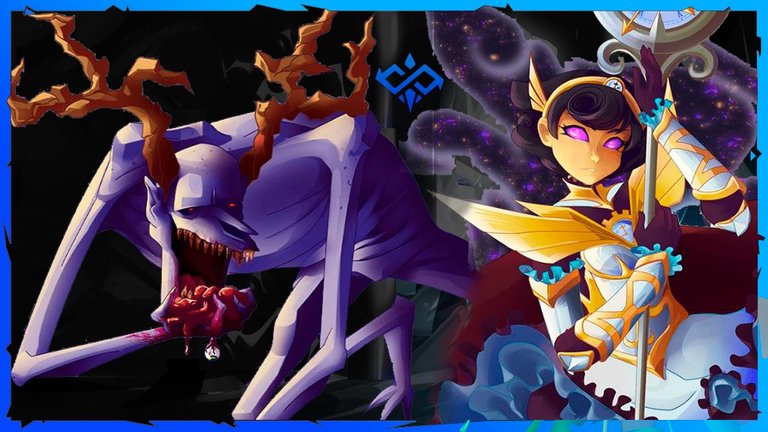 We all know that soon Splinterlands will be separated into 2 game modes, on the one hand the Modern format and on the other the Wild.
These two formats consist of a division of the cards that can be used in each one, looking like this:
Modern: Untamed + Dice + Chaos Legion
Previously I have made a series of posts, talking about the best cards for splinter and strategies to use with each of them, then I will talk about which are the best cards for rarity according to my opinion and gaming experience, not being an investment advice.I will focus on talking about the rare cards in the Chaos Legion set and their corresponding reward cards. In this post not included a Summoners but i considered a special category.
Todos sabemos que próximamente Splinterlands se dividirá en 2 modos de juego, por un lado el formato Moderno y por otro el Salvaje.
Estos dos formatos consisten en una división de las cartas que se pueden usar en cada uno, quedando así:
Moderno: Untamed + Dice + Chaos Legion
Anteriormente he realizado una serie de post, hablando de las mejores cartas por splinter y estrategias para utilizar con cada uno de ellos, a continuación hablare de cuales son las mejores cartas por rareza segun mi opinion y experiencia de juego, no siendo un consejo de inversión. Me centraré en hablar sobre las cartas raras del set de Chaos Legion y sus cartas de recompensa correspondientes. En este post no incluyo los invocadores ya que los considero una categoria especial.
PREVIUS POST
Death Splinter
Water Splinter
Earth Splinter
Fire Splinter
Dragon Splinter
Common Cards
















CURSED WINDEKU

Cursed Windeku, personally, seems to me the most interesting rare card in the Chaos Legion set, its combination of abilities makes it really powerful, spines and healing is really interesting, also at its maximum level it reduces the speed of enemy cards. It seems to me, apart from using it in the first position, a very interesting option to use in the last position in the super sneak ruleset.
Cursed Windeku, personalmente, me parece la carta rara más interesante del set de Chaos Legion, su combinación de habilidades la hace realmente poderosa, espinas y curación es realmente interesante, además en su nivel máximo reduce la velocidad de las cartas enemigas. A mi me parece a parte de utilizarla en primera posición un opción muy interesante para utilizar en ultima posición en el ruleset de super sneak.
NAGA ASSASIN

Naga Assasin is one of my favorite reward cards, for only 2 mana, you have a card with a very good base speed, backfire and also has the ability to increase speed to all your cards it is always very important to attack first
Naga Assasin es una de mis cartas rewards favoritas, por solo 2 puntos de mana, tienes una carta con una muy buena velocidad base, backfire y además tiene la habilidad de aumentar velocidad a todas tus cartas que es siempre muy importante para atacar primero.
VENARI BONESMITH
Venari Bonesmith, another of the reward cards that I love, for only 4 mana you have a card that although it does not have too much magic damage, the leech ability and above all poison, so dangerous, make it a really useful card since it can be used in almost all situations.
Venari Bonesmith, otra de las cartas rewards que me encantan, por solo 4 de mana tienes una carta que aunque no tiene demasiado daño mágico, la habilidad sanguijuela y sobre todo veneno, tan peligroso, la hacen una carta realmente util ya que se puede utilizar en casi todas las situaciones.
TWILIGHT BASILISK

Twilight Basilisk, a card that goes very unnoticed, but that seems incredible to me, it can be used in low mana rules and only common and rare cards, it has a very high speed, reach to attack from the second position but it what really makes it dangerous is the stun ability that can always complicate the opposing tank.
Twilight Basilisk, una carta que pasa muy desapercibida, pero que a mi me parece increible, se puede usar en las reglas de bajo mana y de de solo cartas comunes y raras, tiene una muy velocidad, alcanzar para atacar desde la segunda posición pero lo que realmente la hace peligrosa es la habilidad aturdir que siempre puede complicar al tanque rival.
MYCELIC SLISPAWN

Mycelic Slispawn, seems to me another very interesting card with the taunt ability to attract enemy attacks, in addition to having a very high life, a good magic damage that is also increased with Obsidian and at maximum level it also reduces the speed of all the opponent's cards Added to the force field ability, they make it a card to really take into account. As a negative note, I would highlight its high mana cost, which makes its use difficult on many occasions.
Mycelic Slispawn, me parece otra carta interesantisima con la habilidad pulla para atraer los ataques enemigos, además de tener una vida muy alta, un buen daño magico que además se ve incrementado con Obsidian y a nivel máximo además reduce la velocidad de todas las cartas del rival sumado a la habilidad campo de fuerza la hacen una carta realmente a tener en cuenta. Como nota negativa destacaria su alto coste de mana lo que dificulta en muchas ocasiones su uso.
XENITH MONK

Xenith Monk seems to me to be an excellent magic tank, with the Void and Reflect skills as well as self-healing. It can be used in low mana battles or the rulset does not allow cards above 4 mana to be used in addition to being neutral, which can be combined with all splinters.
Xenith Monk me parece un excelente tanque magico, con la habilidades vacio y reflejo además de curación para si mismo. Se puede usar en batallas de bajo mana o el rulset no permita usar cartas por encima de 4 de mana además de ser neutral, que se puede combinar con todos los splinters.
TENYII STRIKER

Tenyii Striker is the perfect card to place in last position with the ability to dodge added to the fact that if the speed is increased it can easily take 4 speed points from the rivals and with backfire it can do damage and thus counteract the rival cards with the ability by Sneak. In addition, she has a very good damage with 5 points that can be 7 with de Fire Splinter.
Tenyii Striker es la carta perfecta para colocar en última posición con la habilidad de esquivar sumado a que si se le sube la velocidad puede sacar facilmente 4 puntos de velocidad a los rivales y con backfire puede hacer daño y asi contrarrestar las cartas rivales con la habilidad de Sneak. Además, tiene un muy buen daño con 5 puntos que pueden llegar a ser 7 con el Splinter de Fuego
ANGELIC MANDARIN

Angelic Mandarin seems to me another undervalued card from the Chaos Legion set, for only 3 mana we have a card that can be used in low mana games, good base speed but above all I think it's interesting because of the triage ability and at maximum level it reduces the magic damage of the rival that is always interesting since the magic does a lot of damage when attacking directly to life.
Angelic Mandarin me parece otra carta infravaloroda del set de Chaos Legion, por solo 3 de mana tenemos una carta que se puede utilizar en partidas de bajo mana, buena velocidad base pero sobre todo creo que es interesante por la habilidad triaje y a nivel máximo reduce el daño magico del rival que siempre es interesante ya que la magia hace mucho daño al atacar directamente a la vida.
TIME MAGE

Time Mage has the slow skill from level one with a speed of 4, quite high at level 1, also in the silver league he learns the Rust skill, which reduces the opponent's shield by 2 points, and at maximum level he has a three point magic damage. It seems to me that he has a good amount of mana and as a negative note that I like him to have a low life with only 4 points at maximum level.
Time Mage dispone de la habilidad lento desde el nivel uno con una velocidad de 4, bastante alta a nivel 1, además en la liga de plata plata aprende la habilidad Rust, que reduce el escudo rival en 2 puntos, y a nivel máximo dispone de un daño magico de tres puntos. Me parece que tiene una buena cantidad de mana y como nota negativa destacar que para mi gusto tiene una baja vida con solo 4 puntos a nivel máximo.
SOUL STRANGER

Soul Stranger seems like a very good card to me, little mana but it has a lot of damage at maximum level, four points of range damage in addition to being able to poison the opponent, always being quite dangerous. As a negative point, I would highlight that it has very little life, although I think it is a card to take into account.
Soul Stranger me parece una carta muy buena, poco mana pero tiene mucho daño a nivel máximo, cuatro puntos de daño de rango además de poder envenenar al rival siendo siempre bastante peligroso. Como punto negativo resaltaria que tiene muy poca vida aunque creo que es una carta a tener en cuenta.

CONCLUSION



As I always say, all the cards are useful in some situation, and there are cards that I don't forget like Venari Crystalsmith, Celestial Harpy, Regal Peryton, River Nymph or Scavo Firebolt but I wanted to make a top10 of the ones that I think are the best rare cards in my opinion since they are the ones that I have used the most in this case.
I hope the post has been useful, see you soon!
Como siempre digo, todas las cartas son utiles en alguna situación, y hay cartas de las que no me olvido como Venari Crystalsmith, Celestial Harpy, Regal Peryton, River Nymph o Scavo Firebolt pero queria hacer un top10 de las que me parecen las mejores cartas raras en mi opinion ya que son las que mas he utilizado en este caso. Espero que les haya sido util el post, nos vemos pronto!
The images used in this post have been obtained from Splinterlands.com or Splintercards.com



---
---