Peakmonsters new Token: PKM, Airdrops, Use-Case, and Dates!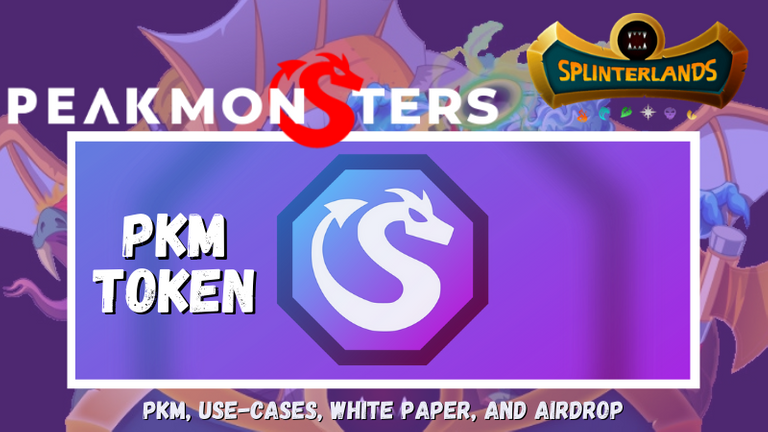 Website | Announcement Post | WhitePaper | Hive Account | Discord
---
Many of you are familiar with Peakmonsters, we, as Splinterlands players, traders, and investors, utilize it on a near daily basis, and if you aren't: You're missing out.
Peakmonsters is a third party market that is far more powerful and essential than the Splinterlands main-market. This isn't an opinion, it's a fact: You're given powerful tools: Bidding, Auto-Rentals, Buy/Sell Orders, and so much more which allow you to utilize this market in a way that the Splinterlands main market simply isn't capable of.
That's value enough, but, if you're like me, it can be hard to keep track of all of the things going on in the Hive Blockchain space, and sometimes you can miss some crucial information.
If you know me, you know I love talking about these types of things: I want to get as many of the little guys as possible to see this, read this, and learn about this as a way to enrich their Splinterlands experience: Here's a chance for 'free' currency if you're already spending on Splinterlands related Assets anyways!
---
PKM: Peakmonsters Token
The recent announcement details important, HUGE information for Peakmonsters uses: The creation of a PKM asset, which will have use-cases ranging from:
Liquidity Pools in SPS:PKM
Weekly Airdrops for Market Activity via Peakmonsters
Entry into special Peakmonsters Affiliated Tournaments
Rewards in Peakmonsters Affiliated partner tournaments
To create exclusive, loyalty focused apps and enhancement features for Peakmonsters
To share a portion of Peakmonsters profits with its holders
These all can be read about in the White Paper
---
How do I earn these Tokens?
There are four primary ways:
Large Transactions ($10 or more) Each Week granting 1-2200 PKM. Starts Mar 21
Earning PKM through Liquidity Pools, such as SPS:PKM, starts Mar 14, Rewards: Mar 24
Earning PKM through a major initial airdrop, and then, a weekly airdrop
Earning PKM through playing Tournaments, including the first one on Mar 18
Also a future plan mentioned in the WhitePaper: Peaked will begin to reward PKM as a tipping token at some point in the future as well!
---
Did somebody say Airdrop?
That's right, starting March 21st, that first method of earning PKM, large transactions, will be available from then on. For $10, you'll receive 1 PKM, for a $20 transaction, you'll receive 2.25 PKM, and so on and so forth.
Then, on March 23rd you will receive an airdrop based on your Peakmonsters Level and Yearly Volume. This will be an initial lump sum based on your Yearly Rolling Amount and your Tier. After this, starting March 30th there will be smaller, weekly airdrops for your market transactions in Peakmonsters on a weekly basis.
You can find this information here, just replace "@yourname" with your SPL Username!
---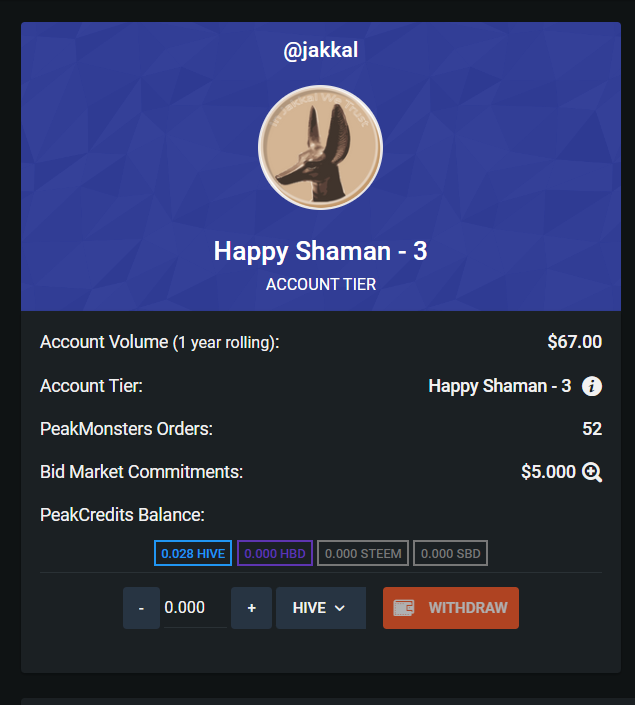 Look guys you know I'm a little fish, I don't know what level you were expecting me to be: I definitely should be higher though, I've been utilizing MonsterMarket a lot; oops.
But how do I qualify? What counts?
Your purchases, sales, and market transactions count from the last Year, up until March 23rd.
Your rental transactions do not count for this. They cannot be tracked very well currently, and are not included in the rolling amount. This is specifically for Purchases and Sales through the Peakmonsters site.
You can raise your level/tier by spending 10 / 20 / 50 / 250, and so forth, and reaching new tiers will grant you additional weekly PKM.
---
Do I recommend this token?
Do I RECOMMEND this token? Gee. I don't know. It's only the most important third party market for Splinterlands there is. Arguably the most important including the first party market itself. Sorry SPL, we all know the market isn't the strong point right now.
This is a token that will potentially have many use-cases: As loyalty bonuses for PKM customers, as a dividend token for PKM itself, as a Liquidity provider, as a way to access exclusive tournaments from PKM and PKM Affiliates.
If you're involved in SPL, you should be involved in this airdrop and this token. It blurs the line between a dividend token, a staking token, and a currency, and makes for a highly versatile token that many different types of SPL Players, investors, and traders can utilize to be even further rewarded.
From a printing standpoint: Potentially lasting 100 Years at current market rates IS a small issue, but if you believe at all in the Splinterlands team and the game, that should not be much of a deterrant with the recent partnerships, growth, and re-establishing a stronger support than SPL previously had on its previous market dilution (aka expansion). A 10x increase in the market is not that unrealistic if we have even a single growth period similar to the previous year.
Some Ideas from me about Use-Case
I'd like PKM to be a token that can be utilized either in a special Peakmonsters shop, where it would be partially burned, or in the ability to purchase SPL Assets with a PKM:DEC Conversion, similar to how Credits already works. I think a burn/PKM sink will be a good way for the community to adjust to major changes in the market and help stabilize the token going forward.
I'd also like to see some sort of HODLING Rewards, for instance, holding 100, 1000, 10000+ PKM may give you access to some new tiered exclusive support, etc. etc.
If YOU have some ideas for them, you can use this link to leave them feedback on their site, or their new token and possible ideas!
---
Thanks guys, I haven't had a chance to do one of these posts recently, as I've been late to the table lately on a lot of important developments in the space, but it has always been my goal to write content like this, which will point you in the direction of the stuff you should be reading/learning about, even as a newcomer, and even especially as a newcomer to the Hive space.
If you like what I do, including writing a ton about Splinterlands, and doing Giveaways to promote many different Hive Games, please consider upvoting or following to get nearly daily content and giveaways! I'll try not to disappoint.
---
What has you most excited about this Airdrop? Let me know in the comments! How much do you expect it to be worth?
---
---