Splinterlands Art Contest! // Week 162 // Wizard Squirrel-L Card Character Design
Hello guys! Steven again here.
Before anything else, I want to thank everyone for all of your support, comments and feedbacks in all of my previous post. I greatly appreciate it. And now here is my entry for this week Splinterlands Art Contest Link Here. I just made a card character design. This character is greatly inspired by Darth Squirrel of bulldog1205 link of the image inspiration HERE. Although I don't know much about Darth Squirrel's history. I have a short lore for this character that I made. May I present to you The Great Wizard Squirrel-L.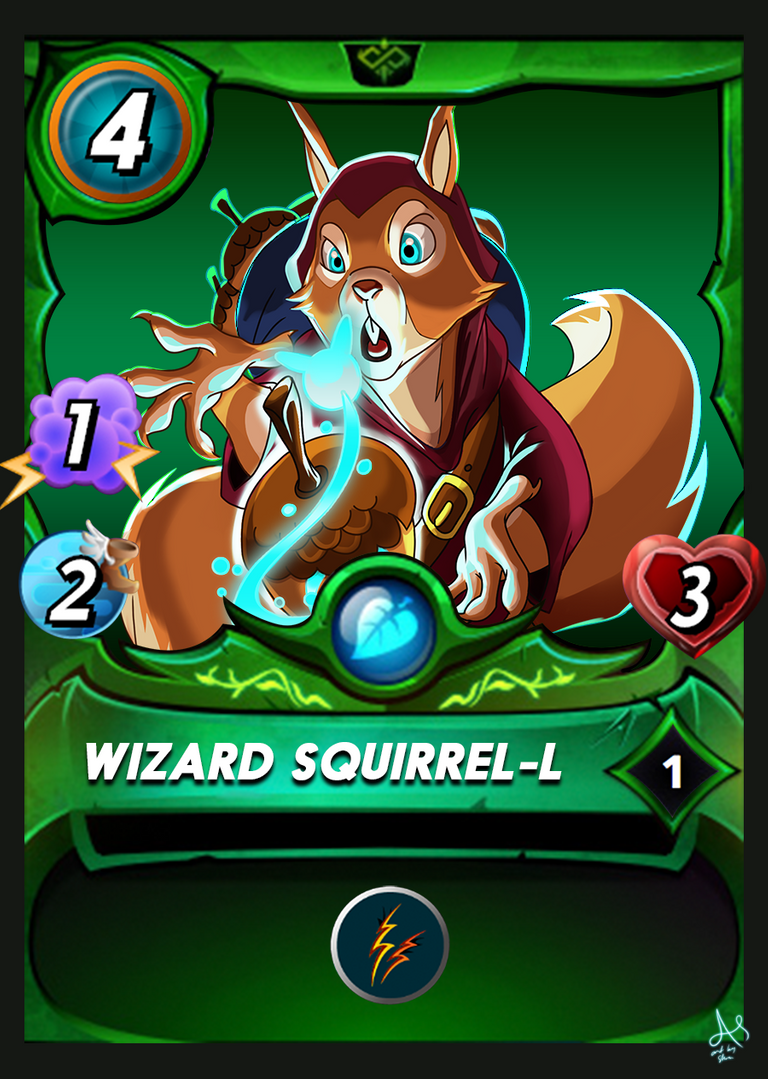 LORE:
Long time ago, in the kingdom of the forest. Woodlandia suffers greatly because of the pandemic which affected half of their population. They really don't know where it started or what cause this pandemic. So, the king ordered a total lockdown in every town.
But Xen the squirrel as a hard headed squirrel he can be, he defied the order and sneaked out to pursue his dream of collecting tons and tons of nuts that he can't no longer count how many he gets. He journeys to the center of the forest kingdom, the Forbidden Woods. It is called forbidden because of something unusual and magical happening out there. Despite the risk, Xen went inside to collect nuts. These nuts served as an NFT to him because of various designs and shapes. While collecting nuts, he found a weird looking nut. It has a weird symbol in its body that imitates light glow. He grabbed it and was in shocked when the thing flew. Suddenly a wisp came out. The nut served as a home of the wisp. The wisp spoke to Xen and it calls itself L. L the wisp is very talkative. It told Xen all about magic history and some magic spells. Xen asked L if he could also teach something about healing magic. And thus, together they venture to town in the process of curing the people. They also fight the crime roaming around in every corner of the kingdom. The king heard about this and he recognized the good deeds of Xen. Later on, he had given Xen the title The Great Wizard Squirrel in the kingdom. Xen told the king to add L to his great name to embody his friend L the wisp. The king undoubtedly granted his wish, the king said from now on you will be called The Great Wizard Squirrel-L.


Process in making the Digital Art:
•To begin with, I always do a rough sketch of the character. I'm not pro artist but I'll tell you a great tip, that is to have some reference image. I have a computer but without internet so I grabbed my mobile phone and use data instead to look for tons of squirrel images. This helped me create the character. I look for reference fo me to have an inspiration. Don't copy it guys. Analyze and study the reference.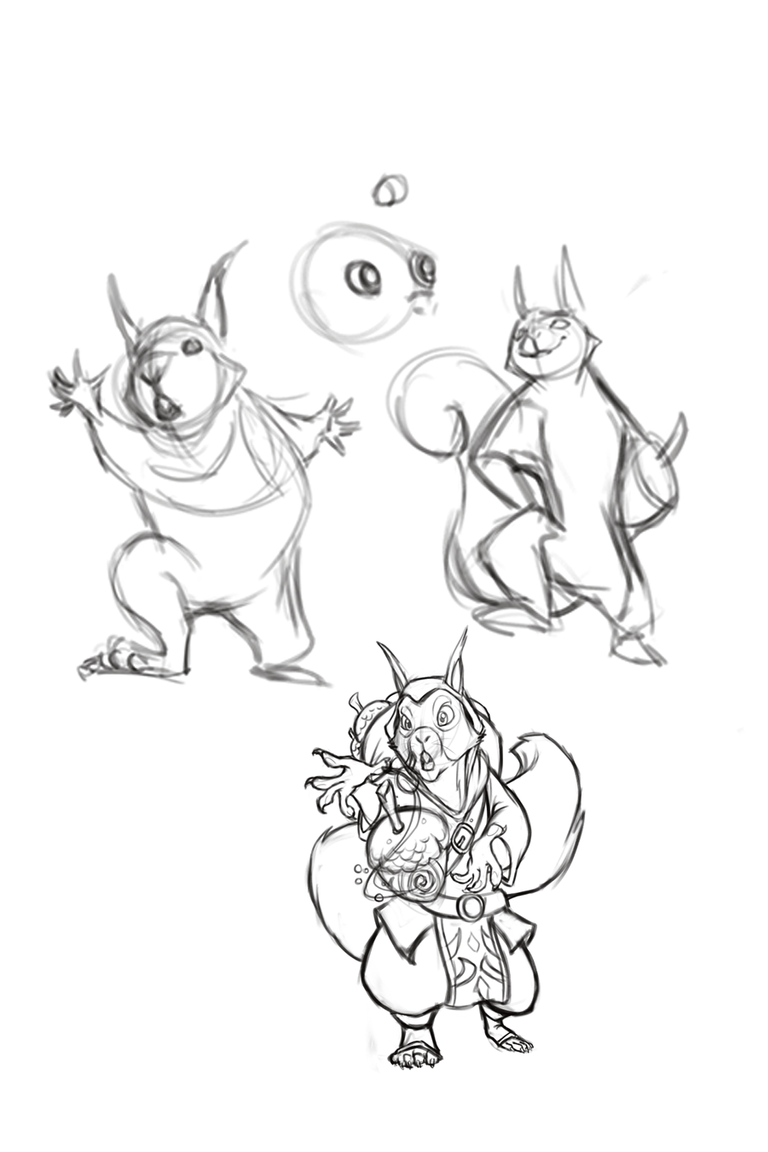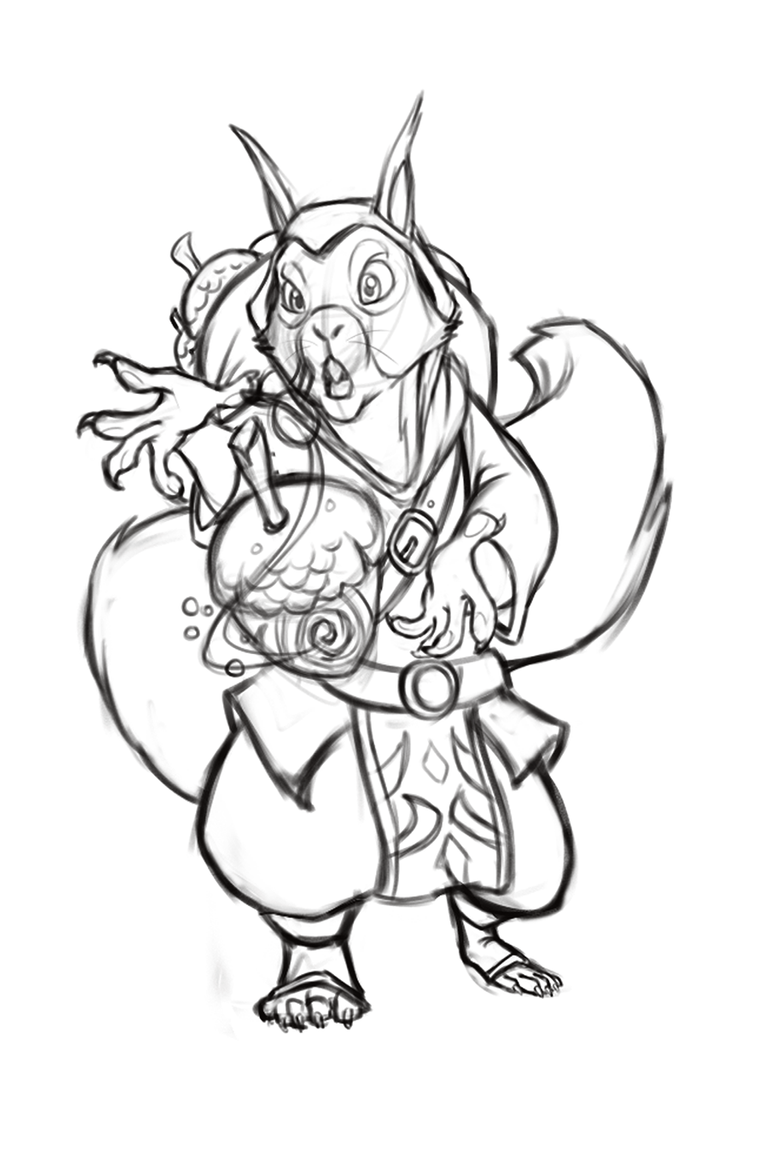 At first, I thought I will just go on with my usual art style where after I have done with the sketch, I immediately add grayscale > add multiply layer for shadows > add overlay layer for highlights > add normal layer for rendering colors. Not until, I came up with an idea of why not make a card character instead. Being inspired by the Splinterlands card art style, I really give my best to make an art inspired by Splinterlands card look. I still have to study it a lot though, to be able to mimic its style. But with a limited amount of time I have, this is what I created for a day work.
•Second in the process is Line Art. I spend a lot of time just by doing this line art, you never know it's already 12 in the midnight. I used basic round brush in Adobe Photoshop. It nearly breaks my spirit to have this clean straight looking lines, it's just not my style after all. But with the tons of Control + Z in keyboard, I finally did it! You could use pen tool but I don't want to be on digital feeling. I want to practice my eye and hand coordination looking at monitor while scribbling on pen tablet so I stay away from pen tool.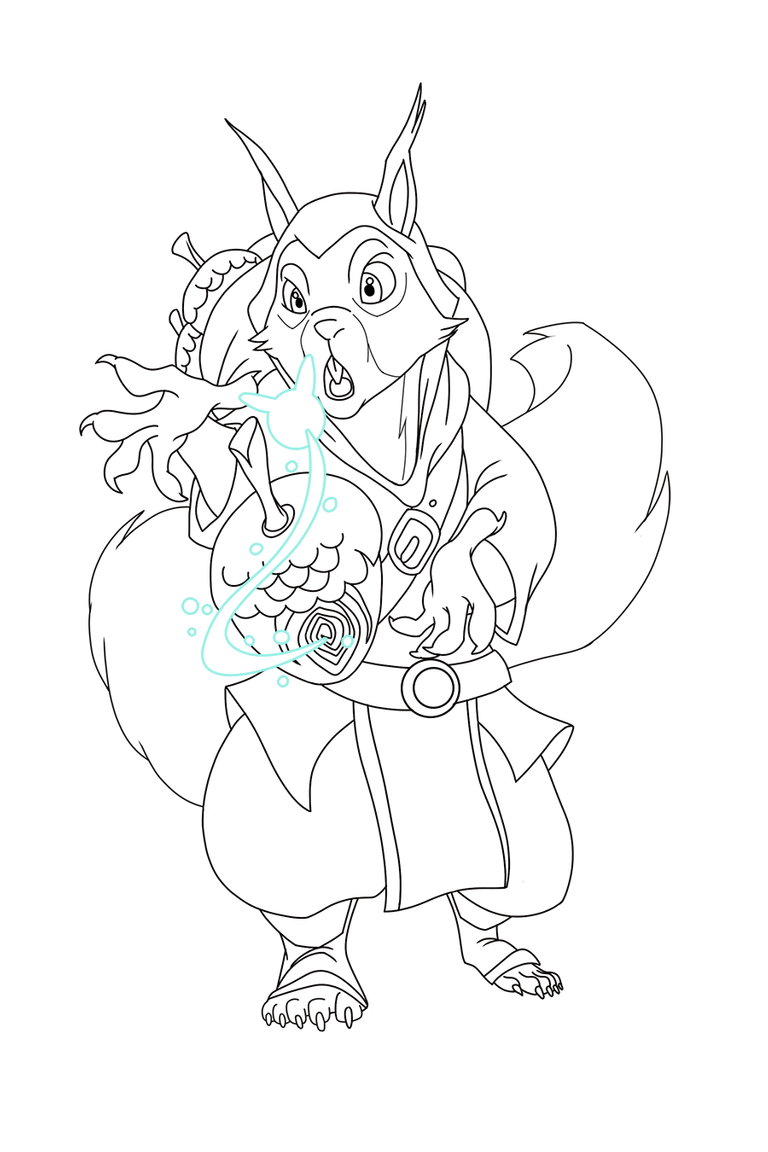 •Third in the process is base color. Base colors or flat colors are added on top of a mask layer, basically create a mask on Photoshop. Add a normal layer below your line art and color it with any color you want, that serves as your mask. Then create another layer on top of your mask this serves as your base colors, press Alt on keyboard hover it between the mask layer and the new layer you created, then click to mask that layer. Any color you put in this base color layer will not pass through your mask layer.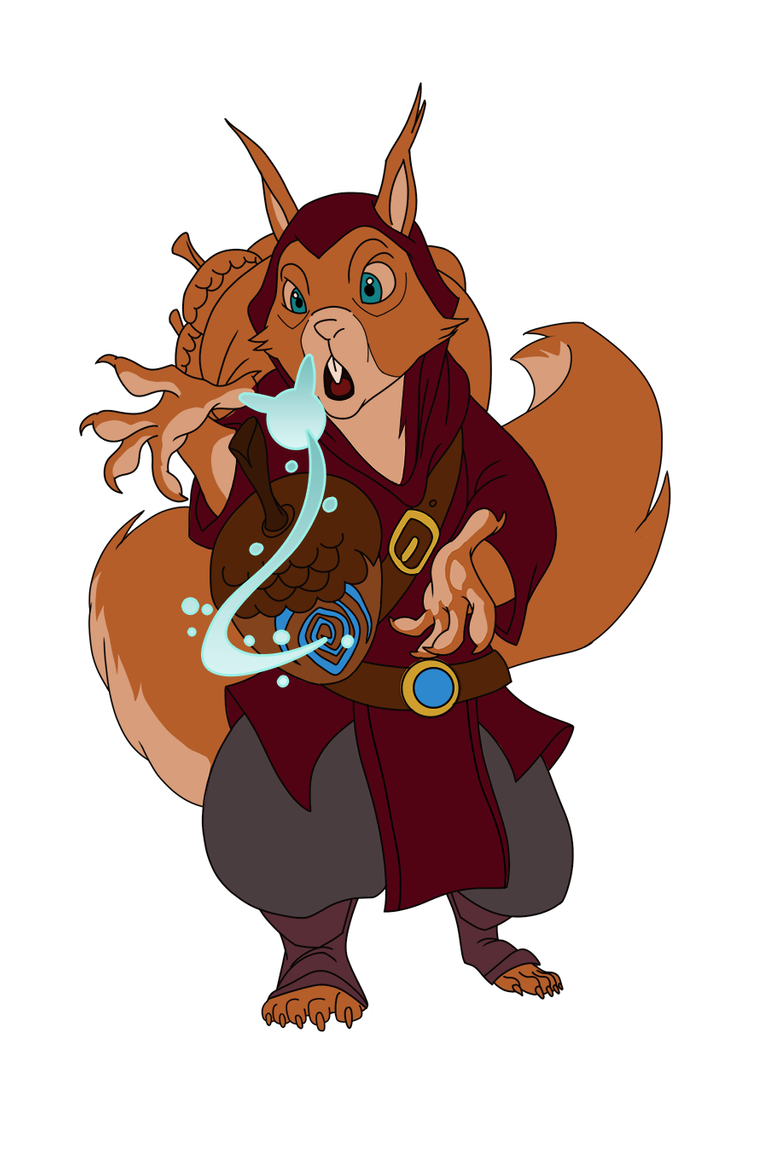 •Fourth process is adding shadows and highlights. Creating the final character.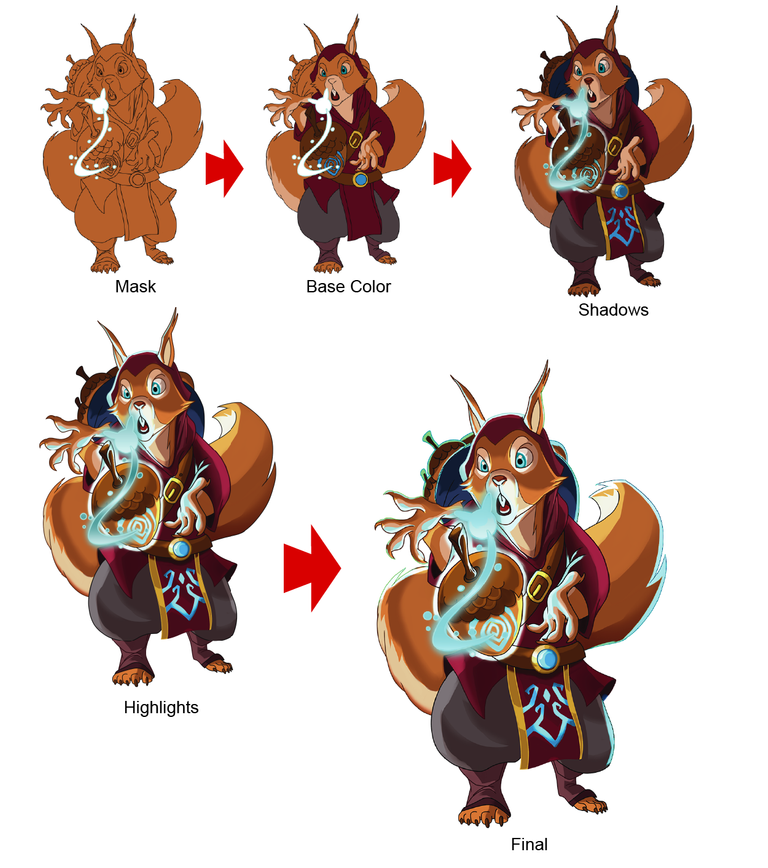 •Fifth process, creating the Splinterlands base card. Here are the cards that I used in editing the base card. I downloaded and take a screenshots of these cards in Splinterlands Market HERE.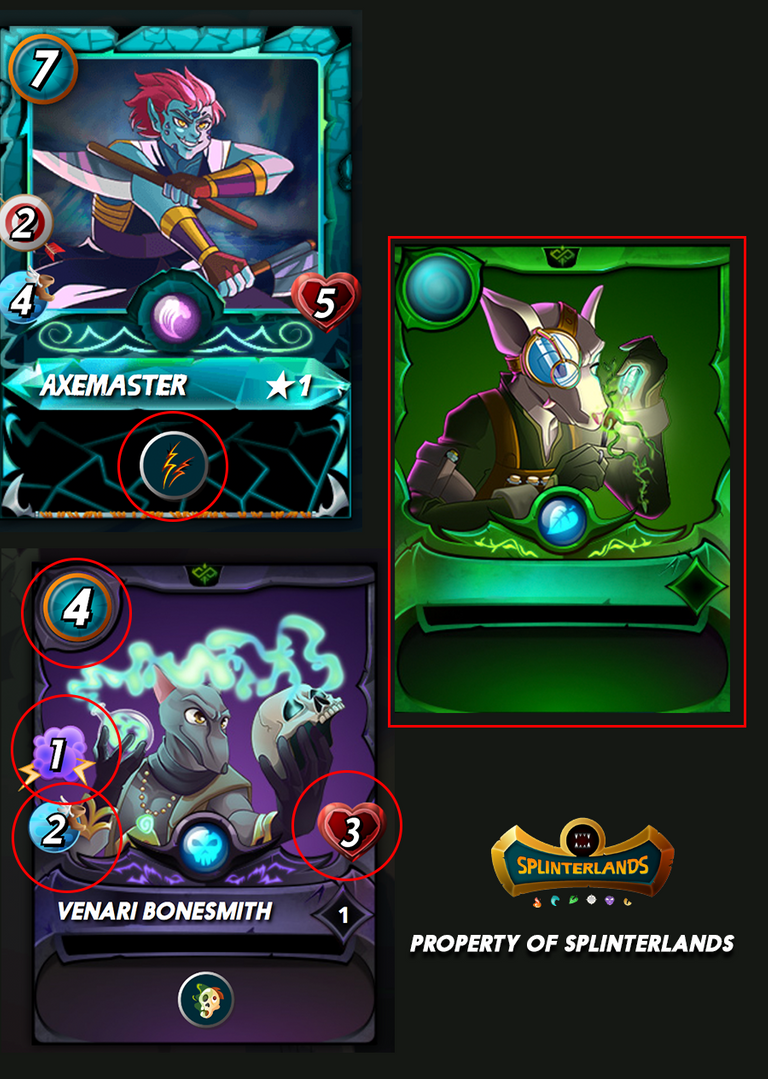 •Finally, I mask the character to the Splinterlands Base Card. Here is the final result. That's it we're done!

Not playing Splinterlands? Come and join us! Referral Link.
I had fun in doing the process and I hope you liked it too.
Thank you for your time in viewing my art.
Stay tuned for more.
If you have comments and suggestions please comment down below. I will really try my best to answer it all if I am able to. All your upvotes and giveaways will be converted to 100% HP to help me continue posting and doing transactions here at HIVE. Thank you very much!
Don't forget to follow:
Flauwy: https://peakd.com/@flauwy
Kayrex: https://peakd.com/@kayrex
Splinterlands: https://peakd.com/@splinterlands/
Monster-Curator: https://peakd.com/@monster-curator/
1UP (#oneup): https://www.1up.zone/
NFT Studios and 1UP Discord: https://discord.gg/yRYTMKCttw
---
---