Splinterlands Art Contest! // Week 163 // NAGA WARRIOR
Hello guys! Steven again here.
Before anything else, I want to thank everyone for all of your support, comments and feedbacks in all of my previous post. I greatly appreciate it. Congratulations to all winners in Week 162! And now here is my entry for this week Splinterlands Art Contest - Naga Warrior. Link of the contest HERE
NAGA WARRIOR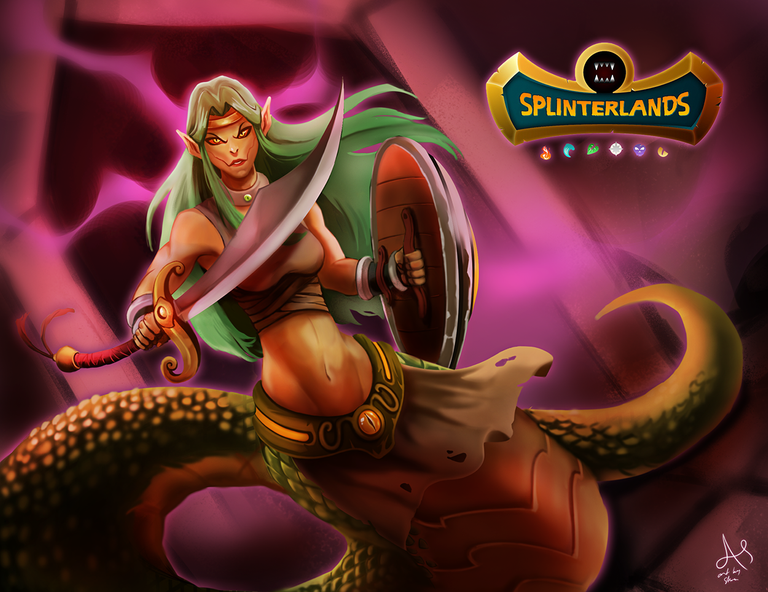 Although at first I want to draw Goblin Mech I ended up making Naga Warrior. First time I rented and used it in Splinterlands battle partnered with Lir Deepswimmer as the summoner. Naga Warrior has retaliate at level 1. Retaliate Skill: When hit with a Melee Attack, Monsters with retaliate have a chance of attacking their attacker. I love that idea a woman with retaliate skill, it reminds me of my girlfriend. As a golden rule for me, never argue with girlfriend because everything you say or do always backfires at you. Don't make her reach the max level she will have Enrage Skill LOL!

Reference Image: Screenshot from Splinterlands Market HERE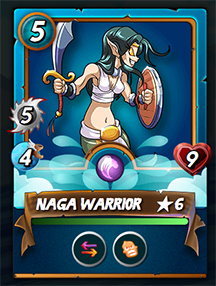 Process in making the Digital Art:
• To begin with, I always do a rough sketch of the character. I started last Monday and I did several sketches of the character that I want to make a fan art with. I have done many sketches yet I felt none of my sketches works. I got caught up with the eagerness to start and finish quickly. That is why I found myself in the state of ArtBlock in that moment. Therefore, I decided to stop for a while and start on the next day. Here are some of my sketches.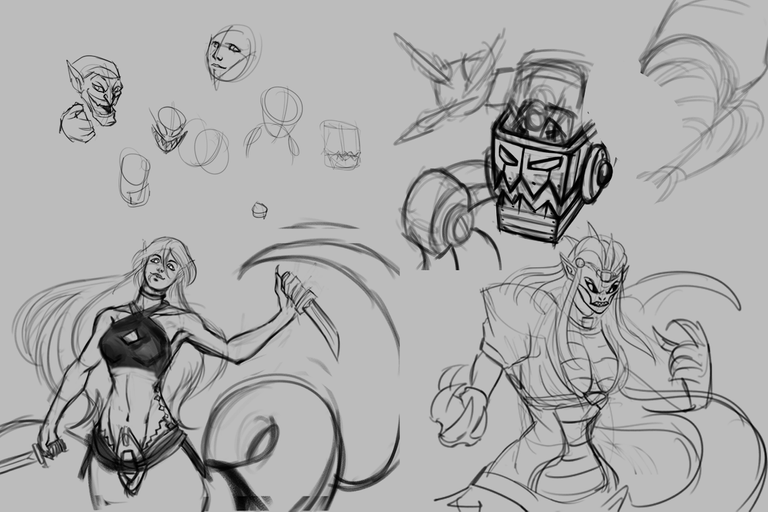 The following day, I just do my usual upvoting on Hive and replying comments. Though my upvote worth not that much, but that is not the real value. The thought of having someone around you who support you through upvoting will certainly give you courage to continue posting topics here in Hive and that is the real value.
I also joined PGM Discord not too long ago, then I received a message coming from @hollowknightgod. We had a little chat and ended up sharing my ArtBlock moments with him and he advised me to watch a movie because it definitely works for him so maybe he thought it will also help me.
And yeah! Good idea! So I tried to watch the movie "Flora and Ulysses" that @kennysgaminglife recommended. And HOLY BAGUMBA! That was fun! I instantly rebooted my mind system and later on started my sketch. I do believe that the lack of FUN in that day stopped me in creating art not until when I finish that movie.
It's already Wednesday and finally I started my sketch.
Here is what I accomplished.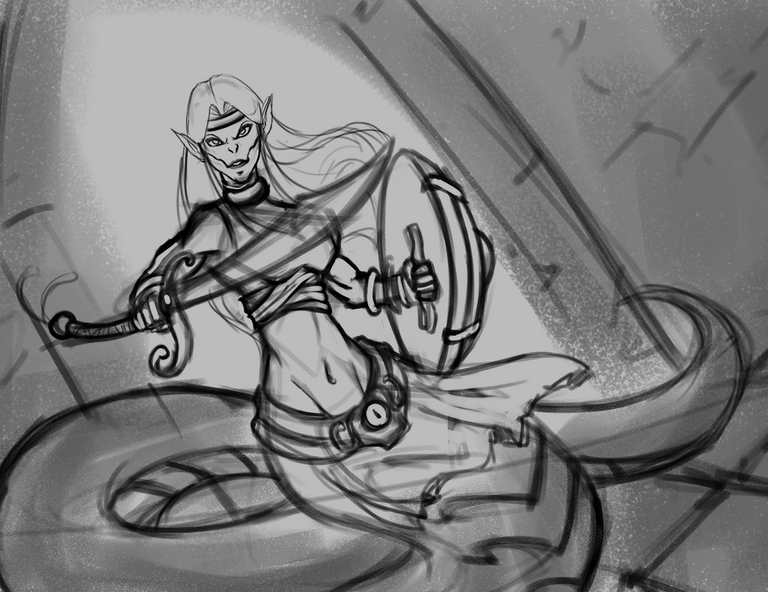 In here, I really want to see a movement in my character so I decided to tilt it a little. I made some diagonal lines to give my piece a dynamic approach. Moreover, I have drawn imaginary lines creating 3 spaces to place the face of the character. It's like rule of thirds in photography. I also added some base colors.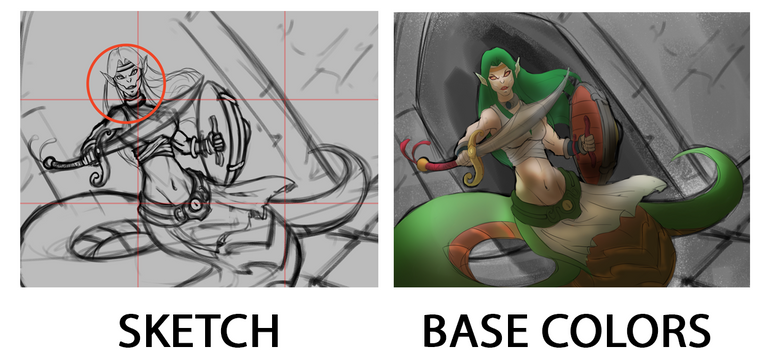 •Second in the process is adding shadows and highlights. I just repeated the process of adding multiply layer and overlay layer on top of the base colors. Running through my work, I adjusted some features through adding shadows and highlights. After a couple of minutes I already came up with this.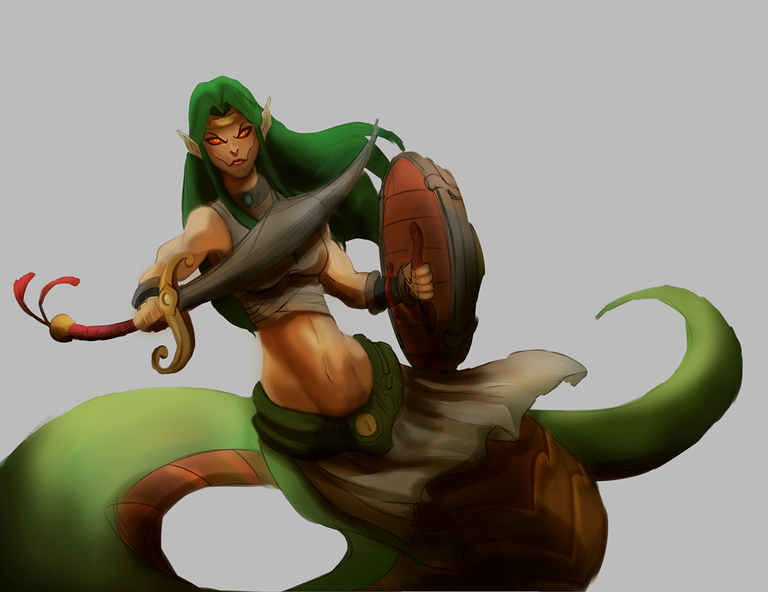 I felt that there's something odd about the character, but I took a little pause and continued the next day.
•Third in the process is refining the colors. I observed that the way she holds the sword was quite odd so I corrected it. In this process, all I did was to merge all the layers and add normal layer on top to correct the colors and refine as what they have to be. Here is what I have done.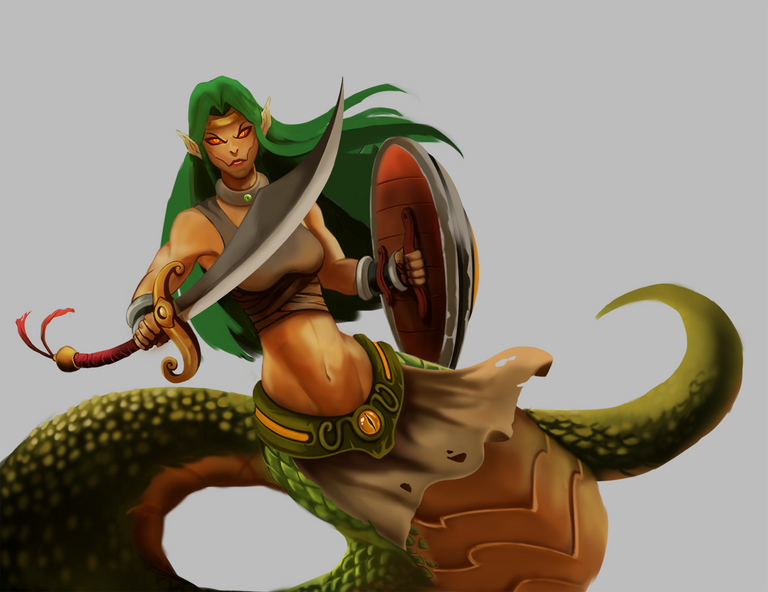 •Fourth process is adding the background of the character. In this process, I defined the color highlights and correct some other areas of the character.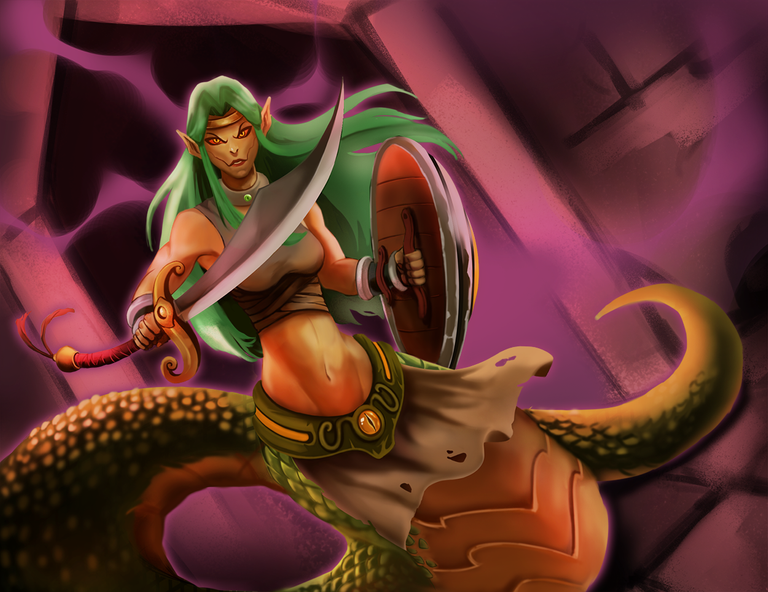 •Fifth process is rendering the character. I am finally happy with this output. But still, I think there's something missing and that would be the highlights on her face and also magical auras coming inside the dungeon.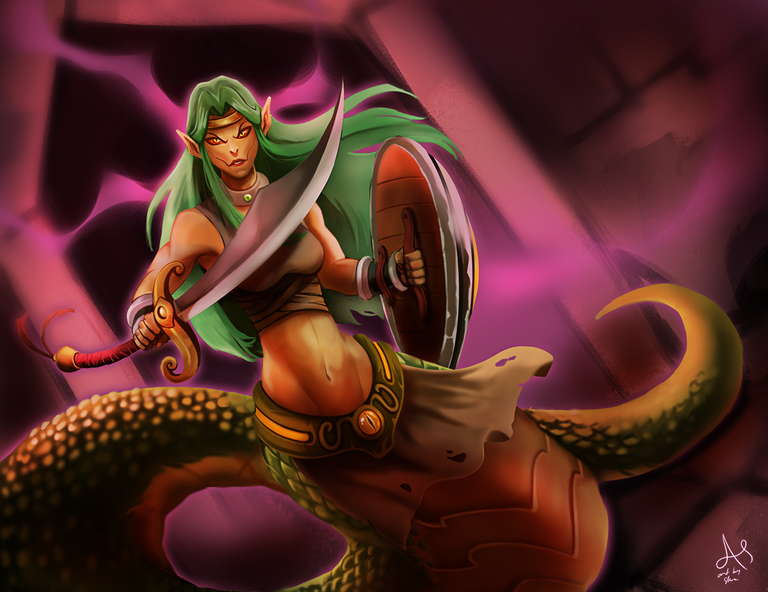 •Finally, I made an overlay layer on top of the merged layers that created something like a highlight or glow effect in the area of the head and the aura. Furthermore, I added the Splinterlands logo for the finishing touch. That's it we're done!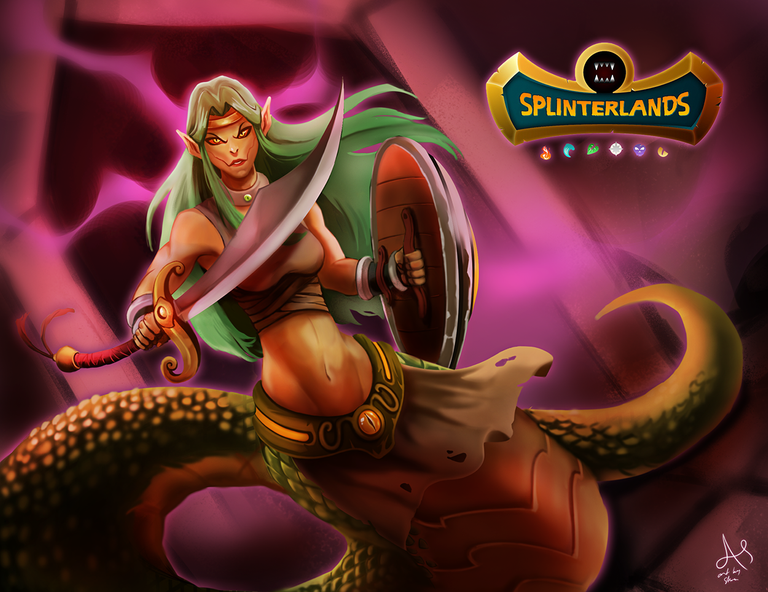 Process GIF: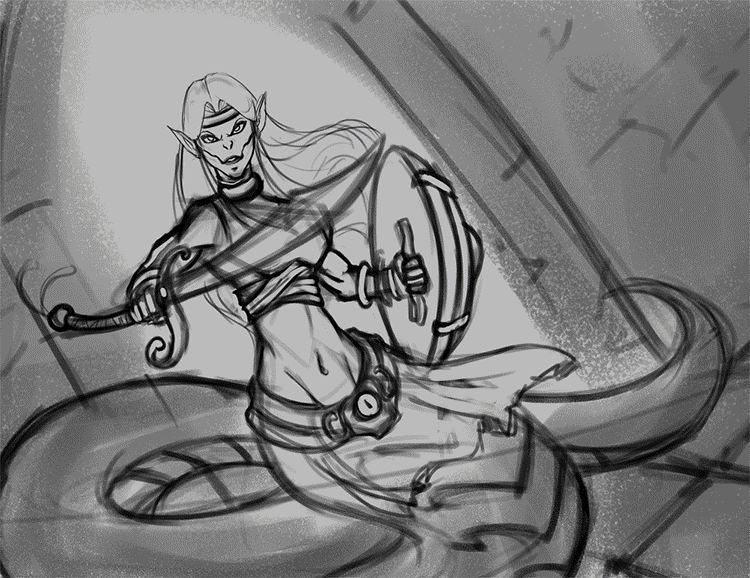 I thought at first having an ArtBlock is already the end of my interest. But with all the help of my Hive friends, I realized that whenever you failed at something, just always tell yourself to take a little break and keep moving forward. It is important to acknowledge and accept that failures, because they are part of the process in the way to success. Recognizing them in the next time you do arts, will surely give you courage to improve more and keep you on track again. Let's get better every day.

Not playing Splinterlands? Come and join us! Referral Link
I had fun in doing the process and I hope you liked it too.
Thank you for your time in viewing my art.
Stay tuned for more.
If you have comments and suggestions please comment below. I am really open to all critiques, I want to be better, a better version of my ownself. All your upvotes and giveaways will be converted to 100% HP to help me continue posting and doing transactions here at HIVE. Thank you very much!

Don't forget to follow:
Flauwy: https://peakd.com/@flauwy
Kayrex: https://peakd.com/@kayrex
Zottone: https://peakd.com/@zottone444
Splinterlands: https://peakd.com/@splinterlands/
Monster-Curator: https://peakd.com/@monster-curator/
1UP (#oneup): https://www.1up.zone/
NFT Studios and 1UP Discord: https://discord.gg/yRYTMKCttw
PGM Discord: https://discord.com/invite/KCvuNTEjWw
---
---