Steam Market vs. Splinterlands Market/PeakMonsters
Today's post is about the similarities and differences between these two markets and the things I've noticed and learned while selling/buying on them.
*Note: this isn't my collective knowledge, just a couple of things that I wish I knew before I started dealing with the PeakMonsters market.
In any market, good timing and a bit of luck can produce significant gains in a short amount of time. Since I am more familiar with Steam's platform I will use it as a comparison today.
Seasonal Changes / Price drops
The 2 most important events on the CS:GO market is the Steam Summer Sale and Chinese New Year.
1st event causes people to sell their in-game items to buy cheap games, causing the skin prices to go down.
The 2nd event actually pumps up the prices, and why is that? Well, it's a Chinese tradition to give money to young people, and why would you do drugs or drink alcohol when you can get sick AK-47 skin?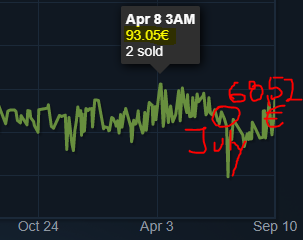 In Splinterlands I noticed the price change about a week ago when the Chaos Legion pack was just around the corner.
The recent changes in the Splinterlands market:
Chaos Legion is coming out, reducing the price of all cards from 10-30% (Based on my investments)

Price of DEC and SPS has been dropping, so a card of 10$ used to sell for ~1538 DEC, and now that same card would be worth ~1788 DEC.
Same amount of $$$ = more DEC

New cards will affect the current meta and some cards could become less used or borderline useless(which I doubt, the creators said the new cards won't be too OP since it could affect the market catastrophically).
HOW NOT TO LOSE MONEY
This isn't financial advice, especially since I'm just a random Serbian dude on the internet. These are some tips and tricks I picked up over the years and if they work out for you too, the better!
1 - USE BIDS If it ain't a seasonal price drop*, use BIDS. Why would you pay 5$ for something, when the highest bid is 3.3$ and for just 10cents you are above that guy. If you see a card on the market for a 20-30% lower price than the other card in the same category, go for it!
*During season drops it's nice to spam that refresh button.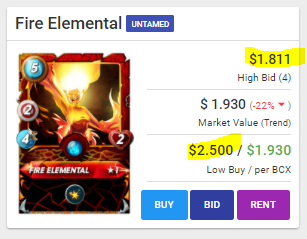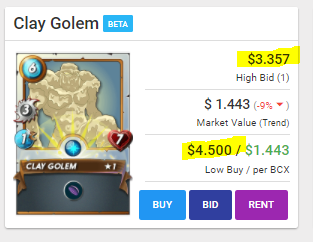 2 - Bu-bu-buy.... BUY THE DIP!!!
I bought about 40 Chain Spinners at 0.27$ each, and I watched it go to 0.29$ and it flunked back to 0.18-0.20$ per card, thankfully I sold all of mine at 0.26$.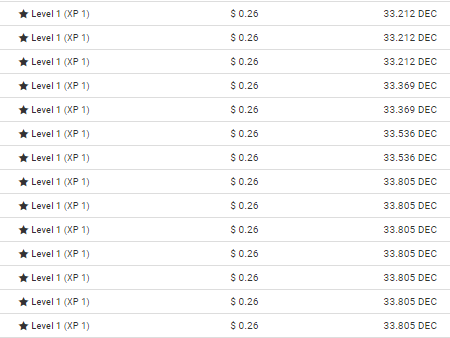 3 - Any purchase made hastily, will cost you greatly!
There are "right time at the right place" moments on the market, but 80% of the time you need to think and re-think your decisions. It is YOUR money you're spending, maybe you cleaned dishes, delivered food or did something similar to earn that $$$, don't throw it away.
Place your bids and think through investments, it will reward you for your time and attention ;)
My most recent card-flip was LVL 4 Etinn Spearman, bought for 6.63$, sold for 10.5$
The price of DEC fell, increasing my profits for about 100-200 DEC.


Now, a couple of things that are different between these two markets:
-Skins for guns in CS:GO, ex. M4A1-S or CZ-75, became a lot cheaper when Valve nerfed the hell out of them, while in Splinterlands, new cards change the value of the old cards, and some old cards might become more valuable because they work well with the new ones.
-Skins in CS:GO are linked with your local currency, which makes the market less volatile.
In Splinterlands, you have DEC and/or SPS price, player count, and overall interest in the game which determines the price of the market.
We're gonna see what will happen in the future, best of luck to you and enjoy!
P.S.
Feel free to add anything that you've noticed or learned over the years, maybe you learned something from me, someone will learn from you, and we will make an amazing circle of information exchange.
---
---