DEC MATH
WARNING: I'm just messing around with numbers, consider this just ramblings please... and there are a hundred assumptions I can't accurately calculate so this should just be taken as a beginning of a discussion or a bit of data points for you to play around with. All i can be sure of is that nothing will end up exactly as I describe below ... the probability of it going exactly as planned is 0.001% at best. But it's still fun to think about and share...
Consider this also as rough draft notes... frankly I'm not gonna spend dozens of hours working through this instead I want YOU to be a part of the discussion... I'm telling you right now you better carry your weight on this discussion or I'll blame you for anything that goes wrong. hahaha It's not my responsibility to figure this out... it's yours.
WHY IS DEC GOING DOWN SO MUCH?
If users are selling DEC because they believe in something else way way more then more power to them. Maybe they think SPS is going to double in value in the next 115 days and in that case they're willing to jump out of DEC right now... but even then DEC earns you SPS at a pretty good rate.

SOME MATH
You can get about 54% ROI during the course of 115 days through buying DEC or even SPS (when put into a SPS:DEC LP)
PeakMonsters does the math for you but if you're curious here it is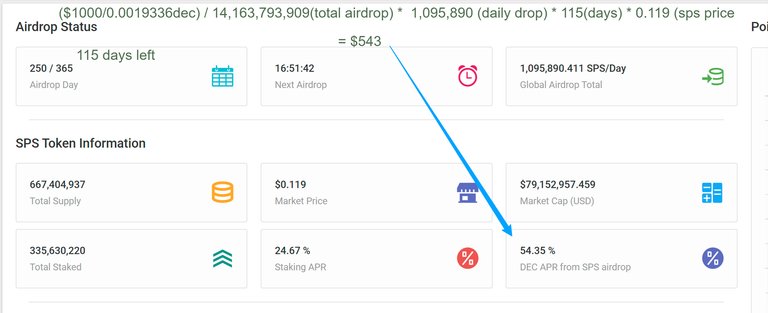 It's important to note that the way that peakmonsters calculates it is to check the days left. For example in that same amount of days the SPS inflation at 24.67% apr would actually be a ~7.75% increase almost a 7x difference in return.
That $543 is all in SPS at today's rates that means about ~4500 SPS
So for those believing SPS is gonna go way up they can consider this
$1000 can get them
A. 8403 of SPS gets them 8403 of SPS that sps at .119 would be $1077 but if SPS doubles then something like $2154
A bit more because of inflation which could be ~650SPS at today's rates... but keep in mind the other methods earn SPS that you can stake and earn as well but this method obviously has the most because it's 8403 staked the entire 115 days.
B. 514,906 of DEC gets you what was described above in the math with $543 of SPS which is roughly ~4500 SPS ... So you'd have ~514k of DEC and 4500 of SPS. It's not great if DEC goes to peg and you have 514k sitting there worth just $514 and your SPS is still .119 each that would get you like $1057 which isn't as good of course and if SPS doubles in the meantime then you have $1585 which is not great. The staked SPS inflation is gonna be there but not a ton.
C. Or you could buy half SPS and half DEC 4200SPS and ~257k DEC
As DEC goes down in value you get more and more of it and your airdrop per day goes up and up.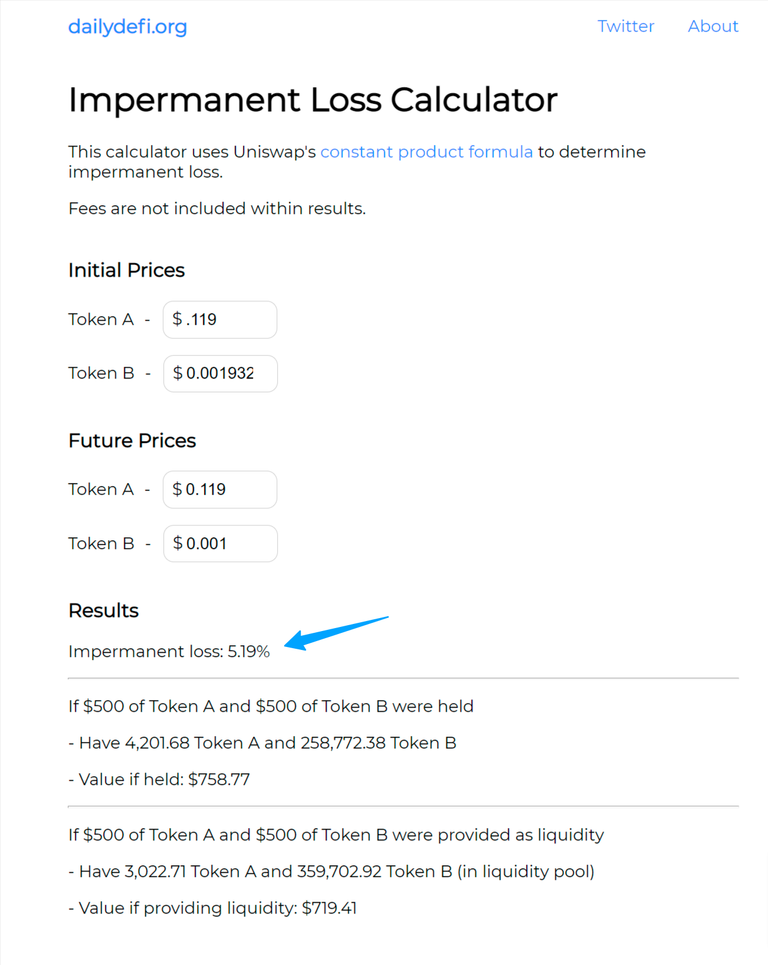 This site calculates that if DEC goes back to peg and SPS stays the same you have 5% less value of money but to get 54% ROI from potential airdrops that may be worth it.
But you say perhaps SPS goes up as well... maybe even up by 50%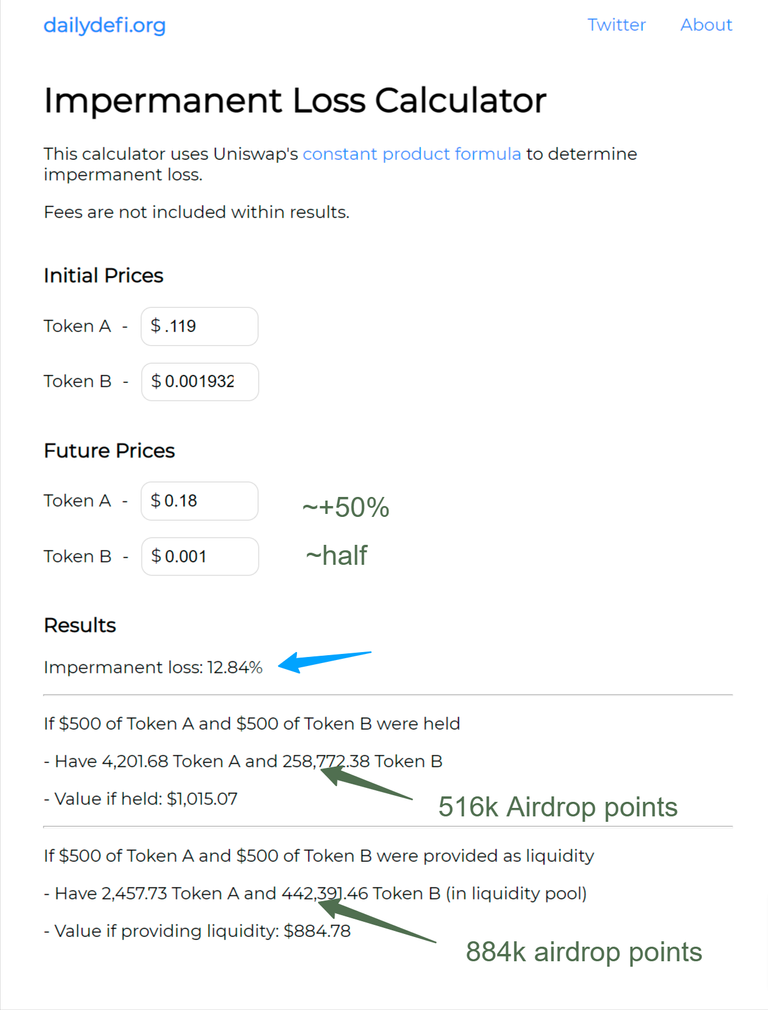 Well then you're looking at 12.8% potential impermanent loss
But look at the numbers there your airdrop points go up by like 70% (ones supposes gradually) So remember those numbers from above calculating 4500 SPS from option B? Well this could be substantially more SPS from the airdrop and then will it really matter if it DEC goes down to the peg? (maybe ... this is a discussion I'd like to see others do some math as well)
Since we're talking about the eventuality of SPS doubling in price let's use those numbers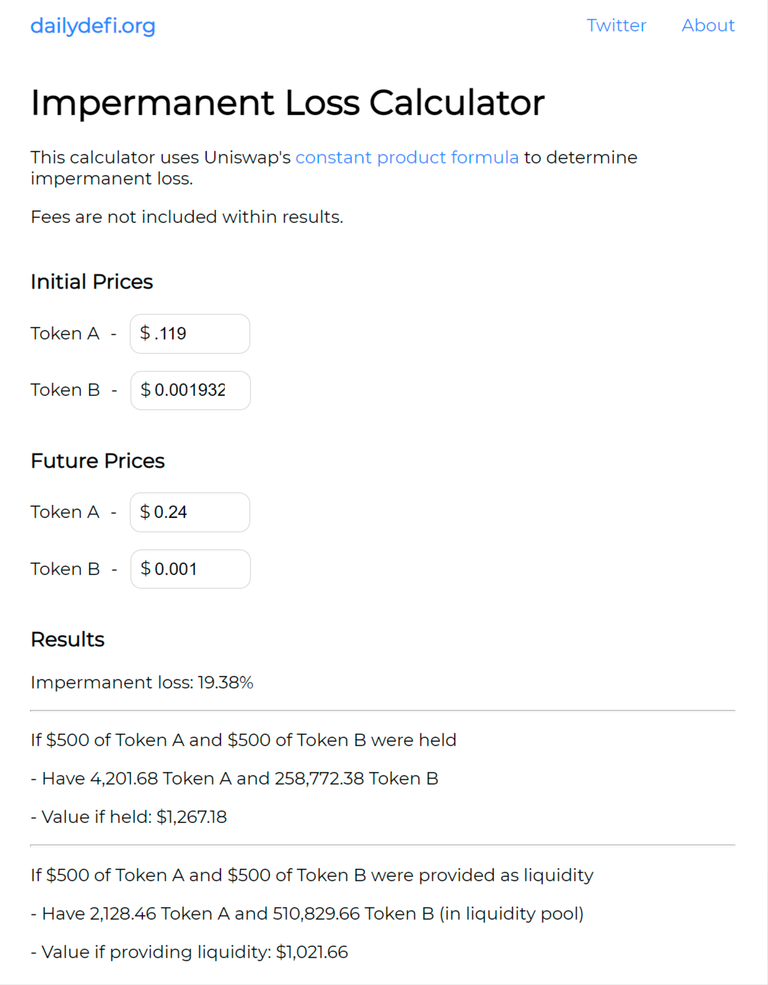 19% impermanent loss but towards the end you've doubled your airdrop total and maybe it's only one month with 1 million airdrop points even at 15b total points that is still 2190 SPS just in the last month.
Let's say you get ~6000 the rest of the 85 days so you end up with 6041SPS and then based on that last screenshot $510 of DEC assuming 1000:1 on DEC as people are saying. And let's say SPS is doubled so 6041 * .24 = $1449
$1449 + $510 = $1959
This one is the hardest one because there's a curve of how fast DEC goes down to 1000:1 in this scenario and how fast SPS goes up. It's pretty much impossible to calculate so it's a really unfair number to try to guess for this option.
HEDGING
In the end I basically have no idea... and because of that I think I prefer to hedge my bets and split between DEC and SPS. Maybe in the end going all in on SPS is better... but I don't know for sure... also if DEC drops hard quickly then the Airdrop points i'm getting would get me a TON of SPS anyway.
---
PKM:SPS LP POOL INSTEAD?
In any case a better longer term APR seems to be PKM anyway if you're judging purely by the present day APR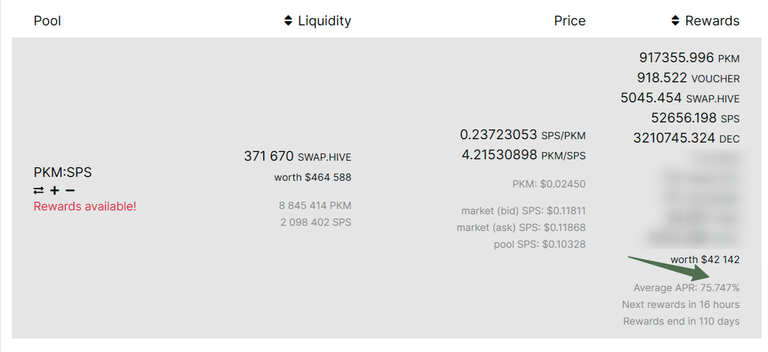 But the reality is that it's a much smaller pool at $400k with a much smaller pot of rewards that can't support hundreds of thousands of dollars of investments haha
---
RECAP
I think the big take away is that people may not understand that 54% is in just 115 days.

I did this exercise in part to assure myself... i didn't know the numbers before i started this document... in fact a few weeks ago I sold a decent amount of DEC. But now I have to rethink that... and since DEC dropped a bunch I'm much less likely to sell more DEC... at least not too fast too soon.
I'm not trying to convince you of anything... make your own conclusions and share some maths.
---
---