Share Your Battle! Cursed Windeku [EN - ES]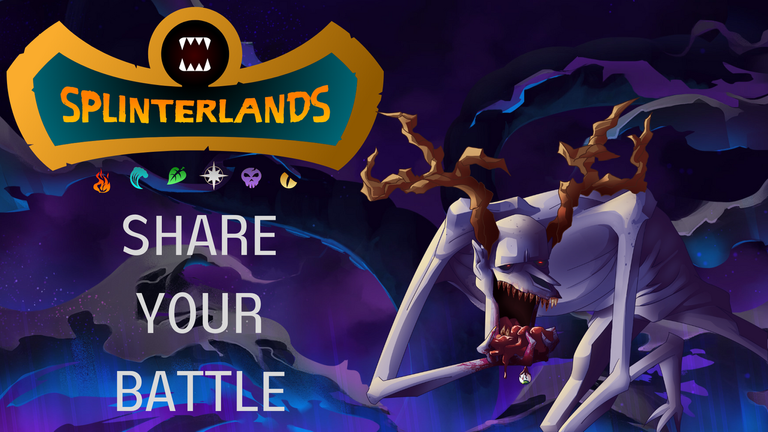 New week, new challenge. This time it's Cursed Windeku's turn. A Death card, which is one Splinter that I don't use so much but it has very interesting cards, like this Cursed Windeku.
Semana nueva, reto nuevo. Esta vez le ha llegado el turno a Cursed Windeku. Una carta de Muerte, un Splinter que no utilizo mucho pero que tiene cartas muy interesantes como este Cursed Windeku.
Cursed Windeku
The card of the week is a rare card. It is currently at $0.40 in its normal version and $3.27 in its golden foil. Leaving the summoners aside, it is the third most expensive rare card in the Chaos Legion edition, so we can already see that it is a very good card.
La carta de la semana es una carta rara. Actualmente se encuentra a 0,40$ en su versión normal y a 3,27$ en su versión dorada. Dejando de banda a los invocadores, es la tercera carta rara más cara de la edición Chaos Legion, con lo que ya podemos ver que se trata de una muy buena carta.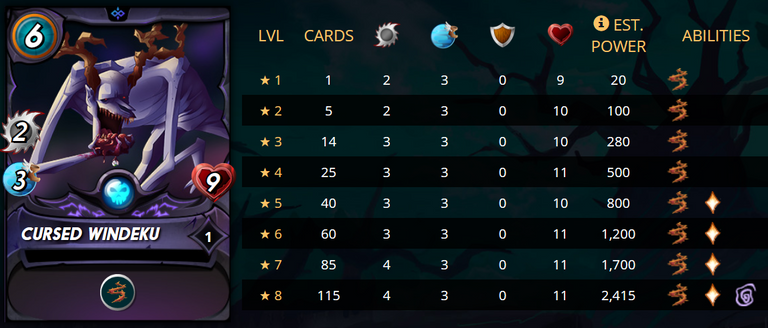 Cursed Windeku costs 6 mana, at level 1 it has 2 attack, 3 speed, and 9 health. Also from level 1 it has the ability of Thorns, an ability that makes the melee card that attacks him take damage from thorns. At level 3 it gains an additional point of damage, which makes it very interesting to have at this level if you play silver league. But where it really gains a lot of importance is at level 5, where this card gains the ability to heal, which added to its 10 health points and the Thorns ability make it a magnificent tank that is difficult to beat for only 6 mana points and indispensable if you want to play death to the gold league.
Cursed Windeku cuesta 6 puntos de maná, a nivel 1 tiene 2 puntos de ataque, 3 de velocidad y 9 de salud. Además desde nivel 1 tiene la habilidad de Thorns, una habilidad que hace que la carta de melé que la ataque recibe daño de espinas. A nivel 3 gana un punto adicional de daño, lo que la hace muy interesante tenerla a este nivel si se juega a liga plata. Pero dónde realmente gana mucha importancia es a nivel 5, dónde esta carta obtiene la habilidad de curarse, que sumado a sus 10 puntos de salud y la habilidad de Thorns la hacen un magnífico tanque difícil de superar por tan solo 6 puntos de maná e indispensable si se quiere jugar muerte a la liga oro.
My battle

In this case the battle conditions were Unprotected and Close Range. In these cases the creatures have no armor and the archers can attack even in first position. Apart from this it is a high mana battle (58) in which I can play Water, Earth, Life or Death.
En este caso las condiciones de batalla eran Unprotected y Close Range. En estos casos las criaturas no tienen armadura y los arqueros pueden atacar incluso en la primera posición. A parte de esto es una batalla de alto maná (58) en la cuál se puede jugar Agua, Tierra, Vida o Muerte.
Line up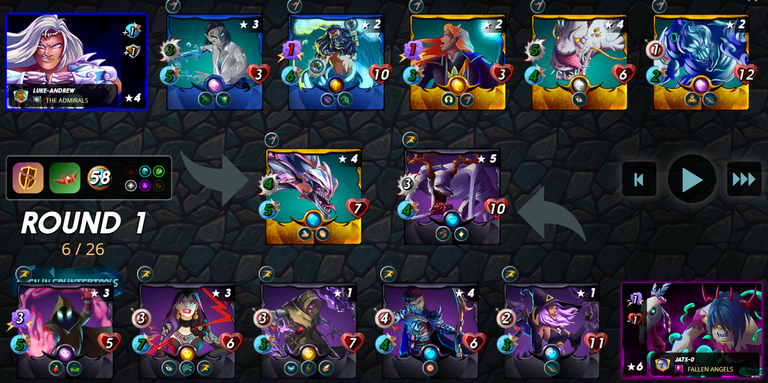 Summoner - Thaddius Brood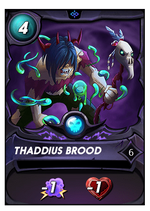 In my case, I play the gold league and I don't have Earth summoners at this level, so it's ruled out. The summoners of water and life that I have at gold level (Kelya and Grandmaster Rathe) add armor, with which I lose an important advantage that they give, so by discarding and thinking about the Cursed Windeku (which has no armor, but a lot of life) and that Death has very good ranged attack cards, I'm going to play with Death. So I'm going to use Thaddius Brood which is the only leveled death summoner I have.
En mi caso juego a liga oro y no tengo invocadores de Tierra para este nivel, así que queda descartado. Los invocadores de agua y Vida que tengo a nivel oro (Kelya y Grandmaster Rathe) suman escudo, con lo que pierdo una ventaja importante que dan, así que por descarte y pensando en el Cursed Windeku (que no tiene armadura, pero mucha vida) y que muerte tiene muy buenas cartas de ataque a distancia, voy a jugar con Muerte. Así que voy a utilizar a Thaddius Brood que es el único invocador subido de muerte que tengo.
1- Cursed Windekur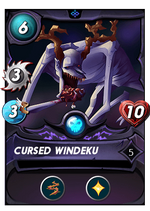 Tank with high health and healing, also with the ability of thorns. It seems to me one of the best tanks in the game in the gold league.
Tanque con alto vida y sanación, además con la habilidad de espinas. Me parece uno de los mejores tanques del juego en liga oro.
2- Queen of Crows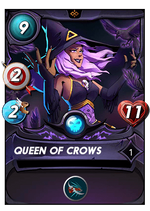 In this case the archers can attack from the first position and it is a high health archer, so when my tank dies this will be a good second tank.
Como en este caso los arqueros pueden atacar desde la primera posición es un arquero con mucha vida, así que cuando muera mi tanque este será un buen segundo tanque.
3- Dhampir Stalker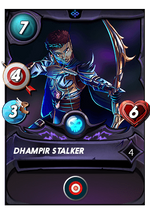 4 ranged attack points and surely the attack will not miss, it seems to me a very good archer.
4 puntos de ataque a distancia y seguro que no falla el golpe, me parece un muy buen arquero.
4- Raa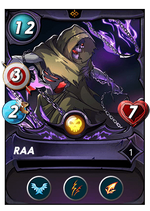 3 ranged attack points and also attacks twice randomly. It can always do well to avoid Taunts, and 6 damage per turn is a lot of damage.
3 puntos de ataque a distancia y además ataca dos veces de forma aleatoria. Siempre me puede ir bien para evitar a los Taunt, y 6 puntos de daño por turno es mucho daño.
5- Lira the Dark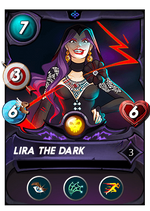 Card with the opportunist ability, it also gives me an extra speed point that in games where there is no shield seems very important to me to be able to attack before the rival.
Carta con la habilidad de oportunista, además me da un punto de velocidad extra que en las partidas dónde no hay escudo me parece muy importante poder atacar antes que el rival.
6- Magi Necrosi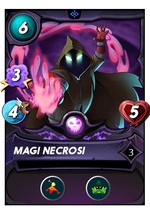 In this game the archers will be very important, but it is also important to diversify the type of attack. This card has 3 magic damage and the Snipe ability. I think it can do a lot of damage to the second row.
En esta partida los arqueros serán muy importantes, pero también es importante diversificar el tipo de ataque. Esta carta tiene 3 puntos de daño mágico y la habilidad de Snipe. Creo que puede hacer mucho daño a la segunda fila.
Line up Costs
Let's look at the price of the decks to see if the most expensive deck wins (which should mean better cards) or you don't have to spend a lot of money to win if you know how to use the cards well. Knowing that there are gold cards that are very expensive compared to the normal version, I only take into account the price of the card according to the level and considering the normal version.
The current market price of my enemy's cards is: $86,4
The current market price of my team's cards is: $117,3
Vamos a ver el precio de los mazos para ver si gana el mazo más caro (lo que deberían implicar mejores cartas) o no es necesario gastarse mucho dinero para ganar si se saben utilizar bien las cartas. Sabiendo que hay cartas doradas que son muy caras respecto la versión normal, tengo en cuenta sólo el precio de la carta según el nivel y considerando la versión normal.
El precio de mercado de las cartas que ha alineado mi enemigo asciende a: 86,4$
El precio de mercado a día de hoy de las cartas de mi equipo asciende a: 117,3$
As we can see, the price of my deck is 30% more expensive than the rival's, so a priori I should win. But water has very good cards, so let's see what happens.
Como podemos ver el precio de mi mazo es un 30% más caro que el del rival, con lo que a priori debería ganar. Pero agua tiene muy buenas cartas, así que vamos a ver que pasa.
Results
And here I leave you the link of my battle so you can see how it has been.
Y aquí os dejo el link de mi batalla para que podáis ver qué tal ha ido.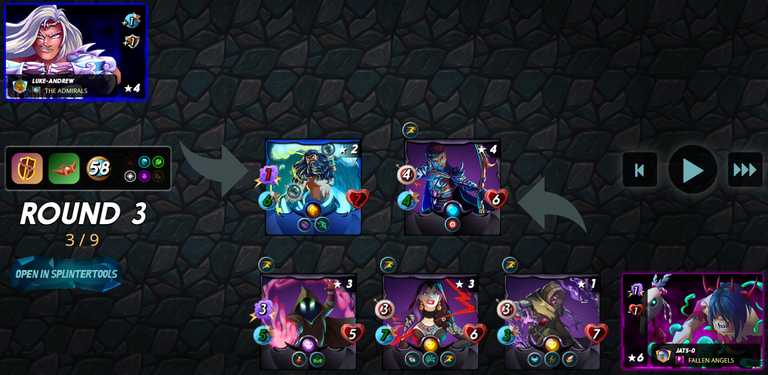 My battle link
Did my Strategy Work?
The truth is that my strategy has worked very well. I had a team with a lot of ranged attack that has quickly finished off the rival cards. The enemy had very powerful melee attack cards that made my Cursed Windeku not last the entire first round, but a second tank with 11 health helped me a lot to hold on while the archers were killing the opposing creatures.
La verdad es que mi estrategia ha funcionado muy bien. Llevaba un equipo con muchísimo ataque a distancia que ha acabado rápidamente con las cartas rivales. El enemigo llevaba cartas con ataque de melé muy potentes que han hecho que mi Cursed Windeku no aguantara ni la primera ronda entera, pero un segundo tanque con 11 de vida me ha ayudado mucho a aguantar mientras los arqueros iban acabando con las criaturas rivales.
In this case, the most expensive team has won the battle. Here I leave you the summary table of the Battle Challenges won by the expensive and cheap deck since I count it.
En este caso el equipo más caro ha ganado la batalla. Aquí os dejo la tabla resumen de los Battle Challenge ganados por el mazo caro y barato desde que hago el seguimiento.
| Expensive deck Victories | Cheap deck Victories |
| --- | --- |
| 9 | 10 |
(Photos I used in this post are taken from splinterlands.com for this post purpose only)

---
---