Share Your Battle! Silent Sha-Vi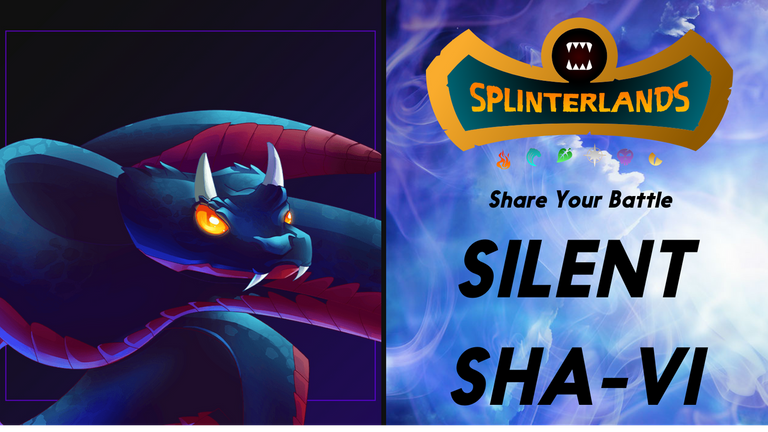 Introduction
New week, new battle challenge. This time it's Silent Sha-vi's turn, for me one of the 3 best death cards in the Chaos Legion edition, along with Cursed Windeku and Magi Necrosi. I rarely play death without using this card, and the reasons below.
Semana nueva, reto nuevo. Esta vez le ha llegado el turno a Silent Sha-vi, para mi una de las 3 mejores cartas de muerte de la edición de Chaos Legion, junto con Cursed Windeku y Magi Necrosi. Rara vez juego muerte sin utilizar esta carta, y los motivos a continuación.
Silent Sha-Vi
The card of the week is a common card. It is currently $0.11 in its normal version and $1.79 in its golden foil. I have always really liked golden cards, and even more now with the new Rewards system, so since I was interested in having this card at level 3 and with a single golden one I already had it, I got this version.
La carta de la semana es una carta común. Actualmente se encuentra a 0,11$ en su versión normal y a 1,79$ en su versión dorada. Siempre me han gustado mucho las cartas doradas, y más ahora con el nuevo sistema de Rewards, así que cómo me interesaba tener esta carta a nivel 3 y con una única dorada ya lo tenía me hice con esta versión.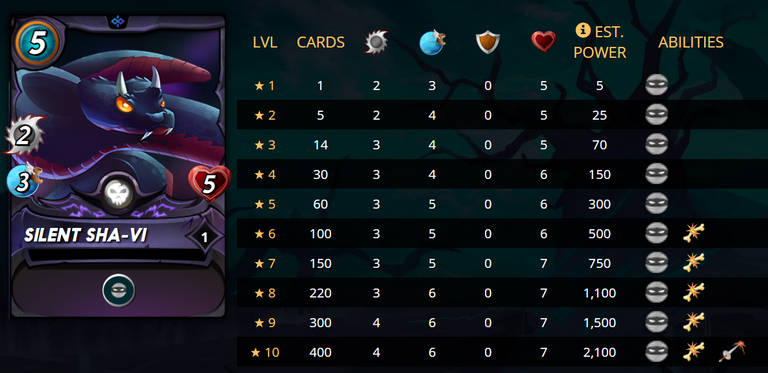 Silent Sha-Vi costs 3 mana, at level 1 has 2 damage, 3 speed, and 5 health. As we can see, it is a card that from level 1 already has the Sneak ability. For those of us who play at the silver level, I find it very interesting to have it at least at level 3, where this card has 3 damage points, not bad for a card that costs 5 mana and has the Sneak ability. At level 6 it gains the Cripple ability, and at level 10 the Piercing ability.
Silent Sha-Vi cuesta 3 de maná, a nivel 1 tiene 2 puntos de daño, 3 de velocidad y 5 de salud. Como podemos ver es una carta que desde nivel 1 ya tiene la habilidad de Sneak. Para los que jugamos a nivel plata me parece muy interesante tenerla mínimo a nivel 3, dónde esta carta se va a los 3 puntos de daño, nada mal para una carta que cuesta 5 de maná y tiene la habilidad de Sneak. A nivel 6 gana la habilidad de Cripple, y a nivel 10 la habilidad de Perforar.
My battle

In this case the battle conditions are Super Sneak and Noxious Fumes. In these conditions all cards have the Sneak ability and are poisoned. Having the Focus mission of death I'm going to take the opportunity to play death thinking about Harklaw which at level 2 has Immunity and the poison will not affect him.
En este caso las condiciones de batalla son Super Sneak y Noxious Fumes. En estas condiciones todas las cartas tienen la habilidad de Sneak y estan envenenadas. Al tener la misión Focus de muerte voy a aprovechar para jugar muerte pensando en Harklaw que a nivel 2 tiene Inmunidad y no le afectará el veneno.
Line up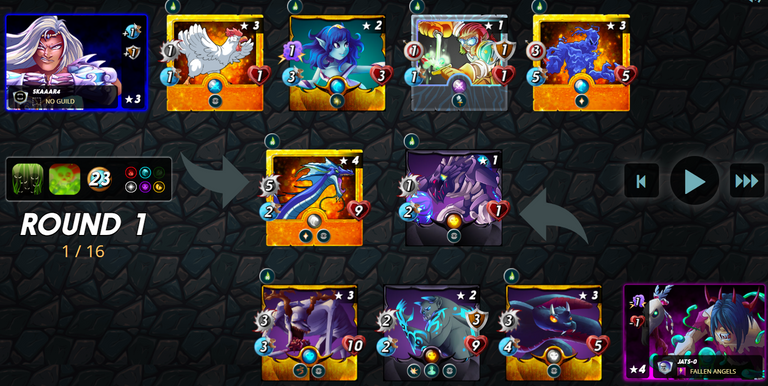 1- Corpse Fiend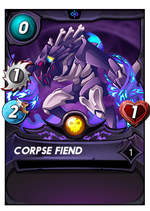 Obviously, in all the games in which the 6 cards that we can play are not spent, we must use the 0 mana cards. I think it's the first time I played it in the first position, the reasons were that having Noxious Fumes and only one life point, this card was going to die in the first round, so it's better to take advantage of it in the first position to at least expend an enemy attack.
Evidentemente en todas las partidas en las que no se gastan las 6 cartas que podemos jugar hay que utilizar las cartas de maná 0. Creo que es la primera vez que la juego en la primera posición, los motivos fueron que al tener Noxious Fumes y sólo un punto de vida esta carta iba a morir en la primera ronda, así que mejor aprovecharla en la primera posición para por lo menos gastar un ataque enemigo.
2- Silent Sha-vi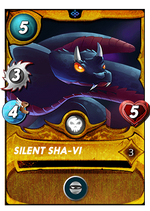 The next two cards were clear to me, and I can't play cards with low health because they would die in the first round. For 5 mana it seems like a very good option to me seeing that it has 3 attack points. In this case I don't take advantage of his Sneak ability because all melee cards have it, but it still seems like a good option.
Las siguientes dos cartas las tenía claras, y no puedo jugar cartas con poca vida porqué morirían en la primera ronda. Por 5 de maná me parece muy buena opción viendo que tiene 3 puntos de ataque. En este caso no saco ventaja de su habilidad de Sneak porqué todas las cartas de melé la tienen, pero aún así me parece buena opción.
3- Harklaw
With the battle conditions of Noxious Fumes, it was necessary to play this card because it does not affect him. My idea was to have it as protected as possible, so in third position it seemed like a good idea.
Con las condiciones de batalla de Noxious Fumes era obligado jugar esta carta porqué no le afecta. Mi idea era tenerla lo más protegida posible, así que en tercera posición me pareció buena idea.
4- Cursed Windeku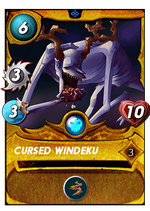 Another of my favorite death cards, I play it almost always, and in this case I hope that by having Super Sneak the enemy is going to use a lot of melee cards, and I think it's a very good idea to use this card in the last position so that enemy melee attacks take damage with each attack they make.
Otra de mis cartas favoritas de muerte, la juego casi siempre, y en este caso espero que al haber Super Sneak el enemigo va a utilizar muchas cartas de melé, y me parece muy buena idea utilizar esta carta en la última posición para que estas cartas de melé enemigas vayan recibiendo daño con cada ataque que realicen.
Line up Costs
Let's look at the price of the decks to see if the most expensive deck wins (which should mean better cards) or you don't have to spend a lot of money to win if you know how to use the cards well. Knowing that there are gold cards that are very expensive compared to the normal version, I only take into account the price of the card according to the level and considering the normal version.
The current market price of my enemy's cards is: $206,7
The current market price of my team's cards is: $63,1
Vamos a ver el precio de los mazos para ver si gana el mazo más caro (lo que deberían implicar mejores cartas) o no es necesario gastarse mucho dinero para ganar si se saben utilizar bien las cartas. Sabiendo que hay cartas doradas que son muy caras respecto la versión normal, tengo en cuenta sólo el precio de la carta según el nivel y considerando la versión normal.
El precio de mercado de las cartas que ha alineado mi enemigo asciende a: 206,7$
El precio de mercado a día de hoy de las cartas de mi equipo asciende a: 63,1$
As we can see, the price of the two decks is very unequal, the rival team costs more than 3 times the price of my cards, and even their summoner is level 3 when mine is level 4. A priori I have the losing, but let's see how it goes.
Como podemos ver el precio de los dos mazos es muy desigual, el equipo rival cuesta más de 3 veces el precio de mis cartas, y esto que su invocador es de nivel 3 cuando el mío es de nivel 4. A priori tengo las de perder, pero vamos a ver que tal ha ido.
Results
And here I leave you the link of my battle so you can see how it has been.
Y aquí os dejo el link de mi batalla para que podáis ver qué tal ha ido.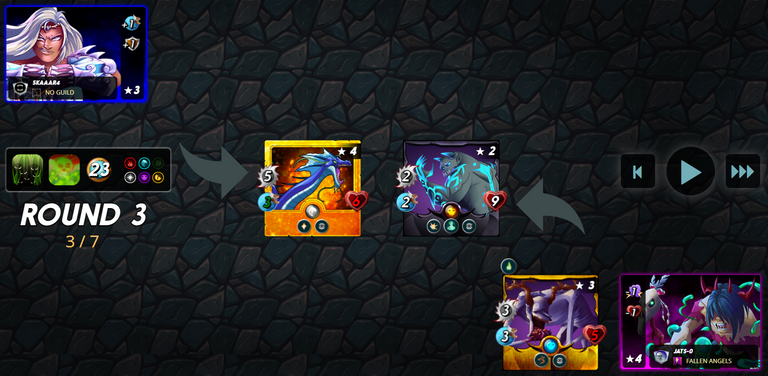 My battle link
Did my Strategy Work?
The truth is that the strategy has worked very well for me. My Corpse Fiend has prevented me from taking the first 3 point attack, and my Harklaw without being poisoned and with the Shield ability has held up very well. I expected that the opponent would use more melee cards, but even so, since Cursed Windeku has 10 health points, it has held up until the end of the game. We must admit that this Sea Monster healing itself and without the poison has made it very difficult for me.
La verdad es que la estrategia me ha funcionado muy bien. Mi Corpse Fiend ha evitado que recibiera el primer ataque de 3 puntos, y mi Harklaw sin estar envenenado y con la habilidad de Escudo ha aguantado muy bien. Esperaba que el rival utilizaría más cartas de melé, pero aún así cómo el Cursed Windeku tiene 10 puntos de vida ha aguantado hasta el final de la partida. Hay que reconocer que este Sea Monster curandose y sin el veneno me lo ha puesto muy difícil.
In this case, despite the fact that the rival team was more than 3 times more expensive than mine, it has not been able to win my team and my strategy. Here I leave you the summary table of the Battle Challenges won by the expensive and cheap deck since I do the follow-up.
En este caso a pesar de que el equipo rival era más de 3 veces más caro que el mío no ha podido con mi equipo y mi estrategia. Aquí os dejo la tabla resumen de los Battle Challenge ganados por el mazo caro y barato desde que hago el seguimiento.
| Expensive deck Victories | Cheap deck Victories |
| --- | --- |
| 2 | 4 |
(Photos I used in this post are taken from splinterlands.com for this post purpose only)

---
---