Share Your Battle! Supply RUNRUNner [ENG-ES]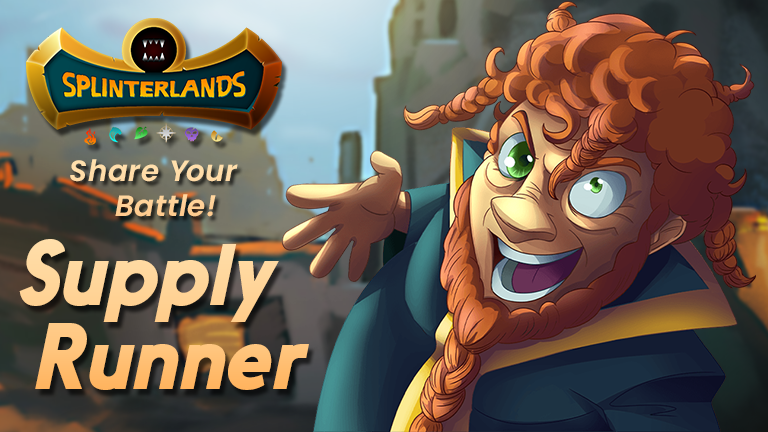 Introduction
New week, new battle challenge. This time it's Supply Runner turn, a neutral card, which means that we can use it playing with any splinter. This card isn't one of the ones I use the most, but if you use it correctly it is a very interesting card.
Semana nueva, reto nuevo. Esta vez le ha llegado el turno a Supply Runner, una carta neutral, lo que significa que podemos utilizarla jugando con cualquier splinter. Esta carta no es de las que más utilizo, pero si se utiliza adecuadamente es una carta muy interesante.
Supply Runner
The card of the week is a common card. It is currently $0.13 in its normal version and $1.76 in its golden foil. I generally like to have gold cards, so despite it being the third most expensive common card in Chaos Legion, I got the golden foil version.
La carta de la semana es una carta común. Actualmente se encuentra a 0,13$ en su versión normal y a 1,76$ en su versión dorada. Generalmente me gusta tener cartas doradas, así que a pesar de ser la tercera carta común de Chaos Legion más cara me hice con la versión dorada.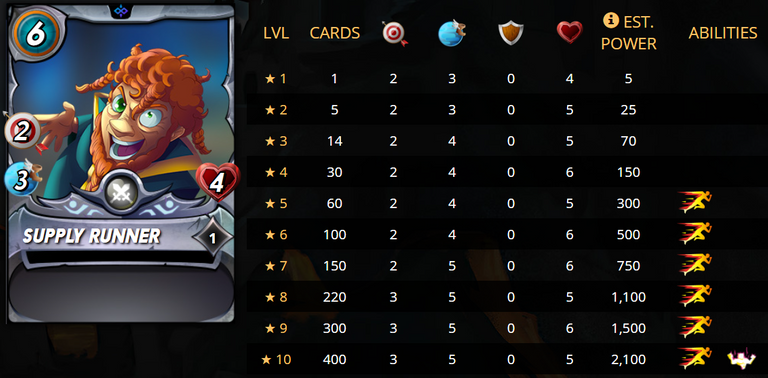 Supply Runner costs 6 mana, at level 1 it has 2 ranged damage, 3 speed, and 4 health. Honestly, up to level 4 it is a very normal card that doesn't stand out at all, but at level 5 it acquires the ability of Swiftness and it already makes it a very good card depending on what conditions. For example, it combines very well with the summoner of life of Chaos Legion (General Sloan), especially in some battles in which we are interested in attacking first or evading the opponent's attacks.
Supply Runner cuesta 6 de maná, a nivel 1 tiene 2 puntos de daño a distancia, 3 de velocidad y 4 de salud. Sinceramente hasta nivel 4 es una carta muy normal que no destaca en nada, pero a nivel 5 adquiere la habilidad de Swiftness y ya la hace una carta muy buena para según qué condiciones. Por ejemplo combina muy bien con el invocador de vida de Chaos Legion (General Sloan) sobretodo en algunas batallas en las que nos interesa atacar primero o evadir a los ataques del rival.
My battle

In this case the battle conditions are Fog of War and Heavy Hitters. In these conditions I know that I will not receive attacks from my back and the ability of Snipe is also lost. On the second condition of Heavy Hitters, at least at silver rank, you don't usually get much use out of it, so it won't condition my strategy. In this case neither water nor dragon could be used, so the rivals would surely not be able to have an additional shield from the summoner, so I tried to focus on attacking before the rival.
En este caso las condiciones de batalla son Fog of War y Heavy Hitters. En estas condiciones se que no me atacarán por la espalda y también se pierde la habilidad de Snipe. Sobre la segunda condición de Heavy Hitters por lo menos a rango plata no se le suele sacar mucho provecho, así que no condicionará mi estrategia. En este caso no se podía utilizar ni agua ni dragón, con lo que seguramente los rivales no podrán obtener escudo adicional de los invocadores, así que intenté centrarme en atacar antes que el rival.
Line up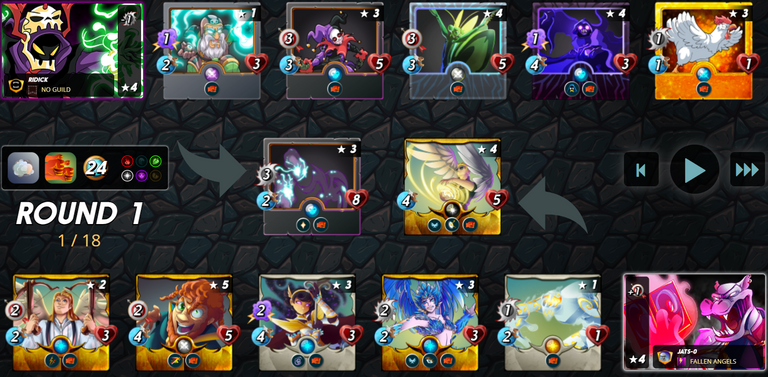 1- Pelacor Conjurer
Card that always is trying to be the cheapest card in the game. It's not much, but at 4th level it gains the ability to reflect magic attacks. How I'm going to focus my strategy on speed seems like a very low cost tank (only 2 mana) with a significant speed of 4 and the ability to fly I think it can evade some melee and ranged attacks. Also with the ability to reflect it seems to me an interesting tank also against magical attacks.
Carta que siempre lucha para ser la más barata del juego. No es gran cosa, pero a nivel 4 gana la habilidad de reflejar los ataques mágicos. Cómo voy a centrar mi estrategia en la velocidad me parece un tanque con muy bajo coste (solo 2 de maná). Entre una importante velocidad de 4 y la habilidad de volar creo que me puede evadir algún ataque de melé y de rango. Además con la habilidad de reflejar me parece un tanque interesante también contra los ataques mágicos.
2- Soul Fiend
I know that my tank shouldn't last long, and since the rival can't attack me from behind and I didn't have any mana left, I thought it was a good option to use this card in second position so that it can take one more hit before reaching my creatures. It will also be the first to receive an attack if the rival has opportunists.
Sé que mi tanque no debería aguantar mucho, y cómo no me pueden atacar por la espalda y no me quedaba maná me ha parecido buena opción utilizar esta carta en segunda posición para que aguante un golpe más antes de llegar a mis criaturas que son las que harán daño. Además será la primera en recibir un ataque si el rival tiene oportunistas.
3- Celestial Harpy
Another card with the ability to fly, so with the speed increase I have in mind it may dodge some attacks. Also with the Opportunist ability, so I think it's a good option since it only costs 2 mana.
Otra carta con la habilidad de volar, con lo que con el incremento de velocidad que tengo pensado puede que esquive algún ataque. Además con la habilidad de Oportunista, así que me parece buena opción puesto que solo cuesta 2 de maná.
4- Time Mage
I'm thinking a lot about speed and evasion, so a card that reduces the speed is always a good option.
Estoy pensando mucho en la velocidad y evasión, así que siempre va bien una carta que reste velocidad a las cartas rivales.
5- Supply Runner
The card of the week. It adds a speed point, which together with the previous card that reduces a speed point from the rival creatures gives me a 2 speed advantage. I hope it's enough to dodge a lot of attacks and finish off the opponent before they can attack.
La carta de la semana. Suma un punto de velocidad, que junto con la carta anterior que resta un punto de velocidad a las criaturas rivales me da una ventaja de 2 de velocidad. Espero que sea suficiente para evadir muchos ataques y para acabar con el rival antes de que pueda atacar.
6- Pelacor Arbalest
For me it is one of the best life cards of the edition, it also combines very well with the summoner General Sloan. It goes to 3 attack, and attacks twice. Knowing that there will be no Sneaks I put it in the last position without having to protect it.
Para mi es de las mejores cartas de vida de la edición, además combina muy bien con el invocador General Sloan. Se va a 3 de ataque, y ataca dos veces. Al saber que no habrá Sneaks la pongo en la última posición sin necesidad de tener que protegerla.
Line up Costs
Lately I like to analyze the cost of the decks to be able to analyze a little if the expensive deck really is the one that wins. Knowing that there are gold cards that are very expensive compared to the normal version. I will only take into account the price of the card according to the level and considering the normal version.
The current market price of my enemy's cards is: $285
The current market price of my team's cards is: $69,8
Últimamente me gusta analizar el coste de los mazos para poder analizar un poco si realmente el mazo caro es el que gana. Sabiendo que hay cartas doradas que son muy caras respecto la versión normal, voy a tener en cuenta sólo el precio de la carta según el nivel y considerando la versión normal.
El precio de mercado de las cartas que ha alineado mi enemigo asciende a: 285$
El precio de mercado a día de hoy de las cartas de mi equipo asciende a: 69,8$
As we can see the opponent's creatures cost 4 times more than mine. And since my summoner alone is almost $50 already, the rest of the cards I use are really cheap. In theory the rival uses much better cards (at least more valued), but we will see if this is enough to win the battle.
Como podemos ver las criaturas del rival cuestan 4 veces más que las mías. Y visto que sólo mi invocador ya casi cuesta 50$ el resto de las cartas que utilizo son realmente muy económicas. En teoría el rival utiliza cartas mucho mejores (por lo menos más valoradas), pero vamos a ver si esto es suficiente para ganar la batalla.
Results
And here I leave you the link of my battle so you can see how it has been.
Y aquí os dejo el link de mi batalla para que podáis ver qué tal ha ido.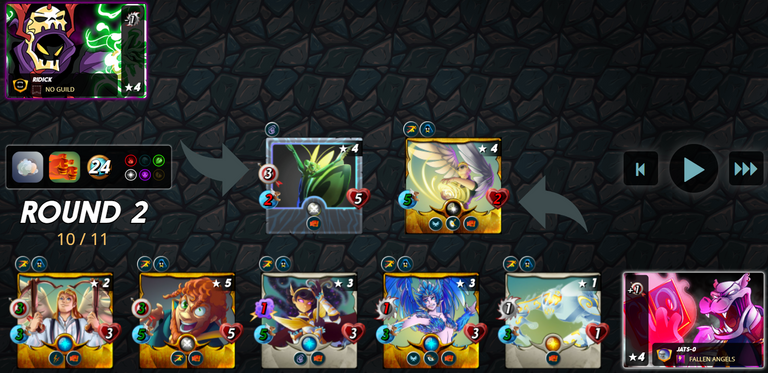 My battle link
Did my Strategy Work?
Absolutely, more than expected. As you can see at the end of the second round the rival only had one card left and I still had my entire team. My tank reflected the magic attacks and weakened the opposing mages. I finished off the opposing tank before it could attack, and managed to dodge the only two ranged attacks they landed on my Pelacor, so the strategy couldn't have gone any better.
La verdad es que mucho mejor de lo esperado. Cómo podéis ver al final de la segunda ronda al rival ya solo le quedaba una carta y yo aún tenía todo mi equipo al completo. Mi tanque reflejó los ataques mágicos y fue debilitando a los magos rivales, acabé con el tanque rival antes de que pudiera atacar, y conseguí evadir los dos únicos ataques a distancia que lanzaron a mi Pelacor, así que la estrategia no podría haber salido mejor.
Once again, it can be seen that having expensive team is not synonymous with winning the battle. I managed to finish off the rival without heaving a single killed even though his team cost 4 times more than mine.
Otra vez se puede ver que tener un equipo caro no es sinónimo de ganar la partida. Conseguí acabar con el rival sin tener ni una sola baja a pesar de que su equipo costaba 4 veces más que las mías.

---
---