Share your Battle! Theme: Dragons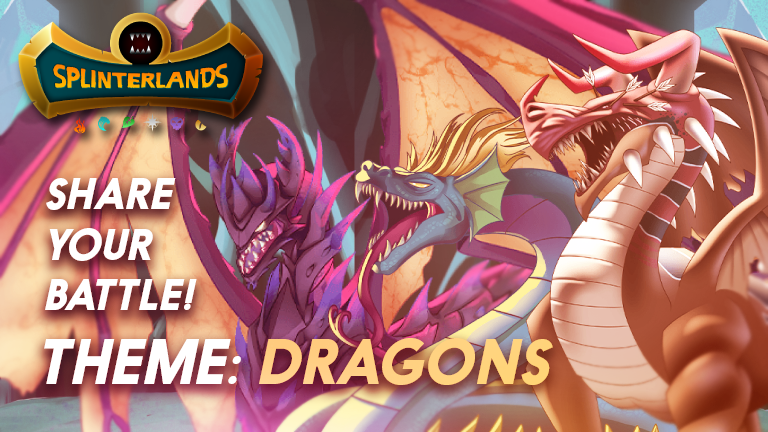 Introduction
This week the battle challenge is not with a specific card, this week is with the entire splinter of Dragons. I love this splinter, it has a very good cards and you can play it together with with another splinter, which makes them very versatile.
Esta semana el reto de batalla no va con una carta específica, sino que se puede jugar con todo el splinter de Dragones. Hay que decir que me encanta este splinter, tiene cartas muy buenas y se pueden jugar junto con otro splinter, lo que las hace muy versátiles.
Dragons
In this post obviously it is not possible to explain all the dragon cards of the game, but I am going to explain the summoners that I have.
En este post evidentemente no se pueden explicar todas las cartas de dragones que tiene el juego, pero voy a explicar los invocadores que tengo.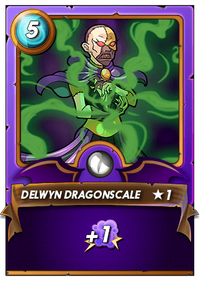 DELWYN DRAGONSCALE
It is a summoner that costs 5 mana, but very interesting to combine it with some very good dragons like the Chaos Dragon or the Void Dragon. It also allows you to combine it with any splinter.
Es un invocador que cuesta 5 de maná, pero muy interesante para combinarlo con algunos dragones muy buenos como el Chaos Dragon o el Void Dragon. Además te permite combinarlo con cualquier splinter.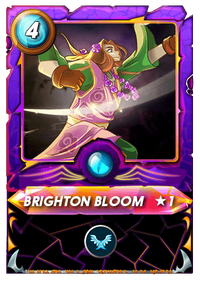 BRIGHTON BLOOM
I think there is no one who does not associate this summoner with the battles in which there is Earthquake. It is very important to have it to prevent the earthquake damage us. Outside of these types of battles I don't think it's much more useful.
Creo que no hay nadie que no relacione este invocador con las batallas en las que hay terremoto. Es muy importante tenerlo para evitar que el terremoto nos haga daño. Fuera de este tipo de batallas no creo que sea mucho más útil.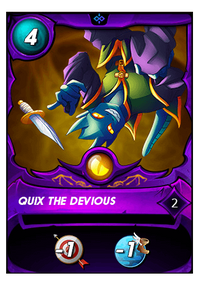 QUIX THE DEVIOUS
It is a good counter if we think that the opponent is going to use a lot of ranged attack. I also like to use it when I want to lower the opponent's speed to attack first or improve the evasion of, for example, the Void Dragon.
Es un buen counter si creemos que el rival va a utilizar mucho ataque a distancia. También me gusta utilizarlo cuando quiero bajar la velocidad del rival para atacar primero o mejorar la evasión de por ejemplo el Void Dragon.
My battle
Then lets go to see my battle.
Entonces vamos a ver mi batalla.
Ruleset
In this case the battle conditions were Close Range and Melee Mayhem. This favors ranged and melee creatures, so I expect the opponent is going to use these types of creatures. I know how to reduce the melee attack and to also protect myself from the ranged attack I am going to use Quix The Devious.
En este caso las condiciones de batalla eran Close Range y Melee Mayhem. Esto favorece a las criaturas de ataque a distancia y de melé, con lo que espero que el rival utilice este tipo de criaturas. Tengo claro como reducir el ataque de melé y para protegerme también del ataque a distancia voy a utilizar a Quix The Devious.
Line up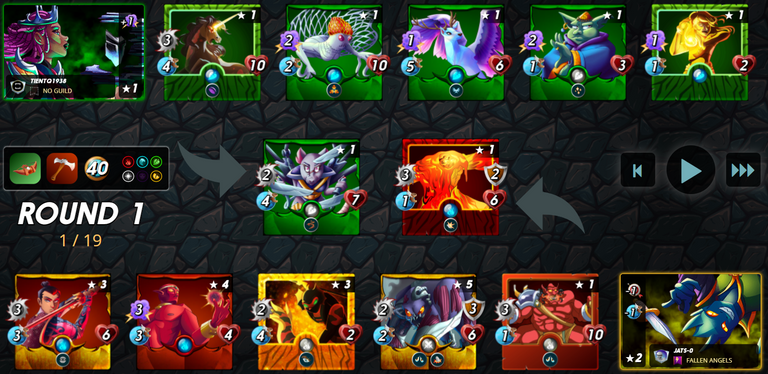 1- Living Lava
Since the battle conditions favor ranged and melee attacks, I expect the enemy to play this type, so I need to use a tank with the shield ability, and Living Lava is the best.
Visto que las condiciones de batalla favorecen al ataque a distancia y al de melé, me espero que el enemigo juegue este tipo, así que necesito utilizar un tanque con la habilidad de escudo, y Living Lava es el mejor.
2- Molten Ogre
I already have a summoner that reduces ranged attack, so now I need to reduce melee attack.
Ya tengo un invocador que reduce el ataque a distancia, así que ahora necesito reducir el ataque de melé.
3- Disintegrator
I am trying to reduce the melee attack as much as possible, so I use this card to reduce the opponents melee attack by one more point.
Cuanto más pueda reducir el ataque de melé mejor, así que utilizo esta carta para que reduzca un punto más el ataque de melé de los rivales.
4- Serpentine Spy
I love this card, fast, only 3 mana and opportunist ability.
Me encanta esta carta, rápida, sólo 3 de maná y con la habilidad de oportunista.
5- Djinn Apprentice
If the opponent uses a strategy similar to mine, it will always be useful to play a card that attacks life directly.
Si el rival utiliza una estrategia parecida a la mía siempre será útil jugar una carta que ataque directamente a la vida.
6- Tenyii Striker
Card with a very good attack and with Sneak, almost in all my games that I play with fire I use it.
Carta con un muy buen ataque y con Sneak, casi en todas mis partidas que juego con fuego la utilizo.
The Battle
And here I leave you the link of my battle so you can see how it was.
Y aquí os dejo el link de mi batalla para que podáis ver qué tal ha ido.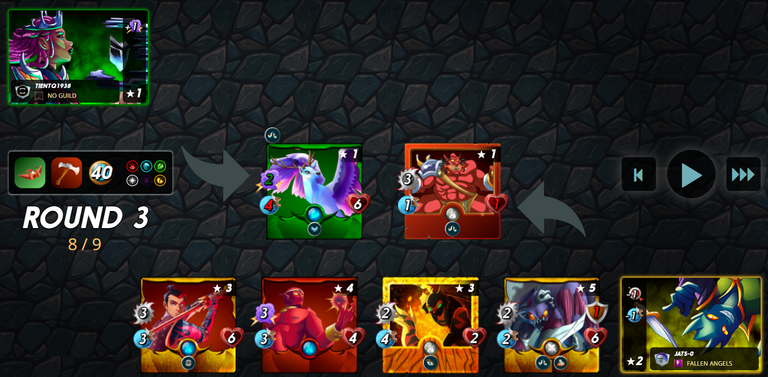 My battle link
Did my strategy work? The truth is that the rival has completely surprised me by using Obsidian and mostly magic attack. My tank and my strategy was completely based on neutralizing ranged and melee attack, but it could be easily killed with magic attack. Despite this his two melee creatures couldn't do anything against Living Lava and my second card had a lot of health, so it hung on until I was able to completely finish off his team. I think my strategy was very good and I only had the weak point of attacking it with magic. Despite the opponent did it, my cards had more speed and were able to quickly finish off their creatures before they complicated the battle for me.
Ha funcionado mi estrategia? La verdad el rival me ha sorprendido completamente al utilizar a Obsidian y mayoritariamente ataque mágico. Mi tanque y mi estrategia estaba completamente basada en neutralizar el ataque de melé y a distancia, pero se podía matar fácilmente con ataque mágico. A pesar de esto sus dos criaturas de melé no pudieron hacer nada contra Living Lava y mi segunda carta tenía mucha vida, así que aguantó hasta que pude terminar completamente con su equipo. Creo que mi estrategia era muy buena y sólo tenía el punto débil de atacarla con magia. A pesar de que el rival así lo hizo mis cartas tenían más velocidad y pudieron acabar rápidamente con sus criaturas antes de que me complicaran la batalla.

---
---