10 Tips to Improve your Brawls (EN-ES)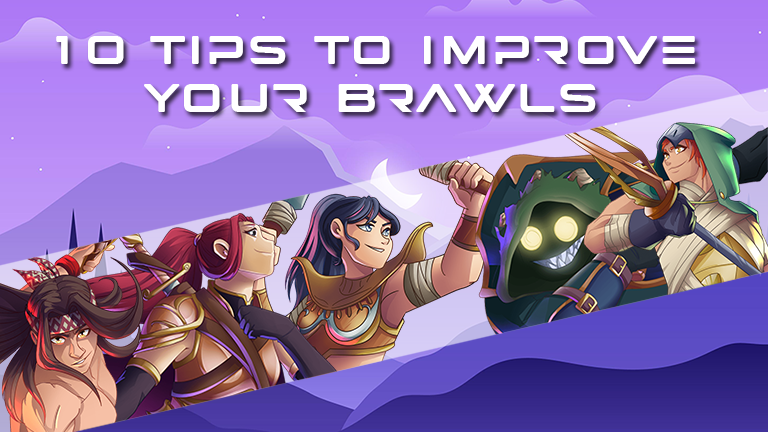 Images obtained in @splinterlands | Freepik
Hi Splinterlands friends, I'm congratulating myself, I did an almost perfect Brawl and in today's post I'm going to explain step by step the strategy I follow to get good results.
In the last Brawl I faced 8 opponents many of them superior to me, but thanks to the strategy I follow I managed to win 7 of them and be the best of my clan this week.
Hola amigos de Splinterlands, estoy de enhorabuena, hice una Brawl casi perfecta y en el post de hoy os voy a explicar paso a paso la estrategia que sigo para conseguir buenos resultados.
En la última Brawl me enfrenté con 8 rivales muchos de ellos superiores a mi, pero gracias a la estrategia que sigo conseguí ganar a 7 de ellos y ser el mejor de mi clan esta semana.



While it is true that talking about a specific strategy is complicated with the number of conditions that can be given to us in each of the battles, these 10 tips can help you improve your results:
01
Select a slot that contains few editions of cards that can be used. The best in my opinion are
Chaos Legion
and
Riftwatchers
in both Novice, Bronze and Silver.
The fewer cards you use the better chance you have of not running into unexpected surprises.

02
Only select a League that you feel comfortable playing in.
Many times I hear fellow players say that they are used to playing in Gold League with cards, but those same cards in Bronze or Silver are not of much use.

03
Focusing on the
Chaos Legion
and
Riftwatchers
card slots, rent the legendary cards you don't have and see essential to any situation.
I always tend to rent Grum Flameblade, Legionnaire Alvar, Carnage Titan, Coeurl Lurker, Agor Longtail, Runemancer Florre that I don't own yet and see them decisive.

04
Always try to use a Gladius card.
Their Bloodlust ability is one of the best in the game and they can single-handedly win the game by becoming invincible.

05
Beware of creatures with 0 or 1 mana cost.
While it is true that they usually help us in normal battles, in a Brawl we can empower a creature with Bloodlust. Think well where you are going to place it and if you have doubts better not to play them.

06
Know well the cards in the collection and their abilities.
It is very important to know what cards your enemy can play and their abilities. For example, in one of the combats that I comment below. I use Orella Abadon the only card that by the combat conditions can be used with the ability Sneak. Thanks to that I got a quick victory.

07
Many times it is advisable not to follow the pre-established script.
Sometimes by looking at the combat conditions we automatically know which is the best Splinter to select, but let's put ourselves in our enemy's shoes. He will also think of playing the same type of Splinter. Sometimes it is good to choose cards in which give us an advantage over the most popular choice.

08
All clans should consider raising Barracks to level 3.
Being able to ban a card is an extremely useful advantage. In our clan we always have Quora Towershead banned.

09
The combination of
Opportunity
and
Bloodlust
abilities is extremely powerful in Brawl.
Having cards like Fina Voxom, Isgald Vorst and Bertrol Gobson are always a good choice.
10
If you have the Gladius
Quora Towershead
card, use it as much as possible.
Definitely the best card in the whole game and if we manage to eliminate with it a card becomes extremely dangerous. Always place it in first or second position for best results.
Si bien es cierto que hablar de una estrategia en concreto es complicado con la cantidad de condiciones que se nos pueden dar en cada una de las batallas, estos 10 consejos pueden ayudarte a mejorar tus resultados:
01
Selecciona una ranura que contenga pocas ediciones de cartas que se puedan usar. Las mejores en mi opinión son las de
Chaos Legion
y
Riftwatchers
tanto en Novice, Bronce y Plata.
Cuanto menos cartas se usen más posibilidades hay de no encontrarse con sorpresas inesperadas.

02
Únicamente selecciona una Liga en la que te sientas a gusto jugar.
Muchas veces escucho a compañeros decir que están acostumbrados a jugar en Liga Oro con cartas, pero esas mismas cartas en Bronce o Plata no son de mucha utilidad.

03
Centrándonos en las ranuras de cartas
Chaos Legion
y
Riftwatchers
, alquila las cartas legendarias que no tengas y veas imprescindibles ante cualquier situación.
Yo siempre suelo alquilar a Grum Flameblade, Legionnaire Alvar, Carnage Titan, Coeurl Lurker, Agor Longtail, Runemancer Florre que aún no poseo y las veo determinantes.

04
Siempre intenta usar una carta Gladius.
Su habilidad Bloodlust es una de las mejores del juego y pueden ganar ellas solas la partida volviéndose invencibles.

05
Cuidado con las criaturas de coste 0 o 1 de maná.
Si bien es cierto que normalmente suelen ayudarnos en batallas normales, en una Brawl podemos potenciar a una criatura con Bloodlust. Piensa bien dónde vas a situarla y si tienes dudas mejor no jugarlas.

06
Conoce bien las cartas de la colección y sus habilidades.
Es muy importante saber que cartas puede jugar tu enemigo y sus habilidades. Por ejemplo, en uno de los combates que comento bajo. Utilizo a Orella Abadon la única carta que por las condiciones de combate se puede utilizar con la habilidad Sneak. Gracias a eso obtuve una rápida victoria.

07
Muchas veces es aconsejable no seguir el guion preestablecido.
En ocasiones viendo las condiciones de combate automáticamente sabemos cual es el mejor Splinter que seleccionar, pero pongámonos en el lugar de nuestro enemigo. Él también pensará en jugar el mismo tipo de Splinter. A veces es bueno elegir cartas en que nos den ventaja frente a la elección más popular.

08
Todos los clanes deben plantearse subir Barracas a nivel 3.
Poder banear una carta es una ventaja extremadamente útil. En nuestro clan siempre tenemos baneada a Quora Towershead.

09
La combinación de habilidades
Opportunity
y
Bloodlust
es extremadamente poderosa en las Brawl.
Contar con cartas como Fina Voxom, Isgald Vorst y Bertrol Gobson son siempre una buena elección.
10
Si tienes la carta Gladius
Quora Towershead
, úsala tanto como sea posible.
Definitivamente la mejor carta de todo el juego y si conseguimos eliminar con ella una carta se vuelve extremadamente peligrosa. Siempre sitúala en primera o segunda posición para obtener mejores resultados.



| Image | Conditions |
| --- | --- |
| | |
In this combat there is the Opportunity condition and while the enemy makes mistakes by playing weak creatures that will easily be eliminated, I play with Coeurl Lurker that thanks to its Taunt ability will attract all the damage long enough.
En este combate está la condición Opportunity y mientras el enemigo se equivoca jugando criaturas débiles que fácilmente serán eliminadas, yo juego con Coeurl Lurker que gracias a su habilidad Taunt atraerá todo el daño el tiempo suficiente.
---

Image
Conditions
In this match I use Quora Towershead in first position and I also have banned that card for the opponent so he decides to use Katrelba Gobson very good card. But he has nothing to do once Quora destroys a creature, he becomes almost invincible.
En este combate uso a Quora Towershead en primera posición y además tengo baneada esa carta para el rival por lo que decide usar a Katrelba Gobson muy buena carta. Pero nada tiene que hacer una vez Quora destruye una criatura, se vuelve casi invencible.
---

Image
Conditions
In this combat my enemy and I play practically with the same cards, the only difference is that while I use Scavo Hireling to repair the shield, my enemy plays with Merdaali Guardian. As you can see it is more effective the shield than the life because we do not play with magic attack cards.
En este combate mi enemigo como yo jugamos prácticamente con las mismas cartas, la única diferencia es que mientras yo uso a Scavo Hireling para reparar el escudo, mi enemigo juega con Merdaali Guardian. Como se puede apreciar es más efectivo el escudo que la vida ya que no jugamos con cartas de ataque mágico.
---

| Image | Splinter |
| --- | --- |
| | |
This battle is the only strange one and the only one I lose. Failures in the attack added to the fact that I accumulate creatures with a lot of life but that can't attack in their positions make my strategy not very successful. The Chaos Dragon destroys me with its random attack.
Esta batalla es la única extraña y la única que pierdo. Fallos en el ataque sumado a que acumulo criaturas de mucha vida pero que no pueden atacar en sus posiciones hacen que mi estrategia no sea muy acertada. El Chaos Dragon me destroza con su ataque al azar.
---

| Image | Splinter |
| --- | --- |
| | |
Little mana and Quora Towershead is synonymous with victory. Nothing more to say.
Poco maná y Quora Towershead es sinónimo de victoria. Nada más que decir.
---

| Image | Splinter |
| --- | --- |
| | |
Combat in which I have 2 creatures in the first 2 places really powerful. Uriel the Purifier together with Marisol Contuma** make the perfect duo. All this with the support of Scavo Hireling and Adelade Brightwing constantly repairing the shield. And in last position to Prismologist with his hit with Blast. A very powerful combat.
Combate en el que tengo 2 criaturas en los 2 primeros puestos realmente poderosas. Uriel the Purifier junto con Marisol Contuma hacen el duo perfecto. Todo ello con el apoyo de Scavo Hireling y Adelade Brightwing reparando constantemente el escudo. Y en última posición a Prismologist con su golpe con Blast. Un combate de mucho poder.
---

| Image | Splinter |
| --- | --- |
| | |
Otro combate de poco maná en el que uso a Quora Towershead. Esta vez más ajustado y por poco consigo la victoria.
---

| Image | Splinter |
| --- | --- |
| | |
This is a clear example where you can see how with the battle condition Little League we must use Gladius cards because of its ability Bloodlust. The enemy doesn't pay attention to his rear and I meanwhile with Orella Abadon, a really formidable card for only 2 mana, I'm eliminating one by one all his creatures while he gets stronger and stronger.
Este es un claro ejemplo en el que se puede apreciar como con la condición de batalla Little League debemos usar cartas Gladius por su habilidad Bloodlust. El enemigo no pone atención en su retaguardia y yo mientras con Orella Abadon, una carta realmente formidable por solo 2 de maná, voy eliminando una a una todas sus criaturas mientras se vuelve más y más fuerte.


---
---