My top 5 Rewards cards that will be going up in price soon (EN-ES)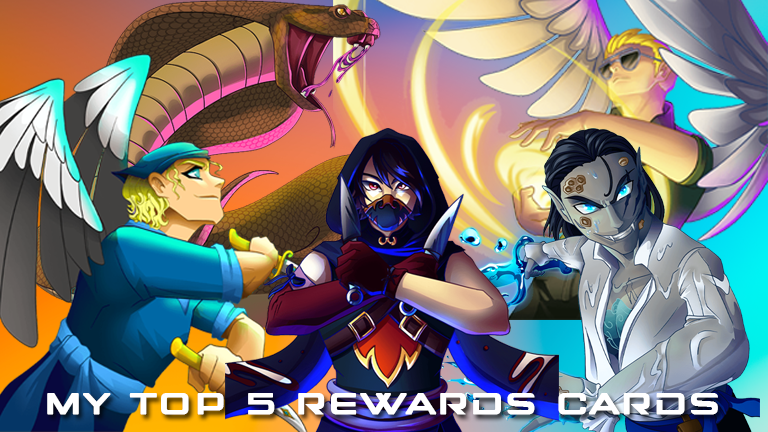 Images obtained in @splinterlands | Freepik
Hello Splinterlands friends, the day has come 😔 Finally the end of receiving rewards in Rewards cards. Since I started playing Splinterlands about 1 year and a half ago, Rewards cards have been with me.
Behind me are my beginnings and the illusion of getting my first Djinn Chwala or the first big investment I made buying a Djinn Oshannus which at the time cost me a whopping $20.
And looking back, I think the best time I had in the game were my beginnings when seeing a legendary card made me feel chills and I wished with all my soul to get one of them.
In today's post I want to tell you about the 5 cards that I believe will go up in value in a short space of time.
Let's see what they are:
Hola amigos de Splinterlands, llegó el día 😔 Finalmente se acabó recibir recompensas en cartas Rewards. Desde que empecé a jugar a Splinterlands hace aproximadamente 1 año y medio, las cartas Rewards me han acompañado.
Atrás queda mis inicios y la ilusión al conseguir mi primer Djinn Chwala o la primera gran inversión que hice comprando un Djinn Oshannus que por aquel entonces me costó la friolera de 20$.
Y echando la vista atrás, creo que la mejor época que tuve en el juego fueron mis inicios cuando ver una carta legendaria me hacía sentir escalofríos y deseaba con toda mi alma el poder conseguir una de ellas.
En el post de hoy quiero hablaros de las 5 cartas que considero subirán su valor en un espacio corto de tiempo.
Veamos cuales son:

TOP 5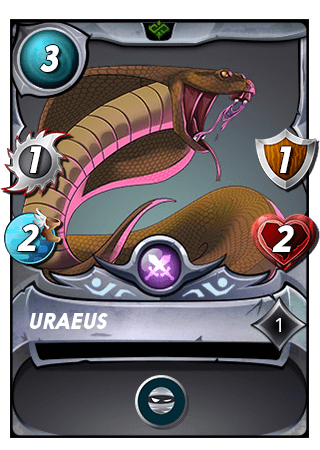 In the number 5 position we have Uraneus. This card has everything to reach a high price in the future.
Only 3 mana points costs a Neutral card with shield and Sneak ability that at level 4 gets Poison.
Perfect to use with our favorite Splinter.
En el puesto número 5 tenemos a Uraneus. Esta carta tiene todo para alcanzar un precio elevado en el futuro.
Tan sólo 3 puntos de maná cuesta una carta Neutral con escudo y habilidad Sneak que ha nivel 4 consigue Poison.
Perfecta para usar junto a nuestro Splinter favorito.
---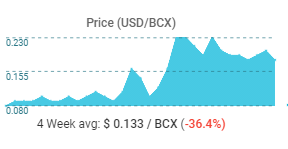 As we can see in the Peakmonster graph. Its price throughout this month has been growing exponentially and from being at only $0.08 it has gone to cost $0.199, an increase of 148.75%.
Como podemos comprobar en el gráfico de Peakmonster. Su precio a lo largo de este mes ha ido creciendo exponencialmente y de estar a tan solo $0.08 a pasado a costar $0.199, un incremento de un 148.75%.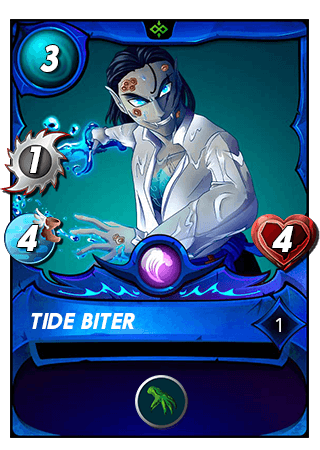 At number 4 I have placed Tide Biter, an epic rarity card from Splinter Water. This card of only 3 mana points, has all the necessary to reach very high prices.
With 4 points of speed, 4 points of life and the ability Reach, from level 3 it becomes a real beast with 2 points of attack and the ability Reflection Shield.
Moreover, as it is a card with a very low roll, its value is assured.
En el puesto número 4 he puesto a Tide Biter, una carta de rareza épica del Splinter Agua. Esta carta de tan sólo 3 puntos de maná, tiene todo lo necesario para alcanzar precios muy elevados.
Con 4 puntos de velocidad, 4 puntos de vida y la habilidad Reach, a partir del nivel 3 se convierte en una auténtica bestia con 2 puntos de ataque y la habilidad Reflection Shield.
Además al ser una carta de una tirada muy escasa, su valor está asegurado.
---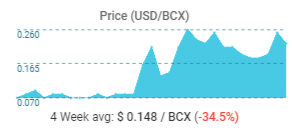 Another of the cards that we have seen how in one month the price has increased disproportionately. From costing as little as $0.07 it has gone to $0.238, an increase of 240%.
Otra de las cartas que hemos visto como en un mes ha aumentado el precio de forma desproporcionada. De llegar a costar tan sólo $0.07 ha pasado a estar 0.238, un incremento de 240%.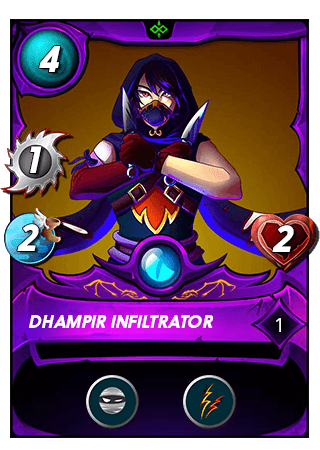 The number 3 position is occupied by Dhampir Infiltrator a card of rare rarity and from the Splinter Dragon. This card has a mana cost of 4 points and at level 1 already has 2 abilities Sneak and Double Strike.
At level 4 it gets 2 points of damage per hit which makes it a very powerful card with the combat rule Little League. Also at level 5 it will learn the ability Cripple which with its 2 attacks will lower the maximum health of the creature by 1 point.
Another card that has been printed very few and that we will see how its price will increase as time goes by.
El puesto número 3 lo ocupa Dhampir Infiltrator una carta de rareza rara y del Splinter Dragón. Esta carta tiene un coste de maná de 4 puntos y ha nivel 1 ya cuenta con 2 habilidades Sneak y Double Strike.
Ha nivel 4 consigue 2 puntos de daño por golpe lo que la convierte en una carta muy poderosa con la regla de combate Little League. Además a nivel 5 aprenderá la habilidad Cripple que con sus 2 ataques hará bajar la salud máxima de la criatura 1 punto.
Otra de las cartas que se han impreso muy pocas y que veremos como su precio se va incrementando con el paso del tiempo.
---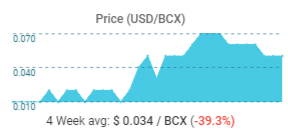 Dhampir Infiltrator cost as low as $0.01 a month ago and can now be found for $0.056, an increase of 460%.
Dhampir Infiltrator llegó a costar tan sólo $0.01 hace un mes y ahora la podemos encontrar a $0.056, un incremento del 460%.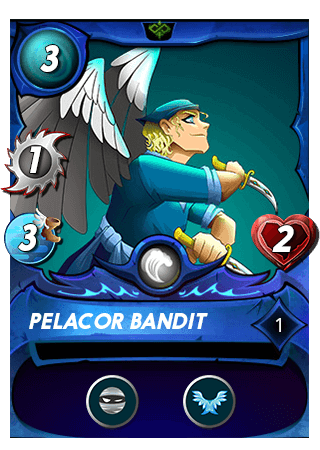 I have decided to put Pelacor Bandit in the number 2 spot. A card with only 3 mana points from Splinter Water. Another card with 2 abilities Sneak and Flying with incredible utility.
A card that won't learn new abilities but its stats will increase with each level up. At level 4 it would already have 2 attack points and at level 7 it will do 3 damage points.
He decidido poner en el puesto número 2 a Pelacor Bandit. Una carta de tan sólo 3 puntos de maná del Splinter Agua. Otra carta con 2 habilidades Sneak y Flying con una increíble utilidad.
Una carta que no aprenderá nuevas habilidades pero que sus estadísticas se irán incrementando en cada subida de nivel. A nivel 4 ya tendría 2 puntos de ataque y a nivel 7 hará 3 puntos de daño.
---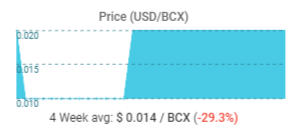 Pelacor Bandit once cost $0.01 but is currently priced at $0.024, an increase of 140% in just 1 month and even with the large number of cards printed, will its value continue to rise?
Pelacor Bandit llegó a costar $0.01 pero en estos momentos su precio es de $0.024, con un incremento de 140% en tan sólo 1 mes y aún con la gran cantidad de cartas impresas que hay de ella. ¿Seguirá subiendo su valor?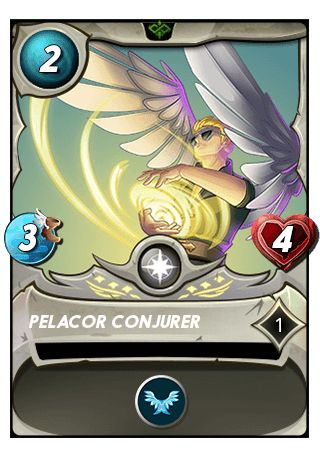 And finally I have left in the number 1 position the card that I consider most useful in Splinterlands and the one I play the most, whether I have played in Bronze, Silver or Gold League, its name is Pelacor Conjurer and it is surely known by all of you.
What can I say about this card that you don't know? Just 2 mana points and some skills and stats that increase with each level up until becoming a very valuable card. It starts with Flying, at level 4 you will learn Magic Reflect, at level 7 Divine Shield and finally at level 10 Phase.
Perfect as a tank and against magical attacking creatures, you can't ask for more from a card.
Y por último he dejado en el puesto número 1 a la carta que considero más útil de Splinterlands y la que más juego, tanto si he jugado en Liga Bronce, como en Plata u Oro, su nombre es Pelacor Conjurer y seguro es conocida por todos vosotros.
¿Qué puedo decir de esta carta que no sepáis? Tan sólo 2 puntos de maná y unas habilidades y estadísticas que se van incrementando con cada subida de nivel hasta convertirse en una carta muy valiosa. Comienza con Flying, a nivel 4 aprenderá Magic Reflect, a nivel 7 Divine Shield y por último a nivel 10 Phase.
Perfecta como tanque y contra criaturas de ataque mágico, no se le puede pedir más a una carta.
---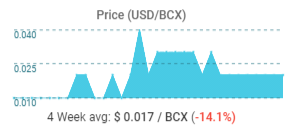 The graph that Peakmonster shows the evolution in the price of Pelacor Conjurer shows that from costing $0.01 it has gone to $0.027 in just 1 month, a 170%.
In short, Pelacor Conjurer is one of those cards that will never go out of style and should be in the collection of any Splinter player at the highest level.
El gráfico que muestra Peakmonster de la evolución en el precio de Pelacor Conjurer muestra que de costar $0.01 a pasado a $0.027 en tan solo 1 mes, un 170%.
En definitiva Pelacor Conjurer es una de esas cartas que no pasarán de moda y que debe estar en la colección de cualquier jugador de Splinter a su máximo nivel.


With the appearance of new cards in Splinterlands we realize that there are more and more cards with high mana costs. Having low cost cards that are really useful is something necessary to have a balanced collection.
With the disappearance of these Rewards cards, we lose some of the best low mana cost cards. Cards that are truly useful no matter what league we play in.
That is why I believe that all these cards are a real opportunity for the future and we will surely see them in less than a year multiplying their value x5.
Con la aparición de nuevas cartas en Splinterlands nos damos cuenta que cada son más las cartas con costes elevados de maná. Tener cartas de bajo coste y que realmente sean útiles es algo necesario para tener una colección equilibrada.
Con la desaparición de estas cartas Rewards, se nos van unas de las mejores cartas de bajo coste de maná. Cartas que son verdaderamente útiles sea cual sea la liga en la que juguemos.
Es por ello que creo que todas estas cartas son una verdadera oportunidad de futuro y de seguro las veremos en menos de un año multiplicando su valor x5.


---
---