Opportunity & Bloodlust the perfect combination of skills (ENG-ESP)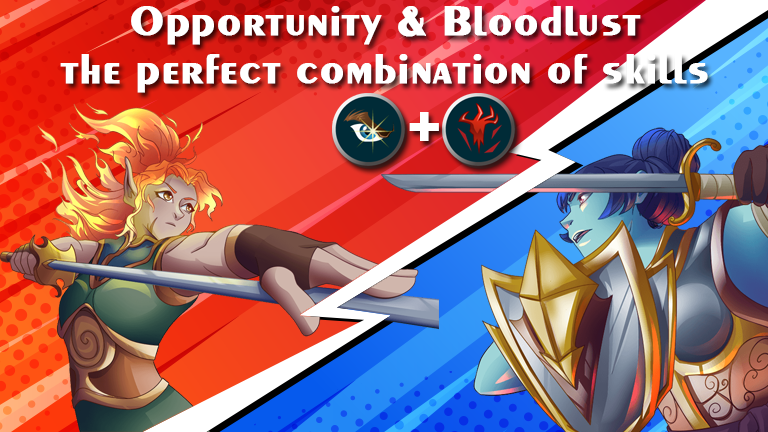 Images obtained in @splinterlands | Background for banner Freepik
Introduction
Hello Splinterlands friends. Today I wanted to talk to you about the combination of 2 abilities and the possibilities they offer us in Brawls. These abilities are Opportunity and Bloodlust and the combination of both make our creature a killing machine.
Hola amigos de Splinterlands. El día de hoy quería hablaros de la combinación de 2 habilidades y las posibilidades que nos ofrecen en las Brawls. Estas habilidades son Opportunity y Bloodlust y la combinación de ambas hacen de nuestra criatura una máquina de matar.
When we play Ranked games we are used to a game mode in which normally the games are decided from the third or fourth turn, they are very close. But when we play Brawls and thanks to Gladius cards, things change and we can see how in one turn our whole strategy falls apart due to these really powerful cards.
Cuando jugamos partidas Ranked estamos acostumbrados a un modo de juego en el que normalmente las partidas se deciden a partir del tercer o cuarto turno, están muy igualadas. Pero cuando jugamos las Brawls y gracias a las cartas Gladius la cosa cambia y podemos ver como en un turno toda nuestra estrategia se desmorona debido a estas cartas realmente poderosas.
We are going to analyze one of the most deadly combinations of skills that exists in Splinterlands and we will see the cards that have these 2 skills and examples of how they act in combat.
Vamos a analizar una de las combinaciones de habilidades más mortífera que existe en Splinterlands y veremos las cartas que poseen estas 2 habilidades y ejemplos de como actúan en combate.
Pay attention to the post that will surely open your eyes and you will start using one of those cards that you thought were not too good.
Atentos al post que seguro te abre los ojos y empiezas a usar una de esas cartas que pensabas que no era demasiado buena.

The Skills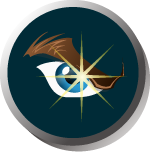 Opportunity
Creatures with the Opportunity ability can attack from any position and will target the enemy monster with less health.
Las criaturas con la habilidad Oportunidad pueden atacar desde cualquier posición y tendrán como objetivo al monstruo enemigo con menos salud.
Tip:

The battle condition Fog of War, which prevents the use of Snipe and Sneak skills, is not affected by our Opportunity skill.

La condición de batalla Fog of War, la cual impide usar las habilidades Snipe y Sneak, no se ve afectada nuestra habilidad Opportunity.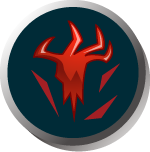 Bloodlust
Every time it defeats an opponent creature, it gets +1 to all stats.
Cada vez que elimina a una criatura del oponente, obtiene +1 a todas las estadísticas.

The combination of both skills
Having creatures with both abilities ensures that they will always attack the weaker creature to try to destroy it and thus evolve to become more and more powerful.
Tener criaturas con ambas habilidades nos aseguran que siempre atacarán a la criatura más débil para intentar destruirla y así ir evolucionando hasta hacerse más y más poderosas.

Cards with these skills
There are 3 cards in the Gladius edition that come with this combination of abilities. Let's analyze each of them:
Existen 3 cartas en la edición Gladius que vienen con esta combinación de habilidades. Vamos a analizar de cada una de ellas:
Bertrol Gobson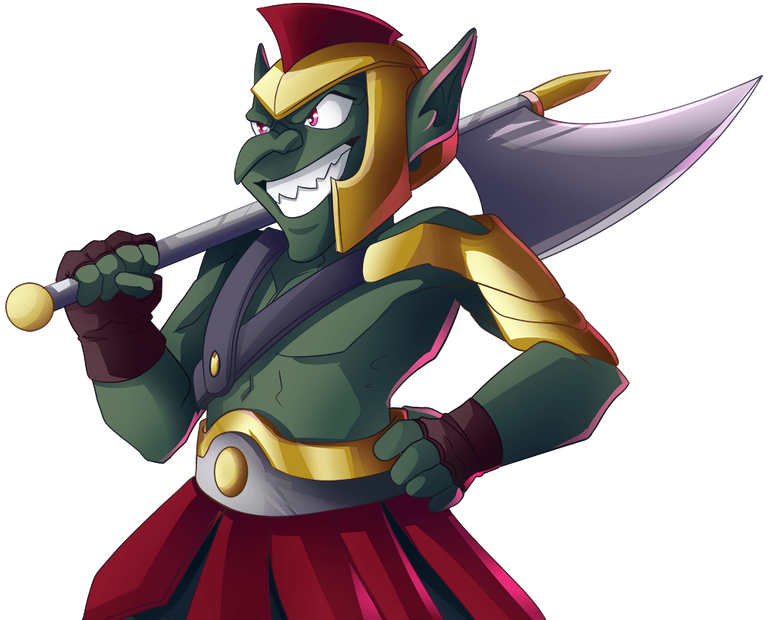 Edition: Gladius
Rarity: Common
Splinter: Earth
Attack: Melee
Hability: Opportunity & Bloodlust at level 1
The Earth Splinter has the Bertrol Gobson card. It is characterized for being one of the easiest cards to get and one of the first that we can use. It has a cost of only 2 mana, with 1 point of melee attack and 3 points of speed and life. It is perfect to use with low mana conditions.
El Splinter Tierra dispone de la carta Bertrol Gobson. Se caracteriza por ser una de las cartas más sencillas de conseguir y de las primeras que podremos usar. Tiene un coste de únicamente 2 de maná, con 1 punto de ataque cuerpo a cuerpo y 3 puntos de velocidad y vida. Es perfecta para usar con condiciones de bajo maná.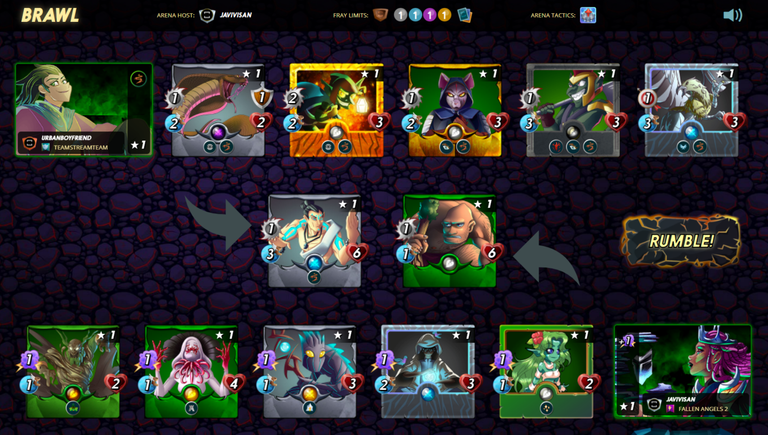 Mana Cap: 32 # Rules: Little League
---
Isgald Vorst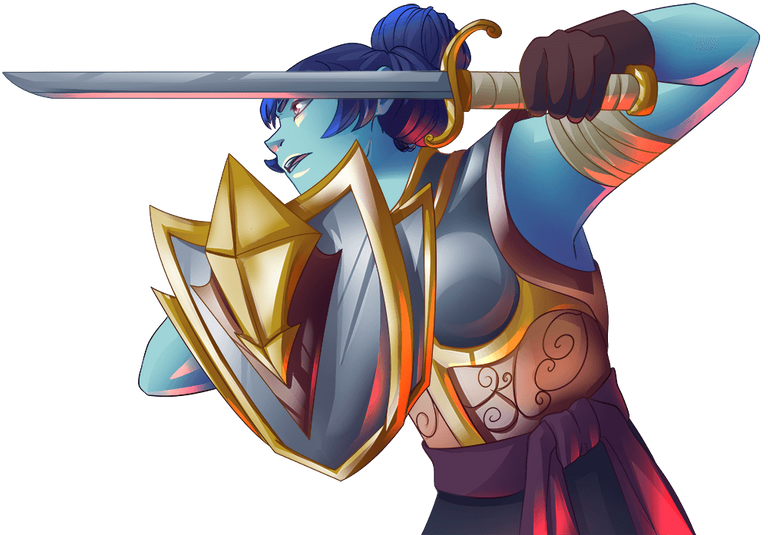 Edition: Gladius
Rarity: Common
Splinter: Water
Attack: Melee
Hability: Opportunity & Bloodlust at level 1
In the Water Splinter we can find Isgald Vorst, a creature that already starts to be more dangerous. It has a mana cost of 5 points and 2 points of melee damage along with 3 points of speed, 3 points of shield and 4 points of life. Thanks to its damage, this creature can eliminate enemy creatures from the first turn and boost its stats.
En el Splinter Agua podemos encontrar a Isgald Vorst una criatura que ya empieza a ser más peligrosa. Tiene un coste de maná de 5 puntos y 2 puntos de daño cuerpo a cuerpo junto con 3 de velocidad, 3 puntos de escudo y 4 puntos de vida. Criatura que gracias a su daño puede desde el primer turno ir eliminando criaturas enemigas y potenciando sus estadísticas.


Isgald Vorst in action...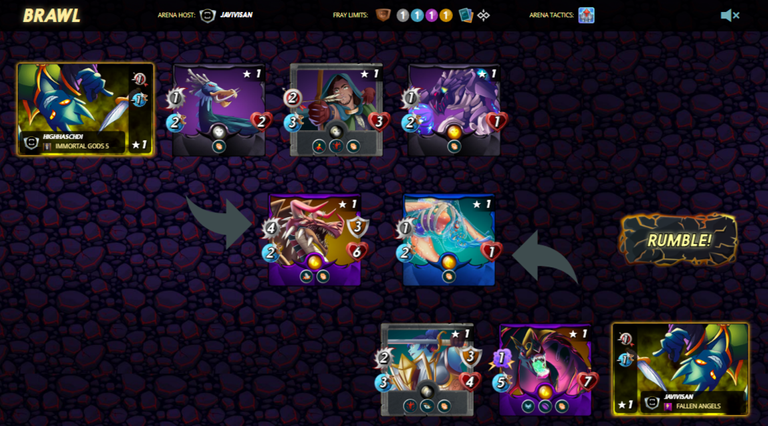 Mana Cap: 14 # Rules: Spreading Fury
---
Fina Voxom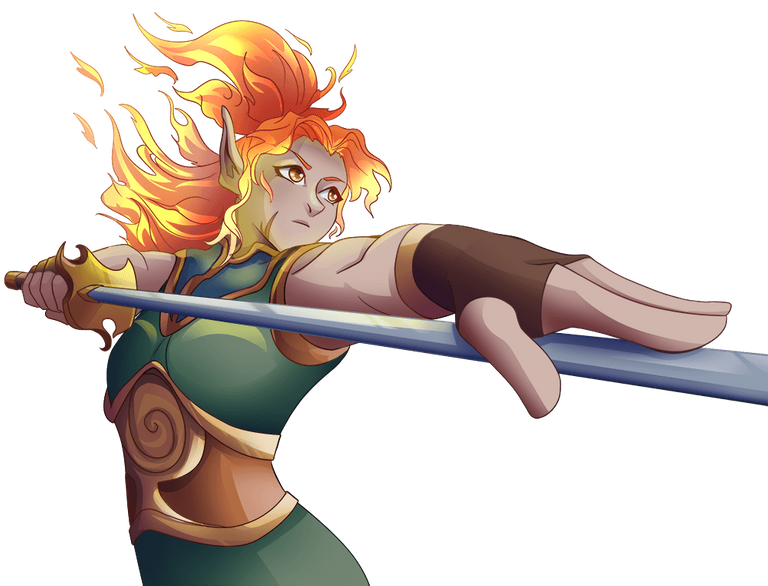 Edition: Gladius
Rarity: Legendary
Splinter: Fire
Attack: Melee
Hability: Opportunity & Bloodlust at level 1
Finally, we have Fina Voxom one of the most deadly creatures of the Gladius edition. It belongs to Fire Splinter and for only 5 points of mana we have a creature that has 3 points of damage, 4 points of speed and 7 points of life. If we combine it with the summoner Tarsa it would do 4 points of damage and if we add to that that it will always attack the weakest creatures, we can say that it will increase its stats easily in combat.
Por último, tenemos a Fina Voxom una de las criaturas más mortíferas de la edición Gladius. Pertenece al Splinter Fuego y por tan solo 5 puntos de maná tenemos una criatura que tiene 3 puntos de daño, 4 puntos de velocidad y 7 puntos de vida. Si la combinamos con la invocadora Tarsa conseguiría hacer 4 puntos de daño y si a eso le sumamos que siempre va a atacar a la criaturas más débiles, podemos decir que va incrementar sus estadísticas fácilmente en el combate.
Fina Voxom in action...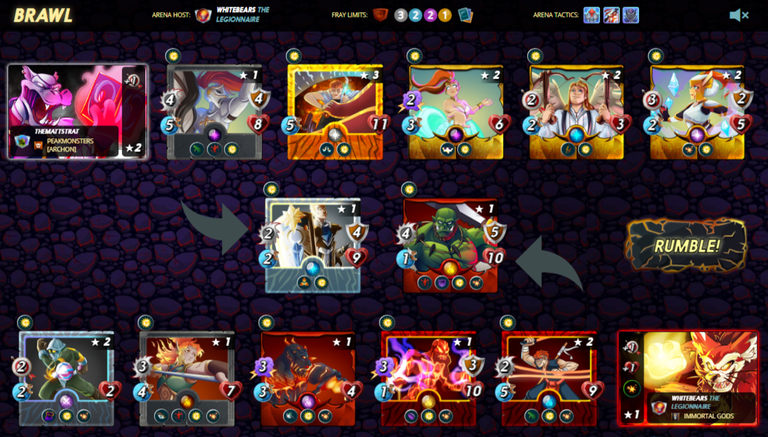 Mana Cap: 50 # Rules: Close Range|Holy Protection
---

Conclusion
From my point of view, the combination of these two abilities makes these cards very powerful, as long as we know how to play them well.
Desde mi punto de vista, la combinación de estas dos habilidades hacen de estas cartas muy poderosas, siempre y cuando sepamos jugarlas bien.
To get the most out of these cards we must take into account that it is very important to protect them for as long as necessary so that they can destroy an enemy creature and increase their stats. The ideal is to put them in penultimate position.
Para sacarle el mayor partido a estas cartas debemos tener muy en cuenta que es muy importante protegerlas el tiempo necesario para que puedan destruir a alguna criatura enemiga y consigan aumentar sus estadísticas. Lo ideal es ponerlas en penúltima posición.
Combining these cards with the Explosive Weapondry condition will mean doing damage also to adjacent creatures with the increased chance of destroying more creatures and turning their stats even higher.
Combinar estas cartas con la condición Explosive Weapondry supondrá el hacer daño también a las criaturas adyacentes con el aumento de posibilidades de destruir más criaturas y volverse aún más sus estadísticas.
---

---
---