Oshuur Constantia: my first impressions (EN-ES)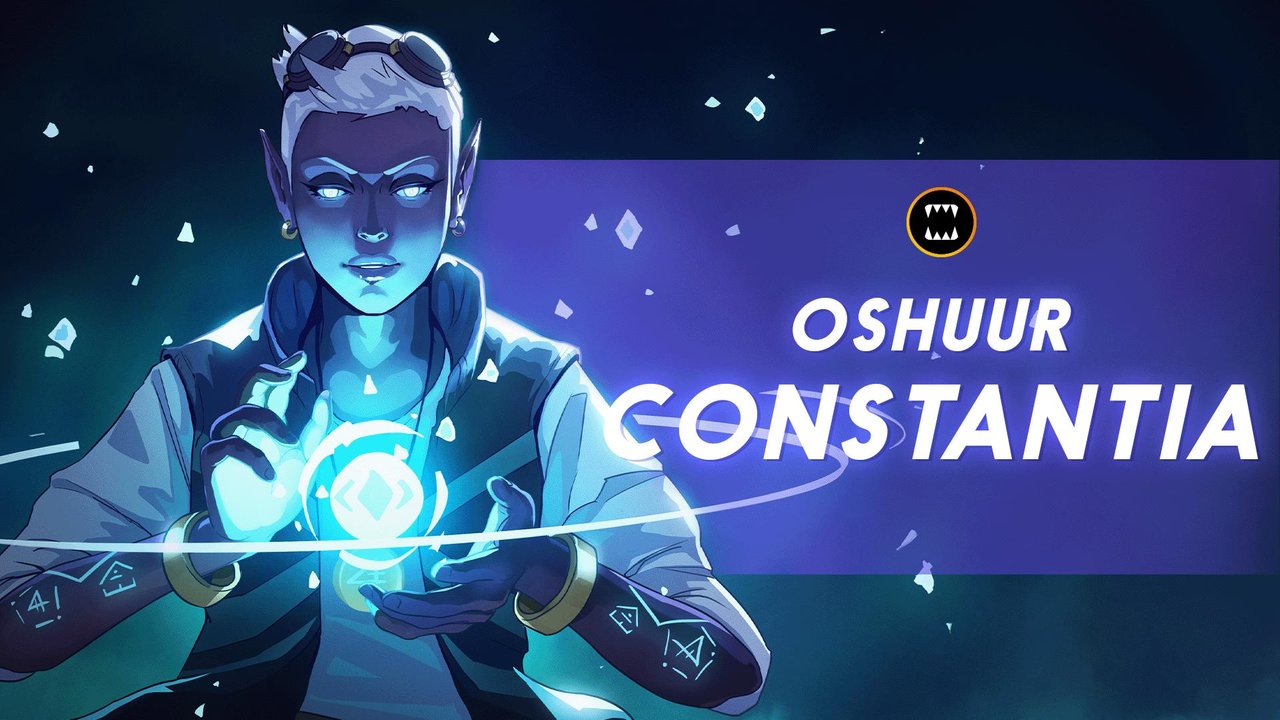 Finally we can enjoy the new Splinterlands Oshuur Constantia card. This new promotional card was released in the airdrop after the sale of the first 500,000 packs of the Riftwatchers edition.
As an observation this first card will not be available in card packs like the rest of the airdrop cards. So it could only be obtained through the first airdrop that was made last week.
There are currently 6555 cards in circulation, 430 of them gold.
Al fin ya podemos disfrutar de la nueva carta de Splinterlands Oshuur Constantia. Ésta nueva carta promocional fue lanzada en el airdrop después de la venta de los primeros 500,000 packs de la edición Riftwatchers.
Como observación ésta primera carta no estará disponible en paquetes de cartas como el resto de las cartas de airdrop. Así que únicamente pudo ser conseguida a través del primer airdrop que se hizo la semana pasada.
Actualmente hay 6555 cartas en circulación, 430 de ellas doradas.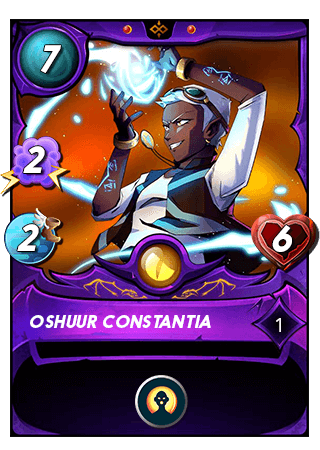 Oshuur Constantia is a card of the Dragon Splinter and legendary rarity. It has a mana cost of 7 points, 2 points of speed, 2 points of magic attack and 6 points of life, all at level 1.
Oshuur Constantia es una carta del Splinter Dragón y rareza legendaria. Tiene un coste de maná de 7 puntos, 2 puntos de velocidad, 2 puntos de ataque mágico y 6 puntos de vida, todo ello a nivel 1.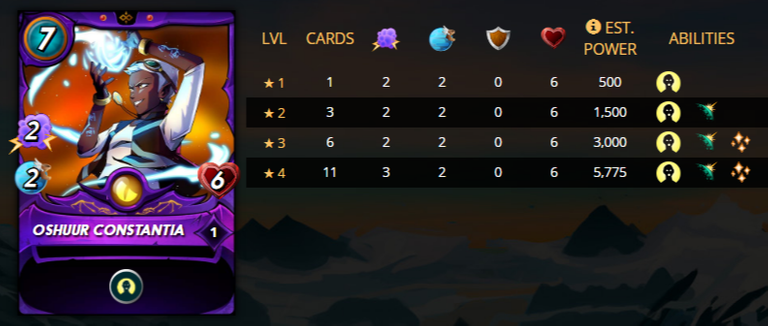 As we can see in detail in the image of its evolution, it only improves its attack by 1 point at level 4. The rest of its stats remain the same, because improving it even more could make it one of the best cards in the game.
Como podemos en detalle en la imagen de su evolución, únicamente mejora su ataque 1 punto a nivel 4. El resto de sus estadísticas se mantienen igual, debido a que mejorarla aún más podría convertirla en una de las mejores cartas del juego.



RESURRECT
Oshuur Constantia is the only Dragon Splinter card with the Resurrect ability, which makes it a very special card.
This ability is very coveted and the combination of it with other cards that restore life or shield can easily win us a game.
Oshuur Constantia es la única carta del Splinter Dragón con la habilidad Resurrect, lo que la convierten en una carta muy especial.
Esta habilidad es muy codiciada y la combinación de ella con otras cartas que restauran vida o escudo nos pueden hacer ganar fácilmente una partida.
---

REFLECTION SHIELD
The Reflection Shield skill is learned at level 2. One of the latest skills to be added to Splinterlands and is increasingly used against conditions such as Blast or Thorns.
La habilidad Reflection Shield es aprendida a nivel 2. Una de las últimas habilidades que se han incorporado a Splinterlands y que cada vez es más usada contra condiciones como Blast o Thorns.
---

TANK HEAL
Finally, at level 3 he learns the Tank Heal ability. The combination of its 3 abilities makes this card unique and if we are lucky enough to use it together with Agor Longtail, we are facing one of the most difficult strategies to defeat in the game.
Por último, a nivel 3 aprende la habilidad Tank Heal. La combinación de sus 3 habilidades hacen de esta carta única y si tenemos la suerte de usarla junto a Agor Longtail, estamos ante una de las estrategias más difíciles de derrotar del juego.


Image
Splinter
Conditions
Dragon
vs.
Fire
Mana: 23
Holy Protection
Dragon
vs.
Fire
Mana: 36
Close Range - Spreading Fury
Dragon
vs.
Life
Mana: 52
Equal Opportunity - Holy Protection
Dragon
vs.
Fire
Mana: 58
Weak Magic - Noxious Fumes
Above I have shared several combats with Oshuur Constantia. The card used is level 1, so I have not been able to take full advantage of its benefits.
Even so we can see how this card has a great potential and that combined with other cards we can make a difficult strategy to beat.
Arriba he compartido varios combates con Oshuur Constantia. La carta usada es de nivel 1, así que no he podido aprovechar al máximo sus beneficios.
Aún así podemos observar como esta carta tiene un gran potencial y que combinada junto a otras cartas podemos hacer una estrategia difícil de vencer.


Oshuur Constantia is the card that the Dragon Splinter needed to become indisputably the best in the game.
I don't know if the developers of Splinterlands took into account the creation of this card to combine it with Agor Longtail. If so, they have created the perfect strategy, difficult to beat for the lucky few who can use both cards to their maximum level.
Oshuur Constantia es la carta que necesitaba el Splinter Dragón para convertirse indiscutiblemente en el mejor del juego.
No se si los desarrolladores de Splinterlands tuvieron en cuenta la creación de esta carta para combinarla junto a Agor Longtail. Si ha sido así han creado al estrategia perfecta, difícil de vencer para los pocos afortunados que puedan usar ambas cartas a su máximo nivel.


---
---